There are 13 questions in this week's mailbag. As always, send your mailbag questions to RABmailbag (at) gmail (dot) com and I'll answer as many as I can each week.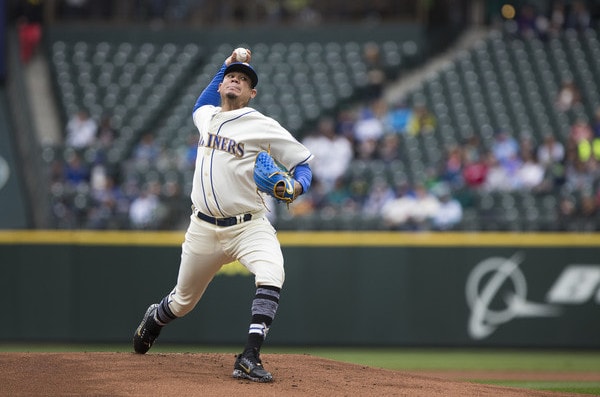 Carlos asks: If Felix Hernandez and/or Clayton Kershaw became available at trade deadline, how much will they cost, and would you pull the trigger for either? (Or both!)
The Diamondbacks are going down in flames, so the Dodgers are back in the NL West race. That should end any Kershaw speculation, which was crazy to begin with. As for Felix, he's just bad now. It pains me to say it, but he is. His last three years:
2016: 3.82 ERA (4.62 FIP) in 153.1 innings
2017: 4.36 ERA (5.02 FIP) in 86.2 innings
2018: 5.58 ERA (5.08 FIP) in 61.1 innings and counting
He's 32, he's got a ton of innings on his arm, and he's owed the remainder of his $26.875M salary this year and $28.585M next year. Even if the Mariners eat money and turn this into a straight salary dump — and I highly doubt they'd salary dump the face of the franchise — I don't think you can reasonably expect Felix to pitch at even a league average rate the rest of the season.
I do think Hernandez is smart enough and crafty enough to reinvent himself a la CC Sabathia. I am not interested in acquiring him and going through the on-the-job training though. The time to get Felix was like eight years ago. Now he's on the decline and well past his prime. It sucks. He was so good back in the day. Hopefully he can reinvent himself and have a good second phase of his career. Right now, I don't see him moving the needle for the Yankees at all.
David asks: Hi, I am wondering about the inherited runners allowed stat. That was one of the first advanced pitching stat that I recall seeing. However, I was looking around to see how the 2018 Yankees relievers were doing in it but I couldn't find it on Baseball Reference or on FanGraphs. How are the Yankees relievers doing in that stat and is there another way to measure a reliever's success?
This year 32% of inherited runners across MLB have come around to score. The league average usually sits in that 31% to 35% range each year. The Yankees have allowed 40% of inherited runners to score, the fifth worst rate in the league. Only the White Sox (49%), Rockies (43%), Royals (41%), and Rays (41%) have been worse. The best team at stranding inheriting runners? The Padres at 18%.
On an individual level, both Jonathan Holder (3-for-6) and David Robertson (5-for-10) have allowed half the runners they've inherited to score. Chad Green is at 38% (6-for-16) and Chasen Shreve is at 29% (2-for-7). The injured Adam Warren (1-for-1) and Tommy Kahnle (2-for-3) haven't been able to strand runners. Neither Dellin Betances nor Aroldis Chapman has inherited a runner this year. Both have only been used to start innings. Neither has entered the game in the middle of an inning.
Here's the interesting thing: The Yankees have the third fewest inherited runners in baseball this season. Their relievers have inherited only 47 runners. Only the Marlins (46) and Astros (45) have inherited fewer. The Cardinals have inherited 98! This is all Aaron Boone. He's shown he prefers to have his relievers start the inning clean, which has led to a few earlier than expected hooks for the starter. Under Joe Girardi the last few years, the Yankees were right around middle of the pack in terms of the number of runners inherited.
The Yankees have by far the highest bullpen strikeout rate in baseball — they're at 33.6% and the Brewers are second at 29.0% — and I suspect that, as the season progresses, the inherited runner strand rate will improve. Allowing 40% of inherited runners to score is a big number though. The Yankees have been bad at it so far this year. Will it last? I don't think so. I do think it's interesting they've had so few inherited runners in general though.
Lewis asks: It has been mentioned frequently that Ronald Torreyes is the Yankees 3rd catcher. Has he ever caught in a major league game? Do he ever hold bullpen sessions to maintain some basic skill level? If the unthinkable happens and Sanchez and Romine go down, I'd be concerned about Torreyes handling triple digit heat from Betances or Chapman, or diving sinkers from Sonny Gray. Seems like a disaster waiting to happen.
Emergency third catchers are always a disaster waiting to happen. They very rarely come into the play, fortunately. Torreyes has never caught a professional game, either in MLB or the minors, but the Yankees did have him catch some bullpen sessions in Spring Training. He did it last year too. I don't know whether he still catches the occasional bullpen during the season to stay sharp, so to speak. Losing both catchers to injury is a disaster situation and, thankfully, it doesn't happen often. If you have to plug in the emergency guy, so be it.
Louis asks: With so many 2018 prospects currently playing in the Bronx right now guys like Torres, Andujar, German, Frazier and Austin no longer have rookie or maybe "prospect status". Are there any other guys besides Florial, Abreu, Sheffield that you can see possibly becoming top 100 list worthy this year, at least on mid-season reports?
Two immediately jump to mind: Luis Medina and Jonathan Loaisiga. Medina becoming a top 100 prospect is one of my bold predictions. His stuff is off the charts and he just needs to improve his location. As for Loaisiga, he continues to show three quality pitches and impressive control. He's having success at Double-A now and guys performing well at that level with his stuff and control are usually top 100 prospects. That said, he is already 23 and he has an ugly injury history. That could keep him off the various top 100 lists. There's an outside chance Clarke Schmidt can become a top 100 guy this year with a strong return from Tommy John surgery. That would be an aggressive ranking in my opinion.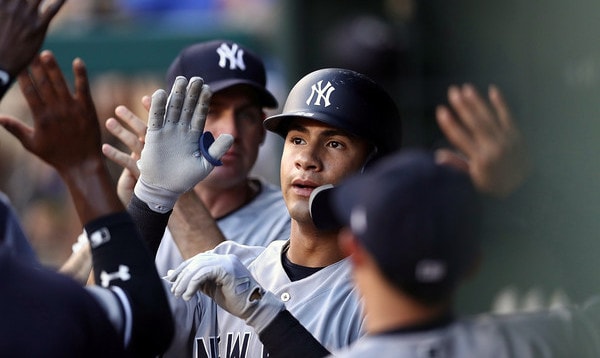 Vincent asks: Let's talk about Gleyber. Does his underlying performance indicators match up with his slash line? Can we continue to expect him to be this awesome?
Gleyber Torres is hitting .323/.385/.613 (167 wRC+) through 27 big league games, which is ridiculous. I don't think even his biggest fans expected him to be this good this soon. If you're into xwOBA and all that, he has a .423 expected wOBA and a .413 actual wOBA, so everything looks good there. Going into yesterday's games there were 264 players with at least 100 plate appearances this season. Among those 264, Torres has the ….
90th highest hard contact rate (38.9%)
106th lowest soft contact rate (16.7%)
32nd lowest ground ball rate (32.4%)
… so he's making better than average contact and getting the ball in the air. Do that and good things happen. Now, that said, I don't believe Torres will run a 29.6% HR/FB rate all season because that is very hard to do. Only four players managed a HR/FB rate that high last year: Aaron Judge (35.6%), Giancarlo Stanton (34.3%), Domingo Santana (30.9%), and Joey Gallo (30.1%). Yeah. Very different hitters than Torres. In Yankee Stadium, I think Gleyber can settle in around 15% HR/FB (MLB average is 12.4%) and sock 25+ dingers in a full season.
There are two things I would like to see Torres improve as he gains experience. One, he pulls the ball a ton. His 50.0% pull rate is 23rd highest among the 264 players with 100+ plate appearances and 15th highest among right-handed hitters. And two, his chase rate. It's at 37.2% right now, which is 42nd highest among those 264 players. Once Gleyber settles in and really gets his feet under him, I expect him to starting showing more discipline and using the entire field. Bottom line, aside from the HR/FB rate, there's nothing in the underlying performance that screams fluke here. Torres is this damn good.
Kevin asks: With Cano's suspension and Torres' early play what do you think it would take for Torres to make the all star team as the backup to Altuve at 2B? It certainly seems with a strong next six weeks, he could pass the likes of Robertson, Merrifield, and Wendle but maybe they make the team as only reps from their teams. Moncada, Dozier and Schoop have the name or pedigree but I don't know enough about their seasons.

Yeah, guys like Jed Lowrie (Athletics), Yoan Moncada (White Sox), Daniel Robertson (Rays), and Whit Merrifield (Royals) may end up being their team's only All-Star, which would clog up the middle infield. On merit though, Torres could very well belong. He's already third among AL second basemen in WAR and first in wRC+. Even if he slips a bit, it's not crazy to think he could be one of the three most productive second basemen in the league come All-Star Game roster time.
One thing to keep in mind here is the fan voting. Could Torres get huge support like Judge last year and make the All-Star Game that way? It would be cool. Beating out Jose Altuve in the fan voting will be really, really difficult though. Most non-Astros fans will probably vote for Altuve. Assuming Altuve wins the fan voting, it'll leave at most two spots for additional second baseman, and those spots could very well go to Lowrie and Moncada as token All-Stars. Cody Bellinger made the All-Star Game after a late-April debut last season. It can be done. It's just a question of whether roster spots are needed to represent other teams.
James asks: If the Dodgers are out of it at the deadline, though that is a big if, what would it take to trade for Alex Wood? Secondly, would he be worth trading for?
Like I said earlier, the Dodgers won't be out of it at the trade deadline. They've already climbed back into the race — well, the D'Backs have crashed back to the pack more than anything — and I don't see them throwing in the towel. Wood has always made me nervous. He's good for a disabled list stint or two each season and he has a long history of arm injuries. Also, his velocity has been doing this …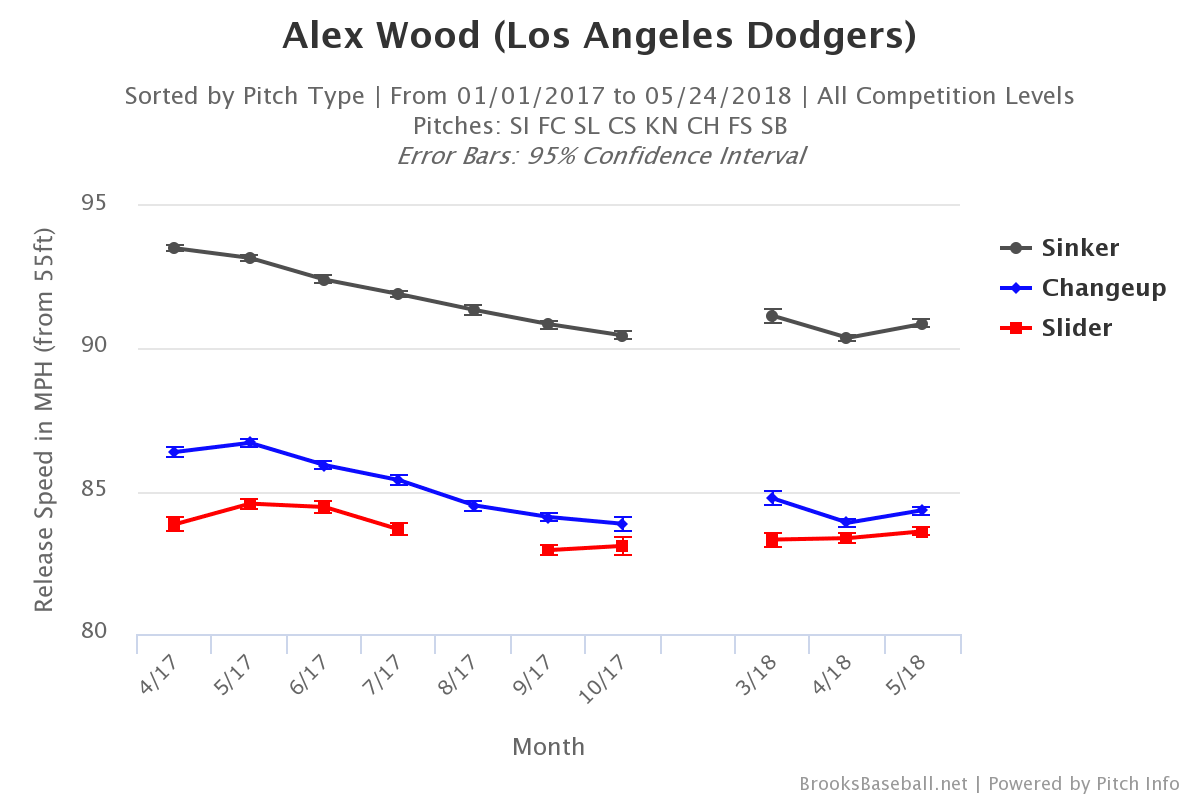 … which is another red flag. Wood has a 3.32 ERA (2.70 FIP) so far this season, and last year he had a 2.72 ERA (3.32 FIP), but the Dodgers gave him extra rest every single time out in the second half to keep him effective. He's good. He's also a high maintenance player with a scary injury history. The Dodgers aren't going to trade him anyway. But, if they put him on the market, I'd look elsewhere before spending prospects on a pitcher as risky as Wood.
Dan asks: Instead of optioning Austin or trading Walker, why not option Torreyes, have Torres be the back up shortstop and Walker be the back up at 2nd and 3rd?
I don't get the calls to demote Torreyes. Dude is a great utility guy. He can sit for a week then come off the bench, put five balls in the play, and handle himself defensively wherever. I don't want Torreyes to be a starter — he has no power, never walks, and doesn't steal bases, and that doesn't play in an everyday role — but as the utility infielder, he is fantastic. The only thing Tyler Austin does is hit lefties — he does it very well — so Torreyes is a more practical option for a bench role. In a perfect world, the Yankees would dump the eighth reliever and go with an Austin Romine/Torreyes/Walker/Austin bench when Greg Bird returns. Since that won't happen, Austin is the odd man out.
Brendan asks: Huge fan. I was wondering where you would rank the Yankees Triple-A lineup if they were a team in the major leagues. Thanks, I'll hang up and read.
The RailRiders have had some ridiculous lineups the last few days thanks to rehab assignments and general depth. Here is the lineup they used Tuesday night with each player's 2018 ZiPS projection:
SS Tyler Wade: .236/.306/.360
LF Clint Frazier: .243/.309/.454
3B Brandon Drury: .250/.299/.405
DH Greg Bird: .240/.333/.480
1B Adam Lind: .278/.340/.456
RF Billy McKinney: .239/.300/.399
C Kyle Higashioka: .241/.287/.435
CF Shane Robinson: .233/.285/.304
2B Rey Navarro: .228/.282/.332 (Steamer projection because ZiPS is unavailable)
Plug that lineup and those numbers into the Baseball Musings Lineup Analysis tool and you get an average of 4.18 runs per game. That would've ranked 18th in MLB going into yesterday's games. Among the teams averaging less than 4.18 runs per game this season are the first place Brewers (4.08), the Coors Field housed Rockies (3.92), the contending Diamondbacks (3.67), and the Mets (4.04). Quite a lineup they have down there in Scranton.
Josh asks: In thinking about Cano's suspension I got to wondering what happens for luxury tax purposes for a suspended player. If, for example, the Yankees crushed up some steroids and mixed them into Ellsbury's Wheaties (no, Yankees, don't do this) would they free up a significant amount of cap space?
Yep, the salary the player forfeits during the suspension is subtracted from the team's luxury tax payroll. Alex Rodriguez's suspension in 2014 took the Yankees off the hook for his $27.5M luxury tax hit. (Well, actually less than that, because only the salary for game days is subtracted out. The team is still charged for off-days.) The Mariners are about $30M below the luxury tax threshold and they were never projected to go over, so Robinson Cano's suspension doesn't help them at all. If Jacoby Ellsbury were to get suspended, it would help the Yankees a ton, as screwed up as that sounds. They'd save significant luxury tax payroll space and they wouldn't lose a player off their roster.
Bob asks: Any reason to believe Phil Hughes could get back in form and help the Yankees for the minor league minimum? I haven't followed his career too closely the last few years, but his innings pitched are low, so I assume some injuries have been a factor the last few years.
Probably not. Hughes had two Thoracic Outlet Syndrome surgeries in recent years and having just one of those is pretty bad. He's had two. He's also going to be 32 next month and is reaching the point where you'd expect some age-related decline to kick in. Hughes has a 5.11 ERA (5.04 FIP) and a 14.4% strikeout rate in 280 innings since 2015. Yuck. If he's willing to go to Triple-A, great. Stick him in the bullpen full-time and see what happens when he works one-inning stints. I'm not optimistic he can bounce back and contribute in a meaningful way at the big league level. Sucks.
Jaremy asks: At this point, can Tyler Austin fetch anything as a trade piece? Who has built more trade value between Tyler Austin and Austin Romine?
I don't think either guy has much trade value. Austin has been pretty great in his platoon role, but, at the end of the day, right-handed platoon first basemen aren't in high demand. Mark Reynolds hit .267/.332/.487 (104 wRC+) with 30 homers last season and could only get a minor league contract in April, after the season started. C.J. Cron was traded for a low level utility infielder prospect. Is Austin really worth more? I don't think so. To me, Austin is far more valuable to the Yankees as a platoon bat and depth option than anything he could realistically fetch in a trade. Maybe he could be the third piece in a larger trade? That seems like the best case trade scenario.
Tom asks: Been many reports that Theo & the Cubs knew exactly what they were giving up with Gleyber & projected this kind of stardom. Isn't this retroactive fudging to cut Theo some slack? I seem to remember him breaking out post-trade?
Both can be true. The Cubs knew they were trading a very good prospect, and Torres did raise his stock after the trade. Here are his Baseball America top 100 rankings over the years:
2015: Not ranked preseason (28th at midseason)
2016: 41st preseason (27th at midseason, one week before the trade)
2017: 5th preseason (3rd at midseason)
2018: 6th preseason
At the time of the trade Torres was a consensus top 30 prospect in the baseball after going into the season as a top 40-ish prospect. Then, after the season, he was a top ten prospect. Torres just kept getting better and better, and his stock was at its peak after he became the youngest MVP and batting champion in Arizona Fall League history in 2016.
The Cubs knew exactly what they were giving up in Torres. But, as Theo Epstein said after the trade, "if not now, when?" The Cubs were very good with a legitimate chance to win their first World Series in a century, but they needed bullpen help. Are you really going to let a prospect stand in the way of getting one of the best relievers on the planet in that case? No way. This is going to go down as the mother of all win-win trades.