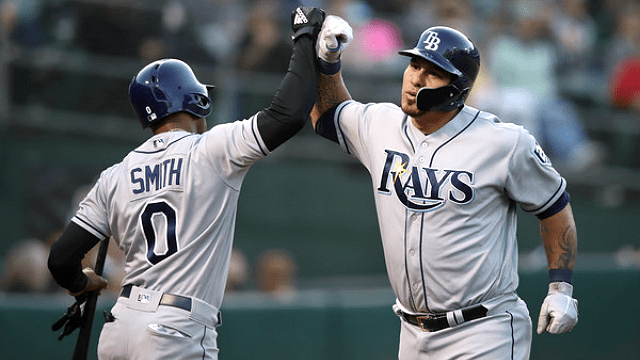 After splitting with the Nationals, the Yankees welcome the Rays for four games after not playing Tampa for over two months.
The Last Time They Met
Somehow, the Yankees and Rays have only played two games this season. The Yankees swept a two-game set to start their 2018 home slate on April 3-4.
Opening Day was snowed out in a throwback to 1996, perhaps a good omen for things to come. Once things got underway, Didi Gregorius had a day to remember with eight RBI and two three-run homers in an 11-4 win.
Giancarlo Stanton had a forgettable game in his first home appearance at Yankee Stadium, striking out five times. He quickly made up for it with a home run off Blake Snell the next day.
Stanton, Gary Sanchez and Aaron Judge each had two-run shots as the Yankees completed the sweep with a 7-2 win behind Luis Severino.
For more information, check out Katie's Yankeemetrics post on that series.
Injury Report
Five potential Rays starters are on the shelf, including Jose De Leon, Anthony Banda and top prospect Brent Honeywell undergoing Tommy John surgery. Chris Archer (abdominal strain) could miss another month and Jake Faria is on the 60-day DL.
Adeiny Hechavarria and Kevin Kiermaier should each be back later this month (but not this series) from a hamstring and thumb injury, respectively.
Their Story So Far
The Rays come into the Bronx at 32-35, good for third place in the top-heavy American League East. They've gone 4-6 in their last 10 games and are 17-19 away from Tropicana Field. Despite casting off most of their big names, they've been solid offensively, hitting .255/.324/.394 (101 wRC+) entering Thursday.
While their pitching numbers don't look too special on the surface, they've received 39 2/3 fewer innings out of their starters than any other team with 301 innings in 67 games. That's because of their "openers," relievers who start the game and face the top portion of the lineup before handing the ball over to the normal starter.
Lineup We Might See
The Rays have added a couple prospects (Jake Bauers and Willy Adames) to their lineup since the Bombers last saw them while shedding Denard Span via trade.
1. 3B Matt Duffy (.324/.351/.409, 112 wRC+)
2. 1B Jake Bauers (.308/.379/.538, 155 wRC+)
3. C Wilson Ramos (.282/.324/.442, 113 wRC+)
4. DH C.J. Cron (.251/.331/.470, 123 wRC+)
5. 2B Joey Wendle (.277/.322/.375, 93 wRC+)
6. SS Willy Adames (.227/.250/.409, 75 wRC+)
7. CF Mallex Smith (.294/.356/.387, 109 wRC+)
8. RF Carlos Gomez (.180/.255/.325, 62 wRC+)
9. LF Rob Refsnyder (.177/.323/.291, 81 wRC+)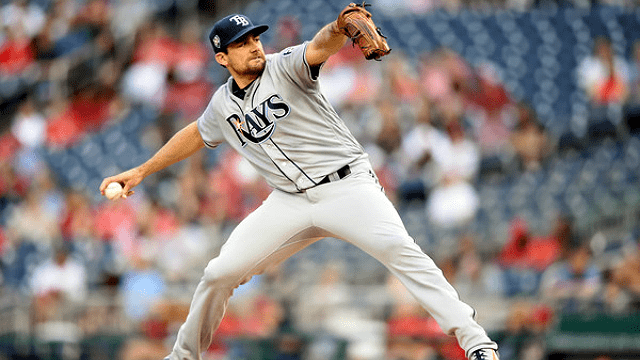 The "Starting Pitchers" We Will See
Thursday (7:05 PM ET): RHP Domingo German vs. LHP Blake Snell
Blake Snell is quickly turning into the pitcher that many thought he could be a couple years ago. He comes into this series with a 2.30 ERA over 82 1/3 innings and 14 starts. He has struck 89 batters and walked just 25, drastically cutting his walk rate (and his hit rate to boot).
He struggled against the Bombers in April to the tune of five runs in 3 1/3 innings, but he has allowed more than two earned runs in only two of his 14 starts. With Archer out, he's the Rays' ace and workhorse, yet he still typically only goes six innings or so. He's won his last four decisions.
Last Outing (vs. SEA on June 9) – 6.0 IP, 7 H, 2 R (1 ER), 2 BB, 1 K, 1 HR
Friday (7:05 PM ET): RHP Jonathan Loaisiga vs. RHP Nathan Eovaldi
It's so good to see Nathan Eovaldi back among the healthy. A torn flexor tendon and UCL ended his Yankees tenure and sent him to Tommy John surgery, keeping him out until this year. It looked like he'd be in the Rays' No. 2 starter in their opening series, but then another elbow injury delayed his return.
And then he no-hit the Athletics for six innings in his first game back. He's had less success in his last two starts, but he's built up to over 100 pitches. He's the same Eovaldi you remember: Still hits 100 mph on the gun, still can't miss bats with enough consistency. He's had solid control thus far, issuing just two walks in 16 innings.
Last Outing (vs. SEA on June 10) – 5.0 IP, 4 H, 3 R, 0 BB, 3 K, 2 HR
Saturday (1:05 PM ET): RHP Luis Severino vs. TBA
Sunday (2:05 PM ET): LHP CC Sabathia vs. TBA
OK, so it's TBA, but it's likely going to be a pair of relievers. Maybe Ryan Yarbrough will get a start, but he could also come in after whichever reliever manager Kevin Cash chooses to use. The way Cash typically uses the "opener" is keep the reliever-starter in for the first 5-6 batters, usually getting them into the second inning or so. Then comes the pitcher who normally starts (Yarbrough, Austin Pruitt, etc) for a couple times through the lineup.
The first time the Rays used the opener made perfect sense; They were facing a RHB-heavy Angels team and used Sergio Romo to counteract them. It was a really smart move. But it's been overkill to use it 2-3 times every week. They're doing it against platoon-balanced lineups and it's really backfired a few times. Ultimately, this wouldn't be happening if the Rays had rotation depth.
The Bullpen
No more Alex Colome after he was traded with Span to Seattle. It's mostly been closer by committee with Sergio Romo and Chaz Roe as two of the late-inning options. Lefty Jose Alvarado gets high leverage opportunities as well while fellow southpaw Jonny Venters limits LHBs well. RHP Diego Castillo is four games into his career and has struck out eight in 5 2/3 innings.
Beyond those four, it's a mix of long relievers and openers. Matt Andriese and Wilmer Font combined for seven innings on Wednesday (Castillo pitched the other two), so they're unlikely to pitch early in the series. Austin Pruitt pitched 2 2/3 innings on Tuesday while Ryne Stanek opened with two shutout innings. Yarbrough and former Yankee Vidal Nuno round out the rest of the motley crew.
Yankees Connection
Cash had 10 games in pinstripes during the 2009 title run while Eovaldi and Refsnyder are recent Yankees. Roe and his wonderful slider spent three games with the Bombers in 2014 and Nuno was a Yankee for 22 games in 2013-14. On the 40-man, recently acquired Ji-Man Choi was a stopgap at first base for the Yankees last season.
Who (Or What) to Watch?
Old Timer's Day on Sunday! I'm excited to see Andy Pettitte don pinstripes again and hopefully we'll see him try to pick someone off. Aaron Boone is also getting in on the action among the other newcomers.
Jonathan Loaisiga's debut against Eovaldi's return to the Bronx. The Yankees dip into their prospect wealth against one of their former young starters. A fun matchup for the Pinstripers.
Similar to Loaisiga's debut, let's see how Jake Bauers and Willy Adames do in their first matchups against the Yankees. Each is among the Rays' top prospects and Bauers has gotten off to an impressive start over the last week.