The three-game losing streak is no more. In their first game at Citizens Bank Park since the 2009 World Series, the Yankees outlasted the Phillies for a 4-2 win Monday night. Great starting pitching, timely hitting (!?), and stout bullpen work did the trick.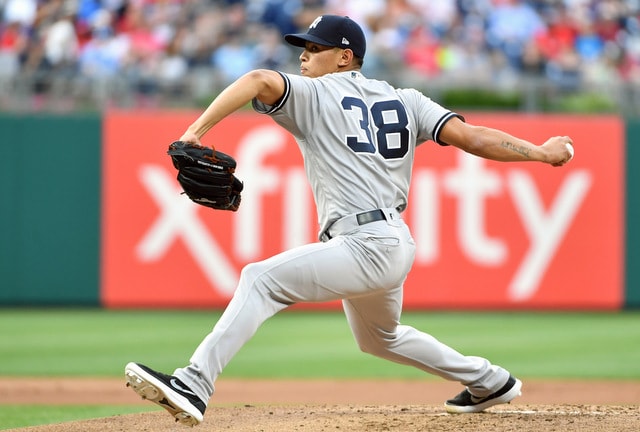 John E. Lasagna
Monday night, for the first time since 2013 — 2013! — Jonathan Loaisiga threw a pitch in the sixth inning. Between injuries and workload restrictions, Loaisiga has been capped at five innings (or fewer) in the minors the last few years. He pitched into the sixth inning Monday because he was throwing a dang no-hitter. He retired the first 12 men he faced before walking Carlos Santana in the fourth, and his first hit allowed was a leadoff Jorge Alfaro single in the sixth.
Loaisiga carved the Phillies up using mostly his fastball and slider — he threw only five changeups all night because the pitch didn't seem to be working (he hung one and missed wide with four others) — striking out seven of the first dozen batters he faced, and getting six ground ball outs compared to only two in the air. He was getting swings and misses on fastballs in the zone, and throwing the breaking ball in the zone for strikes and in the dirt for whiffs. Perfect.
Loaisiga's final line: 5.1 IP, 1 H, 0 R, 0 ER, 2 BB, 8 K on 86 pitches. He did seem to run out of gas in that sixth inning — his heater averaged 95.2 mph in the sixth, down from 97.0 mph in the first — which isn't surprising. Loaisiga doesn't have many pro innings under his belt and he's rarely pitched deep into games. Overall, he was excellent. Nice bounce back from that grind-it-out start five days ago. Well done, Johnny. Looking forward to seeing him again in a few days.
Two Runs Early, Two Runs Late
Okay, so the Yankees have yet to break out of their June offensive swoon, but they scored only one of their four runs on a homer Monday, so that should make people happy. Gleyber Torres got the scoring started when he reached way out …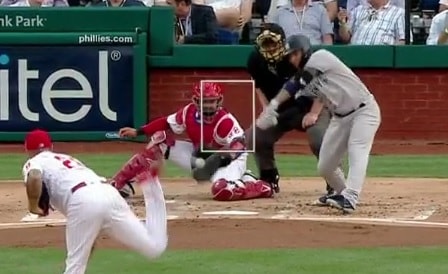 … and poked a two-strike slider a few feet fair inside the right field line to score Greg Bird from second base in the second inning. Bird walked and moved up on a wild pitch. Three innings later Aaron Judge stretched the lead to 2-0 with a line drive home run down the left field line. It was a two-strike cement mixer that just spun out over the plate. A good piece of hitting, I'd say.
The Yankees scored two insurance runs in the eight inning on the kind of rally that would bug the crap out of us if the other team did it. Brett Gardner beat out an infield single, Aaron Judge walked, and Didi Gregorius laid down a perfect bunt along the third base line for a single. Bases loaded with no outs and they didn't hit a ball out of the infield. It's fun when those rallies go your way.
New fan favorite Giancarlo Stanton hit a chopper over Scott Kingery at shortstop — the infield was drawn in and Stanton got a big enough hop to get it over Kingery, hilariously — to score those two runs in the eighth. I didn't think Judge had a chance to score from second on the play but I overestimated Rhys Hoskins' arm. The throw was well wide of the plate. Stanton's starting to get locked in, eh?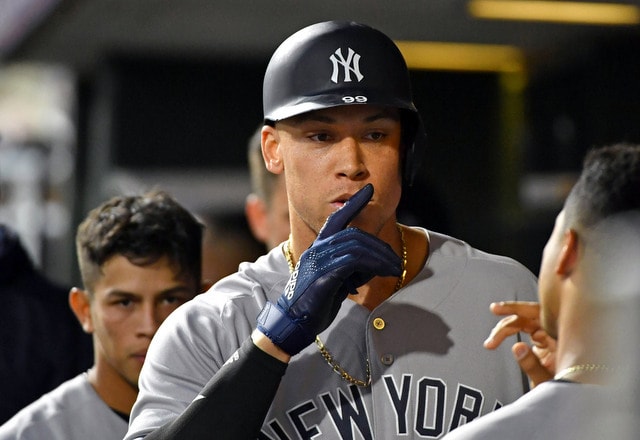 Three Saves
With the bullpen taxed following Sunday's extra innings game, Aaron Boone asked his late-inning guys for more than usual Monday, and they all answered the bell. David Robertson inherited runners on first and second with one out from Loaisiga, and escaped the jam with a strikeout and a ground ball. A walk, a wild pitch, and a single then gave the Phillies their first run in the seventh and brought Dellin Betances into the game.
Betances entered with a runner on second — the tying run at the time — and two outs and fanned Jorge Alfaro on four pitches to end the inning. Dellin went back out for the eighth and was very wild …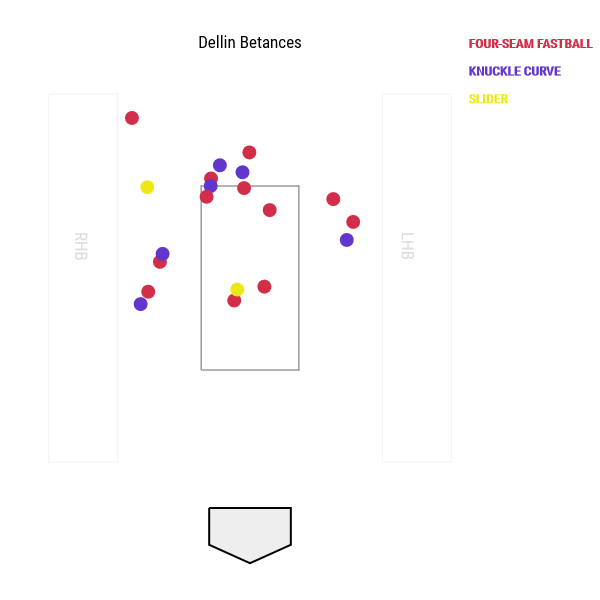 … though he was able to sandwich a pop-up and a grounder between two walks, so that's good. Boone went to Aroldis Chapman for the four-out save and he was able to strand the two runners he inherited from Betances because Carlos Santana with a screaming line drive to Stanton in left field. Nice running catch. It looked like trouble off the bat.
Chapman did allow a solo homer to Maikel Franco in the ninth inning — first dinger he's allowed this season — but that's no big deal with a three-run lead. He finished the game for this 23rd save. All three relievers got big outs. Robertson stranded two runners in the sixth, Betances stranded a runner in the seventh, and Chapman stranded two runners in the eighth. Chapman gets the save but all three of those dudes had little saves along the way.
Leftovers
The top four hitters in the lineup (Gardner, Judge, Gregorius, Stanton): 6-for-14 (.429) with five walks and three strikeouts. The rest of the offense: 1-for-19 (.053) with the one being Gleyber's double. To be fair, there are three pitcher at-bats mixed in there, but still. Pretty bad! Fortunately the big bats at the top of the lineup took care of business.
Austin Romine's first game as the starting catcher: 0-for-4 with a strikeout, a wild pitch allowed, and a throw into center field. Not great! Hopefully it was just a bad game — everyone has those, right? — and Romine gets things back on the up-and-up soon.
And finally, I am pro-DH and I hate pitchers hitting, but hands down one of my favorite moments of the season is Betances getting an at-bat in the eighth. Not only was it the first at-bat of his career, but Dellin went full Gary Sheffield with the bat waggle. Look at this:
Is that you, Gary Sheffield? pic.twitter.com/PaV3HWyTSw

— Jesse Foster (@Jesse__Foster) June 26, 2018
Amazing. Just when I thought I couldn't love Betances any more, he goes and does that. What did Boone think of Dellin taking two giants hacks? "I'm in favor of this DH thing," he said. Yup.
Box Score, WPA Graph & Standings
ESPN has the box score, MLB has the video highlights, and ESPN has the updated standings. Here is our Bullpen Workload page and here's the win probability graph:

Source: FanGraphs
Up Next
The Yankees and Phillies will be back at it with the middle game of this three-game series Tuesday night. Luis Severino and Jake Arrieta are the scheduled starting pitchers for that one.