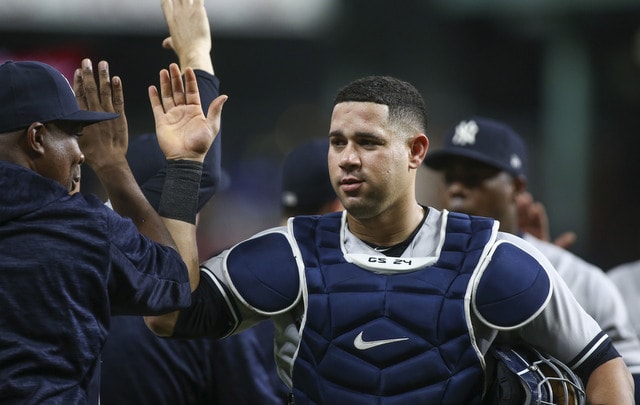 Because getting swept in Tampa wasn't bad enough, the Yankees also lost Gary Sanchez to a Grade I groin strain over the weekend. He's going to miss a month. That really stinks. The lineup doesn't look quite as formidable without him. I have some thoughts on the injury and what it means for the Yankees, so let's get to 'em.
1. To date, Sanchez has not had the kind of Gary Sanchez season we all expected — he's hitting .190/.291/.433 (97 wRC+) through 245 plate appearances — though he still leads all catchers in home runs and can change a game in an instant. Austin Romine has been great this season, above and beyond what anyone expected, but, prior to the injury, did anyone really expect Romine to out-produce Sanchez the rest of the season? I sure hope not. The offensive potential is not comparable and the pitching results going into last night's game were nearly identical with either guy behind the plate:
| | IP | ERA | FIP | K% | BB% | AVG/OBP/SLG |
| --- | --- | --- | --- | --- | --- | --- |
| Sanchez | 456 | 3.38 | 3.41 | 27.4% | 8.2% | .216/.287/.364 |
| Romine | 224 | 3.54 | 3.32 | 26.8% | 8.5% | .227/.301/.336 |
Funny how that works, eh? Almost like the guys actually throwing the pitches matter more than the guy behind the plate. Anyway, Sanchez hasn't put up the numbers expected of him and instead of continuing to work get back on track — the 116-point difference between Gary's wOBA and expected wOBA is the seventh largest among all players in June, so he wasn't being rewarded for good contact — he'll have to rehab. Everything is delayed. Instead of potentially getting good Gary back in a few days or next week or whenever, the Yankees are looking at no earlier than the All-Star break. Sucks.
2. Romine went into last night's game hitting .305/.370/.524 (144 wRC+) and that is way out of line with anything else he's done in his career. That said, now that he's the starting catcher for the next month or so, it is again worth noting he has made some adjustments that could lead to offensive improvement. Specifically, Romine has closed up his stance this season. Here's this image again: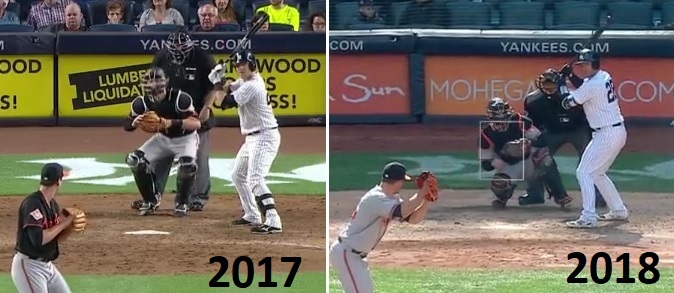 Romine's hard contact (37.9%) and opposite field (42.4%) rates are far higher than they've ever been and his expected .365 wOBA is far better than his .291 mark from 2016-17, so the quality of his contact has improved. That's good! We're also talking about a guy who hasn't even batted 100 times this year and will now have to deal with the wear-and-tear of full-time catching. I have no illusions of Romine maintaining that 144 wRC+ while Sanchez is out. Not gonna happen. My hope is the new closed stance allows him to produce like a league average catcher — catchers are hitting .231/.305/.375 (86 wRC+) this season — rather than the sub-replacement level hitter he was the last two years. If that happens, I'd consider it a win.
3. At the very least, the Yankees will probably have to trade for a depth catcher to stash in Triple-A. They traded Erik Kratz to the Brewers before he could trigger his June 1st opt-out and be lost for nothing, and with Kyle Higashioka called up, the Triple-A Scranton catching tandem is journeyman Wilkin Castillo and organizational catcher Francisco Diaz. Yikes. (Castillo was signed out of an independent league following the Kratz trade.) A minor trade for a more viable Triple-A depth option wouldn't surprise me one bit. The Braves (Rob Brantly, Chris Stewart), Giants (Ryan Hanigan), and Padres (Raffy Lopez, Brett Nicholas) all have catchers with big league time sitting in Triple-A at the moment. A deal for someone like that — I could totally see a Stewart reunion coming — just to help the Yankees cover their bases figures to be in the cards. I'm sure Wilkin Castillo is a good dude and all, but he was a Long Island Duck less than a month ago. That guy can't be your third catcher while Sanchez is out. The Yankees need a better backup plan and I expect them to pick one up reasonably soon.
4. I think there is basically zero chance the Yankees look to find a replacement starting catcher while Sanchez is sidelined. It would take a setback or something like that. They'll pick up a depth catcher for Triple-A and roll with Romine and Higashioka at the big league level for the time being. Hypothetically, if the Yankees did want to trade for another starting catcher, there are several candidates out there. Wilson Ramos and Jonathan Lucroy are impending free agents, ditto Yasmani Grandal. The Dodgers have reportedly been willing to move Grandal for months now to help get under the luxury tax threshold. Maybe the two contenders hook up for a big leaguer for big leaguer trade? David Robertson for Grandal, rental for rental? Fun idea, but I have no interest in subtracting from the bullpen and I don't think the Yankees are trading for a new starting catcher anyway. If Sanchez's injury becomes something more serious, then yeah, the Yankees will have to act. Otherwise I think they're standing pat aside from a Triple-A depth guy.
5. With Sanchez down and the Yankees losing a big source of power, it would be really great if Greg Bird started hitting like right now. He's sitting on a .186/.293/.384 (87 wRC+) batting line with three homers through 26 games played and that objectively stinks, especially for a dude with limited defensive value and negative baserunning value. Yes, he's coming back from another ankle surgery and no, I don't think the Yankees should cut bait or demote him to Triple-A or anything like that. Keep running him out there. It took him some time to get locked back in following last season's ankle surgery too. With Sanchez down though, the Yankees are going to need more from other players, and first base is an obvious spot for improvement. Like I said in the mailbag last week, give Bird until the trade deadline. If we're still standing here waiting for him to heat up in the days leading up to July 31st, it's time to stop waiting and get someone else. Too sooner the Bird can turn things around, the better, especially now with Sanchez sidelined.