Couldn't have asked for a better start to this important series than that. The Yankees got great starting pitching and, for the first time in what feels like a long time, the offense really took control of a game. Chasen Shreve even threw a 1-2-3 inning. A great win over the Red Sox, this was. The final score was 8-1 good guys. The Yankees once again have the best winning percentage in baseball.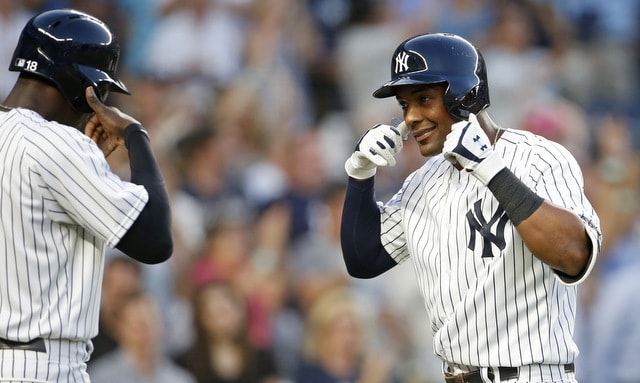 The Kids Lead The Way
The following two statements are true. One, the Yankees have been very good in June, winning 17 of 25 games going into Friday night. And two, June has not been a great month for the Yankees' offense. They scored 99 runs in those 25 games (3.96 per game) and the went into Friday's game with a team 100 wRC+. Exactly average. Average is … average. We all expect better from this lineup, right? Right.
On Friday, the offense came back to life, and it was the young players who led them. Gleyber Torres drilled a triple off the wall in dead center field to begin the second inning, and Miguel Andujar brought him home with a well-placed bloop into shallow center field. The Red Sox were playing the infield in and the infielders couldn't retreat in time to catch the bloop. A lucky break, that was. Then again, good teams make their own luck.
The Yankees nursed that 1-0 lead until the fourth inning, when things really started to click at the plate. Giancarlo Stanton worked a leadoff walk — Stanton went 0-for-2 with two walks, so he didn't have a hit, but I thought he had great at-bats and great swings all night — and Didi Gregorius set the Yankees up with a hammered double off the right-center field wall. I thought it was gone off the bat. Alas. Miss inside and Gregorius will make you pay.
Torres gave the Yankees a 2-0 lead when he brought Stanton home with a sacrifice fly, then Andujar and Greg Bird started the process of breaking the game open. Two-run homer to left for Andujar and a solo shot the other way to left for Bird. Back-to-back jacks for two dudes who haven't hit much lately, especially Bird. It was Bird's best swing in quite a while.
The four-run fourth inning gave the Yankees a 5-0 lead and whole lot of breathing room. The Red Sox are really good — annoyingly good — and it felt like there was no chance that early 1-0 lead would hold up. The Yankees were going to need more runs. Many more runs. They broke things open in the fourth inning and were able to relax the rest of the way. A good inning. A needed inning.
The Leader of the Staff
Luis Severino is the ace, there's no question about that, but CC Sabathia is still the leader of the pitching staff. So much so that the Yankees rejiggered their rotation so Sabathia would get the ball in the opener of this important three-game series. And, of course, the big man delivered. The next time Sabathia backs down from a challenge or shrinks in a big game will be the first.
Wanna talk about a momentum shift? I don't really don't believe in momentum, but, if you do, it clearly shifted in the second inning. Steve Pearce — is that guy annoying or what? go away already — opened the second with a leadoff double but Sabathia was able to strand him with a fly out, a foul pop-up — Bird made a fantastic catch near the side wall on that — and another fly out. It felt like the Red Sox were about to take a 1-0 lead. Instead, Sabathia stranded Pearce and the Yankees took a 1-0 lead two batters into the bottom of the second. Awesome.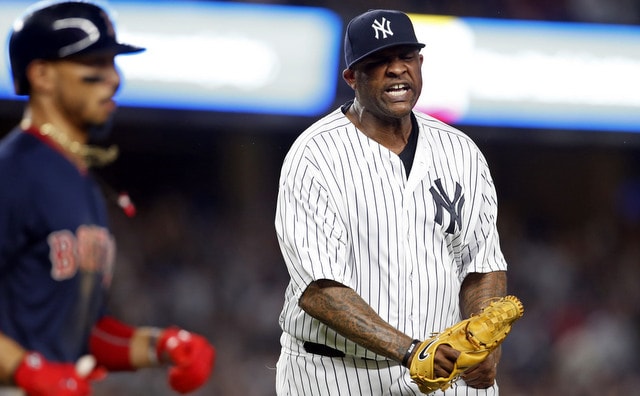 The Red Sox scored their only run in the fifth inning, when it appeared Sabathia was starting to run out of gas. Mookie Betts and Andrew Benintendi strung together back-to-back two out doubles and it seemed the third time through the order monster was beginning to rear its ugly head. It didn't happen. Sabathia retired the next six batters he faced and got Betts to hit a tapper back to the mound — it was the fourth time through the lineup at that point — to end the seventh inning and his evening.
Sabathia's final line: 7 IP, 6 H, 1 R, 1 ER, 1 BB, 5 K on 97 innings. I didn't want Sabathia to face Betts in that seventh inning. I thought Aaron Boone was pushing it, especially with a 5-1 lead and Chad Green already warm in the bullpen. Boone's gut move worked out though. Late-career Sabathia is so great. How can you not love this guy? By the way, Sabathia is now sitting on a 3.02 ERA on the season, tenth lowest among AL starters. Hell yeah.
Tack-On Runs
Once Sabathia got the Yankees through seven innings with a 5-1 lead, it was hard not to feel pretty good about things given the bullpen. Thankfully though, the offense did rest on its laurels, and tacked on three runs late. Aaron Judge clocked a two-run home run in the seventh inning and dammit, he almost hit it into The Judge's Chambers. Almost. Look:
So close. My only complaint about The Judge's Chambers is that it's damn near impossible to hit a homer into those seats under the second deck overhang. That's as close as Judge — or anyone, for that matter — has come to hitting a ball into The Judge's Chambers, as best I can remember. Also, fun fact: Judge hit that home run against his former Fresno State teammate Justin Haley. Small world.
Anyway, the Judge homer increased the lead to 7-1. Greg Bird made it 8-1 with a solo homer in the eighth inning. He pulled that one to right after going to the opposite field earlier in the game. The 2-for-4 with two homers game raised Bird's batting line from .191/.308/.382 (92 wRC+) to .204/.315/.452 (110 wRC+). Hopefully this is a sign he's breaking out. Another lefty power bat would be appreciated.
Leftovers
Easy night for the bullpen. Three up, three down for Green in the eighth — he was already warming in the seventh, so might as well use him even after Judge stretched the lead to 7-1 — and three up, three down for Chasen Shreve in the ninth. A 1-2-3 inning for Shreve? I'm not sure how this game could've gone any better.
Two hits (single, triple) for Torres, two hits for Bird (homers), and three hits (homer, two singles) for Andujar. Their 5-6-7 portion of the lineup went 7-for-11 (.636) with a triple and three homers. The rest of the Yankees went 4-for-21 (.190) with a double and a homer. Maybe I'm just a giant homer, but the bottom of the Yankees' lineup is so much more dangerous than the bottom of Boston's.
And finally, No. 9 hitter Brett Gardner managed to lead off an inning twice, because baseball. This was Gardner's first start outside the leadoff spot since he batted second behind Jacoby Ellsbury on July 7th, 2016. It was his first start in the No. 9 spot since April 16th, 2012. Been a while.
Box Score, WPA Graph & Standings
Go to ESPN for the box score and updated standings, MLB for the video highlights, and RAB for the Bullpen Workload page. Here's the win probability graph:

Source: FanGraphs
Up Next
This three-game series is just getting started. The Yankees and Red Sox will play the middle game Saturday night — that's a 7:15pm ET start — when Sonny Gray squares off against Chris Sale. Reverse lock, maybe? Either way, bring it on.