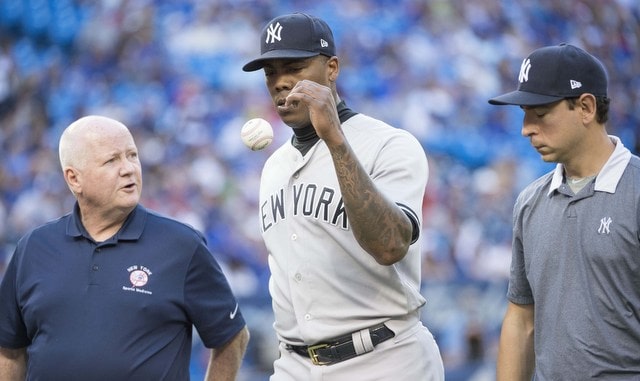 7:52pm ET: It is indeed the left knee, Aaron Boone confirmed after the game. Both Boone and Chapman indicated it's not a major concern. He left the game because there's no reason to push it with a four-run lead.
Here's video of the injury:
7:37pm ET:
Yet another injury. Aroldis Chapman exited this afternoon's game with an apparent leg injury. He threw a pitch — and got the swing-and-miss for a strikeout — and limped a little bit. Chapman's been dealing with left knee tendinitis for weeks but he's been receiving treatment and has been able to pitch through it.
During the meeting with the trainer on the mound, YES cameras caught Aaron Boone saying "it's not worth it," which leads me to believe Chapman lobbied to stay in the game. No sense in pushing it with a four-run lead. Heck, it wouldn't be worth pushing it with a one-run lead. Chapman's too important.
The Yankees have not yet announced an update on Chapman, though, based on his reaction after the pitch, I'd bet on that left knee barking. Hopefully it's nothing and Chapman can return to the mound soon. As I said earlier this year though, I'd be cool with a quick 10-day DL stint to knock this thing out. Better to miss a few games now than many games later.