It took an extra inning, but the Yankees claimed yet another series win Sunday afternoon. They beat the Blue Jays 2-1. The Yankees are 19-2-2 in their last 23 series and they are 58-29 overall. They won their 58th game on August 5th last season. For real.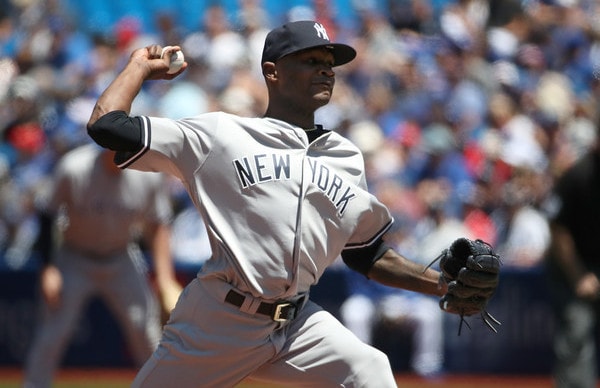 Domingo Dandy
Great bounceback outing from Domino German, who allowed nine runs in 7.1 innings in his previous two starts combined. His one real mistake was grooving a 3-2 fastball to Kendrys Morales in the sixth inning, a 3-2 fastball Morales promptly deposited into the right field seats for a game-tying solo homer. Domingo's final line: 6 IP, 4 H, 1 R, 1 ER, 1 BB, 5 K, 1 HR on exactly 100 pitches.
The Moment of Truth came in the fourth inning. The annoyingly unstoppable Justin Smoak singled to start the frame, then, after two quick outs, German walked Russell Martin and the generally un-walk-able Randal Grichuk to load the bases with two outs. Felt like a meltdown was coming. Instead, German got ahead in the count 0-2 on Lourdes Gurriel Jr., and was eventually able to put him away with a well-placed curveball just below the zone. Great work escaping that mess.
Against a righty leaning lineup, German relied heavily on his fastball and breaking ball — he threw only seven changeups all afternoon — and was able to get 12 swings and misses on the heater and four on the curveball. His 15.0% swing-and-miss rate trails only Max Scherzer (17.0%), Chris Sale (15.9%), and Jacob deGrom (15.7%) among the 112 pitchers with at least 70 innings pitched. How about that?
With German, it's all about fastball command. When he throws strikes with his fastball — I mean good strikes too, not center cut heaters like the one Morales took deep — Domingo can be truly dominant. He was (mostly) out of the middle of the plate Sunday and he shut down an admittedly weak Blue Jays lineup. Great start for German. I was hoping to see exactly this after those back-to-back duds.
One Run Early, One Run Late
This was setting up to be one of those games. You know what I mean. The Yankees scored early, didn't tack on despite numerous opportunities, then the other team tied it and was poised to steal away a win. Thankfully, that did not happen. A single (Aaron Judge), a double (Giancarlo Stanton), and a grounder to second (Miguel Andujar) gave the Yankees a first inning 1-0 lead. Hooray for that.
Back-to-back one-out singles were wasted in the second inning. A one-out single was wasted in the third. A leadoff walk was wasted in the fourth. A leadoff walk and a one-out single were wasted in the fifth. A one-out single was wasted in the sixth. A leadoff single was wasted in the eighth. Argh. So many chances. The Yankees banged into three rally-killing double plays (Stanton had two of 'em) and went 0-for-7 with runners in scoring position in regulation.
Fortunately, the Yankees did not finish the game 0-for-7 with runners in scoring position. They finished 1-for-8. Greg Bird took a Tyler Clippard pitch to the elbow guard leading off the tenth inning, Austin Romine bunted pinch-runner Tyler Wade up to second, and Gardner drove him in with a single to left field. Teoscar Hernandez made a good throw home but Wade is just too fast. That kid can fly.
Gardner went into Sunday's game hitting .300/.444/.550 (169 wRC+) in high-leverage spots this season and I'm surprised his slash line is that low. He's been a big hit monster all season. Sunday's single didn't pack quite the punch of the go-ahead triple against Craig Kimbrel or the game-tying homer against Chris Devenski or the go-ahead homer against deGrom, but it was an important hit and an important win nonetheless. Gardner is still The Man in my book.
Leftovers
Stellar work by the B-team relievers. Of course, the B-team relievers for the Yankees are the A-team relievers for many teams. Two scoreless innings for Adam Warren — he pitched around a leadoff double in the seventh — and then quick 1-2-3 innings by Chad Green and David Robertson to close it out. Robertson nailed down the save with Aroldis Chapman's knee barking. Not a bad backup closer, eh? The Yankees held the Blue Jays to six hits and two walks in ten innings.
Judge (walk, two singles), Stanton (single, double), and Bird (single, hit-by-pitch) were the only Yankees to reach base multiple times. Gardner had his game-winning single while Romine, Didi Gregorius, and Brandon Drury mixed in singles as well. Clint Frazier's electric bat speed drew a walk.
Box Score, WPA Graph & Standings
Head over to ESPN for the box score and updated standings and MLB for the video highlights. Here's our Bullpen Workload page and here's the win probability graph:

Source: FanGraphs
Up Next
A day-three, four-game series to Baltimore. The Yankees and Orioles have a doubleheader Monday. CC Sabathia will start the first game and Luis Cessa will start the second game. The Orioles have not yet announced their Game One starter — sounds like it's going to depend on their bullpen usage today — though former Yankees farmhand Yefry Ramirez will be on the mound for the nightcap. The single admission doubleheader begins at 4pm ET.