There are ten questions in this week's edition of the RAB mailbag. RABmailbag (at) gmail (dot) com is the spot to send all your questions and comments throughout the week.
James asks: Am I being over optimistic to think Miguel Andujar has Manny Machado upside? Obviously the defense will never be there but when Machado first came up he was a doubles machine and when he started filling out those doubles turned into homeruns. Do you think Andujar has even a shot at turning into a Machado like force offensively?
I love Andujar but yeah, I think you're being overly optimistic. Remember, Machado broke into the big leagues as a 20-year-old. He hit .294/.343/.533 (130 wRC+) with 37 home runs when he was Andujar's age, and he had nearly 2,000 big league plate appearances to his name already. Machado is a special talent and I don't think it's fair to compare Andujar (or anyone) to him. Just let Miggy be Miggy.
Now, that said, I do believe Andujar has the potential be a perennial All-Star hitter. Right now he's sporting a .227 ISO and a 17.2% strikeout rate. Here are the last ten players to put up a .220+ ISO and a sub-18.0% strikeout rate while qualifying for the batting title at age 23:
Francisco Lindor, 2017: .232 ISO and 12.9 K%
Manny Machado, 2016: .239 ISO and 17.2 K%
Hanley Ramirez, 2007: .230 ISO and 13.5 K%
Prince Fielder, 2007: .330 ISO and 17.8 K%
Miguel Cabrera, 2006: .229 ISO and 16.0 K%
David Wright, 2006: .220 ISO and 17.1 K%
Albert Pujols, 2003: .308 ISO and 9.5 K%
Aramis Ramirez, 2001: .235 ISO and 15.3 K%
Eric Chavez, 2001: .252 ISO and 16.4 K%
Andruw Jones, 2000: .238 ISO and 13.7 K%
Well then. So maybe saying Andujar has Machado offensive upside isn't so far-fetched after all? Clearly, it's not every year that a 23-year-old does what Andujar is doing this season. And remember, Andujar is doing it in a high strikeout era. The league average strikeout rate is 22.1% this year. When Hanley and Prince had their big age-23 seasons in 2007, the league average strikeout rate was 17.1%.
Andujar's doubles have already started to turn into home runs — to be fair, Yankee Stadium is pretty small, and it's a terrible doubles park — and I think he'll improve his plate discipline over time the same way Didi Gregorius improved his plate discipline. He probably won't ever be a 10.0% walk rate guy, but with experience, I absolutely think Andujar can get up to a league average walk. This dude has a .320/.370/.580 season in him at his peak. I firmly believe it.
Anonymous asks: How would Andujar's offensive numbers stack up as a first baseman compared to the rest of the league?
Andujar is hitting .295/.327/.523 (127 wRC+) this season and the league average first baseman is hitting .250/.329/.436 (106 wRC+). First base production around the league is down a bit because guys like Miguel Cabrera and Joey Votto are getting hurt/starting to decline and others like Anthony Rizzo and Carlos Santana aren't having the kind of years they normally have.
There are 25 first basemen with enough plate appearances to qualify for the batting title. Here's where Andujar would rank:
AVG: .295 (4th behind Freddie Freeman, Jose Martinez, and Paul Goldschmidt)
OBP: .327 (15th)
SLG: .523 (5th behind Matt Carpenter, Jesus Aguilar, Goldschmidt, and Freeman)
wRC+: 127 (6th behind Goldschmidt, Carpenter, Freeman, Aguilar, Votto)
HR: 20 (9th)
WAR: +2.2 (8th)
The WAR comparison is apples to oranges because Andujar gets the benefit of the third base positional adjustment, but I figured I'd throw it in there anyway. Goldschmidt (155), Carpenter (152), Freeman (147), and Aguilar (143) are the cream of the first base crop based on wRC+. Andujar would be in the second tier with Votto (132), Martinez (127), Justin Smoak (125), and Jose Abreu (120). You could argue Andujar would be the best offensive first baseman in the American League right now. All the top first basemen are in the National League.
Ricky asks: Greg Bird is routinely getting beat on fastballs. He's a left handed hitter who generates bat speed and power with his right arm. What's the likelihood his struggles are related to his 2016 right shoulder injury and subsequent surgery?
Man, Bird really looks bad. That swing he took against Javy Guerra in the ninth inning Wednesday night was about as bad as I've ever seen a hitter look against a 90 mph (89.8 mph to be exact) fastball. Look at this: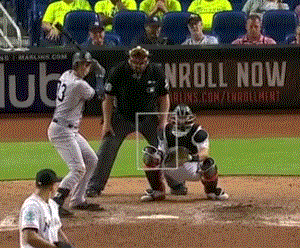 Bird swung through that 90 mph fastball like it was 99 mph. Bad. Bad bad bad. I can't help but wonder whether he's hiding an injury. He's been hurt so much over the years that, if he is indeed hurting again, I wouldn't blame him one bit for trying to gut it out. Bird wants to play and he's tired of being on the disabled list. I'd totally get it.
The three surgeries Bird has had recently are fairly significant. He's had surgery on his right shoulder and also two surgeries on his right ankle. As a left-handed hitter, that's his front (power) shoulder and front (plant) leg. Hitters transfer their weight to their front leg when they swing, and Bird's front leg has been compromised. Between the shoulder and ankle, I don't think it's unreasonable at all to suggest the injuries are hampering him at the plate.
This doesn't mean the injuries will hamper him forever. Bird could get his timing back and all that as he gets further away from his most recent ankle surgery. Maybe it'll take an offseason of rest and hitting work to get that timing back. In a weird way, it would be a good thing if the injuries were causing his struggles, because at least then there'd be an explanation. Otherwise we'd still be searching.
Ryan asks: Where do the Yankees sit compared to the rest of MLB with games lost due to injury? Thank you.
Middle of the pack. Almost exactly league average, in fact. The Yankees have been hit hard by injuries this year but a lot of them have come recently. Aaron Judge went on the disabled list July 27th. Gregorius and Aroldis Chapman got hurt earlier this week. The only super long-term injuries are Jacoby Ellsbury and Jordan Montgomery. Here's the days lost to injury leaderboard:
1. Rangers: 1,418 days
2. Angels: 1,378 days
3. Dodgers: 1,319 days (they manipulate the 10-day DL to rest their pitchers)
4. Mets: 1,315 days
5. Padres: 1,194 days
…
15. Yankees: 915 days
…
30. Astros: 524 days
(MLB average: 912 days)
This is way above my pay grade, but I'd love to see projected WAR lost to injuries. Some injuries are more costly than others. It is entirely possible losing Judge for six weeks is more costly than losing Ellsbury for the entire season. The Yankees have a lot of important players on the disabled list right now, but most of the are fairly recent injuries. They've been hit by a lot of (hopefully) short-term injuries all at once.
Bob asks: I am intrigued by what Tampa bay has accomplished using their bullpen in lieu of starters several times a week. In an era where teams struggle to find, and keep healthy, five starters it may make sense to use pitchers who have health, command, lack of a third pitch or stamina issues as 3-4 innings guys. The Yankees have pitchers like Green, Acevedo, German, Loaisiga and Adams who may do better in such a role. What do you think?
The Rays stink and I think at least part of their motivation here is suppressing salaries (fewer starts and fewer innings equals lower arbitration salaries), but the strategy is working. Since May 19th, the first day they used an opener, the Rays have the second lowest ERA (3.35), the fourth lowest FIP (3.67), and the second lowest wOBA allowed (.284) in baseball. What are the chances they could do that with dudes like Ryan Yarbrough and Austin Pruitt and Hunter Wood in a tradition starter system? Not very good, I don't think.
As much as I hate to do it, I give the Rays a lot of credit for their creativity, and manager Kevin Cash for getting players to buy in. He is the AL Manager of the Year to me, hands down. Other teams have started toying around with openers — I've argued the Yankees should use one for Chance Adams and Domingo German — and I think this is where baseball is heading. Everything in the game has been trending toward using pitchers less and less, and it has been for a long time. Eventually every pitching staff is going to be 10-11 dudes who throw maybe three innings at a time, plus a closer. We're probably a few years away from that, maybe even a few decades, but it's coming.
Ruby asks: Given Judge's injury, imagine if you could hypothetically take a Mulligan and bring back any of the outfielder prospects that circulated through the Yankee's 40 man in the past two years (Cave, McKinney, Blash, Fowler, Gamel, Austin etc.). How would you rank these guys by who you want and why?
There are two ways you could answer this. First, if you're talking about taking back the player who could most help the Yankees right now, it's Gamel. He's hitting .292/.368/.397 (116 wRC+) in 234 plate appearances, including .306/.382/.406 (123 wRC+) against righties, and he can handle all three outfield spots well enough. Gamel's the guy you take back if your goal is to improve the 2018 Yankees.
And second, if you're talking about taking back a player who could most help the Yankees long-term, the answer is Dustin Fowler and it's not close. He is far and away the best defender of the bunch and I'd bet on him becoming the best hitter as well. Fowler hit .231/.260/.368 (69 wRC+) during his big league stint this year before being sent back down — he's hitting .352/.375/.533 (135 wRC+) in Triple-A — so he's not really ready to help now. I'd take him for next year and beyond though. He's how I'd rank those outfielders in terms of wanting them back:
Dustin Fowler
Ben Gamel
Jake Cave
Billy McKinney
Jabari Blash (.321/.402/.702 in Triple-A!)
Tyler Austin
Austin is no outfielder. He's terrible out there. As bad as late career Carlos Beltran if not worse. Y'all need to stop talking about him as if he was an outfield option. Might as well put Luke Voit in right field.
Rich asks: Derek Dietrich, for the bench and beyond? yea or nay?
Yea. I have to think the Marlins will trade him soon. If not before the August 31st postseason eligibility deadline then in the offseason. Dietrich is making $2.9M in his second year as a Super Two, so he'll make some pretty good money the next two years, and the Marlins aren't about big salaries. He's hitting .270/.332/.433 (109 wRC+) with 15 homers this year while playing first, third, left, and a little second. Quality left-handed semi-regular bench guy. In this age of eight-man bullpens and three-man benches, you need versatile players, and Dietrich can provide coverage at multiple spots while chipping in offensively.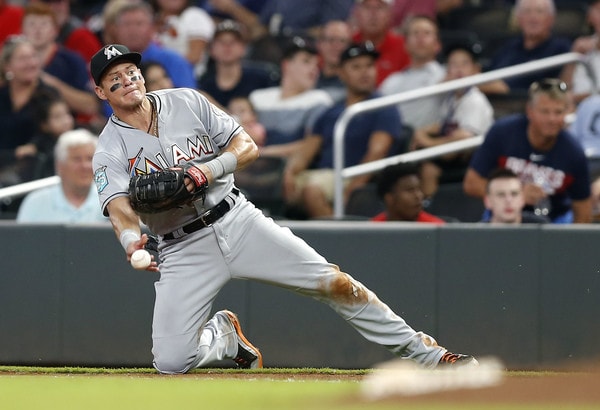 Ray asks: Estevan Florial seems to have turned it around this year. K's are down, average up, though power is down. Thoughts on how he's doing?
The injury has put a damper on Florial's season but it has been very good overall. Ignoring his rookie ball rehab games, he's cut his strikeout rate from 31.1% last year to 25.0% this year, and his swing-and-miss rate from 15.5% last year to 12.8% this year, and he's done it all in High-A. Last year he spent most of the season in Low-A. Florial moved up a level and cut his strikeout and whiff rates. That's good!
Florial hasn't hit for much power this season — even including the rookie ball rehab, he has a .146 ISO this year after a .181 ISO last year — though that could be explained by the wrist injury. He had hamate surgery and that is notorious for sapping a player's power for a few months after the procedure. And yes, Florial wasn't hitting for much power before the surgery either, but I'd bet his wrist had been bothering him for a bit before the surgery.
The injury stinks, but, overall, I think it has been a promising season for Florial because he's moved up a level and cut down on those swing-and-miss issues. High-A Tampa is not going to the postseason this year but Double-A Trenton will, and I bet the Yankees move Florial up to Trenton for the postseason. Tampa the rest of the regular season, Trenton for the postseason, then the Arizona Fall League to make up for the at-bats lost to surgery.
Adam asks: Any scenario possible other than sonny getting non tendered at the end of the year? Thanks
I don't see Sonny Gray getting non-tendered. I think that is the least likely scenario. Gray is making $6.5M this year and he's not going to get much of a raise, and that's nothing for a starting pitcher his age and with his pedigree. The Yankees will tender him a contract and trade him, most likely, and I don't think they'll have much trouble finding trade partners at all. The official RAB power rankings of possible Sonny Gray outcomes:
Traded in the offseason.
Traded before the August 31st postseason eligibility deadline.
Stays with the Yankees in 2019.
Non-tendered.
My guess is the Yankees will get a pretty nice return for Gray when they trade him. Not on par with what they gave up because he's stunk this year and also because it's one year of control vs. two and a half years of control, but I bet they get something decent. It won't be a straight salary dump and they definitely won't non-tender him and let him go for nothing.
Mike asks: Assuming Cessa makes the spot start this weekend, couldn't the 10 day rule be circumvented by optioning him to Pulaski? There season ends on 8/29. He would just be in limbo for a couple of days and wouldn't even have to physically leave the team. I believe the Yankees did something like this with Casey McGehee in 2012.
The Yankees did indeed do that with McGehee in 2012. Rather than send him to Triple-A, they optioned him to Low-A Charleston because their season ended sooner. Once the season ended, he was eligible to be recalled. I think the Yankees were the first team to do that, to skate around the ten-day rule by sending a player to a minor league team whose season ended before the ten days are up. Other teams followed suit and MLB closed the loophole with the last Collective Bargaining Agreement. Even if the minor league season ends, the player has to stay down ten days. That's fair … I guess?