Nothing like a little three-game sweep to placate the masses. The Yankees wrapped up the seven-game road trip with a stress-free 7-3 win over the White Sox on Wednesday night. It's their first three-game sweep since they put a hurtin' on the Mariners back in June.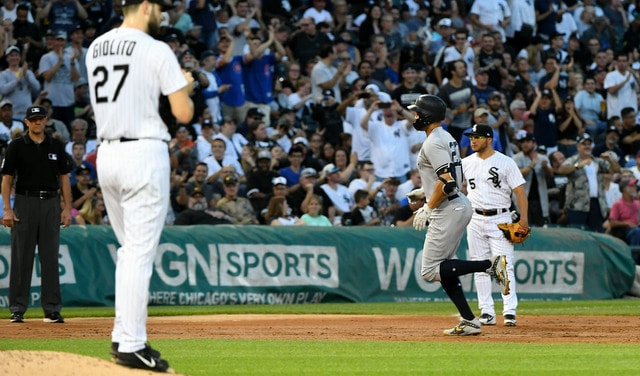 The Six-Run Second
Gosh, Lucas Giolito is really bad, isn't he? The former tippy top prospect — Giolito was arguably the top pitching prospect in baseball as recently as two years ago — went into Wednesday's start with a 5.97 ERA (5.91 FIP) on the season, including a 7.76 ERA (6.09 FIP) at home. The kid has good stuff. He just has no idea where it's going, as his league leading walk (68) and hit batsmen (12) totals can attest.
The Yankees forced Giolito to throw 26 pitches in a scoreless first inning. They went wild in the 30-pitch, six-run second inning. A lot happened in that frame, so let's annotate some play-by-play.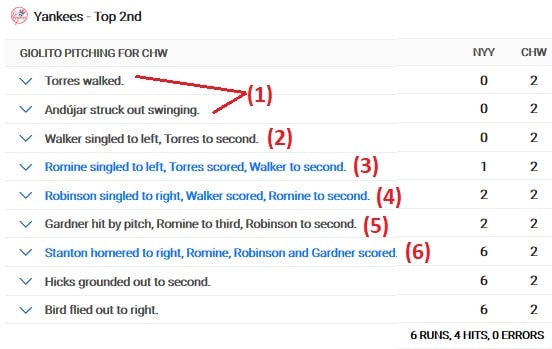 (1) Like I said, Giolito is very wild, and he started the second with a four-pitch walk to Gleyber Torres. None of the four pitches was particularly close. The pitch Miguel Andujar struck out on was well outside the zone too. Specifically, it was up and in on his hands, and he still swung through. Bad Miggy. Eight pitches into the second inning, Giolito had thrown two pitches in the zone.
(2) Neil Walker was the only Yankee who'd faced Giolito prior to Wednesday night — he went 0-for-4 with a walk against him during their Mets-Nationals days — and I don't know if that head-to-head experience helped him in this at-bat, but Walker did inside-out a two-strike fastball into shallow left field for a single, putting runners on first and second with one out. Walker went 1-for-4 in Wednesday's game and is now hitting .318/.373/.469 in his last 21 games. Hooray for that.
(3) The eight-nine hitters have not been too intimidating the last few weeks. Shane Robinson has been playing way too much and either Austin Romine or Kyle Higashioka will be in the lineup each night. The bottom of the lineup is where rallies have gone to die lately. Just not Wednesday night. Romine dug a two-strike changeup out of the dirt …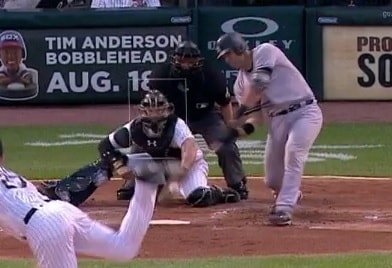 … and pulled a ground ball single through the left side, scoring Torres to get the Yankees to within 2-1. That's a pitch a hitter's supposed to take. A run-scoring single is the preferred alternative.
(4) Shane Robinson? Shane Robinson! He's in the lineup every damn day it seems. The least he could do is get a timely hit once in a while. Giolito fell behind in the count 2-0 — he did that a lot Wednesday — and he gave Robinson the center-cut challenge fastball, and Sugar Shane punched it to right field to score Walker from second base to tie the game 2-2. As expected, Romine and Robinson drove in the team's first two runs. Way to contribute, Shane.
(5) It was that kinda night for Giolito. He got ahead in the count 0-2 on Brett Gardner, then yanked a curveball that hit Brett in the top of the foot. The out — the second out of the inning — was there for the taking. Giolito instead hit his 13th batter of the season. That is no way to go through life, son.
(6) What an odd at-bat. With the bases loaded and one out, Giolito fell behind in the count 3-0 on Giancarlo Stanton, and the bases loaded walk felt fait accompli. Instead, Stanton turned it loose 3-0 and fouled away a 93 mph fastball. He then fouled away the 93 mph 3-1 fastball to run the count full. Suddenly the inevitable run on a bases loaded walk didn't feel so inevitable. No big deal. Stanton hammered the next pitch, a middle-middle 94 mph heater, the other way for a 6-2 lead.
Sounded good off the bat and I thought it had plenty of distance while watching the game live. I was worried it'd hook foul more than anything. Fortunately it did not, and I overestimated the distance. It cleared the wall right at the base of the foul pole. Certainly not Stanton's most majestic home run, but who cares, gimme the four runs. That is Giancarlo's first grand slam since April 18th, 2014, if you can believe that. Stanton hit 170 homers between grand slams. Aaron Hicks added a solo homer in the fifth for an insurance run and a 7-2 lead.
Seven For Sevy
I dunno, it looks to me something is still off with Luis Severino. This was his best start in a while, though we still saw some of the same issues that have plagued him during his recent slump. Specifically, he missed his spots horribly on some occasions. Jose Abreu (double) and Daniel Palka (single) jumped on hanging sliders for hard run-scoring hits in the first inning to give the White Sox an early 2-0 lead. More first inning runs. Been a few too many of them lately.
Here are Severino's slider locations against the White Sox. He threw some real nasty sliders that dove out of the zone for swings and misses, but he also left a bunch right out over the plate.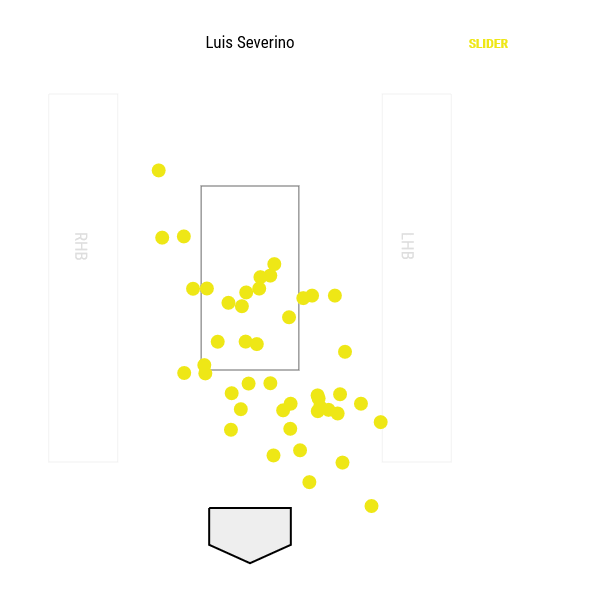 A better offense may've punished Severino for more than three runs on seven hits in seven innings. But, Severino did not face a better offense, he faced the White Sox, and three runs in seven innings is a heck of a lot better than what he's been doing lately. His line: 7 IP, 7 H, 3 R, 3 ER, 0 BB, 8 K, 1 HR on 109 pitches. The White Sox swing and miss more than any team in baseball, so it's no surprise Severino tied his season high with 19 swings and misses.
The good news: Severino's velocity is fine. He averaged 96.9 mph and topped out at 98.6 mph Wednesday night. His season fastball average is 97.7 mph, so while it was down a tick, it wasn't down an alarming amount. I begin to worry when a guy is missing 2-3 mph. Wednesday's fastball falls squarely in the range of normal fluctuation throughout the season. Severino looks to be throwing free and easy, and he did break off some nasty sliders, so we know it's still in there.
The bad news is Severino still got squared up more often than you'd like. The White Sox had six batted balls at 98+ mph on Wednesday night, including four at 100+ mph. That Severino can be "off" and still throw seven good innings is a reminder just how good this kid is. It seems to me he's fighting his mechanics a bit. The last two starts have been better than the previous three. Hopefully it's a sign Severino is close to getting all the way back.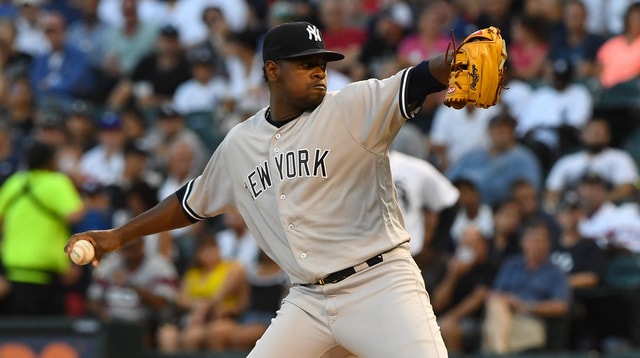 Leftovers
Two reliever notes. One, Chad Green threw six changeups in his 27-pitch eighth inning. In his last full-inning appearance, he threw three changeups. In his other 95 career appearances, Green threw two changeups. Hitters have been all over his fastball recently. Breaking out the changeup seems like an obvious adjustment. And two, Jonathan Holder threw seven curves in his 19-pitch ninth inning. They're the first curveballs he's thrown since April. Holder's been struggling lately too. Time to bring back the high-spin curveball, I guess.
Greg Bird stroked an opposite field single in his final at-bat and man I hope that gets him going at the plate. He went 2-for-25 (.080) on the seven-game road trip and is 4-for-36 (.111) in his last ten games. Two of those four hits are bunts against the shift. Yeah. Bird getting hot again would be very welcome. Every starter had exactly one hit except Gardner (walk, hit-by-pitch) and Andujar (walk). Torres and Andujar each stole a base.
And finally, second base umpire Bruce Dreckman got a damn moth stuck in his ear in the ninth inning. A live moth! It was not small either. Trainer Steve Donohue had to help him pull it out. Here's the video.
Box Score, WPA Graph & Standings
Head over to ESPN for the box score and updated standings, and MLB for the video highlights. Here's our Bullpen Workload page and here's the win probability graph:

Source: FanGraphs
Up Next
The seven-game road trip is over and the Yankees are heading home for an eleven-game homestand. First up: Four games with the last place Rangers. J.A. Happ will return from the disabled list to start Thursday night's series opener. Rookie righty Ariel Jurado will be on the mound for Texas. He'll be making his fourth career big league start.