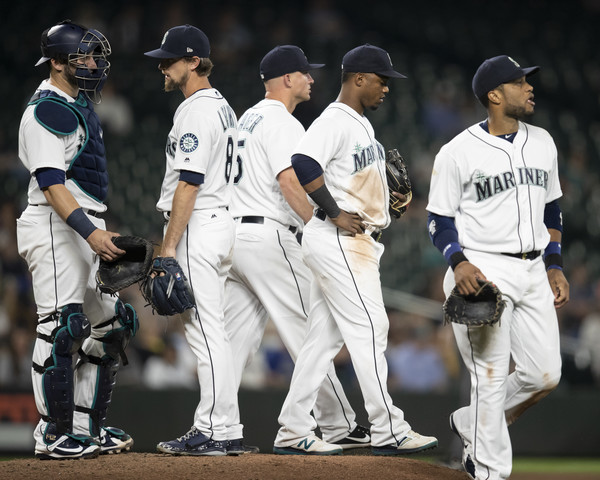 The Yankees opened up their West Coast trip in disappointing fashion, dropping two out of three to the Oakland A's. And that 1-2 record doesn't come close to capturing just how frustrating the series was. With their Wild Card home-field advantage lead now sitting at 3.5 games, they'll head up the coast to face the sinking Mariners.
The Last Time They Met
The Yankees were rude hosts to the Mariners back in June, earning a three-game sweep by a combined score of 18-10. Some notes:
Domingo German was excellent in the first game, tossing 7 innings and allowing just two hits and two runs (one earned), while striking out 9.
Clint Frazier – who turned 24 yesterday – started all three games of the series. He went 4-for-11 with a double and three runs scored. Bringing this up makes me both happy and sad.
Aaron Judge, Miguel Andujar, and Giancarlo Stanton were a triple-headed monster in the series, going a combined 12-for-36 with two doubles, five home runs, and 11 RBI.
The Yankees hit eight home runs overall in the series, with Andujar (2), Stanton (2), Aaron Hicks, Gleyber Torres, Gary Sanchez, and Judge chipping in.
Check out Katie's Yankeemetrics post for more fun facts.
Injury Report
Juan Nicasio (knee surgery), David Phelps (Tommy John surgery), and Sam Tuivailala (Achilles tendon surgery) are all out for the year. Marco Gonzalez is currently on the DL with a neck injury, and it's questionable whether he'll be back in time for this series.
Their Story So Far
The Mariners are 78-62 with a -47 run differential, and are currently 5.5 GB in the Wild Card race. That -47 run differential is by far the worst among teams with a .500 or better record (the Rockies are next-worst at -8), and their Pythagorean record is 65-75 – so they may've overachieved a bit on the season. Regression to the mean is in full-swing, though, as the Mariners have went 32-36 since they landed in the Bronx back in June.
There isn't one clear-cut reason for the Mariners backslide. Rather, it's a combination of injuries, poor performance (and poorly timed poor performances), and the simple fact that they were playing above their talent level for a time. The fact that they've literally descended into clubhouse chaos probably doesn't help, either.
The Lineup We Might See
Manager Scott Servais has continued to have a mostly-steady hand on the lineup card, with most of the movement being from position to position (e.g., Robinson Cano has played 1B, 2B, and 3B and Dee Gordon has played 2B, SS, and CF). We'll probably see something like this:
Mitch Haniger, RF – .279/.365/.490, 24 HR, 7 SB, 138 OPS+
Jean Segura, SS – .314/.345/.430, 8 HR, 20 SB, 117 OPS+
Robinson Cano, 2B – .286/.369/.445, 7 HR, 0 SB, 128 OPS+
Nelson Cruz, DH – .267/.353/.538, 34 HR, 1 SB, 146 OPS+
Denard Span, LF – .277/.353/.449, 11 HR, 8 SB, 123 OPS+
Ryon Healy, 1B – .249/.283/.445, 24 HR, 0 SB, 100 OPS+
Kyle Seager, 3B – .216/.267/.393, 20 HR, 2 SB, 83 OPS+
Mike Zunino, C – .188/.246/.395, 18 HR, 0 SB, 76 OPS+
Dee Gordon, CF – .272/.293/.337, 2 HR, 30 SB, 77 OPS+
Ben Gamel (110 OPS+) and Cameron Maybin (86 OPS+) will probably see some time in the outfield; David Freitas (66 OPS+) is the back-up catcher.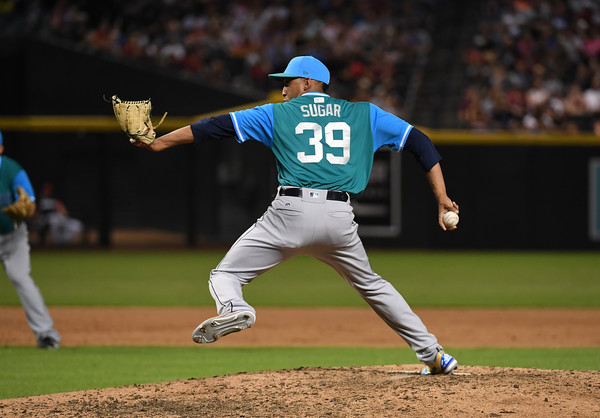 The Starting Pitchers We Will See
Friday (10:10 PM EST): RHP Masahiro Tanaka vs. LHP James Paxton
Paxton started against the Yankees back on June 21, and didn't fare too well, pitching to the following line – 5.0 IP, 7 H, 4 R, 3 BB, 9 K. He has had two subsequent stints on the DL, the first coming in July due to back soreness, and the second in August, which was the result of being hit with a line-drive in his left arm. He's otherwise been good, putting up a 3.74 ERA (107 ERA+) and 11.6 K/9 in 144.1 IP.
Last outing (vs. OAK on 9/1) – 5.0 IP, 2 H, 3 R, 4 BB, 10 K
Saturday (9:10 PM EST): RHP Lance Lynn vs. RHP Felix Hernandez
Hernandez was sent to the bullpen a month ago, following a 6 IP, 11 R effort on August 7. That stint lasted exactly one appearance, as he relieved Paxton following the aforementioned comebacker, tossed 5.2 solid IP, and returned to the rotation the following week. Things haven't gotten much better for Hernandez, though, as he still has a career-worst 5.55 ERA (72 ERA+) in 147.2 IP.
Last outing (vs. OAK on 9/1) – 5.0 IP, 4 H, 4 R, 2 BB, 3 K
Sunday (4:00 PM EST): LHP CC Sabathia vs. RHP Erasmo Ramirez
Ramirez has been an up-and-down guy for the last several years, and he has done well in that role. He's been in the rotation since mid-August due to injuries (first to Paxton, then to Gonzalez), and he's performed admirably through five starts (24.1 IP, 24 H, 6 BB, 19 K, 3.70 ERA). There's a non-zero chance that Gonzalez will be activated in time for this start, but, as of now, it's Ramirez's turn.
The 28-year-old is a three or five pitch guy, depending on how you look at it. He throws three fastballs (a low-90s four-seamer, a low-90s sinker, and a high-80s cutter), a low-80s slider, and a low-80s change-up.
Last outing (vs. BAL) – 5.1 IP, 2 H, 1 R, 0 BB, 5 K
The Bullpen
Edwin Diaz is in the midst of a ridiculous season. He currently boasts a 1.87 ERA (215 ERA+), 1.34 FIP, 15.6 K/9, and 2.1 BB/9, and he's 53-for-57 in save opportunities. He leads all relievers in WAR, and he's second in WPA (behind the A's Blake Treinen) … and he's still just 24. He's a legitimate stud.
Chasen Bradford (3.33 ERA in 48.2 IP), James Pazos (3.02 ERA in 41.2 IP), and Alex Colome (3.05 ERA with the Mariners) are the primary high-leverage options behind Diaz, and they've all been good thus far. Things are a bit dicey after that, though.
Who (Or What) To Watch
It's always a pleasure to see Robinson Cano on the field, even with his PED-related fall from grace. And Edwin Diaz has a very outside shot at matching Francisco Rodriguez's single-season saves record of 62.