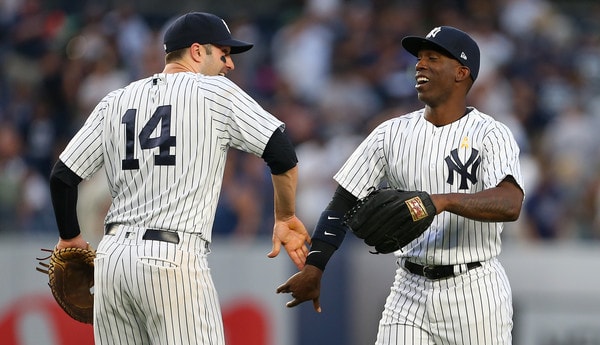 The penultimate homestand of the regular season ends today and this afternoon's game will determine whether this is a tolerable 4-3 homestand or a disappointing 3-4 homestand. Man, losing four of seven to the White Sox and Tigers at home would really stink. Even winning four of seven would feel kinda like a letdown. Whatever.
A modest goal today: Get a hit at some point in the first four innings. That's been an issue the last few days. I'm not going to bother to look this up to confirm it because I don't really care, but it feels like the Yankees have won all these "they're getting no-hit through five innings they suck so much" games this year. Still, hits are good. Hits and runs. Here are today's lineups:
New York Yankees
1. RF Andrew McCutchen
2. CF Aaron Hicks
3. 3B Miguel Andujar
4. DH Gary Sanchez
5. 2B Gleyber Torres
6. 1B Luke Voit
7. C Austin Romine
8. SS Adeiny Hechavarria
9. LF Brett Gardner
RHP Lance Lynn
Detroit Tigers
1. 3B Jeimer Candelario
2. CF JaCoby Jones
3. DH Nick Castellanos
4. 1B Niko Goodrum
5. LF Mikie Mahtook
6. C James McCann
7. SS Ronny Rodriguez
8. 2B Dawel Lugo
9. RF Victor Reyes
LHP Matt Boyd
It is warm and cloudy in New York today, but there is no rain in the forecast, and that's all that matters. This afternoon's series finale will begin at 1:05pm ET and you can watch on YES. Enjoy the game.
Boone Suspended: Aaron Boone has received a one-game suspension and an undisclosed fine for Friday's ejection tirade, MLB announced. His cap made contact with the umpire at some point and making contact is an automatic suspension. Boone is serving the suspension today and bench coach Josh Bard will fill in as manager.
Injury Update: Didi Gregorius (heel) took batting practice and ran the bases today. It's more likely he'll return at some point during the Mariners series late next week rather than the upcoming Athletics series … Aside from the ongoing hamstring issue, Giancarlo Stanton is fine. Adding McCutchen and getting Sanchez back allows the Yankees to finally give Stanton a day to rest. He'd started the previous 84 games.
Roster Move: Welcome back, Jonathan Loaisiga. The Yankees have called Johnny Lasagna up from Double-A Trenton, the team announced. He was scheduled to start today. There are now 31 players on the active roster.