Only seven questions in the mailbag this week as we've seem to have hit the annual "ugh why isn't the season over yet just get to the postseason" part of the calendar. Less than four weeks to go in the regular season, folks. As always, RABmailbag (at) gmail (dot) com is where you should send your questions each week.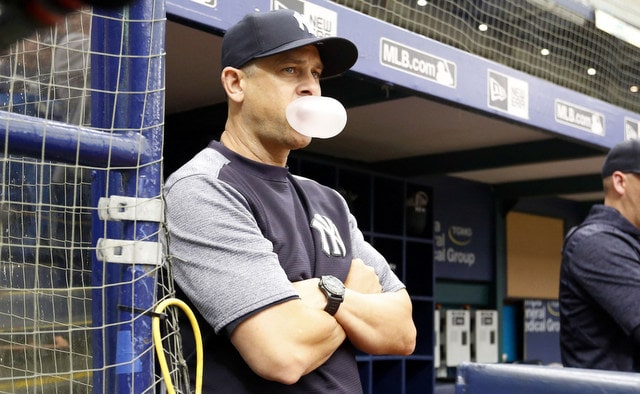 Dan asks: What are the chances actually part ways with Boone at the end of the season? What would need to happen for that to take place? Losing the wild card game? Making an egregious mistake/move? When David Cone was in the R2C2 pod, he mentioned that when he saw Boone at a hotel bar earlier in the season that he gained more respect for him making himself available like that. But just having a good personality doesn't necessarily mean he's a solid manager.
There is basically a 0% chance Aaron Boone will be fired after the season. Barring an outright mutiny in the clubhouse (that ain't happening with this group) or an unknown behind-the-scenes matter (remember when Dave Eiland was mysteriously fired?), Boone is here for the long haul. The Yankees knew they were getting an inexperienced rookie manager — that was the gamble they knowingly took — and they're willing to live with the short-term growing pains in exchange for what they expect to be a big long-term reward. He's a prospect, basically.
Boone has undeniably made some baffling on-field decisions this year. I don't like Gleyber Torres hitting ninth at this point and the A.J. Cole obsession is pretty bad. Every manager does weird stuff like this though. Year One was always going to be something of a trial-and-error year for Boone. You could argue turning this team with these expectations over to a rookie manager was a bad idea, but the Yankees knew the risk, and they went with Boone anyway. He'll get plenty of time to grow and develop as a manager. They're not pulling the plug after one season, especially when they're still on pace to win over 100 games.
Keane asks: Knowing what we know about Ohtani now, would you still sign him last December if you could? He won't be back until 2020, but you'll get four years of team control.
Absolutely. Shohei Ohtani is a star and I think he's a generational talent. The guy is hitting .287/.367/.579 (157 wRC+) with 18 homers in 279 plate appearances while throwing 51.2 innings with a 3.31 ERA (3.56 FIP) and 29.9% strikeouts. Small sample sizes? Yes. The talent is undeniable though. Ohtani put up Aaron Judge (156 wRC+) and Charlie Morton (3.14 ERA and 3.59 FIP) numbers while dealing with that ongoing elbow injury. He showed he can handle MLB velocity at the plate and overwhelm hitters from the mound. What an awesome, fun player.
The Tommy John surgery absolutely sucks, but the Angels got this guy for nothing. The Angels gave him a $2.315M bonus and they control him for six years (ages 23-38) like every other rookie under the dumb international bonus rules. It's a minimal commitment for a massive talent. Assuming Ohtani comes back a full-time two-way player in 2020, losing a year and a half of his six years of control to injury really stinks, but I'd happily sign up for the other four and a half years. I really wish the Yankees could've signed Ohtani. Alas.
Blaise asks: Since Sanchez has been on the DL I feel like our SP's haven't been as effective with Romine and Higgy behind the plate. In my opinion Sanchez is a much better game manager than Romine & Higgy, and because of that opponents swing and miss more often with Sanchez behind the plate compared to when Romine & Higgy are catching. Is this accurate?
For whatever reason hitters have swung and missed more when Gary Sanchez has been behind the plate this season. I'm not sure this is a good way to gauge game management or pitch-calling or things like that because, as always, the guy on the mound matters. The catcher can have the perfect plan and call the perfect pitches, and things can still go wrong. It's still up to the pitcher to execute. Here are some numbers:
| | K% | BB% | Whiff% | Out of Zone Called Strike | In Zone Called Ball |
| --- | --- | --- | --- | --- | --- |
| Sanchez | 27.2% | 8.0% | 29.9% | 6.0% | 4.6% |
| Romine | 25.9% | 8.3% | 27.7% | 5.6% | 3.9% |
| Higgy | 27.2% | 7.4% | 28.1% | 5.5% | 3.0% |
| MLB AVG | 22.1% | 8.4% | 24.8% | 5.2% | 4.2% |
Compared to Austin Romine and Kyle Higashioka (and the MLB average), Sanchez gets more called strikes on pitches out of the zone and also more balls called on pitches in the zone. The difference is tiny though. A handful of calls per 1,000 pitches in/out of the zone. Even with PitchFX and Statcast and all that, I don't think we're anywhere close to reliably measuring a catcher's game-calling and game management.
Carlos asks: Ok, I know is a late question and probably lots of one side perception. But what is the Yankees 1st Inning ERA and how we rank against the league? It just seems we are always down after the first.
Historically, more runs are scored in the first inning than any other inning because it is the only inning in which the top of the order is guaranteed to bat, and teams (usually) stack their best hitters at the top of the lineup. Back in the day a lot of runs were scored in the sixth and seventh innings as well, though that really isn't the case anymore because teams have quicker hooks with their tiring starters.
The Yankees have allowed a lot of first inning runs lately but, overall, they've been better than league average in the first inning. Here's the inning-by-inning breakdown:
1st inning: 4.24 ERA (MLB rank: 10th; MLB average: 4.65 ERA)
2nd inning: 4.18 ERA (MLB rank: 20th; MLB average: 3.72 ERA)
3rd inning: 2.51 ERA (MLB rank: 2nd; MLB average: 3.90 ERA)
4th inning: 4.76 ERA (MLB rank: 22nd; MLB average: 4.27 ERA)
5th inning: 4.50 ERA (MLB rank: 18th; MLB average: 4.32 ERA)
6th inning: 4.76 ERA (MLB rank: 21st; MLB average: 4.27 ERA)
7th inning: 3.15 ERA (MLB rank: 4th; MLB average: 4.17 ERA)
8th inning: 3.24 ERA (MLB rank: 5th;  MLB average: 4.18 ERA)
9th inning: 2.56 ERA (MLB rank: 1st; MLB average: 3.79 ERA)
Extras: 3.03 ERA (MLB rank: 10th; MLB average: 3.80 ERA)
Not surprisingly, the Yankees are much better in the late innings than the early innings thanks to their bullpen. Kinda weird they're so good in the third inning. Is there a trick to being a good third inning team? Or is it just a coincidence? It is almost certainly the latter.
RJ asks: Will Sevy win the AL Cy Young if he ends up leading the league in wins?
Probably not. The prevailing narrative says the Cy Young voting changed after Felix Hernandez won the award with a 13-12 record in 2010, but eleven of the 14 Cy Young winners since then have been the league leader in wins, so I'm not sure that really holds water. Maybe it's all one giant coincidence.
Anyway, thanks to his ongoing slump, I think Severino is too far down the leaderboard in other categories to win the Cy Young. His ranks among AL starters:
Wins: 17 (2nd)
Innings: 173.2 (7th)
ERA: 3.52 (11th)
ERA+: 125 (10th)
FIP: 3.04 (4th)
Strikeouts: 202 (5th)
K/BB ratio: 4.81 (5th)
fWAR: +4.8 (6th)
bWAR: +4.0 (8th)
Severino's been good but others have been better, specifically Chris Sale, Corey Kluber, Gerrit Cole, Justin Verlander, Trevor Bauer, and Blake Snell. Sale, Bauer, and Snell are going to end up throwing like 40 fewer innings than the other Cy Young candidates due to injuries, which will hurt their chances. I feel like the Cy Young is going to fall into Kluber's lap again, not that he would be undeserving.
George asks: I had seen playing status for first round pick C Anthony Seigler in GCL and then at Pulaski team. It appeared that he was taken out mid game a few weeks ago but have not seen him in box scores or any DL notices. What's up?
Seigler took a foul tip to the face mask on August 16th and the Yankees shut him down for the rest of the season with a concussion. Pulaski's season was a week away from ending and there's no sense in pushing your most recent first round pick — a just turned 19-year-old kid out of high school — after suffering a brain injury. Let him rest up and get ready for next year. Seigler hit .266/.379/.342 (108 wRC+) with more walks (14.7%) than strikeouts (12.6%) in 24 games in his pro debut. My guess is he'll spend all of next season with Low-A Charleston.
Dave asks: the recent trade for McCutchen removes two more players from the future 40 man roster / rule V roster crunch. How about a quick rundown of who is left on the bubble at the moment?
The Yankees really cleaned up the 40-man roster situation at the trade deadline this year, both July 31st and August 31st. They have nine free agents coming off the roster after the season  (Zach Britton, J.A. Happ, Adeiny Hechavarria, Lance Lynn, Andrew McCutchen, David Robertson, CC Sabathia, Neil Walker, and probably Brett Gardner) and three 60-day DL players to activate (Jacoby Ellsbury, Ben Heller, Jordan Montgomery), which leaves six open 40-man spots. Here are this offseason's notable Rule 5 Draft eligible prospects:
Catchers: Donny Sands
Infielders: Dermis Garcia,  Kyle Holder, Hoy Jun Park, Brandon Wagner
Outfielders: Trey Amburgey, Pablo Olivares
Pitchers: James Reeves, Justus Sheffield
Not the most exciting group. Sheffield will obviously be added to the 40-man — he's probably coming up once the Triple-A Scranton season ends anyway — and I think there's a good chance Amburgey, Holder, and Wagner make it as well. None of them project to be impact big leaguers but they all look like quality depth pieces, and all of them have played at Double-A next year, so they'll be knocking on the door soon.
Remember, the Yankees will need some 40-man spots for big league additions. Britton, Happ, Robertson, Sabathia … those dudes all have to be re-signed or replaced. Can't just load up the 40-man roster with non-elite prospects, you know? It is super early, but, given the current 40-man outlook, I wonder if the Yankees may look to make a Rule 5 Draft pick this year. They haven't made a Rule 5 Draft pick since Brad Meyers and Cesar Cabral in 2011. Maybe they'll look for an arm or a corner bat to compete with Greg Bird in the spring.