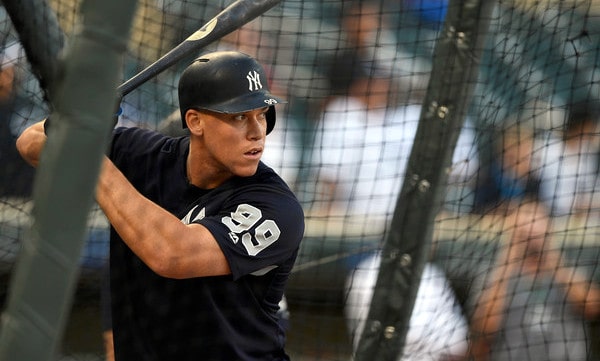 Welcome to the second-to-last off-day of the regular season. The Yankees have an off-day today, an off-day Monday, then they close out the 2018 season with 13 games in 13 days. I think we can all use the off-day today after that series against the Twins and that road trip in general. Yuck. Anyway, I have some thoughts on things, so let's get to 'em.
1. This season has too much of a 2015 vibe for my liking. The Yankees started so well in 2015 and fading badly down the stretch, first losing their grip on the AL East and then nearly letting homefield advantage in the Wild Card Game slip away. They needed the Diamondbacks to beat the Astros on the final day of the season to secure homefield advantage. Because they hold the tiebreaker over the Athletics, the Yankees have a two-game lead on homefield advantage with 16 games to play. Can they play no worse than one game worse than the A's the rest of the season? That's what it takes to secure homefield advantage in the Wild Card Game. Lose no more than one game more than the A's the rest of the season. The remaining schedules heavily favor the A's:
Athletics: Orioles (one game), Rays (three games), Twins (three games), Mariners (three games), Angels (six games)
Yankees: Blue Jays (three games), Orioles (three games), Rays (four games), Red Sox (six games)
Those ten games with the Rays and Red Sox are brutal. The Yankees had their shot against bad teams though. They lost series to the White Sox and Twins, split with the Marlins and Tigers, and then there's all those messy series against the Orioles from earlier this year. They are 28-23 since the All-Star break despite going into the second half with the easiest remaining schedule in baseball. The Yankees didn't take advantage, and now they have to hang on for dear life against the Rays and Red Sox these final two weeks and change. I'm not feeling great about their chances of hosting the Wild Card Game. They need to turn it around (and fast) to play in the Bronx on October 3rd.
2. I know it seems silly to talk about this now, but wow did the Yankees miss an opportunity to make the AL East race interesting these last few weeks. The Red Sox went 11-11 from August 15th to September 8th, which qualifies as a slump for that team. That was the best chance the Yankees were going to have to gain ground in the division race. Instead, while the Red Sox went 11-11, the Yankees went 14-9 against mostly bad teams and gained only 2.5 games in the standings. Dropping a series to the White Sox and splitting with the Marlins and Tigers really hurts, especially since the ChiSox and Tigers series were at home. Rather than to get to within, say, five games of the Red Sox with six head-to-head games remaining, the Yankees gained only 2.5 games, and they've already given most of it back. A comeback in the AL East has been unlikely since the four-game sweep in Boston. The Red Sox having an 11-11 stretch was the best opportunity the Yankees had to get back in the AL East race and they barely made a dent in the standings. So frustrating.
3. Andrew McCutchen is starting to settle in nicely as a Yankee and as the leadoff hitter. He went 1-for-16 (.063) with two walks in his first five games with the Yankees. In the six games since, he's reached base 12 times (.481 OBP). How do the Yankees squeeze five outfielders (McCutchen, Brett Gardner, Aaron Hicks, Aaron Judge, Giancarlo Stanton) into four lineup spots (three outfield and DH) come postseason time? That's something I'll worry about when Judge gets healthy and returns to the field. I don't think it's a coincidence Stanton has seen some left field time lately though. McCutchen has taken some fly balls in left field recently but he's never played a game out there. Neither has Judge (well, besides the All-Star Game). If the Yankees are going to sit Gardner — love the guy, but it is completely justified at this point — when Judge returns, we could see Stanton shift to left rather than Judge or McCutchen. Hopefully his hamstring is up for it, otherwise the Yankees will have to play either Judge or McCutchen in left field for the first time in their big league careers in the most important games of the year.
4. Speaking of Judge, I'm curious to see what the Yankees do with his rehab work. There's no way he's going to join Triple-A Scranton for proper rehab games before the International League Championship Series ends this weekend. After missing seven weeks, Judge will need much more than three or four batting practice sessions to prepare for live game action. I assume the plan is to send him to Instructional League for a boatload of at-bats. Instructs should begin soon (usually mid-September) and they're pretty informal, so Judge could lead off every inning or something like that. Getting at-bats and swings won't be a problem. The downside is that he'll face lower level minor leaguers, and, while talented, those kids are are not close to big league caliber. Two potential return dates stand out:
Friday, September 21st: First game of final home series vs. Orioles
Monday, September 24th: First game of a four-game series in Tampa
The more at-bats Judge gets against big league pitching before the end of the season, the better, but I don't think the Yankees will rush him. I think he gets a week's worth of at-bats in Instructs, and if he's feeling good, the Yankees will bring him to New York for that final home series against the O's. And if he's not quite ready to return that weekend, the Yankees will just leave him in Tampa a few more days, and then meet him there for that series against the Rays. I'll be surprised if Judge rejoins the Yankees before next Friday, though I am very open to being surprised.
5. I really wish the Yankees traded for Josh Donaldson, you guys. The Indians got him for nothing. Absolutely nothing. Julian Merryweather, the player to be named later in the trade, is a soon-to-be 27-year-old fringe prospect who is recovering from Tommy John surgery. Also, the Blue Jays ate a bunch of money and the Indians are only on the hook for $1.3M of the $4M or so that was remaining on his contract at the time of the trade. The Yankees could've fit that under the $197M luxury tax threshold, based on my estimate. It is a very low cost, low risk move that could pay huge dividends. If Donaldson is even 75% of the player he's been the last few years, he's a big upgrade over the Yankees' current first base situation — yes, I know he hasn't played first base much, but I'll trade the defensive growing pains for the offense — and no, I'm not forgetting about Luke Voit. Give up nothing to get Donaldson, see what he looks like the rest of the season, and then decide whether he belongs on the postseason roster. If he plays well, great! If not, well, no harm at all. Can't believe Cleveland got Donaldson so cheap. Even if it doesn't work out, that is a great roll of the dice.
6. Ken Singleton mentioned something interesting during last Friday's late night West Coast broadcast. He noted that, as a right-handed hitter, Hicks stands much further away from the plate than he does as a left-handed hitter. Here's the image the YES Network broadcast put up:
Hicks said he stands closer to the plate as a left-handed batter because he wants to pull the ball to right field to take advantage of the short porch. And he stands further away from the plate as a right-handed batter because he wants to push the ball the other way to right field. "I started using Yankee Stadium to my advantage, and then I started using that same approach away from Yankee Stadium, and it just kinda worked," said Hicks to Eno Sarris (subs. req'd) in an unrelated but conveniently timed article. Apparently Hicks changes his position in the batter's box based on the ballpark. If it's advantageous to hit the ball to right field, he'll set up like he does in the image. If it's better to hit it to left field, he back away from the plate as a lefty and move closer as a righty. Intuitively, it makes sense. We always hear about players having an pull heavy or opposite field approach. We don't often see tangible evidence of that like we do here, with a switch-hitter having different positions in the batter's box based on the ballpark. I thought that was pretty neat.
7. I totally get why fans and analysts are fixated on it, but I am not sweating the Wild Card Game starter at all. I feel like the Yankees have four quality options and, no matter who gets the ball, the bullpen will be active at the first sign of trouble anyway. Yeah, it'd be nice to have someone go out there and throw eight shutout innings, but how often does that happen? All four Wild Card Game starters got blasted last year. They combined for 15 runs and 24 baserunners in 7.1 innings! The Wild Card Game starter feels like one of those things everyone sweats about for weeks and weeks and weeks … and then it ends up mattering not a whole lot in the actual game. Luis Severino bounced back nicely last night after struggling badly for two months. The Yankees still have Masahiro Tanaka and J.A. Happ — Tanaka is fully capable of dominant ace-caliber starts — and those are two pretty good options. I'd have no problem giving the ball to CC Sabathia in a win or go home game either. The Wild Card Game starter is important. No doubt. My hunch is the bullpen will again throw more innings than the starter though, possibly for all four Wild Card teams.
8. I was looking forward to seeing Stephen Tarpley this month because I wanted to get a look at the sinker he added two years ago, which contributed to his breakout this season. The early results haven't been good (3.2 IP, 5 H, 3 R, 3 ER, 3 BB, 3 K), but they're the kid's first three big league outings, so I'm willing to cut him some slack. I'm more interested in the sinker. So far this season 142 pitchers have thrown 25 sinkers this season. Tarpley's ranks:
Average Velocity: 91.9 mph (54th)
Spin Rate: 2,144 rpm (62nd)
Vertical Movement: 2.7 inches (48th)
The measurables are pretty meh. The average MLB sinker is 92.5 mph with a 2,125 rpm average spin rate and 5.0 inches of vertical movement. That doesn't mean Tarpley's sinker is bad. It just means he doesn't have a crazy Blake Treinen sinker or anything like that. Perhaps when he's in midseason form and not 70-something innings deep into his season there will be a little more velocity and a little less spin. (The less spin the better on a sinker.) I'm not sure Tarpley will ever settle in as a late-inning reliever, but, even without a truly standout sinker, he should be able to carve out a role as an up-and-down ground ball specialist. Nothing sexy about it, but someone's gotta do it.