Mark this one down as one of the best games of the season. It wasn't a thrilling comeback or anything like that, but damn, that was satisfying. The Yankees blew the Rays out 12-1 in the four-game series finale Thursday afternoon and it got a little salty. At 98-61, the Yankees have their most wins since their 103-59 championship season in 2009.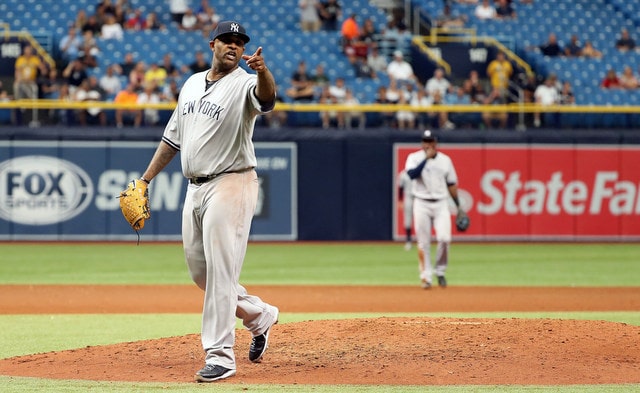 Teammates Are More Important Than Half-A-Million Bucks
CC Sabathia cost himself $500,000 by sticking up for his teammate Thursday afternoon. Andrew Kittredge threw behind Austin Romine in the sixth inning (more on that in a bit), then, in the next half-inning, Sabathia drilled catcher Jesus Sucre with his first pitch in retaliation. Obviously intentional. Sabathia was immediately ejected and, on his walk to dugout, he pointed to Kittredge and the Rays dugout and said "That's for you, bitch." What a badass.
thats for you, bitch. pic.twitter.com/XC258lBlnE

— Jomboy (@Jomboy_) September 27, 2018
Sabathia was in total control Thursday afternoon. Five scoreless innings on 54 pitches. He retired the first eleven batters he faced and allowed just a single against the shift and two hit-by-pitches, one of which was intentional. He went into this game needing seven innings to trigger a $500,000 bonus, and, given the score and his pitch count, Sabathia was well on his way to pocketing half-a-million bucks Thursday. Instead, he threw at the first batter possible to stick up for his teammate. He is the man. Imagine not wanting the Yankees to give this guy one-year contracts until he decides to hang 'em up.
On the mound, Sabathia looked as good as he's looked at any point this season. He had it all working. Inside cutters and backdoor sliders to righties, inside sinkers and sweepy sliders to lefties, and elevated heaters for swings and misses. His swing-and-miss pitch locations: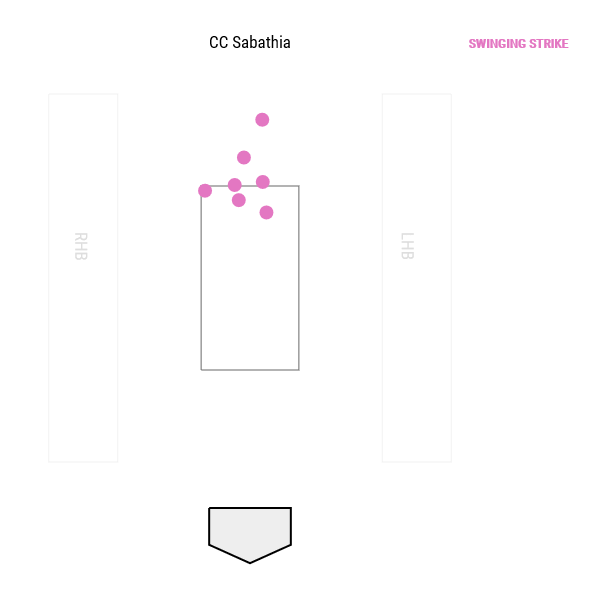 All elevated fastballs. Sabathia was masterful. Five strikeouts, eight swings and misses among his 55 pitches, and a 74.9 mph average exit velocity allowed. There have been over 4,000 individual player games this season in which a pitcher allowed at least ten balls in play. In this start, Sabathia had the 15th lowest average exit velocity among those 4,000+ games. Give him the $500,000 anyway, Yankees. You can afford it.
A Big Early Lead
After that disappointing loss Wednesday night, the Yankees came out in the best way possible Thursday afternoon. They put a hurtin' on opener Jaime Schultz* and took a 4-0 lead in the first inning. Brett Gardner opened the game with a double to right that came two pitches after it appeared he struck out. He reached out to foul off a curveball, and initially I thought Sucre caught the foul tip. Replays showed it hit the ground, so the at-bat continued, and Gardner doubled.
* Isn't the point of the opener strategy to use a *good* pitcher against the top of the lineup? Schultz went into this game with a 4.55 ERA (4.94 FIP) in 29.2 big league innings and a 5.75 ERA (3.83 FIP) in 36 Triple-A innings this year. I dunno. Doesn't seem like someone you want facing the top of the order.
Schultz walked Luke Voit and Giancarlo Stanton back-to-back with one out, then the Tampa battery gifted the Yankees a run. With Neil Walker down in the count 0-2, Schultz bounced a curveball, Sucre let it slip through his legs, and Gardner trotted home on the wild pitch. It also moved the runners up to second and third with one out. Walker struck out and couldn't get a run in, but Miguel Andujar picked him up. The three-run bomb:
No idea how Andujar kept that ball fair. That's a backup slider that looked off the plate inside, yet Andujar was able to wrap it around the left field foul pole for a three-run home run and a 4-0 lead. He's up to 72 extra-base hits on the season (43 doubles, 27 homers, two triples). That is tied for 14th most in baseball with Nolan Arenado, Nick Castellanos, and Matt Chapman. It's the third most extra-base hits by a rookie in franchise history, behind Joe DiMaggio (88 in 1936) and Aaron Judge (79 in 2017).
The Yankees jumped out to a 4-0 lead and they added to it in the fourth inning. Gleyber Torres singled, moved up on a wild pitch, and Romine brought him in with a single. Adeiny Hechavarria reached on an infield single, Gardner moved the runners up with a ground ball, Judge brought Romine home with a sacrifice fly, and Voit doubled in-and-out of Mallex Smith's glove in center for another run and a 7-0 lead. Including the ninth inning Wednesday, the Yankees scored 13 runs in the span of five innings against the Rays.
Piling On
I suppose this is where I explain Sabathia's ejection. He grazed Jake Bauers with a fastball in the bottom of the fifth, and Kittredge, being the joke that he is, decided to throw a first pitch fastball behind Romine's head in the next half-inning. Romine was not happy, understandably, and Sabathia stormed out of the dugout before Aaron Boone cut him off. Garbage move by a garbage pitcher and a garbage organization.
The Rays are eliminated, Kittredge sucks, and the postseason is less than a week away. I didn't want the Yankees to start a brawl. The Yankees had nothing to gain and a lot to lose. Sabathia did what he had to do and that was that. But, before Sabathia could drill Sucre, the Yankees torched Kittredge for four runs in that sixth inning, after he threw behind Romine. The inning went strikeout, infield single, triple, sacrifice fly to the warning track, homer, homer, fly out. Voit and Stanton went back-to-back.
The four-run sixth inning gave the Yankees an 11-0 lead. Stanton added a solo shot in the ninth. The Yankees scored 32 runs in the four-game series. It's the most runs they've scored in a series in Tropicana Field since September 2005,
when they scored 32 runs in a three-game set
. Also, the Yankees secured their first series win in Tropicana Field since September 2016. (They beat the Rays in a road series last September, but that was the alternate site series at Citi Field.)
Leftovers
Unless the Yankees use him in relief this weekend (can't see it), Sabathia's regular season is over. He finishes with a 3.65 ERA (4.16 FIP) in 153 innings. Pretty awesome season for the big man. Also, he finishes the year with 2,986 career strikeouts. He'll have to wait until next April to become the 17th member of the 3,000 strikeout club. Only Randy Johnson (4,672) and Steve Carlton (4,136) have more strikeouts in history among southpaws.
Twelve runs on 13 hits and four walks for the Yankees. Gardner (double, triple), Voit (single, double, homer), Stanton (two homers), Andujar (single, homer), and Hechavarria (two infield singles) all had multiple hits. Stanton had two walks and Voit and Gardner had one each. Voit and Stanton, the 3-4 hitters, went a combined 5-for-6 with a double, three homers, three walks, five runs scored, and four runs driven in. That'll work, gentlemen.
Luis Cessa tossed three innings following Sabathia's ejection and allowed a garbage time solo home run to C.J. Cron. I couldn't possibly care less about that. Jonathan Loaisiga handled the ninth. The regular late-inning relievers all got the afternoon off after working pretty heavily the last week or so. Good game all around.
And finally, Stanton's two home runs gives the Yankees 24 individual multi-homer games this season, tying the record held by the 1961 Yankees and 1966 Braves. Also, the Yankees are up to 260 homers on the year. That is the second highest single-season home run total in baseball history. The list:
1997 Mariners: 264
2018 Yankees: 260 and counting
2005 Rangers: 260
2010 Blue Jays: 257
1996 Orioles: 257
The Yankees have three games to hit five home runs to break the record. Doable. Definitely doable. I hope they get it done this weekend. It'd be cool as hell.
Box Score, WPA Graph & Standings
For the box score and updated standings, go to ESPN. MLB has the video highlights. Here's our Bullpen Workload page and here's the win probability graph:

Source: FanGraphs
Up Next
The final series of the 2018 regular season. The Yankees are going to Boston for a three-game weekend set. The Red Sox have already clinched everything they can clinch. The series is meaningless for them. The Yankees still need to clinch homefield advantage in the Wild Card Game. The magic number is one. Lefties J.A. Happ and Brian Johnson are the scheduled starting pitchers for Friday night's series opener.