Sometimes you have to win a low-scoring game, and win a low-scoring game the Yankees did Saturday afternoon. They beat the Tigers 2-1 in the third game of this four-game series. At 86-50, the Yankees are a season high tying 36 games over .500. Their magic number to clinch a postseason spot is 17.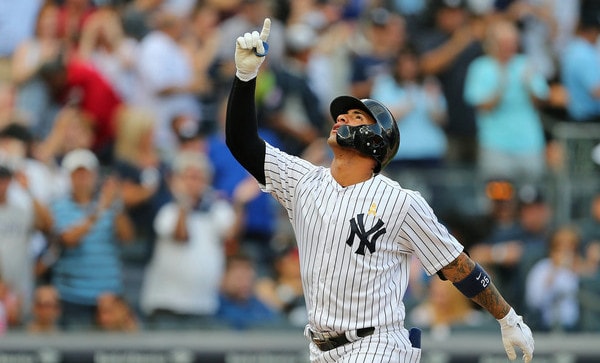 Gleyber Day Weekend
Less than 24 hours after Jordan Zimmermann no-hit the Yankees through five innings Friday night, Daniel Norris nearly did the same Saturday afternoon. The southpaw was making his first start since April following groin surgery and my goodness, he went right after the Yankees early on. Strike one, strike two, working quickly, the whole nine. Norris filled up the strike zone and the Yankees had no answer through four innings. A dozen up, a dozen down.
The Yankees managed only two hits and five walks Saturday, and, fortunately, they bunched one of those walks and one of those hits together in the fifth inning. My main man Miguel Andujar worked a four-pitch leadoff walk to give the Yankees their first baserunner, and after a Gary Sanchez fly out, Gleyber Torres got the Yankees on the board with a two-run home run to left. It was a total golf shot. Gleyber really went down to get it. No-hitter gone, shutout gone, lead gone. The Yankees went up 2-1.
As great as Norris was early on, you could kinda sorta see the Yankees starting to get to him once the lineup turned over. Andrew McCutchen fouled off three straight two-strike pitches in his second at-bat, Aaron Hicks fouled away two in his seven-pitch strikeout, Andujar worked his four-pitch walk, Sanchez hit a ball to the warning track, and then Gleyber went deep. Norris was dominant the first time through the order. The second time wasn't as good.
A few pitches after the homer, Norris had to exit the game with what the Tigers called a calf injury. He went from a perfect game to no-hitter to trailing to injured in the span of a half-inning. That bites. The Yankees recorded just one hit aside from the Gleyber home run and it didn't even leave the infield. Aaron Hicks beat out an infield single in the sixth inning. That's it. A two-run home run, an infield single, a hit batsman, and five walks. There's all the offense.
Masahiro My Hero
What an outing for Masahiro Tanaka. And to think, he got BABIP'd to death in the first inning. Mikie Mahtook, the first batter of the game, beat out an infield single on a ground ball that was kinda in no man's land between Andujar and Torres on the left side. Jim Adduci reached on a swinging bunt, and Nick Castellanos flared a single juuust over Gleyber at shortstop. Bases loaded, no outs, nothing hard hit to start the game. How annoying.
Victor Martinez gave the Tigers a quick 1-0 lead with a sacrifice fly, but Tanaka was able to limit the damage to one run in that first inning thanks to a strike out and a fly out. Following the Castellanos single Tanaka retired 17 of the next 20 batters he faced. He was in cruise control until the seventh inning, which Grayson Greiner started with a double to right. JaCoby Jones moved him to third with a single, then stole second to put runners at second and third with no outs. Gulp.
Tanaka was so efficient Saturday that, even after allowing the double and single to start the seventh inning, he'd still thrown only 80 pitches. It was easy to think it was time for a strikeout happy reliever with runners on second and third and no outs, but Aaron Boone stuck with Tanaka, and he escaped the jam with a ground ball to first base and two strikeouts. He threw Mahtook and Adduci some nasty splitters to escape that jam. That was a Big Moment.
Tanaka's final pitching line: 7 IP, 7 H, 1 R, 1 ER, 1 BB, 6 K on 96 pitches. Outstanding. Tanaka threw a first pitch strike to 23 of 29 batters and only two of those 29 batters saw a three-ball count. Sixteen of those 29 batters saw no more than three pitches. Tanaka ran into some crummy ball in play luck in that first inning. Otherwise he was on the attack all afternoon and finished with a flourish by escaping that seventh inning jam. A gem.
Cutch Debuts & Gary Returns
Welcome to the Yankees, Andrew McCutchen. He batted leadoff in his first game in pinstripes and went 0-for-3 with two strikeouts and a hit-by-pitch. Not exactly a storybook debut, but whatever. Gary Sanchez, meanwhile, went 0-for-4 with three eventful outs in his first game back from the disabled list. In his first at-bat, he nearly beat out an infield single before replays showed the tag was applied to his chest before his foot came down on the bag. Third baseman Niko Goodrum threw high and Adduci had to making the leaping catcher at first. He was able to slap the tag on in time.
The second time up Sanchez crushed a ball to the left-center field warning track that sure looked like it had a chance to get out off the bat. Wrong part of the park, Gary. In his third at-bat he ripped a line drive right at Goodrum at third base for a double play. Hicks was running on the 3-2 count. Nothing he could do about it. Sanchez hit a routine ground out his fourth time out. His first three at-bats were pretty eventful. The last one wasn't. Tough combined 0-for-7 for McCutchen and Sanchez on Saturday. That's okay. I still love 'em. Glad they're around.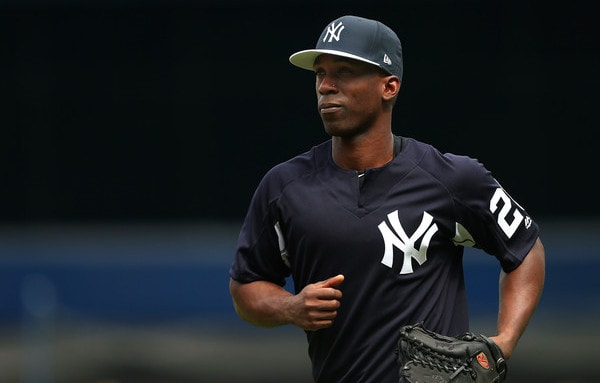 Leftovers
Recent workloads meant the bullpen was short some bodies, so Jonathan Holder got the eighth inning in a one-run game. He allowed a leadoff single, got a double play, then struck out the third batter to end the inning. Dellin Betances rebounded from Thursday's disaster with a scoreless ninth. He allowed a two-out single. Betances struck out the first batter he faced to a) extend his AL record to 36 consecutive relief appearances with a strikeout, and b) reach 100 strikeouts for the fifth straight season. He's the first reliever in history to do that. Go Dellin.
The Yankees had a homer (Torres), an infield single (Hicks), and five walks (Hicks, Andujar, Brett Gardner, Luke Voit twice). They're the third team to win a game with only two hits this season, joining the Phillies (vs. Mets), Tigers (vs. White Sox), and Giants (vs. Dodgers). This was the first time the Yankees won a game with only two hits since last May against the Athletics. Life is good when you sock dingers.
And finally, Adeiny Hechavarria made his Yankees debut Saturday as well. The Yankees started the game with Andujar-Torres-Neil Walker-Voit around the horn on the infield. They ended it with Tyler Wade-Hechavarria-Torres-Walker. Wade pinch-run for Voit in the seventh and took over at second with Walker going to first. Then, in the ninth, Hechavarria replaced Andujar in the lineup and everyone shuffled around.
Box Score, WPA Graph & Standings
ESPN has the box score and updated standings, MLB has the video highlights, and FanGraphs has the postseason odds. Guess I might as well start including those here since we're in September. Here's our Bullpen Workload page and here's the win probability graph:

Source: FanGraphs
Up Next
The Yankees and Tigers will wrap up this four-game series and the homestand Sunday afternoon. Lance Lynn and lefty Matt Boyd are the scheduled starting pitchers. That's a 1pm ET start.