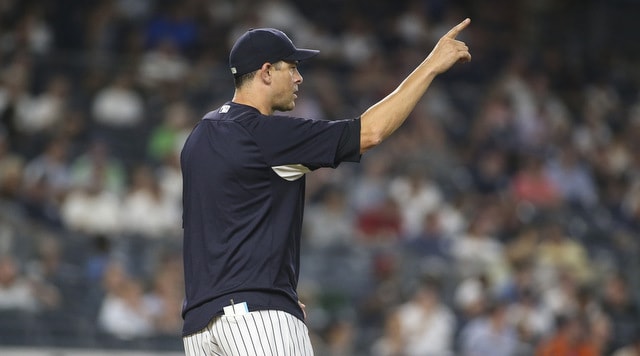 Yesterday afternoon, for the fifth time in their last eight games, the Yankees lost a game to a team they really need to beat. The first four of those five losses came at home against the White Sox and Tigers — the White Sox and Tigers! — two teams flirting with 100-loss seasons. Yesterday's loss came against an upstart Athletics team that is trying to chase down the Yankees for the top wildcard spot. Oakland is now 3.5 games back (four in the loss column).
The Yankees lost yesterday because CC Sabathia stunk, first and foremost. He didn't make it out of the fourth inning. The offense didn't help matters either. Three runs on four hits, including no hits after the fifth inning, isn't good enough to beat a team like the A's. The Yankees had two runners on base with no outs in the seventh inning and couldn't get a run home. They had two on with two outs in the eighth and couldn't get a run home either.
The game started to slip away from the Yankees in the middle innings, when A.J. Cole allowed an inherited runner to score in the fourth and then served up a solo homer in the fifth, turning a one-run deficit into a three-run deficit. Cole was brought in with a runner on base to face the middle of the lineup. After the deficit grew, Chad Green pitched the sixth and Jonathan Loaisiga pitched the seventh and eighth, all scoreless. Gah.
Boone said he would not have an issue using Green in the 4th when he went to Cole. Cited matchup. Knew that Green would be used in some form. Kinda thought it would have made sense to use Green, especially if he was gonna be used today one way or another.

— Marc Carig (@MarcCarig) September 4, 2018
It would be easy to chalk up yesterday's bullpen machinations to one of those moves that just didn't work out — every manager makes seemingly silly bullpen decisions from time to time — if it wasn't something that has happened multiple times now. Consider Cole's last seven appearances:
August 13th: Entered down one in the sixth, exited down four in the seventh.
August 18th: Entered up six in the ninth, finished the game up five.
August 21st: Entered a tie game in the 11th, created a bases loaded jam with no outs, and escaped.
August 22nd: Entered down six in the eighth, finished down six in the ninth.
August 27th: Entered down two in the ninth, finished down four in the ninth.
August 29th: Entered down three in the eighth, finished down three in the ninth.
September 3rd: Entered down one in the fourth, exited down three in the sixth.
Three times in his last seven appearances (August 13th, August 27th, September 3rd) we've seen Cole enter a game with the Yankees down no more than two runs, and let it slip away. Twice in those three games one of the usual late inning guys pitched later in the game. On August 13th it was Zach Britton, who entered with the Yankees down two in the ninth. Yesterday it was Green in the sixth inning.
Beyond the Cole infatuation, we've also seen Green transition from multi-inning guy to one-inning guy, something he doesn't seem to like. Boone said he wanted to get Britton regular work to help him get back up to speed following the Achilles injury and long layoff, and he's pitched 13 times in the last 35 games, a 60-appearance pace that would be considered on the low side for a full-time reliever. There were Chasen Shreve issues earlier this year.
You can't manage every game like Game Seven of the World Series, and of course there are often days certain relievers are not available for whatever reason, and we just don't know about it. But something like yesterday — using Cole in a one-run game and Green in a three-run game — stands out as a strategic mistake, especially given the explanation. And the fact something like this has happened multiple times is especially bothersome.
This is where I have to acknowledged Joe Girardi's best trait as a manager, at least on the field, was his bullpen management. He wasn't flawless — remember when he liked Anthony Swarzak's slider? or Andrew Miller said he could be "wasteful?" — but, by and large, he used his relievers well. A guy like Cole, who was buried in mop-up duty most of the summer, probably would be persona non grata in a close late season game under Girardi. Or maybe not. Who knows?
It's easy to obsess about bullpen management because, aside from the batting order, it is the most visible part of the manager's job. With the Yankees, bullpen management takes on added importance because this team is built around the bullpen, especially when it comes to the postseason. The plan is three or four innings from the starter, maybe five, then turn it over to the relief crew and smother the other team in October. That's how the Yankees are built.
Expecting Boone to manage a regular season game like he would a postseason game is silly — would Girardi ever bring Green into a regular season game with one out in the first like he did the Wild Card Game last year? no way — but there is still room for improvement. The Cole obsession needs to stop. Britton needs more action to get himself right. Using Green in a way he feels most comfortable seems worthwhile. Settling on a set closer with Aroldis Chapman sidelined is probably a good idea.
I expected worse bullpen management under Boone this season but I didn't think it would be this much worse. This was the risk the Yankees took when they hired a rookie manager straight out of the broadcast booth. He'd have to learn things on the job and he'd have to do it with a team with World Series aspirations. And look, the Yankees are really good. They're 86-52 overall and they went 17-13 in August even though like half the team was on the disabled list. The Yankees are really good. But bullpen management has been an issue, and since the Yankees are built around their bullpen, it's something Boone has to improve.