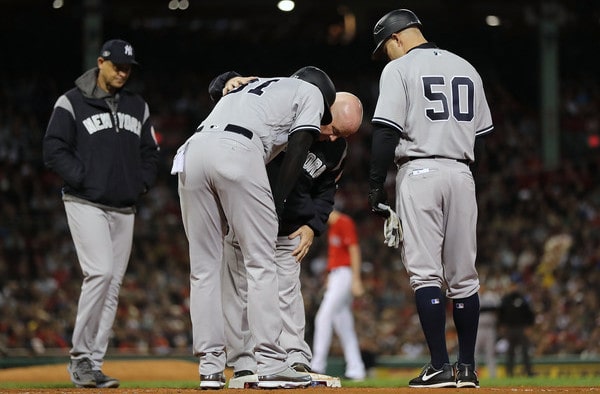 12:04am ET: Here's what Aaron Boone said after the game: "He'll get examined further tomorrow, and have an MRI and everything. He felt like it might have been cramping, so we'll just have to see. I haven't personally spoken to him yet since he's come out of the game. Hopefully we'll have a clearer picture tomorrow when he gets up and we get some pictures, too."
9:47pm ET: Hicks left the game with a tight right hamstring, the Yankees say. He had a tight left hamstring the last week of the regular season, so this is a new injury. He's going for tests.
8:54pm ET: Well this is bad. Aaron Hicks exited ALDS Game One in the fourth inning tonight with an apparently leg injury. He shot a single to right field and jogged to first base, then kinda doubled over in pain. Hicks missed time with a tight hamstring in the final week of the regular season. Brett Gardner took over on the bases and in center field. Here's the play:
The Yankees have not yet announced an update on Hicks, so stay tuned. He's been one of their best players all season and losing him for any length of time would be bad. As a reminder, the Yankees can replace Hicks on their ALDS roster if he's hurt, but, if they do, he will not be eligible to play in the ALCS. Hopefully it doesn't come to that.