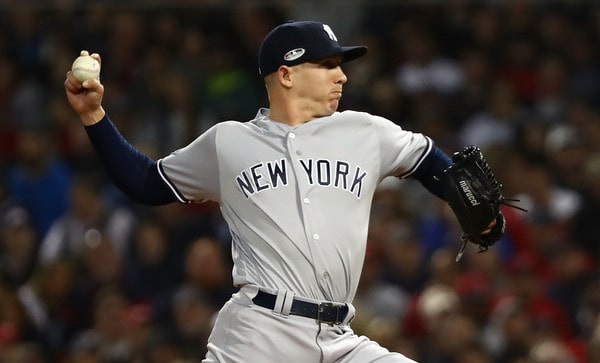 Three years ago the Yankees surprisingly subtracted from what had been an overwhelming strength during the 2015 regular season. Lefty setup man Justin Wilson, who'd emerged as Joe Girardi's trusted seventh inning guy, was shipped to the Tigers for two largely unheralded pitching prospects. It was a head-scratcher at the time, to say the least.
"From Double-A on up, we're definitely trying to improve the starting pitching depth," said Brian Cashman after the trade. "Because it's not an area of strength from the organization standpoint right now, especially with (Luis) Severino promoted to the big leagues. We're trying to close the gap on alternative choices between Bryan Mitchell and Rookie Davis, for instance."
Even with Luis Cessa not doing anything to impress, the Yankees have come out way ahead in the surprise Wilson trade because Chad Green (2.79 ERA and 3.05 FIP in 190.1 innings) has outperformed Wilson (3.68 ERA and 3.39 FIP in 171.1 innings) at a fraction of the cost. The Yankees landed a +5 WAR reliever for a +3 WAR reliever and paid him one-eighth the salary. Pretty cool.
The Yankees clearly value having a deep and powerful bullpen, and Green is a big part of that bullpen, but I can't shake the feeling Green could be a surprise trade candidate this winter like Wilson was a few years ago. There tends to be one surprise trade each offseason, right? It was Starlin Castro last year. Wilson, John Ryan Murphy, Shane Greene, and Martin Prado were all dealt in surprise moves too.
Green has been very good the last two years — he was not as good this year as last year, but he was still really good — and, in all likelihood, his trade value will never again be as high as it is right now. It was at its highest last offseason. It's at its next highest this offseason. There are two reasons for that.
1. His fastball only act seems to be losing effectiveness. Green is a very simple pitcher to analyze. He throws almost 90% fastballs, and the offspeed pitches he does throw tend to be of the show-me variety rather than the "this is a putaway pitch" variety. Green has a great fastball and not so great secondary stuff, so he throws a lot of fastballs. It can work. It has worked the last two years.
There was a definite decline in effectiveness this year though — again, Green was really good this year, though not as good as last year — and not just in the overall numbers. Green's fastball was not as dominant this year as last year. Some four-seam fastball numbers on Green:
| | 2017 | 2018 | MLB AVG |
| --- | --- | --- | --- |
| Average Velocity | 96.1 mph | 96.5 mph | 93.2 mph |
| Average Spin Rate | 2,484 rpm | 2,444 rpm | 2,257 rpm |
| Whiffs per Swing | 37.9% | 27.3% | 19.7% |
| AVG | .121 | .211 | .268 |
| ISO | .078 | .118 | .199 |
| wOBA | .168 | .253 | .351 |
| xwOBA | .215 | .289 | .354 |
Everything about Green's fastball has been above-average the last two seasons. Comfortably above-average, really. But, as you can see in the table, Green's fastball was much more effective in 2017 than 2018. Last year it was among the best fastballs in the game. This year it was merely very good. There's been a step back.
There were times this season that throwing fastballs by hitters wasn't nearly as effective, and Green's strikeout rate dipping from 40.7% last year to 31.5% this year is evidence of that. As is his home run rate going from 0.52 HR/9 last year to 1.07 HR/9 this year. When you throw only fastballs, it's only a matter of time until MLB hitters time it up, and it seemed to me they started to do that this season.
Green's slider and changeup — he started throwing his changeup quite a bit around midseason in an effort to keep hitters off his fastball — aren't great pitches, or even good pitches. That doesn't mean one of them can't improve to the point where it's a viable second pitch that keeps hitters off his heater. It just means neither the slider nor the changeup can do that right now. As good as Green's fastball is, the one-tick pony act has a shelf life.
2. The clock is ticking on his team control. I mean, yeah, technically, but Green is under team control through 2022. That's a long time! Next season is his final pre-arbitration season, and even during his three arbitration years, his salaries won't be all that high. Non-closer relievers rarely get rewarded through arbitration. Green will be very affordable the next four years.
The thing is, teams pay more when they acquire four years of a player than they do when they acquired three and a half years of a player, or three years, or two years. The closer Green gets to free agency, the lower his trade value. That's the way it goes with every player. Look what the Orioles took for Manny Machado. They could've fetched much more had they traded a full year of him last offseason rather than two months of him at the deadline.
* * *
Subtracting from the bullpen doesn't seem likely given how much the Yankees value a deep relief crew — David Robertson and Zach Britton are free agents this winter, remember — but the same applied to Wilson three years ago, and the Yankees traded him. And they came out ahead too. They replaced Wilson with a better and cheaper reliever and picked up an extra pitcher in the process.
With Green losing some effectiveness this year and him still having lots of team control remaining (and thus maximum trade value), not to mention the prices teams are paying for bullpen help these days, I can't help but wonder whether the Yankees will cash him in as a trade chip this winter. Trade Green, replace him with a free agent or trade pickup, and add other assets to the organization in the process. I don't think it's as farfetched as it may seem.