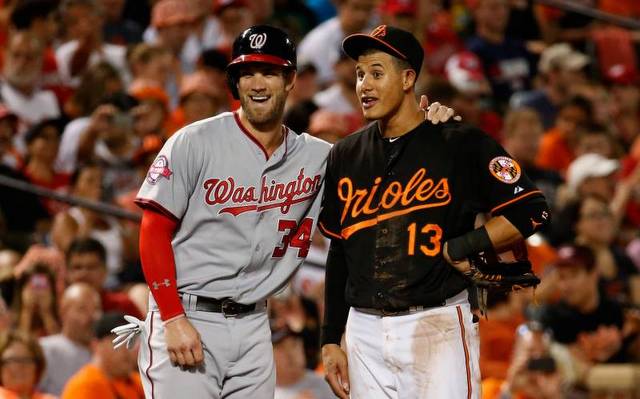 Bryce Harper or Manny Machado. Manny Machado or Bryce Harper. It is a question that's been hanging over the 2018-19 offseason for literally years now. We've been talking about this free agent class a good two or three years already. It has finally arrived, and in less than two weeks, both Harper and Machado will hit free agency.
It is not often a 26-year-old superstar hits the open market. It is exceedingly rare, in fact. The last one before Harper and Machado was who, Alex Rodriguez back during the 2000-01 offseason? Has to be. We've seen a few 27 and 28-year-olds hit free agency since then. None of them were the caliber of player of Harper and Machado though.
The Yankees have some money to spend this winter and I fully expect them to be involved in both the Harper and Machado bidding. Even if the Yankees are only interested in one guy and not the other, we'll hear them connected to both because it'll give them some leverage. (Also, Harper's and Machado's agents will say the Yankees are involved to fire up a bidding war.)
Harper and Machado are both outstanding players and I would happily take either guy on my team. As much as I would love it, signing both is not going to happen, realistically. There's a choice that has to be made here. Who's the better investment? Who's the best fit? Let's make the case for (and against) both Harper and Machado, shall we?
Bryce Harper
The case for Harper: I think you can make the argument Harper is the most naturally talented baseball player in the world. Maybe second behind Mike Trout. I couldn't see going lower than that. Harper had a down season this year and his down season was a .249/.393/.496 (135 wRC+) batting line with 34 home runs and 130 (!) walks. Remember his slow start? Harper hit .300/.434/.538 (159 wRC+) after the All-Star break.
Seven seasons into his big league career Harper is a .279/.388/.512 (140 wRC+) hitter who has averaged 30 homers and 248 times on base per 150 games. We've already seen the historic greatness — Harper authored a .330/.460/.649 (197 wRC+) batting line with 42 home runs in 2015 — and now we're talking about a player who is entering what should be, in theory, the best years of his career. His age 26-30 seasons are coming up. Goodness.
In terms of the Yankees, Harper fits because he'd give them a high on-base left-handed bat to balance the lineup — Harper is one of the few lefty hitters in the game worth squeezing between Aaron Judge and Giancarlo Stanton in the lineup, in my opinion — and they could slot him right into left field. The Nationals had Harper bouncing back and forth between right and center this year. The defensive numbers say his best work has been done in left.
Harper has "any part of any park" power but, of course, as a left-handed hitter, he would get a natural boost from Yankee Stadium. The case for Harper is his left-handed power and incredible on-base skills, and the ability to slot him into left field seamlessly. There's an open position and he'd balance the lineup wonderfully. Plus Harper grew up a Yankees fan, and that's never a bad thing.
The case against Harper: More than anything, the knock on Harper is his injuries. He did play a career high 159 games this year, so that's good. Last year he only played 111 games though. His games played totals in his six full seasons: 118, 100, 153, 147, 111, 159. Some of the injuries are self-inflicted. Harper crashed into the outfield wall and hurt his knee in 2013. He tore ligaments in his thumb during a slide in 2014. Last season's knee injury was the result of slipping on a wet base, and that's sort of a fluke. Otherwise most of his injuries are the result of aggressive play.
Beyond the injuries, Harper is become increasingly susceptible to the shift. He saw the shift in 41.4% of his plate appearances this year. It was 33.1% last year. It was 19.3% during his MVP season in 2015. It would be wrong to call Harper a dead pull hitter (2016-17 spray chart) …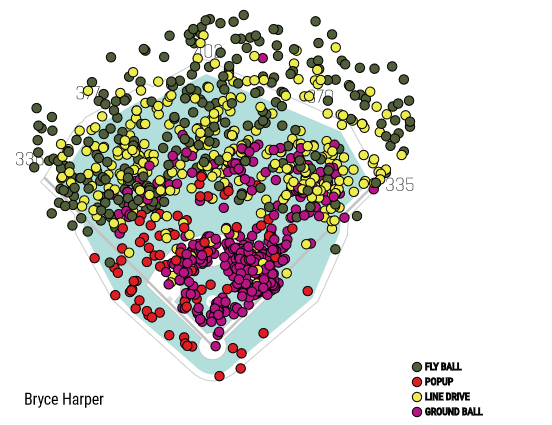 … but he does pull the ball quite often, and these days pull happy hitters make themselves easy to defend. Easier to defend, I should say. As a fan, there are few things in baseball more frustrating than a hard-hit ball finding a glove. Those weak rolled over grounders? Those are outs anyway. It's the hard-hit grounders and line drives that the shift eats up. Harper is seeing it more and the Yankees may not want to invest in another left-handed hitter who could fall in love with the short porch and become extremely pull happy and a shift susceptible hitter.
Also, and this really is a small thing, the Yankees will have to give up a draft pick to sign Harper, who will surely receive and reject the qualifying offer. The Yankees would have to surrender their 2019 second round pick and $500,000 in international bonus money for the 2019-20 signing period to sign him. That's no big deal though. For a player of Harper's caliber (in his prime!), giving up a second rounder and some international bonus money is no deterrent.
Manny Machado
The case for Machado: My goodness is Machado gifted. I think Harper is the most naturally talented player in the game. Machado is right up there with him though, and, for whatever reason, Machado makes everything look much easier. His swing, his defense, it all comes very easily. This year Machado hit .297/.367/.538 (140 wRC+) with 37 home runs. That is four straight seasons with 30+ dingers and three seasons with a 130 wRC+ or better in the last four years. And again, he's 26 and about to enter what should be the best years of his career.
There's no denying Harper has more on-base ability than Machado. Machado's career high is his .367 OBP this year. Harper hasn't had a sub-.370 OBP since 2014. What Machado lacks in walks he makes up for in contact. His strikeout rate has been trending down for a few years now and finished at a career low 14.7% this year. Harper's strikeout rate is not excessive, but there's no real comparison here:

Source: FanGraphs — Manny Machado, Bryce Harper
We live in a strikeout heavy era. Do you see the guys on the mound these days? They're incredible. They all throw so hard and have nasty breaking stuff. I have no idea how anyone ever gets a hit these days. Avoiding strikeouts is an obvious plus. Avoiding strikeouts while hitting for this much power? That's star level stuff. Only 16 players have combined a sub-15.0% strikeout rate with 30+ homers in a season since 2010 and they're basically the 16 best hitters of the era. Peak Albert Pujols, peak Miguel Cabrera, peak Adrian Beltre, peak Joey Votto, peak David Ortiz, etc. And present day Manny Machado.
Defensively, Machado is an outstanding third baseman and a good enough shortstop. He was a disaster at short with the Orioles, who seem to have no idea what they're doing, and solid at short with the Dodgers, who made up for his less than elite range with sound positioning. Based on what I saw earlier this season, I thought Machado had no chance to stick at short long-term. Now though, it seems he can do it for another year or two, or at least long enough until Didi Gregorius returns.
And finally, there's no draft pick compensation here. Machado was traded at midseason and is thus ineligible for the qualifying offer. Like I said earlier, I'd have zero problem giving up a second round pick and some international bonus money to sign a star player in his mid-20s. But, if there's a way to sign that type of player and keep those assets, why wouldn't you do it?
The case against Machado: We have to start with the elephant in the room. Machado is kind of a jerk. He's had the reputation for a while and the chickens are coming home to roost this postseason. Most notably, Machado straight up kicked Jesus Aguilar in the ankle as he ran through first base last week. He also didn't run out a ground ball and essentially bragged about it — "I'm not the type of player that's going to be 'Johnny Hustle' … That's not my cup of tea," he said last week — and made some suspect slides into second base recently.
I don't care about the slides. If it was a player people liked, he'd be praised for playing hard and doing all he could to try to win. We see players go overboard when trying to break up a double play at second all the time. All the time. I have no problem with Machado's slides on those plays. And, really, I don't care about a lack of hustle. Yes, it would be nice if everyone ran out every ground ball, but that's just not going to happen. I suppose Machado deserves credit for the honestly, but saying you're not going to run balls out is … not great. It's not great. It's a bad look. Also, the kick is garbage. Get outta here.
The Machado hate seems to have been ratcheted up a notch this postseason and it is not entirely undeserved. The Yankees might not want to bring that headache into the clubhouse. That headache certainly hasn't hurt the Dodgers. They're in the World Series and Machado's probably been their best player this October. Living with that stuff in the postseason might be easier than living with it across a 162-game season though. Either way, the biggest drawback with Machado is his perceived attitude. (Real Talk: Machado's been acting like people incorrectly said Harper acted all those years.)
As for on-field matters, Machado is a less than precise fit for the lineup as yet another right-handed batter — this doesn't bother me much because he's an elite hitter, though it is something to keep in mind — and there are some logistical headaches defensively. Machado can play short until Gregorius returns. Great. Then what? Move him to third? What about Miguel Andujar? The Yankees could plop Harper into left field and be done with it. There are some more moving parts with Machado.
Lastly, Machado has had injury problems of his own over the years, most notably surgery on both knees. He had torn ligaments in his left knee in 2013 and damage in his right knee in 2014. Machado played 637 of 648 possible regular season games from 2015-18, so the knees haven't given him trouble since the surgeries, but they did happen, and knee injuries have a way of sapping a player's speed and mobility with age. What happens once Manny loses range on the infield?
* * *
Undoubtedly, Harper and Machado are two of the best players in the world and either guy would make the Yankees substantially better. Being able to secure their age 26-30 seasons — presumably at the cost of paying big for age 31+ seasons — for nothing but cash and maybe a non-first round draft pick and international bonus money is an opportunity that does not come along often. The win-now Yankees should be after both.
Since these two ballplaying fellows are going to be at the center of conversation for the next few weeks and months, and the Yankees will be involved in those conversations as well, this is as good a time as any to take the pulse of the fan base. To the obligatory poll question:
Assuming similar contracts, who should the Yankees sign?