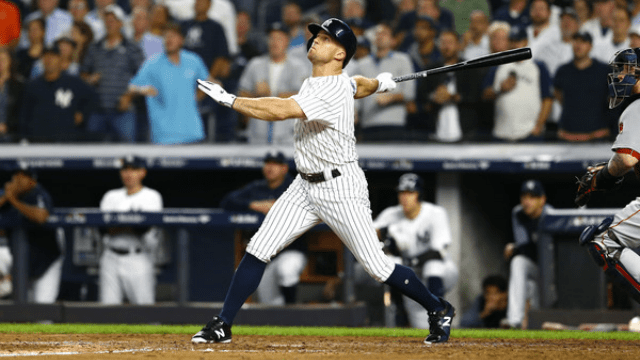 From his humble beginnings as a fourth outfielder to becoming a respected veteran leader in the Yankees' clubhouse, Brett Gardner has been a constant in the Bronx for the last 11 seasons. The speedy outfielder never lost his glove or impressive eye at the plate while developing power and becoming a valuable contributor.
However, despite a sixth straight season (and eighth straight full season) with at least 2.5 WAR, Gardner may have played his final year in pinstripes. He went from the Opening Day leadoff hitter to the bench over the course of the year, once again running into a cold second half.
Another strong start
Gardner has always been a streaky hitter and his age-34 season was no exception. Coming off his career-best 21-homer season, he quickly hit his first of the year on Opening Day in Toronto. However, he wouldn't hit another until May 26. After a two-hit game on April 11, the outfielder carried a .767 OPS. That would crater over the next month as he couldn't seem to hit the side of a barn until early May.
As the Yankees hit their stride in May, so did Gardner, who produced a three-hit game against Boston. That May 9 game was one of Gardner's shining moments as he lined a go-ahead two-run triple off Craig Kimbrel to continue the Yankees' win streak.
Gardner would reach base in all but one start for the next month while playing every day. Beginning with a four-hit game against the Astros on May 29, Gardner's OPS reached .741 and wouldn't dip below .700 until the end of August.
And just as he was in 2017, Gardner found himself coming through in the clutch on a regular basis. Two of his four hits on May 29 vs. Houston were home runs and the second dinger tied the game in the bottom of the ninth. Just over a week later, he took Jacob deGrom deep for a go-ahead homer in the eighth inning.
When the first half closed, Gardner was batting .254/.345/.403 (106 wRC+) with 10 home runs, featuring all but a little less power than he had in 2017.
Second half slump
Unfortunately, Gardner has a penchant for wearing down as a season goes on. Aaron Boone had hoped to give him more days off this season and, for the most part, he accomplished that goal. Gardner started eight fewer games in the first half of 2018 compared to 2017. However, Aaron Hicks' early oblique injury forced the veteran outfielder into more consistent action in April.
No matter the playing time, Gardner's bat faded in the late summer yet again. Overall, he hit just .209/.288/.316 (66 wRC+) with just three home runs after the break. His average exit velocity increased slightly, but his walk rate fell from 11.7 to 9.1 percent while his strikeout rate spiked to 21.6 from 14.9 percent.
Aaron Judge's broken wrist, as well as Giancarlo Stanton's balky hamstring, made sitting Gardner less possible as the alternative was often Shane Robinson. The southpaw started 27 games and playing in every single game during the month of August.
Benched
September likely was the beginning of the end for Gardner in pinstripes as Andrew McCutchen came over in a trade from San Francisco. Cutch replaced Gardy at the top of the lineup and made Gardner a constant at the bottom of the order for the first time since the start of the decade.
When Judge returned, Gardner was relegated to the bench, although he still found himself in center field often enough as Hicks dealt with injuries. Gardner failed to homer in September, his first month without a home run since 2015. He still saved a game with his glove!
When the playoffs came, he was all but set to be a defensive replacement for McCutchen and/or pinch runner. He played the final two innings of the Wild Card Game, a year after homering in the one-game playoff. However, he received at-bats in all four games of the Division Series after Hicks dealt with another injury. He went 0-for-8 with three walks.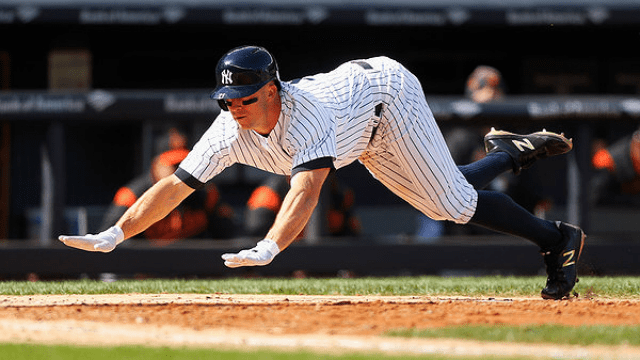 Stout defense and baserunning
Despite the decline at the plate, Gardner remained reliable on the bases and in the outfield. He produced 11 defensive runs saved, down from 20 a year ago but right in line with the 12 he had in his Gold Glove 2016 season. In fact, his 8.4 UZR/150 was actually better than 2016, although still a little down from 2017. His Outs Above Average declined from five to zero.
Gardner played a little more center field than in 2017, likely due to Jacoby Ellsbury's absence. He held his own in center and rated as a positive there. He took over left field from McCutchen in ALDS Game 4 but missed a crucial ball that went for an RBI double for Ian Kinsler.
On the base paths, he stole 16 bases and was caught just twice. At 29.2 ft/s, Gardner's sprint speed was actually higher than 2017 according to Statcast, making him the fastest Yankee yet again. Both Baseball Reference and Fangraphs' metrics graded him well on baserunning.
What's next?
Now here comes the hard part. Gardner has a $12.5 million option with a $2 million buyout. For luxury tax purposes, the buyout was already factored into his AAV the last four years, so he'd be a $10.5 million player for the Yankees in 2019. Still, it seems that the Yankees will opt to part ways and take the buyout.
At 35 years old, he's still a much-needed lefty bat in the lineup, but that shouldn't stop the Yankees from pursuing an upgrade. The team could potentially have an upgrade in-house with Clint Frazier while Ellsbury may very well take over as a fourth outfielder-type (outside of his inevitable DL stints).
In theory, the Yankees could exercise the option and then try to trade him, but Gardner has attained 10/5 rights that kicked in this past season.
The end is never pretty, but if that was it for Gardner in pinstripes, it was a wonderful 11 seasons and he more than earned the respect and admiration of Yankee fans.