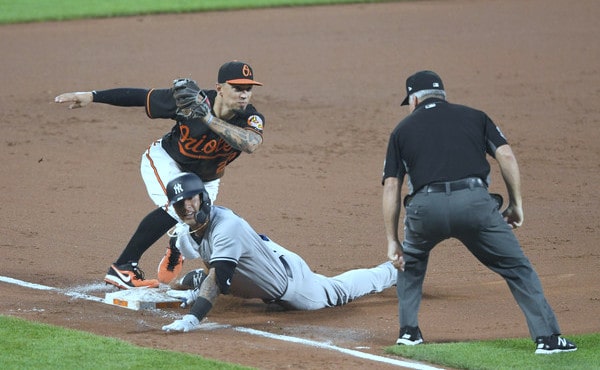 With all due respect to Miguel Andujar, who's been my dude since he was in Single-A ball, Gleyber Torres was the best rookie on the 2018 Yankees. Gleyber has Andujar beat in OBP (.340 vs. .328) and he hit three fewer homers and drew 17 more walks in 122 fewer plate appearances. The Baseball Reference version of WAR favors Torres over Andujar (+2.9 vs. +2.2) despite the playing disparity.
Ultimately, it doesn't matter who's better. Torres and Andujar are both Yankees and they're both awesome. The team gets to move forward with both players and that's pretty cool. I just think Gleyber showed a more refined all-around game and was the more productive player this year (on a rate basis) and will be the more productive player going forward. Andujar will be great too. Love his bat. I think Torres will be better.
There is, however, one very glaring flaw in Gleyber's game, and it's not the careless errors (though those stink). It's his baserunning. My man was terrible on the bases this year. Both the eye test and the numbers say so. An example of Torres' baserunning exploits:
Forget about that hideous slide for a moment. The problem is the decision. The Yankees were down two runs in the seventh inning and Torres doubled in a run to get his team to within one. Rather than stop at second, where he would've represented the tying run with no outs, Gleyber belatedly tried to take third on the throw home and ran the Yankees out of a bigger inning. It was bad. Very bad.
Torres went 6-for-8 (75%) stealing bases this season, which is nice, but there is so much more to baserunning than that. He took the extra base on a base hit (first-to-third on a single, etc.) only 21% of the time. 21%! The league average was 41% this season. Three-hundred-and-fifty-six players batted at least 200 times this season. Here is a portion of the extra base taken leaderboard:
334. Omar Narvaez: 21%
335. Austin Romine: 21%
336. Gleyber Torres: 21%
337. Roberto Perez: 20%
338. Matt Wieters: 20%
Dude. It's Gleyber and a bunch of catchers. It could be sample size noise — Torres only had 29 opportunities to take the extra base this year — but these numbers are a measure of what actually happened on the field, and what happened on the field was real bad when it comes to Torres running the bases. Doesn't mean he'll be bad on the bases going forward! But he was this season, for sure.
Statcast clocked Torres with a sprint speed of 27.1 feet-per-second this season, which is league average overall but below average among middle infielders. Baseball Prospectus breaks down baserunning into different components and the sample sizes are so small that I think the numbers are insignificant, but here's Gleyber, if you're interested:
Advance on Grounders: -0.59 runs on 24 opportunities
Advance on Fly Balls: +0.69 runs on 39 opportunities
Advance on Hits: -0.13 runs on 27 opportunities
Other Baserunning: +0.32 runs in 15 opportunities
While the sprint speed isn't great, the biggest issue to me wasn't Gleyber's speed, it was his decision-making and instincts on the bases. There were a few instances in which he tried to take the extra base when he shouldn't have and there were time he didn't take the extra base when he could've. Torres ran into eight outs on the bases. Giancarlo Stanton led the Yankees in outs on the bases. He had nine and reached base 78 more times than Gleyber. Yeah.
Also, Torres is the anti-Javy Baez when it comes to slides. Baez is an incredible slider and tag-avoider. He's made slides exciting. Torres has made slides cringe-worthy. We've seen Torres make some ugly slides. That's kind of a big deal because Gleyber blew out his elbow on a slide and needed Tommy John surgery. Here's the Tommy John slide. Here's a slide from the final series of the regular season:
That's the same slide! Lordy. I get that Torres had to go around the catcher both times, and I get that you don't want to take away a player's aggressiveness, but damn dude. Protect that elbow and find a less dangerous way to slide! Gleyber also had some popup slides go wrong throughout the season. As good as Torres is and as talented as he is, baserunning is a clear area of weakness in his game. There's a lot of room for improvement.
The good news? Baserunning is a relatively small part of the game. Even the best baserunners only add something like +10 runs on the bases over the course of the season. Don't get me wrong, baserunning can make a big difference in an individual game. That extra 90 feet could have a huge impact. Overall though, if you're going to be bad at something, being bad at baserunning is preferable to being bad at hitting or defense.
Torres is still a very young player. He turns only 22 in December. Young players, especially very talented ones like Gleyber, tend to get better with experience and I'm hopeful Torres will improve his baserunning ability over time. This past season he was a detriment on the bases. He didn't take the extra base often and wasn't particularly good at advancing on other plays. This is one area Gleyber can focus on to take his game to the next level.