The following is a guest post from Adam Seth Moss, who's written tons of guest posts over the years.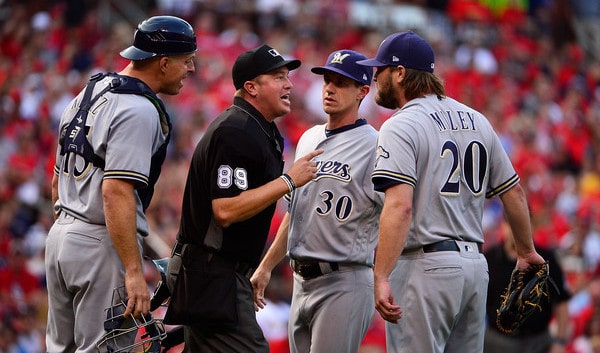 Tonight, the Yankees and Red Sox open the 2018 ALDS, so let's preview the umpire crew for the best-of-five series.
Cory Blaser (No. 89 – HP Game 1)
In a bit of a surprise, Cory Blaser is our home plate umpire for the 2018 American League Division Series opener against the Boston Red Sox. Unlike the Wild Card Game, where we had six umpires that were mostly hitters umpires, we have an average umpire by definition. Cory Blaser has a 3.80 ERA in the 2018 season (68th of 89, tied with Nick Mahrley) and a 1.26 WHIP. Batters have an 8.4/hits per 9, 3.0/walks per 9 and an 8.7/strikeouts per 9 record with Blaser behind the plate. Batters also have a .245/.310/.399 batting line. None of these really jump out in any fashion and fall about average or just below it.
The native of Denver, Colorado made his MLB debut on April 24, 2010 in a doubleheader at Coors Field between the Colorado Rockies and the Florida Marlins under Joe West's crew. If it gives you an idea how consistent he is, this is Blaser's fourth straight postseason assignment, the third straight in the Division Series level. Blaser has 14 career ejections, 12 of which have come in the National League. The two in the AL are of Alex Rios and Gene Glynn, so it can be assumed there is no Yankee experience attached. Only of note was Martin Prado ejected on July 18, 2014 for balls and strikes shortly before he was traded to the Yankees.
Dan Bellino (No. 2 – HP Game 2)
Get your torches and pitchforks ready. Woooof. We have the first sign of a pitchers umpire in the 2018 American League Division Series. And we mean a pitchers' umpire. Dan Bellino has a 3.70 ERA (79th of 89), with a 1.14 WHIP (one of the lower ones). Those already are pitchers numbers. Just to rub it completely in: batters have a 7.3/hits per 9 line. 7.3! The walks per 9 are average at 2.9, and the strikeouts are average at 8.4, which given the propensity for the low hit rate and the higher strikeout rate, yikes. To make everything crazier, batters have a .218/.285/.389 batting line with Bellino behind the plate. No one is getting on base, but slugging it out.
The Chicago, Illinois native made his MLB debut on the 25th of June 2008 at Wrigley Field in an interleague game between the Chicago Cubs and the Baltimore Orioles. Note, Matt Albers started that game for the Orioles. In eleven seasons, Bellino has racked up 37 ejections. Most are for balls and strikes. However, he does have a couple of Yankees on his roster, including CC Sabathia and Joe Girardi on June 7, 2015 for arguing balls and strikes. Bellino got some note from Todd Frazier this year for being ejected by Bellino after complaining mid-inning and reviewing the tape. Be ready for a ginormous headache on Saturday.
Mike Winters (No. 33 – HP Game 3 / CC)
The crew chief is also the man who was the crew chief for the Mariano Rivera farewell on September 25, 2013 and David Wright's final game on September 29, 2018. Mike Winters has yet another average strike zone. For years it seemed to lean toward the pitchers, but this year is closer to average. The umpires' ERA for Winters is 3.87 (tied with Tripp Gibson and punching bag Bill Miller for 61st of 89.) He has a 1.35 WHIP (really high), with an 8.6/H9, 3.5/BB9 (high) and an 8.7/K9 rate. Batters have a .250/.323/.396 batting line. All of these are pretty average, which surprises me.
This is the 11th Division Series for the native of Carlsbad, California. He made his MLB debut on July 9, 1988 in a game between the Pittsburgh Pirates and the Los Angeles Dodgers at Dodger Stadium, working under the late John McSherry's crew. That Pirates lineup featured a young Barry Bonds in left field leading off. Winters has 106 ejections over 31 seasons in baseball. He only has one this year, Clint Hurdle all the way back on April 26. He also ejected Joe Maddon twice during the 2017 playoffs. He has only tossed two Yankees in his career: Joe Girardi on May 14, 2011 for balls and strikes and Enrique Wilson on October 6, 2001 over a called third strike.
Angel Hernandez (No. 5 – HP Game 4)  
Welp. You knew this was coming. Angel Hernandez has Game 4's home plate, if necessary. Angel Hernandez is what we call an "umpire known by name," which usually means you've screwed up one too many times in front of a nationally television audience. However, Hernandez has a history of screwing up in many different markets, so he is well known. Aside of Joe West and CB Bucknor, he is likely the third-most known umpire in the majors right now. Hernandez has the first hitters zone of the group, but it's inconsistent. Pitchers have an ERA of 4.28 with him behind the plate (29th of 89) and a 1.37 WHIP. Batters also have an 8.9/H9, 3.4/BB9 and 8.8/K9 with Hernandez. Those do lean hitters umpire though the strikeout rate is a tad higher than average for a hitters ump. Batters have a .257/.324/.427 batting line, also hitters special just above average.
This is the 10th Division Series for Angel Hernandez. The native of Havana, Cuba made his MLB debut on May 23, 1991 at the Astrodome between the Los Angeles Dodgers and the Houston Astros with Mike Winters on Dana DeMuth's crew. Hernandez has 87 career ejections in the 28 seasons in the majors. Boasting a new number this year (5, over his old 55 – he wore 5 in the National League but got stuck with 55 in the merge), Hernandez has not ejected a Yankee since August 30, 2007, when he tossed Joba Chamberlain for throwing at Kevin Youkilis' head. Let us keep it clean with him around.
Fieldin Culbreth (No. 25 – HP Game 5)
The fifth and final home plate umpire we could see in this series belongs to Fieldin Culbreth, and he has another hitters' zone. He has a guarantee definition of hitters' zone. It is small. In 26 games this season, Culbreth had a 4.37 ERA (tied for 21st of 89 with 3 others) and  a 1.31 WHIP. The batters also have an 8.7/H9, 3.0/BB9 and 8.1/K9. The batters have a .253/.316/.427 batting line. All are just above average and lean toward the hitters. Don't expect a lot of close calls to go the pitchers' way.
The native of Spartanburg, South Carolina is in his 26th season as a major league umpire. He made his MLB debut on August 13, 1993 at the forsaken Kingdome between the Mariners and the then-California Angels. He is the only member of this crew to be a former member of the American League umpiring crews before the merge in 2000. In 26 seasons, he has only 50 ejections, so he's probably the least hothead of the group besides the young Blaser. His last ejection of a Yankee was Randy Johnson on September 16, 2005, arguing balls and strikes. He got some notoriety in 2013 for allowing Bo Porter to break the rules of the game in a game between the Astros and Angels, letting Porter change pitchers after Scioscia went to the bench even though the pitcher did not face a batter. He got a two-game suspension for that, violating then rule 3.05b. (If the Angels hadn't come back and won this game, there is a good chance this would've been a MLB upholding protest game.)
DJ Reyburn (No. 17 – HP in emergency only)
The second umpire with a new number on this crew, DJ Reyburn turned in his long time no. 70 in favour of No. 17, which was worn by John Hirschbeck for so many years. Depending on your preferences, you either do not want or do want Reyburn behind the plate. Reyburn has a 4.47 ERA (16th of 89) and a 1.35 WHIP, which both scream hitters umpire. However, Reyburn's alternative numbers, 8.8/H9, 3.3/BB9 and 9.0/K9 mean the strike zone is um, a mess. Batters have a .255/.322/.427 batting line with Reyburn behind the plate. So good luck interpreting that into anything besides hitter or average umpire.
The native of Grand Rapids, Michigan made his MLB debut at the Oakland-Alameda County Coliseum on June 10, 2008 in a game between the Yankees and the Athletics. That game was a vintage Chien-Ming Wang start with Jose Veras and Mariano Rivera wrapping up a Yankees win.  That day he was part of Jerry Crawford's crew. Reyburn has 27 ejections in 10 seasons, none of which are of the Yankees. The only notable ex-Yankees on this team are Casey McGehee and Don Mattingly. Otherwise, not much to see here.
Conclusions
We have an average to pitchers umpire for the first 4 games really. Bellino is going to make a major headache. Regardless, the four umpires at the bunker in Chelsea are as follows: Marvin Hudson (No. 51), Brian Knight (No. 91), David Rackley (No. 86) and Bill Welke (No. 3). They are making the calls on replay. Hopefully the Yankees can sweep in 3 games and avoid any Angel Hernandez specials, but that Saturday game will be something to see in strike zones of large size.