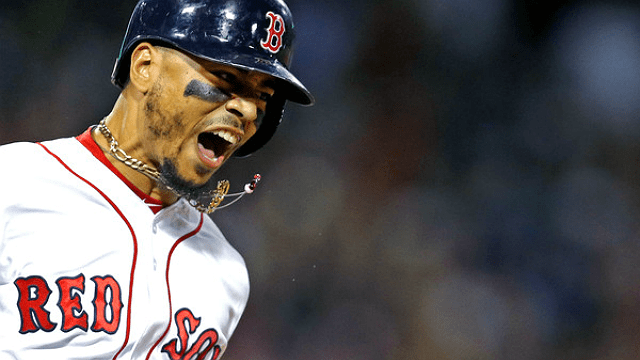 Baseball's premier rivalry meets again in the postseason, 14 years after a pair of epic Championship Series duels. This time, it will be a five-game set and the Red Sox have home-field advantage thanks to a tremendous regular season.
The Season Series
Boston was the only team to best the Yankees in the season series this year, taking 10 of 19 from the Bombers after winning the season finale. The Sox outscored the Yankees, 116-102, and dealt the decisive blow to their division hopes with a four-game sweep at Fenway Park in August. The Yankees took six of nine at Yankee Stadium but mustered just three wins in 10 tries in Boston.
Who stood out? Rick Porcello went 2-0 with a 2.31 ERA over 23 1/3 innings in four starts while Chris Sale allowed just one run over 13 innings across two victories. He held the Yankees to a .118/.220/.250 line. Mookie Betts hit a ridiculous .415/.506/.738 with 14 extra-base hits against the Pinstripers.
Meanwhile, Aaron Judge batted .346/.443/.654 with five homers and Giancarlo Stanton hit .371/.423/.700 with five homers and 12 total extra-base hits. Luis Severino guided the Yankees to three wins at the Stadium.
Injury Report
Dustin Pedroia, Marco Hernandez, Austin Maddox and Carson Smith are out for the year. Chris Sale is healthy, but his velocity was significantly down in his last start of the year. Eduardo Nunez has dealt with knee issues for the last few seasons.
Their 2018 Season
You know the story. Boston took the league by storm this year, winning a franchise-best 108 wins. They have home-field advantage throughout the playoffs. Their 876 runs led baseball — Yankees were second with 851 — while 647 runs allowed was only bested by the Astros (534), Dodgers (610), Cubs (645) and Rays (646).
Betts is the likely AL MVP after leading baseball with a .346 average, putting up a 1.078 OPS and playing a Gold Glove-caliber right field. Sale is a Cy Young favorite with a 2.11 ERA over 158 innings while racking up 237 strikeouts. The crazy thing is that J.D. Martinez had a more impressive year in some ways, nearly winning the Triple Crown.
The Lineup We Might See
Mookie Betts, RF – .346/.438/.640, 32 HR, 30 SB, 185 wRC+ (AND 10.4 WAR!!)
Andrew Benintendi, LF – .290/.366/.465, 16 HR, 21 SB, 122 wRC+
J.D. Martinez, DH – .330/.402/.629, 43 HR, 6 SB, 170 wRC+
Xander Bogaerts, SS – .288/.360/.522, 23 HR, 8 SB, 133 wRC+
Mitch Moreland, 1B – .245/.325/.433, 15 HR, 2 SB, 100 wRC+
Ian Kinsler, 2B – .240/.301/.380, 14 HR, 16 SB, 87 wRC+
Rafael Devers, 3B – .240/.298/.433, 21 HR, 5 SB, 90 wRC+
Jackie Bradley Jr., CF – .234/.314/.403, 13 HR, 17 SB, 90 wRC+
Sandy Leon, C – .177/.232/.279, 5 HR, 1 SB, 33 wRC+
The lineup won't look quite like this in Game 1 with J.A. Happ on the mound for New York. Steve Pearce (140 wRC+, 158 wRC+ vs. LHP) will certainly play first base and Eduardo Nunez (78 wRC+, 71 wRC+ vs. LHP) could take over at third base. Pearce could also start at DH or first vs. righties and force Moreland or Bradley Jr. to the bench.
But, hot diggity dog, the top of that lineup is good. You can't let guys like Bradley Jr. and Leon get on or else Betts, Benintendi and Martinez will make you pay.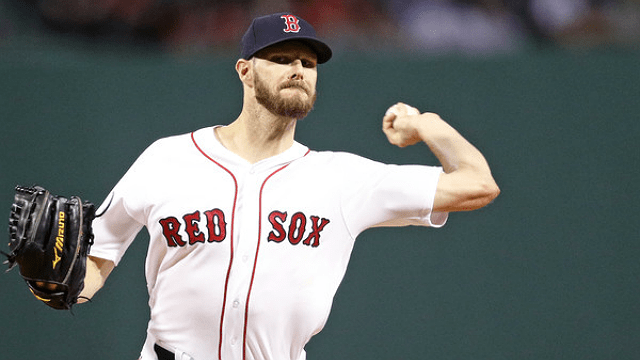 The Starting Pitchers We Will See
Game 1 (Friday at 7:32 PM ET): Chris Sale vs. J.A. Happ
The stuff: He's got a 95+ mph fastball, a wipe-out high-80s slider and a low-80s changeup. The guy has some of the best stuff in baseball when he's on.
The questions: Health and ability to go deep in games. Sale pitched just 12 innings over four starts in September. He struck out 18 and allowed just five runs, but he didn't look quite like himself. Perhaps that was because the games were meaningless. His fastball averaged just 90.2 mph in his final start of the year as his velocity has trickled down his last few starts. Mike broke down Sale's disappearing velocity earlier today.
Performance vs. NYY: Outside of one bad start last September, he's really had the Yankees' number since coming to Boston. His seven innings of one-hit, 11-strikeout ball at the Stadium in June was perhaps the best road performance against the Bombers this year.
Game 2 (Saturday at 8:15 PM ET): David Price vs. Masahiro Tanaka 
I'll be brief on the next three starters because Domenic and Mike broke them down over the last few weeks. Here's Dom's preview that touched on Price recently.
The story with Price is simple: He's a great pitcher. He's had a strong second half. But he can't seem to beat the Yankees' and their right-handed power, nor has he acquitted himself well in the postseason. Both of those storylines hang over him heading into Game 2.
Game 3 (Monday at 7:40 PM ET): Rick Porcello vs. Luis Severino
Porcello's had a fine, average-ish year, as Domenic pointed out last week. Like Price (and Sale), he's struggled in the postseason historically. However, he's been able to keep the Yankees off balance and one-hit them at Fenway in August after no-hitting them into the middle innings in April. He was unable to beat them at Yankee Stadium in one try.
Game 4 (Tuesday at 8:07 PM ET): Nathan Eovaldi vs. CC Sabathia
I can't put it better than Mike, who broke down Eovaldi's season and his strong numbers against the Yankees. Check out his piece!
Game 5 (Thursday at 7:40 PM ET): TBD vs. TBD
If we get this far, I'd bet on Sale starting instead of Price for obvious reasons, though Sale may be needed in relief in Game 4 like last season. On the Yankees' end, they get to pick between whoever performed better among Tanaka and Happ in the first two games.
The Bullpen
The Red Sox will have seven relievers for this series, eight if you count Eovaldi in the early part of the series. Craig Kimbrel is the closer, mostly in one-inning stints, though the postseason will likely call for longer outings. Matt Barnes has been his primary setup man both before and since returning from the disabled list.
From there, it gets hairy. Recently, Alex Cora has turned to Steven Wright and Ryan Brasier in the middle innings. Wright especially has kept the Yankees off-balance, but the knuckleballer shouldn't scare the Bombers.
Eduardo Rodriguez will act as the long man after missing out on the Game 4 start. Beyond him, the final two spots came down to Brandon Workman, Joe Kelly and Heath Hembree with Hembree missing the cut. Kelly was dreadful down the stretch and Cora will likely loathe utilizing him in a high-leverage spot.
Tipping Points
Sale's readiness: He's barely pitched down the stretch and he's arguably the most important player in this series.
Relying on the bullpen: We know the Yankees can rely on their bullpen, but will they to the extent they need to or will Aaron Boone leave his starters in too long? On the other side, can Alex Cora find a bridge between his rotation and Craig Kimbrel that doesn't cost his team a game or the series?
Left on right: It's not as simple as the platoon advantages, but the Red Sox are going with two lefties presumably for three of the five starts in this series while the Yankees boast the best collection of right-handed hitting talent in baseball. If Sale and Price can navigate the lineup 2-3 times through with a lead, Boston should take the series.
Mookie Betts: He's so freaking good. Ugh.