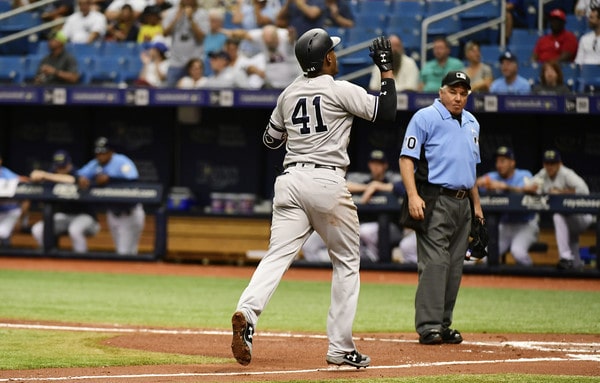 There are few things in baseball more enjoyable than a no-doubt home run. The crack of the bat, the hitter stopping for a moment to appreciate what's he done, the pitcher either getting mad at himself or owning it, the crowd ooohing and aaahing … they're great. Few things energize the crowd like an out-of-nowhere monster home run.
This post is not about those home runs. We covered those homers earlier this week. This post is about the homers on the opposite end of the spectrum. These are the wall-scrapers. These homers generate a very unique feeling. These are the homers that keep you on the edge of your seat as you watch the ball in flight and wait to see whether it'll land safely over the wall or stay in play. The thrill of the homer, the agony of the outfielder camped under it.
Yankee Stadium is known to give up hilariously short homers from time to time. Sometimes the short porch comes back to bite the Yankees. Most of the time, it helps them out. Since the ballpark opened in 2009 the Yankees have out-homered their opponents 1,183 to 923 at Yankee Stadium. Quite the gap there. Let's break down the team's five* shortest home runs of 2018.
t-5. Andujar vs. David Price
* You're getting a bonus homer free of charge, folks. The fifth shortest homer of the season is actually two homers tied at the same distance, so I'm including both rather than picking a favorite.
I hope you're all Miguel Andujar fans. You're going to see him a bunch in this post. His 25th home run of the season — and his 67th extra-base hit — was one of those classic "what is he swinging at that pitch was out of the zone holy cow how did that carry out" Andujar homers. He seemed to hit a lot of those. This one was against David Price on September 19th. Landed a few rows back in right field.
With that home run Andujar joined Aaron Judge, Joe DiMaggio, Bobby Murcer, and Joe Gordon as the only rookies in franchise history to hit 25 home runs. Gleyber Torres was one short of joining the club.
Distance: 340 feet.
t-5. Judge vs. Anibal Sanchez
Judge hit six homers in a ten-game span in late-June and early-July this year, and the fourth of those six homers was this short porch job in an interleague matchup against the Braves. Not a whole lot to this one. Anibal left a cutter up and Judge was able to reach out and drive the ball the other way.
Doesn't Judge make that look so, so easy? It's not. If it was, everyone would do it. Those seemingly effortless homers are among my favorites, even if they are Yankee Stadium cheapies.
Distance: 340 feet.
4. Romine vs. Jalen Beeks
We've all seen countless short porch home runs that would've been caught for outs in other ballparks. What about the short porch homers that would've been foul balls elsewhere? This is one of those. On August 14th, Austin Romine slashed a fly ball to right field that stayed fair by a few feet and went for a two-run homer. Check it out:
If it were, say, 324 feet down the right field line at Yankee Stadium rather than 314 feet, does that make it out? Or does it slice just foul? I guess we'll never know. Fortunately, it is 314 feet to right field, not 324 feet, and Romine's home run put two runs on the board:
Distance: 339 feet.
3. Andujar vs. James Paxton
Andujar hit 27 home runs this season and somehow only five were to the opposite field. Doesn't that seem low? That seems low. I feel like Andujar did a good job spraying the ball around this year. I guess he did, but only so many balls to the opposite field left the yard.
Well, anyway, this homer was part of a three* homer attack against Paxton. I put the asterisk in there because one of those three homers was robbed. Giancarlo Stanton's fly ball was over the center field wall, the replay made it clear as day, but Mitch Haniger brought it back. Alas. There was no bringing this one back though:
Big fan of Andujar's helicopter follow through. This homer was not quite the full helicopter, but it's close. This was the game No. 72 for the Yankees and homer run No. 10 for Andujar. He hit 17 homers in the final 90 games. Pretty good pace, that is.
Distance: 399 feet.
2. Stanton vs. Dallas Keuchel
In an upset, the second longest home run by a Yankee this year was not hit in Yankee Stadium. It was hit in Minute Maid Park in Houston. In an even bigger upset, it was not Stanton's little golf shot into the Crawford Boxes in left field. That homer somehow traveled 384 feet (?), according to Statcast.
No, the team's second longest homer of the season was Stanton's first homer of the game a few innings earlier. Keuchel left a changeup up a little too much and Giancarlo lined it into the right field seats for a two-run blast.
I love it when the Yankees bring the short porch on the road. Most hitters poke that pitch the other way for a single, or maybe far enough away from the right fielder for a double. Stanton hit a laser into the seats. That is Not Normal.
Distance: 339 feet.
1. Andujar vs. Jaime Schultz
That's right, the two shortest Yankees' home runs this season were not hit at Yankee Stadium. Didn't see that coming, eh? I've been doing these posts since 2012 and never before did the team's shortest homer of the season come on the road, nevermind the two shortest.
Andujar's third appearance on this list comes courtesy of a home run he hit in the "that's for you, bitch" game. The Yankees scored four first inning runs against Schultz, the opener du jour, and put that game to bed early. Andujar's dinger plated the team's second, third, and fourth homers. Check this out:
Fun Fact: The Rays cut out that portion of the wall in the left field corner so Carl Crawford could rob home runs back in the day. Then Evan Longoria hit a walk-off home run to that spot in Game 162 in 2011 while Crawford failed to catch Robert Andino's liner in Baltimore, which sent the Rays to the postseason and the Red Sox home following their September collapse. Good times.
Anyway, that ball left Andujar's bat at 89 mph with a 30° launch angle. If I'm reading the Statcast breakdown correctly, batted balls with the same exit velocity and launch angle go for a home run only 2% of the time. The batting average on such batted balls is .087. Hit it anywhere else on the field, and it's an out. Hit it down the line toward that little cutout at Tropicana Field, and it's a three-run home run. Good times. Distance: 337 feet.