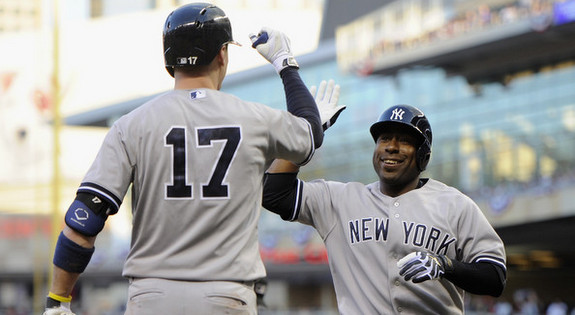 Welcome to November. The offseason's first month. And, since we're in a new month, it's time to go back in time to make our regular run through the MLB Trade Rumors archives. The transactions and rumors pick up now because, well, it's the offseason. Not much happens in September and October.
The 2013 Yankees went 85-77 and could've been a whole lot worse. They missed the postseason and went into the 2013-14 offseason needing everything. Starters, relievers, infielders, outfielders, a catcher … you name it. The farm system was thin and the core was aging. And Robinson Cano was a free agent. That was a pretty big deal. Time to dive into the five-year-old hot stove talk.
November 1st, 2013: Yankees Re-Sign Jeter To One-Year, $12MM Deal
The Yankees announced that have re-signed shortstop Derek Jeter to a one-year deal worth $12MM. Jeter, who is represented by Casey Close of Excel Sports Management, had a $9.5MM player option on his previous contract, but this deal will override that option. 
This was the time the Yankees gave Derek Jeter a raise simply because he's Derek Jeter. There was no other reason. Injuries limited Jeter to 17 games in 2013 and the Yankees, who were supposedly planning to get under the $189M luxury tax threshold in 2014, could've let Jeter exercise his $9.5M player option and been done with it. Who was signing a soon-to-be 40-year-old Jeter after the season he just had? Instead, the Yankees reworked his contract and have him an extra $2.5M just because he's Derek Jeter. It's good work if you can get it.
November 3rd, 2013: Yankees Interested In Infante If Cano Signs Elsewhere
Though the Yankees remain the odds-on favorite to employ star second baseman Robinson Cano for the foreseeable future, GM Brian Cashman has reached out to Omar Infante as a fall-back option, report George A. King III and Ken Davidoff of the New York Post. Cashman was vague when approached for comment by the Post, and there is no reason to believe that this report indicates any change in Cano's status.
Cano was, obviously, the best second baseman on the free agent market that offseason. Infante was second. He hit .318/.345/.450 (118 wRC+) with the Tigers in 2013 and it was so very far out of line with the rest of his career. His first full big league season was 2004. He hit .282/.320/.410 (95 wRC+) from 2004-12, then he had that big 2013 season. Infante timed his career year quite well.
The Yankees were on Infante pretty much all offseason and especially so after Cano went to Seattle. He eventually signed a four-year deal worth $30.5M with the Royals and you'd have thought the Yankees missed out on peak Joe Morgan the way the media and a portion of the fan base reacted. Infante went on to hit .252/.295/.337 (74 wRC+) in 2014 and .220/.234/.318 (43 wRC+) in 2015. Kansas City released him midway through 2016, the third year of his four-year deal. Bullet dodged.
November 4th, 2013: Yankees Make Qualifying Offers To Cano, Granderson, Kuroda
The Yankees made qualifying offers to Robinson Cano, Curtis Granderson, and Hiroki Kuroda, according to a team press release.
A formality. The qualifying offer was only $14.4M that offseason. I remember there being some speculation the Yankees could pass on giving Granderson the qualifying offer after he missed so much time with injuries in 2013, but that never made much sense. Worst case scenario is he takes it and you get 33-year-old Granderson for one year and $14.4M? Not bad at all.
Given their free agent signings and losses, the Yankees had a very busy and complicated 2013-14 offseason when it came to draft pick compensation. Here's how it all broke down:
Yankees forfeit 18th overall pick to sign Brian McCann.
Yankees gain supplemental first round picks for losing Cano and Granderson.
Yankees forfeit the Cano and Granderson picks to sign Jacoby Ellsbury and Carlos Beltran.
Kuroda re-signed with the Yankees, so no draft pick compensation.
The Yankees signed three qualified free agents and lost two qualified free agents. Their first pick in 2014 was No. 55 overall, which they used on Jacob Lindgren. He appeared in seven games for the Yankees in 2015 and was non-tendered following the 2016 season after getting hurt. Lindgren hasn't pitched since. He's with the Braves and is currently rehabbing from his second Tommy John surgery.
November 5th, 2013: Yanks Made Preliminary Inquiry On Brandon Phillips
Preparing themselves in the event that Robinson Cano signs elsewhere, the Yankees have placed a preliminary call to the Reds on Brandon Phillips, reports Jon Heyman of CBS Sports. Cincinnati's asking price for Phillips is said to be "way too steep" according to Heyman.
Among trade candidates, Phillips was probably the most discussed Cano replacement. He had a down season in 2013 (90 wRC+) and the Reds were good at the time — they lost the 2013 NL Wild Card Game and were planning to contend in 2014 — so they were never serious about moving him. A few years later reports surfaced that the Yankees and Reds had a deal in place for Phillips at some point (I think at the 2014 trade deadline), but he used his no-trade clause to block it. Phillips blocked a bunch of trades over the years. He didn't want to leave his Cincinnati and hey, that was his right. But there was a lot of Phillips chatter during the 2013-14 offseason. A lot.
November 6th, 2013: Five Teams Showing Early Interest In Grant Balfour
Grant Balfour is expected to sign with a new team as a free agent this offseason after three excellent years with the A's — two of which came as the team's closer. According to the latest from Susan Slusser at the San Francisco Chronicle, the Yankees, Tigers, Rockies, Rays and Angels have all expressed interest in the hard-throwing Aussie.
Balfour was dominant with the Athletics from 2011-13, throwing 199.1 innings with a 2.53 ERA (3.40 FIP) and a bunch of saves. He agreed to a two-year, $15M contract with the Orioles and then the O's backed out over something they saw during his physical. Everyone laughed because the O's are notoriously stingy with their physicals, and hoped their team would sign Balfour on the cheap. The Rays scooped him up for two years and $12M and … he broke down the next year. Threw 66.2 innings with a 5.00 ERA (4.32 FIP) on that contract and was done for good by the middle of 2015. The Orioles had this one right.
November 8th, 2013: Yankees Making Tanaka A Top Priority; Won't Pursue Ervin Santana
The Yankees are planning to make Japanese ace Masahiro Tanaka a "top priority" this winter and are considered the team to beat in bidding for the 25-year-old, according to Jeff Passan of Yahoo Sports … The Yankees are not expected to be in the market for Ervin Santana, he adds, as they don't feel that he would fit well in New York. 
Given their Japanese free agent activity at the time (or lack thereof), it was easy to be skeptical of the Tanaka rumors. The Big Erv stuff was completely believable. He'd been complaining about the new Yankee Stadium for years and years. And why wouldn't he? Santana has allowed 29 runs in 39.1 career innings at the new park, postseason included. Granted, he faced the Yankees in those 39.1 innings, but still. Santana wound up with the Braves on a one-year deal and had a nice 2014 season (3.95 ERA and 3.39 FIP) before going to the Twins the next year.
November 11th, 2013: Minor Moves: Crotta, Richardson, Blue Jays
The Yankees signed outfielder Antoan Richardson to a minor league deal and invited him to their Major League Spring Training camp, ESPN's Jerry Crasnick tweets. 
Antoan Richardson! Richardson spent pretty much the entire 2014 season with Triple-A Scranton, where he hit .271/.380/.364 (114 wRC+) in 93 games. The Yankees called him up in September to be their designated pinch-runner and he appeared in 13 games. Richardson will forever be the answer to a trivia question: Who scored on Derek Jeter's walk-off single in his final home game? It was Yankees legend Antoan Richardson.
Jose Pirela started the bottom of the ninth with a ground ball single, Richardson pinch ran, Brett Gardner bunted him up to second, and Jeter punched a Jeterian single to right to win the game. The 2014 season pretty much stunk. Jeter's farewell was really cool though.
November 13th, 2013: Feinsand On Freese, Yankees, Ellsbury, Beltran
The Yankees are talking to the Cardinals about a deal for third baseman David Freese, a source tells Feinsand (via Twitter).  The Cardinals could theoretically part with Freese since they can move Matt Carpenter to third base and use Kolten Wong at second.  Freese, 30, would give the Yankees a solid plan B in the event that Alex Rodriguez's suspension is upheld.
It amazes me that David Freese has never been a Yankee. He's been available a bunch of times over the years and, once Alex Rodriguez became a full-time DH, the Yankees had a revolving door at third base for a while. Basically from 2011 until Chase Headley arrived in 2014. And yet, Freese was never a Yankee. Seemed like such a natural fit. A relatively low-cost third baseman who the Yankees could promote thanks to his championship pedigree. Never happened. I thought a marriage was inevitable.
November 13th, 2013: Latest On Brian Wilson
General Manager Brian Cashman told reporters, including Andy McCullough of the Star-Ledger (on Twitter), that you can rule out the Yankees signing Brian Wilson after his agent told the team he won't shave his beard.  
So silly. I mean, Wilson's free to do whatever he wants. He had plenty of suitors, so he was getting paid either way, but imagine telling the richest team in baseball you're not interested because you want to keep that stupid beard? Wilson signed a cheap one-year deal with the Dodgers in 2013 as he rehabbed from Tommy John surgery, then, after looking good in 18 late season appearances, they gave him a new one-year deal worth $10M. He had a 4.66 ERA (4.29 FIP) in 2014 and has been out of baseball since. Wilson is now beardless and he races cars.
November 14th, 2013: Yankees Notes: Morales, Cano, Jeter, Trades
The Yankees are interested in Kendrys Morales, CBS Sports' Jon Heyman reports.  Despite Morales' history of leg injuries, Yankees scouts feel the switch-hitter could add first base depth behind Mark Teixeira in addition to taking regular DH at-bats. 
Morales had a pretty good year in 2013. He hit .277/.336/.449 (119 wRC+) with 23 homers for the Mariners. That's not great for a DH, but it'll work. I don't remember whether the masses wanted the Yankees to sign Morales though. Mark Teixeira was coming off basically a lost year with his wrist surgery and there was no obvious in-house first base replacement/fill-in. Morales eventually signed a one-year, $12M deal with the Twins and hit .218/.274/.338 (72 wRC+) in 2014. Ouch. Teixeira stayed mostly healthy that season. His primary backup? Kelly Johnson.
November 15th, 2013: Mutual Interest Between Yankees, Javier Lopez
There's mutual interest between the Yankees and left-hander Javier Lopez, agent Barry Meister tells Andy McCullough of the Star-Ledger. The two sides have had preliminary discussions and plan to have more substantial discussions later in the offseason once the Yankees have had time to address their biggest issues.
The Yankees were set to lose Boone Logan that offseason and they were looking for another lefty reliever. They eventually settled on Matt Thornton, who was fine, then was let go on a trade waiver claim in August so the Yankees could save money and give Rich Hill a look. Lopez was one of the best left-on-left matchup guys in baseball with the Giants from 2010-13 and he returned to them on a three-year deal worth $13M. He was fine. Declined a little in his mid-to-late-30s but was fine overall. Everything was fine.
These days, I'm not sure a guy like Lopez sticks around all that long. Those one or two-out left-on-left guys are a dying breed. Teams use their bullpens so much now that using a roster spot on a guy who only gets one or two outs doesn't make sense, even if they are high leverage outs. Four lefty relievers made at least 60 appearances and averaged no more than two outs per appearance this year (Luis Avilan, Jerry Blevins, Andrew Chafin, Tim Hill). Back in 2013, just five years ago, eight guys did it.
November 17th, 2013: Minor Moves: Valaika, Whiteside, Wheeler
The Yankees signed third baseman Zelous Wheeler to a minor league contract.  Wheeler split time between the Orioles' Triple-A and Double-A affiliates in 2013, posting a .275/.354/.414 batting line.
Zelous Wheeler! The Yankees called him up in July 2014 because Yangervis Solarte was struggling big time and they wanted to try someone else. Wheeler hit .296/.367/.467 (132 wRC+) with Triple-A Scranton that year, and, in his second big league at-bat, my dude went deep.
Come for the Zelous Wheeler dinger, stay for the Phil Hughes cameo. Wheeler went up and down the rest of the season and finished with a .193/.230/.298 (46 wRC+) batting line in 62 plate appearances.
The Yankees sold Wheeler (at his request) to the Rakuten Golden Eagles in Japan following the 2014 season and you know what? He's still over there mashing. Wheeler hit .264/.332/.414 with 13 homers in 103 games this year. Last year he hit .271/.342/.493 with 31 homers in 153 games. Huh. Rakuten gave him an extension and a couple million bucks last year. Good for him. Wheeler's only 31 too. Still has a lot of baseball left to play.
November 18th, 2013: Yankees Interested In Jhonny Peralta
The Yankees are now expressing interest in Jhonny Peralta, according to Jon Paul Morosi of FOX Sports (on Twitter). Peralta would provide the Yankees with insurance should Alex Rodriguez miss significant time with a suspension or in the event of a Derek Jeter injury. He has extensive big league experience at both shortstop and third base.
It was kinda funny Peralta was being mentioned as suspension insurance for A-Rod when Peralta himself was coming off a suspension. He was one of the players who accepted the 50-game suspension for his ties to Biogenesis. Peralta wound up with four years and $53M from the Cardinals. His numbers from 2014-17 are pretty much the classic aging curve for middle infielders from age 32-35:
2014: 120 wRC+ and +4.6 WAR
2015: 105 wRC+ and +2.0 WAR
2016: 91 wRC+ and +0.0 WAR
2017: 27 wRC+ and -0.5 WAR
Imagine if the Yankees had invested $80-something-million in Infante and Peralta from 2014-17 to replace Cano and hedge against Jeter and A-Rod? Lordy.
November 19th, 2013: Yankees Won't Wait For Cano Before Pursuing Other Free Agents
Reports have indicated that Robinson Cano is willing to wait until January to get the deal that he's looking for, but don't expect the Yankees to exercise similar patience. Yankees president Randy Levine told Mark Feinsand of the New York Daily News that the team is interested in five or six free agents and doesn't plan on waiting for resolution on the Cano front before making offers.
November was loaded with "Cano wants $300M+" and "the Yankees and Cano are far apart" rumors. There was a daily update, it seemed. Levine coming out and saying the Yankees were ready to move forward with other free agents was designed to a) put some pressure on Cano, and b) let everyone know the Yankees were open for business. Remember, they missed the postseason in 2013, and they were desperate to improve the team. There was some thought the club would hold off on everything until Cano's deal was done. That definitely was not the case.
November 20th, 2013: Minor Moves: Twins, Pirates, Cabrera, Ely, Alfaro
The Yankees announced that they traded right-hander Ben Paullus to the Padres for utility man Dean Anna.  Anna, who recently celebrated his 26th birthday, posted an .892 OPS in Triple-A last season.  Paullus, 24, worked his way up to Advanced-A Tampa last season.
Dean Anna! He made the Opening Day roster in 2014 and had a very short stint with the Yankees. Twelve games and 25 plate appearances. Anna spent most of the season with Triple-A Scranton. I do remember two things though. One, Anna pitched for the Yankees. Two runs in one inning. And two, he drew an eight-pitch go-ahead bases loaded walk in the 12th inning at Tropicana Field.
That was Anna's last plate appearance as a Yankee and his second-to-last plate appearance as a big leaguer. The Yankees send him down a few days later and then released him after the season. The Cardinals signed him and he appeared in one game with them in 2015. Anna's been bouncing around Triple-A ever since. He hit .271/.367/.341 (106 wRC+) with the Phillies' Triple-A team this year, so I suppose he could get back to MLB at some point.
As for Paullus, he threw 81 innings after the trade, only one of which was above Single-A. He got hurt and has been out of baseball since 2016.
November 22nd, 2013: Brian McCann Closing In On Deal With Yankees
The deal is for five years and $85MM and has a sixth-year vesting option that could boost the contract's value to $100MM, Ken Rosenthal of FOX Sports tweets. The deal is simply pending a physical, Rosenthal adds in a second tweet.
The first of several big free agent signings that offseason. McCann was a priority. The catching was so bad in 2013. So incredibly bad. I mean, look at the Yankees' catcher ranks that year:
AVG: .213 (26th in MLB)
OBP: .289 (23rd)
SLG: .298 (29th)
OPS+: 70 (26rd)
WAR: +0.9 (23rd)
It is very hard to win with catching that crappy. McCann hit .256/.336/.461 (118 wRC+) with the Braves in 2013 and ZiPS projected him for .258/.340/.451 (113 OPS+) in 2014. Going from the Chris Stewart/Francisco Cervelli/Austin Romine catching trio to McCann was one of the single biggest upgrades any team could make during the 2013-14 offseason. Gary Sanchez was still years away and the Yankees needed outside help behind the plate.
McCann fell well short of his ZiPS projection in 2014, hitting .232/.286/.406 (94 OPS+) overall, but he was still a pretty substantial upgrade behind the plate. He was better in 2015 and 2016 (102 OPS+) before the Yankees shipped him to the Astros. McCann was definitely a bit of a disappointment offensively but he was a lot better with the Yankees than I think he gets credit for. He was a big upgrade — on both sides of the ball, it should be noted — over what they had. The signing didn't really work out as hoped though. Doesn't that always seem to be the case?
November 25th, 2013: AL East Notes: McLouth, McCann, Orioles, Saltalamacchia
The Yankees are interested in Nate McLouth writes Ken Rosenthal of FOX Sports, but more as a backup plan to primary targets such as Carlos Beltran and Curtis Granderson.
Man did we get a lot of McLouth mailbag questions back in the day. What about trading for him? What about signing him? What about trading for him now? Every offseason. It started with McLouth's breakout 2008 season (121 wRC+ and +3.8 WAR) but he never came particularly close to those numbers again. His dead cat bounce year with the Orioles in 2013 was .258/.329/.399 (100 wRC+) with 12 homers, 30 steals, and +2.2 WAR. That's about as good as it got after 2008. The Nationals gave him two years and $10.75M and received 79 games and -0.1 WAR in return. Imagine if the Yankees would've let Granderson walk, lost out on Beltran, and signed McLouth to plug into the outfield? Gosh.
November 27th, 2013: AL East Notes: De Jesus Jr., Lavarnway, Infante
The Yankees paid a good amount to sign Cuban lefthander Omar Luis last year and they'll be making him available in this year's Rule 5 draft, writes Ben Badler of Baseball America.  The Yanks initially signed Luis for a $4MM bonus but when an unexpected issue popped up in his physical, they negotiated that figure down to $2.9MM.  It may be a long shot that any team will draft Luis, however, given how far away he is from contributing.
Luis was the last big money prospect the Yankees signed before the international spending restrictions kicked in and he was a total waste of money. He allowed 66 runs in 99.1 pro innings, almost all in rookie ball, and walked (75) nearly as many batters as he struck out (86). I can't find any record of the Yankees releasing Luis, but he hasn't pitched since 2015, so I assume he's out of the organization.
November 30th, 2013: Pirates, Yankees Nearing Chris Stewart Trade
The Pirates are on the verge of acquiring catcher Chris Stewart from the Yankees, according to ESPN's Buster Olney (Twitter link).
Stewart was a goner either way, with or without the McCann signing. He was slated to earn seven figures through arbitration and, rather than non-tender him, the Yankees were able to send Stewart to the Pirates for a player to be named later. That player: Kyle Haynes, a righty who spent a few seasons in the farm system as an organizational arm before being released. Stewart spent four seasons in Pittsburgh and slugged .298.
November 30th, 2013: Cano Asking Yankees For Nine Years, $250-260MM
Cano asked for a nine-year deal at $28MM per year, reports ESPN's Buster Olney, a $252MM total that would match Alex Rodriguez's first free agent contract.  He also wants a tenth year vesting option at $29MM.  Olney says the Yankees are in the $170MM range, leaving a gap of around $80MM. 
This was the first time we heard an actual dollar figure from the Yankees. Cano's camp had been saying $300M total and $30M annually for weeks and weeks. This was the first time the Yankees' offer was reported. Also, the fact they were at $170M indicated they were not offering ten years. It wasn't until after Cano signed with the Mariners that we learned the Yankees capped their offer at seven years and $175M. That's a gap of three years and $65M. It was a bummer to see Robbie go. I wish he could've been a lifelong Yankee. But the Mariners made it very easy to say goodbye with that offer.