There are eight questions in the final mailbag of 2018. The inbox was kinda empty during the holiday week, so the pickin's were slim. Send your questions to RABmailbag (at) gmail (dot) com.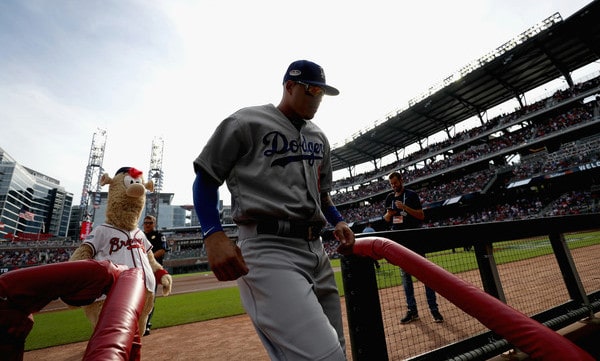 Trevor asks (short version): Granted looking backward isn't the same as looking forward but I worry about a Jason Heyward comp for Machado. Is there some other underlying number (exit velocity, out of zone chase rate, etc.) that leads you to believe that he is a different guy? An extra 20 HR is significant but a 10 year $300 mil contract seems insane to me. I say that as someone who would be ok with $400+ mil for Harper.
Other than hitting free agency in their mid-20s, I don't see many similarities between Jason Heyward and Manny Machado. Machado was a much better hitter through their age 25 seasons and especially so in the seasons leading up to free agency, and while both are splendid defenders, Machado did it on the infield (at third base) while Heyward did it in the corner outfield. Some contact quality numbers:
| | Machado | Heyward |
| --- | --- | --- |
| Free Agent Season | 38.6 Hard% and 40.0 GB% | 29.1 Hard% and 57.2 GB% |
| Two Years from Free Agency | 39.5 Hard% and 42.1 GB% | 26.4 Hard% and 45.5 GB% |
| Three Years from Free Agency | 35.4 Hard% and 37.3 GB% | 29.7 Hard% and 43.7 GB% |
Heyward didn't hit the ball nearly as hard as Machado in the years leading up to free agency and he had trouble getting the ball airborne. He had a shoulder injury early in his career and became a ground ball machine after that. The Braves and Cardinals both tried to get him to hit the ball in the air more often but no dice. It just didn't happen and his offensive production never matched his physical ability.
Machado? Machado knocks the crap out of the ball and he hits it in the air. Good things happen when you hit the ball hard and in the air. Also, Machado is doing this as a right-handed hitter, meaning he doesn't have the platoon advantage nearly as often as the left-handed hitting Heyward. Heyward's offensive collapse is nearly unprecedented — he went from an 118 wRC+ before free agency to an 85 wRC+ since free agency while in his mid-20s — and he's had such a weird career arc that I'm not sure he's a reasonable comparison for any player, let alone one as good as Machado.
Steve asks: Why do so many people think its a good idea to move Gleyber Torres back and forth between 2B and SS? He's 22 and clearly a budding star. He's been asked to learn 2B and seems to be growing into the position quite well. Why not simply keep him there or decide he moves back to SS permanently? The back and forth cannot be good for his development. There are other solutions. What am I missing?
I stressed out about this stuff once upon a time but I don't think it's a big deal anymore. Lots of guys move around and change positions early in their big league careers. Gleyber is smart enough and athletic enough to make it work. My preference would be replacing Didi Gregorius with another shortstop and keeping Torres at second because that does seem to be his long-term home with the Yankees (assuming Gregorius is signed long-term). If he has to move over to shortstop for a few months while Sir Didi rehabs from Tommy John surgery, so be it. There are far more second basemen available than shortstops right now, so Torres at short likely gives the Yankees a better team while Gregorius is out. I wouldn't sweat it. Gleyber's natural position is shortstop and he's picked up second base fairly quickly. Taking advantage of that versatility won't hurt him.
Ross asks: Given that only better teams are in the postseason, and Rivera's ridiculous numbers spanning 2 decades, if Mariano Rivera has never pitched a regular season inning, would his postseason performances alone be worthy of Hall of Fame induction?
No. Mariano Rivera is arguably the greatest postseason performer in baseball history, maybe sports history, but it's still only 141 career postseason innings. And, as a closer, Rivera was largely dependent on his teammates doing their job (i.e. getting a lead or at least keeping it tied) to put him in position to do his job. There is more to life than the postseason. You've got to get there first and Rivera helped the Yankees do that! On a rate basis, he is far and away the greatest run preventer in baseball history. If you replaced his 1,283.2 all-time great regular season innings with 1,283.2 league average regular season innings but kept the postseason performance, I wouldn't give him my Hall of Fame vote. As good as Rivera was in October, it's not enough to make me disregard everything else.
Chris asks: Hi, isn't the main reason the Yanks are not going all in for Harper now because they traded for Stanton last year? By acquiring Stanton, the Yanks took on a massive long-term contract for a corner outfielder, which has the effect of crowding out that spot for Harper. In retrospect, wouldn't the Yanks be a lot better off if they had passed on Stanton last year and signed Harper now?
The main reason the Yankees are not going all-in on Bryce Harper is ownership's unwillingness to spend at a level commensurate with the team's market size and revenue. Brett Borzelli put together a post earlier this week showing the Yankees rank near the bottom of the league in percentage of revenue spent on player payroll. They can afford Harper and Giancarlo Stanton (and fit both into the lineup) and choose not too. I know this because the Yankees have run much higher payrolls in the not-too-distant past than the payroll they have right now, and revenue is only going up. (Payroll has come down in the ten years since the new Yankee Stadium opened. How is that okay?)
Stanton's contract is a convenient excuse not to spend. The luxury tax is a convenient excuse not to spend. That's all the luxury tax is. It has nothing to do with competitive balance. MLB only pretends to care about that. Nearly half the league isn't even pretending to be competitive and no one at MLB seems to care. The goal of the luxury tax is to give the owners a higher percentage of revenues and it is working splendidly. To answer the question, I'd rather have Stanton at a $22M luxury tax hit than Harper at a $35M-ish luxury tax hit. But don't blame Stanton for the Yankees not signing Harper, assuming they don't sign Harper. It's on ownership.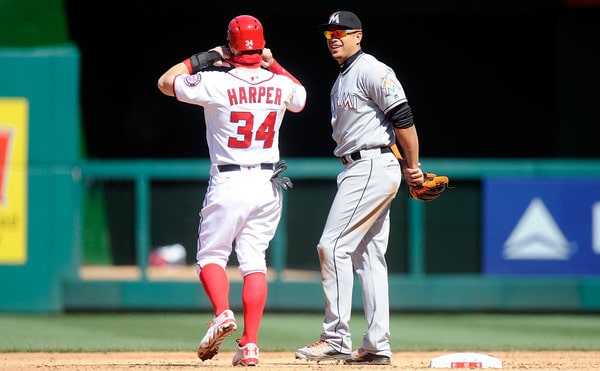 Dan asks: Big fan of Stanton and not sure why so much hate towards the guy…Anyways, what are the chances you see him opting out in 2020? Two years to perform, potential record breaking contracts this offseason and next, but short timing of the new labor agreement, probably unlikely overall, correct?
Right now, with two seasons to go until the opt-out, I don't think Stanton will use it. He'll turn 31 that offseason and he'd be walking away from seven years and $218M. (The Yankees are responsible for $188M.) I just can't see it, even if he has a few more MVP caliber seasons between now and then. Everything happening in baseball right now points to player salaries and payroll coming down, and I don't think Stanton would risk walking away from that much money. I sure wouldn't. His opt-out decision is due the offseason before the current Collective Bargaining Agreement expires, so the luxury tax system and everything else will be the same as it is right now. If the opt-out came under the next CBA, then maybe he'd opt out. Right now, I don't see it, but a lot can change in two years.
Mark asks: Can you explain the qualifying offer? I know it is $17.9m for 2019. But does it count if a team offers $25m for one year? or $36m for 2 years? Or does it have to be the exact $17.9 for only one year?
The qualifying offer is set at the average of the top 125 salaries in baseball each offseason. That was $17.9M this offseason. It's a straight one-year contract. Teams (or players) can't continue tacking on years at that average salary, and any other offers — say a one-year offer at $25M — are made independent of the qualifying offer. The qualifying offer is exactly a one-year contract at the average of the top 125 salaries each offseason, and once a player receives the qualifying offer, he can never receive it again. It's a one-time thing.
Jackson asks: Charlie Morton's contract is two ($30million)years and a vesting option in the third year for as little as $1million if he spends a lot of time in the DL during the first two years or as much as another $15 million if he stays healthy. For aav purposes, during each of the first two years, does Tampa Bay take an annual hit for: a) $15 (30/2), b) $15.5 (31/2), c) $11.33 (31/3), or d) none picture above? Would option"c" be considered a circumvention of the cap? If not then couldn't the Yanks, or any team lower aav by putting in a small vesting option at the end of a lengthy term?
This is all hypothetical because the Rays are nowhere close to the luxury tax threshold and luxury tax hits don't matter to them. They're all about real dollars. Anyway, the answer is (a). Morton's vesting option is not a guaranteed contract year and there's no buyout, so, for luxury tax purposes, this is a straight two-year deal worth $30M, or a $15M luxury tax hit. If the option vests, the Rays will absorb a luxury tax number in that season at whatever salary Morton receives (the vesting option salary is a sliding scale based on days on the disabled list in 2019-20).
There's no real way to manipulate the luxury tax with option years. A team could try to front-load a contract with an opt-out clause, say, for example, a five year contract worth $50M with this structure:
2019: $23.5M
2020: $23.5M (player can opt-out after the season)
2021: $1M
2022: $1M
2023: $1M
That's a five-year deal worth $50M with a $10M per year luxury tax hit, but, functionally, it's a two-year contract at $47M with a three-year, $3M insurance policy. MLB would flag something that blatant as luxury tax circumvention. A vesting option wouldn't change anything since it's not a guaranteed contract year for luxury tax purposes. There's no way to use one to lower the luxury tax hit.
Jon asks: Seems like it could be awkward, but is there any chance Brandon Drury could fill the second base hole? Yankees viewed him exclusively as 3B, but he played plenty of second in AZ.
I don't see it. Even beyond the whole "have to trade with the Blue Jays to get him back" dynamic, the Yankees did not seem to like Drury at second base. He was crushing the ball in Triple-A when Gleyber Torres went on the disabled list this year and they didn't try him at second. Drury started four games at second base this past season and that was only to give Neil Walker a breather (or someone else a breather with Walker changing positions) while Gleyber was out injured. I thought the Yankees should've used Drury at second base more often but they don't seem to like him there, so I can't see them trading with Toronto and then putting him at a position they don't feel is his best.