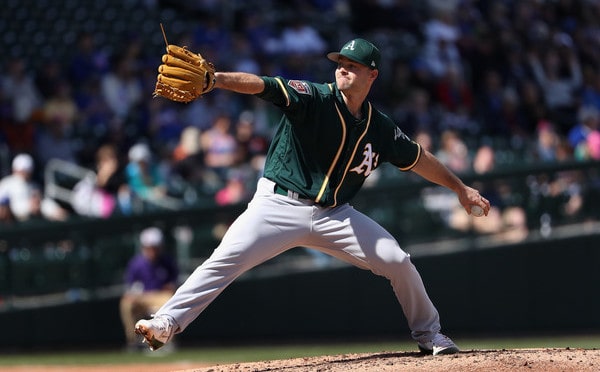 The Yankees have signed left-handed reliever Danny Coulombe to a minor league contract with an invitation to Spring Training, the team announced earlier today. He joins lefty Rex Brothers, catcher Ryan Lavarnway, and infielder Gio Urshela as minor league depth signings this offseason.
Coulombe, 29, has spent the last three seasons as an up-and-down arm with the Athletics. He had a 4.56 ERA (5.10 FIP) in 23.2 big league innings and a 2.54 ERA (4.20 FIP) in 28.1 Triple-A innings this past season. For his big league career, he has a 4.27 ERA (4.09 FIP) with a 22.2% strikeout rate and a 10.1% walk rate in 143.1 innings.
Coincidentally enough, Coulombe was on the list of 68 relievers I identified as a possible under-the-radar bullpen target using spin and swing-and-miss rates. It's not big velocity at all (averaged 90.6 mph in 2018), but Coulombe can really spin his fastball (2,307 rpm) and breaking ball (2,466 rpm).
Coulombe is a left-on-left matchup guy at this point. He's held lefties to a .234/.304/.327 (.280 wOBA) batting line in his big league career. Righties have pounded him for a .245/.339/.455 (.339 wOBA) line. Coulombe is out of minor league options, so if the Yankees call him up at some point, he has to go on waivers to go back to Triple-A.
If you've been reading our weekly chats long enough, you know Coulombe was a personal favorite once upon a time. I thought that breaking ball gave him a chance to become a sneaky good bullpen piece. Hasn't happened though. Maybe it still could. Coulombe's already an extreme anti-fastball guy (only 26.9% fastballs in his MLB career) so he'll fit right in with the Yankees.