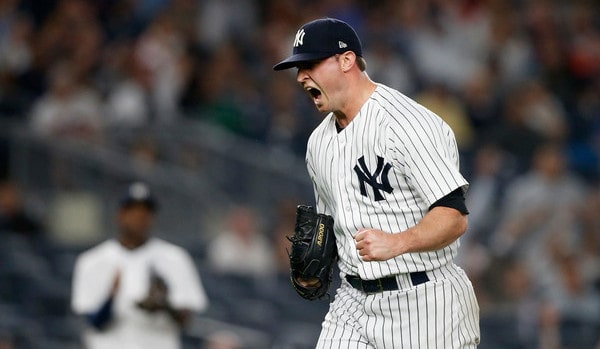 David Robertson is gone but Zach Britton has returned. According to multiple reports the Yankees and Britton have agreed to a complicated multi-year contract with a $13M average annual value. The team has not yet announced the signing and that probably won't happen until next week. No biggie.
For all intents and purposes, Britton received a two-year contract that includes a two-year club option and a one-year player option. It's a smaller version of the Yusei Kikuchi/Jake Arrieta contract structure. Britton, Kikuchi, and Arrieta are all Scott Boras clients, not coincidentally. We'll start seeing more of these contracts going forward.
After year two of the contract, the Yankees first get to decide on Britton's two-year club option. If they decline the option, Britton can either pick up his player option or enter free agency. Ken Rosenthal says the deal can max out at north of $50M. That's less than the Giants gave Mark Melancon two years ago (four years and $62M).
Britton's contract pushes the Yankees over the $206M luxury tax threshold for the coming season, though possibly only temporarily. They had about $9M in wiggle room under the threshold following the J.A. Happ deal. They're now roughly $4M over the threshold. Trading Sonny Gray could potentially clear up payroll space and bump the Yankees back under the threshold.
Britton turned 31 last month and he threw 40.2 total innings with a 3.10 ERA (4.22 FIP) and a 73.0% ground ball rate last season. That includes 2.88 ERA (4.08 FIP) in 25 innings with New York. He was very good late in the season, as he got further away from his offseason Achilles surgery, and that's the Britton the Yankees hope they're getting.
The Yankees will go into the season with Britton, Aroldis Chapman, Dellin Betances, Chad Green, and Jonathan Holder locked into five of the eight bullpen spots. They're said to be looking for another reliever and have several in-house options (Luis Cessa, Domingo German, Joe Harvey, Stephen Tarpley, etc.) for the other bullpen spots. We'll see how it shakes out.