By

Via Jon Heyman: The Yankees have hired former infielder Eric Chavez as a special assignment scout. He's always said he wanted to continue working in baseball once his playing career was over, and he's remained close with GM Brian Cashman and assistant GM Billy Eppler. Chavez retired this July after battling injuries with the Diamondbacks. Heyman says it's unclear if Chavez pursued any coaching jobs this offseason or if the Yankees considered him for their hitting coach vacancy. · (17) ·
One thing has become very obvious over the last few years: the Yankees value having a left-hander in the bullpen. Two, preferably. Some teams don't worry too much about carrying a southpaw, but not these Yankees. Joe Girardi likes to have a matchup lefty out there and the team has spent a lot of money trying to fill that spot. Remember Damaso Marte and Pedro Feliciano? Of course you do.
The 2014 season were no different, but, believe it or not, they only had 109 appearances by a left-handed reliever this year. That was the fifth fewest on baseball. At the same time, they had 56 lefty appearances of two or fewer batters faced, the fourth most in baseball. Girardi is definitely a fan of matching up for a batter or two if the opportunity presents itself. Let's review the team's surprisingly large collection of left-handed relievers from this past season.
The Yankees signed the 38-year-old Thornton to a two-year contract worth $7M last season, figuring he could still be a quality specialist even though his performance against righties had declined big time in recent years. He was one of the top relievers in the game regardless of handedness not too long ago. Maybe there was still some magic in there.
Thornton threw only 24.2 innings across 38 appearances with New York, so Girardi definitely used him as a matchup guy. His overall 2.55 ERA (2.73 FIP) is good but that's not the best way to evaluate a lefty specialist. Thornton held same-side hitters to a .237/.306/.250 (.258 wOBA) batting line with a 17.2% strikeout rate, a 3.1% walk rate, and a 54.3% ground ball rate. Despite still having mid-90s heat, his swing-and-miss rate against lefties was a paltry 8.3%. That's well-below-average. Also, he allowed 14 of 43 inherited runners to score (33%), including five of the last 12.
In early-August, the Yankees simply gave Thornton away for nothing. The Nationals claimed him off revocable trade waivers and New York opted not to pull him back, so they let him to go Washington on the claim. It was … weird. Girardi and Brian Cashman both confirmed the move was made to create roster and payroll flexibility. Thornton had a 0.00 ERA (2.51 FIP) in 11.1 innings for the Nats after the claim and quickly emerged as an important part of their bullpen.
The Yankees spent the first ten or so weeks of the season cycling through some amazingly bad long relievers, so, when the Giants decided to cut ties with Huff in mid-June, the Bombers jumped at the chance to re-acquire him. The minor trade cost New York nothing but cash.
Huff, 30, had a 6.30 ERA (4.38 FIP) in 20 innings for San Francisco, but he actually pitched pretty well in pinstripes. He chucked 39 innings across 30 appearances — so he was multi-inning guy, not a specialist — and posted a 1.85 ERA (4.00 FIP), holding lefties to a .250/.301/.279 (.266 wOBA) batting line with a 19.2% strikeouts rate and a 6.2% walk rate. Huff also stranded 16 of 17 inherited runners. What more do you want from a low-leverage lefty?
After letting Thornton walk, the Yankees grabbed Hill off the scrap heap and he actually had two stints with the team. He came up in early-August, made six appearances, was designated for assignment, then was called back up when rosters expanded in September to make eight more appearances. All told, Hill faced 19 lefties with New York, striking out seven, walking two, hitting one, and allowing four hits. That's a .250/.368/.250 (.298 wOBA) batting line. At one point in September he struck out six in a span of eight batters faced.
Hill was designated for assignment in late-August to make room for Outman, who the Yankees picked up from the Indians because he was a so very slight upgrade. He faced ten left-handed batters in pinstripes and held them to one hit. He also struck out one. That works out to a .100/.111/.111 (.099 wOBA). If you extrapolate that out over 60 innings, Outman was, like, the best lefty reliever ever, man.
Two years ago, Cabral almost made the Opening Day roster as a Rule 5 Draft pick before suffering a fractured elbow late in camp. He made four appearances with the Yankees this season and faced five lefties. One made contract (a hit), one drew a walk, one was hit by a pitch, and two struck out. As you may recall, Cabral allowed three runs on three hits and three hit batsmen in one ugly April outing against the Rays. He was designated for assignment after the game, eventually landed back in Double-A, and that was that.
Confession: I totally forgot Jeff Francis was a Yankee. They acquired him in a very minor trade with the Athletics when they were desperate for pitching depth at midseason, and he somehow made not one, but two appearances in pinstripes. He threw a scoreless 14th inning in a late-July game against the Rangers — when Chase Headley hit the walk-off single in his first game with the team — and allowed a run in two-thirds of an inning against the Blue Jays a week later. They dropped Francis from the roster soon thereafter.
I did remember that LeBlanc was a Yankee this year! He made one appearance with the team. It went single, single, grounder to first, intentional walk, hit batsmen to force in a run, sac fly, ground out. The Yankees designated him for assignment to make room for Huff a few days later. I hope Wade LeBlanc goes into the Hall of Fame as a Yankee.
Earlier this week, Baseball America started their annual look at each team's top ten prospects. The series continued today with the Yankees, and, as always, the list is free but the scouting reports are not. The link also includes free video for six of the ten prospects, so make sure you check that out. Here is Baseball America's entire top ten index and here is New York's top ten:
Severino and Judge are 1A and 1B in my opinion. I consider Judge the team's top prospect because of the general attrition rate of 20-year-old pitchers plus the fact that offense is the scarce commodity these days, not pitching. That's just my opinion. They're both excellent and both are Yankees though, so the order doesn't really matter.
The Mateo ranking might be a bit aggressive but people have been raving about him all summer. He's clearly one of the team's top prospects even though a hand injury limited him to only a handful of games in 2014. Bird over Sanchez seems to be based on performance as much as anything. The scouting report calls Bird an average defensive first baseman who "projects to hit 18-20 homers in the big leagues," then says Sanchez can be a "frontline catcher with the potential for a .280 average and 20-25 home runs annually." Plus Sanchez has at least a grade 60 bat flip tool: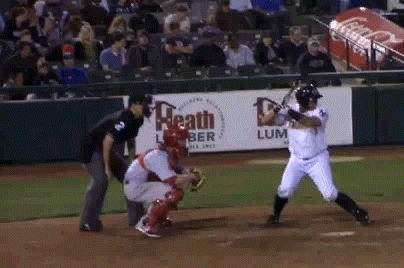 Anyway, Refsnyder and Lindgren are basically MLB-ready pieces while Clarkin, Torrens, and Andujar are lower level guys who are still years away. The scouting report notes that, with the help of pitching coordinator Gil Patterson, Clarkin added a cutter to his fastball-curveball-changeup mix this summer. Torrens is going to be the next great Yankees catching prospect very soon — the write-up says his defense draws raves even though he didn't move behind the plate full-time until the team signed him in July 2012 — and the scouting report says Andujar has a "future of an everyday third baseman whose bat profiles for the position."
Compared to last year's top ten, I think this year's has much more upside and depth. 3B Eric Jagielo didn't make the cut — I assume he's prospect No. 11 — despite having a pretty damn good year with High-A Tampa (132 wRC+ with 16 homers in 85 games) around an oblique injury. Last year he would have been in the top five no questions asked following a season like that. The farm system still isn't in a great shape but it is definitely on the way up, especially after the club's international spending spree this summer. There's a ton of upside in the lower levels right now, way more than usual. I think the Yankees have been very good at acquiring talent in recent years. Developing it has been the problem.
By

It's been a few weeks, but the RAB chat returns today. Assuming I can remember our ScribbeLive login information, of course. We've got a lot to talk about this afternoon. The postseason, the upcoming offseason, all sorts of stuff. See you at 2pm ET. · (7) ·
Got a big mailbag this week. Thirteen questions, so it's rapid fire with short-ish answers. Use the Submit A Tip box in the sidebar to send us anything throughout the week.
T.J. asks: Do the Yankees owe any of their trade partners PTBNL (Player(s) To Be Named Later)? If so, when might we hear who is going back to said team? I only ask after the whole Zach McAllister/Austin Kearns deal, back in the day.
The Yankees owe the Indians a player to be named later (or cash) for Josh Outman and they also owe the Diamondbacks a player to be named later (or cash!) for Martin Prado. I thought that deal was straight up for Peter O'Brien, but apparently not. The official release says there's a player to be named heading to Arizona. The Yankees will probably just send cash to Cleveland for Outman, but I suppose the player going to the D'Backs could be somewhat notable. It won't be a top prospect or anything like that, but maybe a bullpen prospect or something. PTBNL have to be named within six months of the trade, so sometime before December for these deals. Also, it's time to move on from McAllister. He's not very good. The definition of replacement level.
Matt asks: We've seen, as you've mentioned before, teams employ co-hitting coaches, could you see in the near future a team employ co-managers? I know bench coaches are viewed upon as a second manager, and sometimes are former managers themselves, but do you see it possible to have two actual "co-managers?"
I don't think that will happen. I think you need to have one guy making the final decisions and calling shots. The bench coach is there to help the manager out and stuff, but at some point it needs to come down to one person saying yes or no. Having co-managers seems like it would be too many cooks in the kitchen. There should be one clearly defined person in charge.
NYYFan14 asks: Thoughts on going after Rickie Weeks this offseason?
Weeks, 32, had a nice year in a part-time role for the Brewers this summer, hitting .274/.354/.452 (127 wRC+) with eight homers and 19 doubles in 252 plate appearances. He's hit .243/.347/.448 (122 wRC+) against lefties the last two years and the various defensive stats say he's been below-average at second for a while now. The FanGraphs' crowdsourcing has a two-year, $12M deal for Weeks and while I don't think that's unreasonable, I would rather not see the Yankees lock themselves into a second baseman like that. I really want them to give Rob Refsnyder a legitimate chance at the job at some point in 2015.
Mark asks: Given the complete mess the Rays are in now and that the new GM likely will want to rebuild, should the Yanks become aggressive in trying to acquire Ben Zobrist? What do you think it would take to acquire him?
I'm guessing the Rays will go into total rebuild mode now, and Zobrist figures to be among the first to go since he can be a free agent after next season. He would obviously be a great fit for the Yankees — switch-hitter with a ton of patience and some power, very good defensively, can play almost anywhere (second base until Refsnyder, right field thereafter?), and will be owed only $7.5M in 2015 once they pick up his no-brainer option. My guess is it would take three pieces — a top prospect, a decent MLB-ready piece, secondary prospect — at a minimum. That's what it cost to get one year of Matt Holliday back in the day, and acquiring offensive help has only gotten more expensive. Plus Zobrist will be in very high demand. The Rays will have their pick of offers.
Seb asks: Hensley Meulens is a free agent. Is he the best fit as the new hitting coach in New York?
No idea. Meulens has been the Giants hitting coach since 2010 and during that time they've had a number of veteran players have surprisingly big seasons after looking washed up (Aubrey Huff, Pat Burrell, and Andres Torres). Was that his doing? Who in the world knows. I don't think we can say who is and who isn't a good hitting coach candidate for the Yankees. I don't think there's any way we can accurately evaluate coaches, really. Meulens has been the hitting coach for a very good team the last five years. That's reason enough to interview him in my book.
Joe asks: Here's a softball down the middle … who is the Yankees biggest acquisition this offseason?
I honestly don't think the Yankees will sign any of the top free agents (Max Scherzer, Jon Lester, etc.), but they are still the Yankees and they have a lot of roster holes to fill. My guess — and this is a total guess — is they open up the wallet to keep Brandon McCarthy and give him a three-year contract worth $15M per season. Again, just a guess. They need pitching and they know him. McCarthy's a very good fit.
Nick asks: If the Yankees had to choose between McCarthy and Hiroki Kuroda for next season, Who do you think they should go with?
I love Kuroda. He's been one of my favorite Yankees the last few years. But he's going to turn 40 in February and he wasn't quite as good in 2014 as he was in 2012-13, enough to make me nervous about him going into next season. McCarthy is nearly ten years younger and he's very good in his own right. I know he has a history of shoulder problems — McCarthy did stay healthy in 2014 for the first time in a long time — but I'm not sure his health is any riskier than that of a 40-year-old whose thrown over 3,000 innings in his career. Love Kuroda, but I'm taking McCarthy for 2015.
Anonymous asks: Is improving the offense the most important task on the agenda this off-season?
Yep, clearly. Improving the infield defense relative to last year will be important as well, but they need offense first and foremost. Trying to contend with a below league average offense in a small ballpark in a division with three other small ballparks in the DH league ain't gonna work out to well for them. Run prevention is great! But you need to score too. A lot more than the Yankees have the last two years. Offense is priorities one, two, and three this winter.
Darrin asks: With the 3b situation unfolding I don't see why there is much of a debate between going after Pablo Sandoval or keeping Chase Headley. To me — and his stats show — Headley is barely average offensively while Sandoval puts up nice consistent numbers and is very good in the postseason. I would much rather have Sandoval instead. What do you think?
Sandoval is clearly the better player and he is two years younger. I don't think anyone will dispute that. The question is whether Sandoval at five years and $80M (again, FanGraphs' crowdscouring) is better than Headley at four years and $56M. That is very much up for debate. Sandoval's conditioning has been a problem his entire career and part of me worries that if you drop $80M in front of him, he'll eat his way out of baseball before long. In a vacuum, I'd take Sandoval in a heartbeat. But Sandoval for $80M over Headley at $56M? Eh, probably not.
Rick asks: Would you prefer the Yankees to go with Shane Greene as the fifth starter or to sign two starters this offseason and assume that one of the starters is going to break down/be awful?
Sign two starters, definitely. Masahiro Tanaka (elbow), CC Sabathia (knee), Ivan Nova (elbow), and Michael Pineda (shoulder) are all going into next season with some kind of injury concern. Whoever goes into next season as the number five starter could end up the number two starter before the end of April. I'm totally cool with signing two starters — Nova won't be back until midseason, remember — and pushing Greene into the sixth starter's role. You know as well as I that he'll end up making like 20 starts anyway.
Sam asks: With as much as playoff performance seems to weigh in debates over who is a true superstar across all sports, is Madison Bumgarner catching Clayton Kershaw as best lefty in the game?
Bumgarner was historically great in the postseason. Like all-time great kind of stuff. But Kershaw is on another level. I'm not going to let this last month outweigh the last four years, when Kershaw has been clearly the best pitcher on the planet. I mean, it wasn't even close this year. He was far ahead of everyone else. Right now, I'd have Bumgarner as the third best southpaw in baseball behind Kershaw and Chris Sale. You could make a very strong case that David Price should be third too. Bumgarner was absurd in the playoffs this. Off the charts great. But there's more pieces to the puzzle than October.
Nick asks: Would the Yankees have any interest in Kyuji Fujikawa?
On a minor league contract, sure. The 34-year-old Fujikawa was a big deal a few years ago when he came over from Japan as the top closer in the country, but he blew out his elbow after signing with the Cubs and needed Tommy John surgery. He had a 5.04 ERA (3.61 FIP) in 25 innings scattered cross the last two seasons. I'm not sure that guy deserves a guaranteed contract, but I'm sure someone will offer him one anyway. Fujikawa is someone to keep in mind though. Maybe he'll slip through the cracks.
J.R. asks: Reading that the Yankees reinstated A-Rod from his 162 game suspension got me thinking: If there had been a game 163, could A-Rod have played in that? He had a 162-game suspension and was ineligible for the postseason, my understanding is that game 163 is technically a regular season game. Your thoughts?
Game 163 is considered a regular season game and yes, technically Alex Rodriguez would have been eligible to play. I don't know if that means the Yankees would have had to reinstate him off the restricted list — I suppose A-Rod could have filed a grievance if they tried to keep him out while he was eligible to play — but I guessing they would have declined to do so if it was at all possible. The suspension only covered the 162-game regular season and postseason. Knowing MLB, I'm sure they just would have finagled the rules to make sure the suspension covered Game 163 as well.
The first day of the offseason is in the books. Only another 113 of these left to go until pitchers and catchers report to Spring Training. The Yankees and Phillies did not play on this date in 2009 because it was a travel day between Games Two and Three, so our little recap of the 2009 World Series will continue tomorrow. Kinda crazy that series was only two games old on this date and this year's World Series is already over after the full seven games.
Here is your open thread for the night. The Saints and Panthers are the Thursday NFL game and both the Devils and Knicks are playing as well. From what I hear, the Knicks are playing the Cavaliers in LeBron James' return to Cleveland. That'll be cool. Talk about whatever you like right here.
By

Now that the World Series is over, Alex Rodriguez has officially been reinstated off the restricted list by MLB and the Yankees. He was originally suspended 211 games for his ties to Biogenesis, but it was reduced to 162 games during an appeal. A-Rod would not have been eligible to play in the postseason had the Yankees qualified. He now counts against the team's 40-man roster.

In other news, a total of 121 players became free agents at 9am ET this morning. Here's the full list. Ten of those 121 players are Yankees: Chris Capuano, Stephen Drew, Chase Headley, Rich Hill, Derek Jeter, Hiroki Kuroda, Brandon McCarthy, David Robertson, Ichiro Suzuki, and Chris Young. No surprises there at all. Martin Prado, CC Sabathia, Ivan Nova, and Slade Heathcott all have to be activated off the 60-day DL if they haven't been already. So, after all of that, the Yankees have 35 players on their 40-man roster. · (147) ·
Because they dealt with so many rotation injuries, the Yankees had to rely on their bullpen a ton this past season. Joe Girardi asked his bullpen to throw 501.1 innings this summer, the sixth most in the league. Dellin Betances soaked up a ton of innings, especially early in the year, but it wasn't until late into the season that he settled into a traditional setup role. For most of the year, that responsibility belonged to Adam Warren and Shawn Kelley.
Adam Warren, Workhorse
Last season the Yankees used Warren as a true swingman and he was pretty damn good at it, especially by swingman standards. Getting 77 innings of 3.39 ERA (4.32 FIP) ball out of the last guy in the bullpen is really good. The Yankees moved Warren into a more traditional short relief role this season and he excelled. First and foremost, his fastball velocity ticked up noticeably: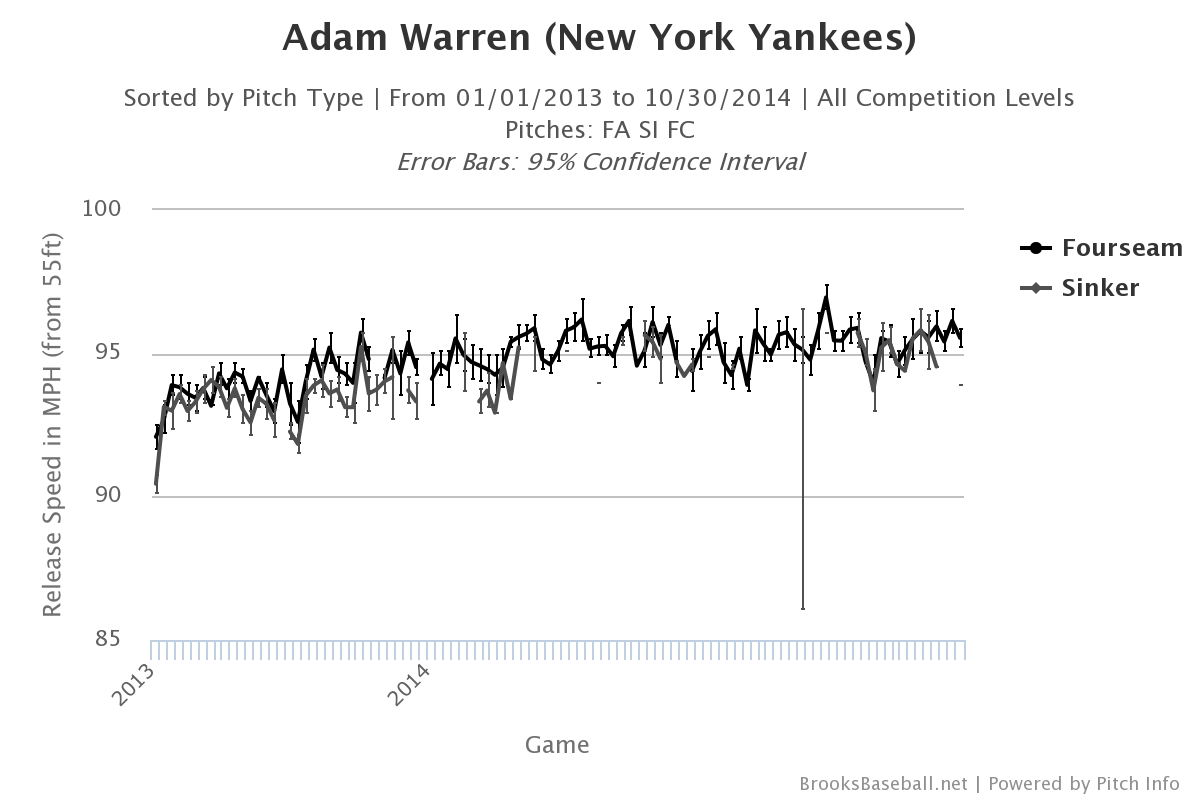 Warren was Girardi's regular seventh and eighth inning guy in the first half while Kelley and David Robertson missed time with injuries. The second half was a bit rough — nine runs in his first 14 innings after the All-Star break, perhaps due to fatigue — but Warren settled down and finished very strong thanks to some mechanical tweaks suggested by pitching coach Larry Rothschild.
"Larry pointed out one day, maybe move your hands a little this way and and all of a sudden it's like, oh that feels a little bit better and you roll with it from there and you just kind of tinker with things until it feels right," said Warren to Brendan Kuty in September. "Once things started to click it was like, oh, why didn't I think of that two weeks earlier? It's a process."
Warren allowed just two runs (both in one outing) on six hits and three walks in his final 15 appearances and 20 innings of the season. He struck out 21, including ten of the final 18 batters he faced on the year. Warren closed out 2014 with a 2.97 ERA (2.89 FIP) in 78.2 innings with a very good strikeout rate (8.69 K/9 and 23.5 K%) and solid walk (2.75 BB/9 and 7.4 BB%) and ground ball (45.4%) numbers.
Last season, Warren's main problems were the long ball and left-handed hitters. He allowed ten homers in those 77 innings (1.17 HR/9 and 13.2 HR/FB%) and lefty batters hit .301/.370/.526 (.387 wOBA) against him. This year it was only four homers in 78.2 innings (0.46 HR/9 and 6.0 HR/FB%) with a .170/.253/.271 (.239 wOBA) line by opposite hand hitters. That's quite the improvement. Probably too much of an improvement. Not sure if he can sustain that going forward, but it happened in 2014 and that's all that counts.
Anyway, given the team's rotation issues — there was plenty of talk of moving him back into the rotation after the injuries struck in the first half —  Warren was especially valuable because of his durability. He recorded at least four outs in 29 of his 69 appearances, the second most in baseball behind Betances (35!). Sure, Warren has been a starter his entire life, but throwing multiple innings two or three times a week is no easy task. Outside of that little hiccup after the All-Star break, Warren was very good and very valuable to the 2014 Yankees. He soaked up a ton of important innings.
Shawn Kelley, Intermittently Awesome
When the season started, Kelley was Robertson's primary setup man. That was plan coming into the season after Mariano Rivera retired and the Yankees opted not to bring in some kind of veteran replacement. For a while, Kelley was excellent, pitching to a 1.88 ERA with 15 strikeouts and three walks in his first 14 appearances and 14.1 innings. He even went 4-for-4 in save chances while filling in for the briefly injured Robertson in April.
Then it all fell apart on May 5th in Anaheim. Kelley walked four of the six batters he faced and allowed three runs to blow a game. He landed on the disabled list with a back issue two days later and missed six weeks. Kelley looked shaky — his slider lacked its usual bite, specifically — but was generally effective in his first few outings back before settling down. He struggled in mid-July (seven runs in the span of three appearances at one point) and again in late-September (four runs in his last four outings) to close out the year.
Kelley finished the season with a 4.53 ERA (3.02 FIP) in 51.2 innings. He struck out a ton of batters (11.67 K/9 and 30.5 K%) but also walked a few too many (3.48 BB/9 and 9.1 BB%) and didn't get any ground balls (33.6%). Kelley actually kept the ball in the park (0.87 HR/9 and 8.9 HR/FB%) and handled left-handed batters (.221/.311/.301, .269 wOBA) better than I remember. Like most middle relievers, there were times he was really great and times he made you pull your hair out.
After starting the season as the first option behind Robertson, Kelley closed the year behind Betances and Warren on the setup man totem pole. The injury really seemed to knock him off track in May, but, as we've seen these last two years, Kelley is prone to spectacular meltdowns. That's baseball. The good generally outweighs the bad — few guys can miss bats like this, that's a valuable skill — and at times Kelley was a very important member of the bullpen in 2014.
By

Via George King: The Yankees may have been waiting until the end of the World Series to contact Raul Ibanez and "gauge his interest in becoming their hitting coach." Ibanez was not on the Royals' World Series roster but he was still traveling with the team and stuff. They kept him around for his leadership.

Ibanez, 42, is more or less done as a player (61 wRC+ in 2014) and he's long been considered a future coaching candidate because he's very well-liked and a great communicator. He has zero coaching experience though — Ibanez has said he'd be open to coaching down the road — so who knows what kind of hitting coach he would be. The Yankees reportedly contacted Eric Hinske about the job as well, which shows they aren't necessarily prioritizing experience at the position. · (91) ·