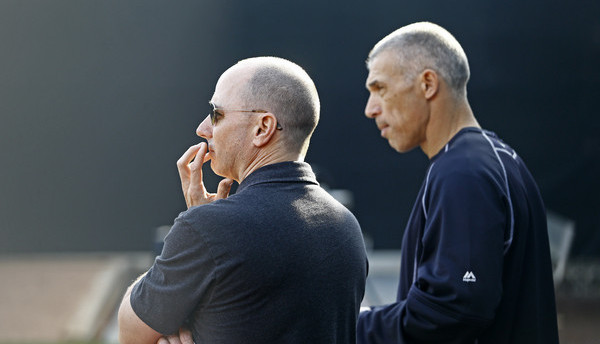 The trade deadline is creeping closer and closer. It's less than 55 hours away right now, and so far the Yankees have made just one deal, the Aroldis Chapman swap. To be fair, it's not like a ton of trades are happening around the league. There's been one or two a day this last week, and none have been particularly exciting. Chapman's been by far the best player traded this week.
Once again, we're going to keep track of the day's trade rumblings right here. Or try to, anyway. I'm going to be running around all day today, so I can't promise prompt updates, but I'll do my best. The Yankees tend to keep things close to the vest anyway. It's not like the last few days have been full of rumors. Here are Friday's rumblings and here's what's happening today. All time stamps are ET.
10:00am: Brian Cashman has been given the thumbs up to trade Ivan Nova, but not yet Michael Pineda or Nathan Eovaldi. Ownership is still hanging on to that "this team can contend!" silliness. Hopefully it's just posturing. [Joel Sherman]
10:00am: The Yankees and Indians have discussed all sorts of trade scenarios, including some involving Carlos Beltran. Cleveland doesn't have much payroll wiggle room though and that's an obstacle. In my opinion the Yankees should be very willing to eat money if it means getting better players in return. Flex that financial muscle. [Jon Heyman]
10:00am: Brian Cashman told the Giants very early on that they didn't have the prospects to get Chapman or Andrew Miller. Harsh? Maybe. But it's good to get that out there early rather than string the Giants along and waste everyone's time. [Sherman]
Reminder before you comment: Your trade proposal sucks.