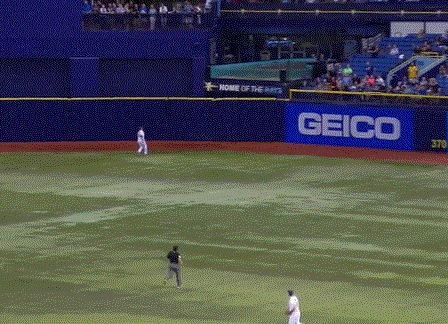 Tonight the Yankees begin a ten-game homestand with the first of three against the Rays. This is a Very Important Homestand as far as the AL East race goes. The Yankees really need to take care of business these next ten days at home. Can't have a repeat of the last homestand. Not if they want to win the division. Anyway, the Yankees are 8-5 against the Rays this season, including 4-2 at Yankee Stadium.
What Have The Rays Done Lately?
Tampa Bay took two of three from the fading Orioles in Baltimore earlier this week but are still 4-6 in their last ten games overall. Remember when the AL East was a wide-open four-team race a few weeks back? That's not the case anymore. The Rays are in third place at 66-67 (-11 run differential), a whopping 8.5 games behind the Yankees. The division is a two-horse race now.
Offense & Defense
Despite a team 99 wRC+, the Rays have scored the second fewest runs (506) among AL teams this year, barely better than the White Sox (505). The disconnect between the wRC+ and runs total stems from their inability to cash in run scoring opportunities — the Rays have an 89 wRC+ with runners in scoring position and unfathomable 55 OPS+ with the bases loaded. (FanGraphs doesn't have a bases loaded split, so no wRC+, had to go with OPS+).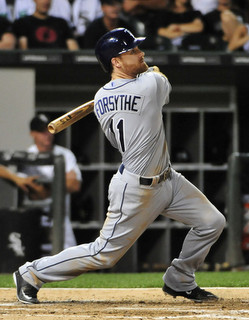 Rookie manager Kevin Cash is currently without OF Steven Souza (wrist), OF Desmond Jennings (knee), and C Curt Casali (hamstring), all of whom are on the DL and will not return this series. Cash can still build his lineup around 3B Evan Longoria (110 wRC+) even though his production is not what it once was. UTIL Logan Forsythe (134 wRC+) is having an excellent year and 1B James Loney (86 wRC+) always kills the Yankees. They can't get him out.
SS Asdrubal Cabrera (101 wRC+) and OF Kevin Kiermaier (96 wRC+) both play everyday while OF Grady Sizemore (79 wRC+), 1B/OF Daniel Nava (57 wRC+), OF Brandon Guyer (127 wRC+), and OF Joey Butler (107 wRC+) all kinda rotate in the outfield corners. DH John Jaso (129 wRC+) not longer catches and is the DH only. C Rene Rivera (37 wRC+) is the starting catcher with Casali out. C J.P. Arencibia, C Luke Maile, IF Tim Beckham, and IF Richie Shaffer are the September call-ups.
Overall, the Rays have a strong team defense with excellent defenders in center (Kiermaier), on the infield corners (Longoria and Loney), and behind the plate (Rivera). Asdrubal and Forsythe are serviceable on the middle infield and everyone in that outfield rotation other than Guyer is a weak spot. Back in the day the Rays would catch everything. It was annoying. Now? Not so much.
Pitching Matchups
Friday (7pm ET): RHP Luis Severino (No vs. TB) vs. RHP Jake Odorizzi (vs. NYY)
Odorizzi, 25, has been excellent when healthy this year, pitching to a 3.18 ERA (3.17 FIP) in 22 starts and 133 innings. He missed a few weeks with an oblique problem earlier this summer. Odorizzi has good strikeout (21.4%) and walk (6.0%) rates, but he doesn't keep the ball on the ground (39.7%) and he doesn't give up homers either (0.68 HR/9). He's become adept at getting weak pop-ups. Righties (.317 wOBA) have hit Odorizzi harder than lefties (.262 wOBA) — he had a reverse split last year as well — and it's worth noting he has been much more effective at home (2.61 ERA and 2.72 FIP) than on the road (3.68 FIP and 3.56 FIP) this year. Odorizzi's money-maker is a filthy mid-80s splitter he learned from teammate Alex Cobb. It gave him the swing-and-miss pitch he needed to be something more than a back-end starter. He also throws low-90s four-seamers, mid-80s cutters, and a few slow upper-60s curveballs. It's almost like an eephus pitch. The Yankees have seen Odorizzi twice this year, scoring three runs in six innings in April and four runs in 6.1 innings in May.
Saturday (1pm ET): RHP Nathan Eovaldi (vs. TB) vs. LHP Matt Moore (vs. NYY)
Moore is a Tommy John surgery cautionary tale. He had his elbow rebuilt last year, came back this summer, and had an 8.78 ERA (5.61 FIP) in six starts and 26.2 innings before the team had to send him to the minors. Moore was better in Triple-A (3.57 ERA and 3.26 FIP in 40.1 innings) and this will be his first start with the big league team since early-August. Moore's strikeout (12.9%) and walk (9.9%) rates were ghastly before being sent down (34.9% and 7.2% in Triple-A, respectively), as were his grounder (35.7%) and homer (1.35 HR/9) rates. Righties (.448 wOBA) and lefties (.362 wOBA) both smacked him around. He looked nothing like the pre-Tommy John surgery Matt Moore, basically. Before getting sent down, the 26-year-old sat in the low-90s with his two and four-seam fastballs and in the low-80s with his changeup, his go-to secondary pitch. He also throws an upper-80s slider. The Yankees have not faced Moore since before he had his elbow rebuilt.
Sunday (1pm ET): RHP Ivan Nova (vs. TB) vs. RHP Chris Archer (vs. NYY)
The Yankees managed to avoid Archer a few times earlier this season, but not this series. The 26-year-old has a 2.78 ERA (2.56 FIP) in 28 starts and 181 innings with dynamite strikeout (30.8%), walk (6.4%), grounder (46.3%), and homer (0.75 HR/9) numbers. He's dominated both righties (.263 wOBA) and lefties (.250 wOBA). Archer uses mid-90s two and four-seamers to set up his upper-80s slider, which is the best slider in baseball. At least among right-handed pitchers. It's devastating. He also throws a handful of mid-80s changeups per start. The slider is what makes him an ace though. Unhittable pitch. Archer has faced the Yankees twice this year, allowing two runs in seven innings in May and then throwing 6.2 scoreless innings in July.
Bullpen Status
Like the Yankees, the Rays had an off-day yesterday, so their bullpen is relatively fresh. RHP Brad Boxberger (3.40 ERA/4.10 FIP) is closing and right now RHP Alex Colome (3.71/3.77) is setting him up. Colome started the season in the rotation but later moved to the bullpen. LHP Jake McGee, Boxberger's usual setup man, is done for the season following knee surgery.
RHP Steve Geltz (3.73/3.90), LHP Xavier Cedeno (2.25/3.46), RHP Brandon Gomes (3.56/3.95), and RHP Matt Andriese (4.45/4.21) are the team's other regular relievers. LHP C.J. Riefenhauser, LHP Enny Romero, and RHP Kirby Yates are the extra September arms. Head over to our Bullpen Workload page for the status of Joe Girardi's expanded bullpen, then head over to The Process Report and DRays Bay for the latest on the Rays.