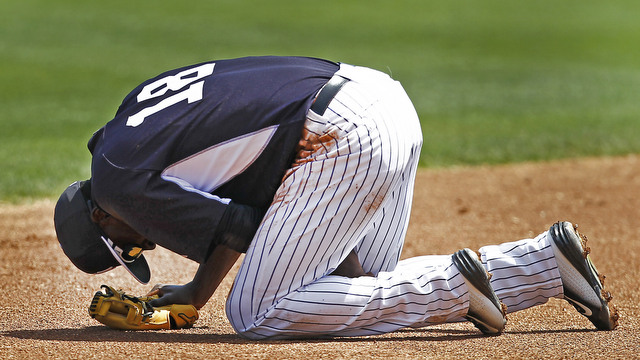 Just five more days. Five more days of this Spring Training nonsense before the start of the 2015 regular season. To say I'm antsy would be an understatement. Win or lose, I feel like this year's Yankees will be more enjoyable to watch than the last two years. Lots of power arms and way more athleticism. Hopefully it translates to wins. Here are some miscellaneous thoughts heading into the season.
1. Let's start with the elephant in the room: what if Dellin Betances stinks now? Even just temporarily. Say his rough spring carries over into the regular season and he's still struggling with his command and mechanics at the end of the April. Betances has a minor league option left, so the Yankees could send him to Triple-A, but my guess is they would give him lots of time to iron things out unless he was just awful. If that does happen, I guess Andrew Miller would step in as closer with David Carpenter serving as his primary eighth inning guy and Justin Wilson handling the tough lefties, sorta like Boone Logan back in the day. That would leave Betances and I guess Chasen Shreve for the middle innings with Chase Whitley and Esmil Rogers as multi-inning guys. (Assuming Chase and Chasen get those last bullpen spots.) The Yankees have bullpen depth, but Betances is close to irreplaceable. Having him turn back into the old version of Dellin would really throw a wrench into things.
2. Isn't it amazing how important Didi Gregorius has already become? He landed awkwardly on his wrist last week and everyone immediately held their breath when the trainer came out. That typically isn't the kind of reaction a potential injury to the ninth place hitter generates. Gregorius has shown this spring his defense is as good as advertised and his bat has maybe more potential than we realized at the time of the trade. Sure, it's only March, but we've seen nothing but positives from Didi. The possibility of replacing him with Brendan Ryan — or even sliding Stephen Drew to short and letting Rob Refsnyder play second — is something no one wants to see. Gregorius has very quickly emerged as not just an important player for the Yankees, but arguably their most entertaining position player. I'm not the only one who thinks that, right?
3. Random observation: Michael Fishman is now listed as an assistant GM on the team's masthead. Fishman has been the head of New York's statistical analysis department for years — his old title was "director of quantitative analysis" — but apparently he was recently promoted. Very recently too. Fishman wasn't listed on the team's masthead at all as recently as March 16th. For years and years Brian Cashman had just one assistant (Jean Afterman), but he's now added two in the last three years: Billy Eppler in February 2012 and Fishman. I have no idea who handles what or how their relationships work, so who knows if this is a good arrangement, though I am a fan in general of having many different voices in the front office. With Cashman, Eppler, Afterman, Fishman, and special assistants like Jim Hendry and Gene Michael, the Yankees have a nice blend of old school and new school in the front office.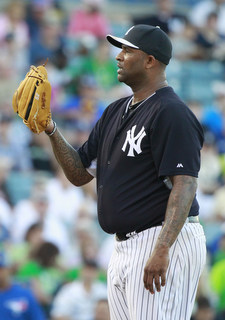 4. I am honestly not at all concerned about CC Sabathia's spring performance. I guess that's partly because I don't have particularly high hopes for him in the regular season, so it's not like this spring is a shock to the system, but it's also because he's coming off a ten-month layoff and knee surgery. And veteran guys in general seem to take it easy in Spring Training and focus on preparing for the season, not necessarily competing. Sabathia's been doing this a long time and he knows what he needs to do to get ready. Why would he deviate from that? I'm encouraged his velocity is up into the 90-92 mph range, which still isn't great but it's way better than the 88-90 mph heat he was taking out to the mound early last year. Hopefully Sabathia can be a league average innings eater this summer. That would be a big help.
5. Our predictions at CBS will be posted Friday, but I'm going to give you a sneak preview of mine now. I have the Orioles, Indians, Angels, Nationals, Cardinals, and Dodgers winning the division with the Mariners, Tigers, Marlins, and Padres as the wildcard teams. Dodgers over Indians in the World Series. I have the Yankees finishing third in the AL East behind the O's and Red Sox and Sabathia winning the AL Comeback Player of the Year award, because why not? Robinson Cano and Matt Kemp are my MVP picks — MVP is not the most WAR award, I'm banking on the voters picking Kemp after he hits the snot out of the ball and leads San Diego to the postseason — and I have Clayton Kershaw and David Price as my Cy Young picks. I'm going to be wrong. With everything. Except Matt Harvey winning NL Comeback Player of the Year. That's a slam dunk. Otherwise predictions are nothing more than harmless fun. Feel free to call me out when Cano's hitting .265 on June 1st or when the Yankees win the World Series.