By

MLB announced yesterday that Royals closer Greg Holland won the first Mariano Rivera Award, which will be given annually the top reliever in the AL. Craig Kimbrel won the NL version, the Trevor Hoffman Award. The award is voted on by Rivera, Hoffman, and Hall of Fame relievers Dennis Eckersley, Rollie Fingers, and Goose Gossage.

According to Jon Heyman, Dellin Betances finished second to Holland in the voting for the Mo Award. Zach Britton finished third. Betances threw more innings (90 vs. 62.1) and had a better ERA (1.40 vs. 1.44), FIP (1.64 vs. 1.83), strikeout rate (39.6% vs. 37.5%), and walk rate (7.0% vs. 8.3%) than Holland this past season, as well as more fWAR (3.2 vs. 2.3) and bWAR (3.7 vs. 2.5). But he had 45 fewer saves. A bunch of ex-closers voted for the closer. Such is life. · (90) ·
In yesterday's Season Review post, I noted Shane Greene was a big player development success for the Yankees, who turned an under-scouted (due to Tommy John surgery) right-hander into a bonafide Major Leaguer with a 15th round pick, a $100k bonus, and patience. They haven't had enough success stories like that, so much so that director of player development Pat Roessler was recently let go. I'm pretty sure VP of Baseball Ops Mark Newman would have been cut loose as well if he wasn't retiring.
The Yankees do, however, get just enough from their farm system each year to fill out their roster and make trades. This past season it was Greene in the rotation, Dellin Betances in the bullpen, and Vidal Nuno on the trade market. Last year it was Adam Warren and Preston Claiborne in the bullpen and Corey Black in a trade. They seem to crank out a few supporting players and trade chips every year despite the overall lack of production from the system. Spare parts aren't a problem. Getting regulars and above-average contributors is.
Anyway, both Joe Girardi and Hal Steinbrenner recently indicated the Yankees will get younger going forward. "At times we ran out four guys, five guys over 35 years old. I don't think that will happen next year," said Girardi during his end-of-season press conference. Hal said "there's no doubt, young players, player development, that's going to play a big part (going forward)" during a radio interview. They could both be blowing smoke, but I do think they're sincere.
Incorporating more young players into the roster going forward is a wonderful idea but it's not easy to pull off. If it was, every team would be doing it. They try, but many fail. That's baseball. The Yankees are also at a disadvantage because most of their top prospects are in the lower minors and aren't big league ready, so they're still a year or two away from the show. Which prospects could help next year, a la Greene or Betances or Black? Let's look.
The Obvious Candidates
As always, the Yankees have some upper level relievers who are knocking on the door and figure to get an opportunity in 2015. Top 2014 draft pick LHP Jacob Lindgren is the most notable bullpener while others like RHP Nick Rumbelow, LHP Tyler Webb, RHP Nick Goody, and LHP James Pazos could force the issue and get called up at some point. Every team winds up dipping into their farm system for bullpen help at some point and these guys are at the front of the line for the Yankees.
Elsewhere on the roster, both RHP Bryan Mitchell and C John Ryan Murphy have already gotten a taste of the show and are primed for bigger roles if the need arises. Same with RHP Jose Ramirez. I think we'll finally get to see LHP Manny Banuelos next season as well. He missed just about all of 2012-13 with elbow problems and had an up-and-down 2014, which wasn't entirely unexpected after the long layoff. With the rust shaken off, Banuelos is finally in position to help the Yankees next summer, either in the rotation or out of the bullpen.
And then there's 2B Rob Refsnyder, who is very likely to get an extended trial at second base in 2015. It might not happen right away, he might have to spend a few weeks in Triple-A, but I'm very confident it'll happen at some point. Refsnyder has hit his way into big league consideration but his defense might be what keeps him in the minors a little longer. He's still rough around the edges at second base after playing the outfield in college. Aside from the relievers, Refsnyder seems like the safest bet to be called up next year.
The Maybes
New York's two best prospects are OF Aaron Judge and RHP Luis Severino. If you want to debate the order, fine. It doesn't really matter though. Both are Yankees. Both are also likely to start next season with Double-A Trenton, and any time a top prospect starts a season in Double-A, he's a candidate to be called up at midseason. The Yankees were very aggressive with the 20-year-old Severino this year in particular, so I'd be less surprised if he debuted in 2015 than I would with Judge.
Defensively-challenged C Gary Sanchez is expected to move up to Triple-A next season, so it'll be interesting to see how the team distributes playing time between him, Murphy, and C Austin Romine. Sanchez's climb up the ladder has been deliberate — he's spent parts of two seasons in Low-A, High-A, and Double-A — and a full year at Scranton is probably in the cards next season. I do think he'll end up getting a September callup since he's already on the 40-man roster though.
Other possible call-ups include OF Ramon Flores and OF Taylor Dugas, both of whom spent part of last season with the RailRiders and will return there in 2015. 1B Kyle Roller is in the same boat. 1B/OF Tyler Austin is expected to join them next year and because he plays two positions where the Yankees will need backup (right field and first base), the chances of him making his debut next season are very good. Even if it's only as a September call-up. Austin will be added to the 40-man roster this offseason to protect him from the Rule 5 Draft.
Among the pitchers who could pitch their way into a big league callup are RHP Jaron Long, RHP Zach Nuding, RHP Mark Montgomery, RHP Danny Burawa, and LHP Matt Tracy. Long is the son of recently dismissed hitting coach Kevin Long but I don't think that will have any impact on his standing in the organization. This is a business. Jaron knows it, Kevin knows it, the Yankees know it. If he's the best option to help the team at some point next year, Jaron will get a chance and both he and his father will be thrilled.
The Long Shots
In all likelihood 3B Eric Jagielo, 1B Greg Bird, and DH Dante Bichette Jr. will open next year with Double-A Trenton, though I think they're further behind Judge and Severino. Jagielo probably has the best chance of debuting in 2015 among these three and that's only because he plays third base (not well, apparently). If the team needs a first baseman or DH, Austin and/or Roller are head of Bird and Bichette on the depth chart.
OF Jake Cave is in the same situation as those guys — starting the year at Double-A but unlikely to see the show in 2015. If the Yankees need an outfielder, both Austin and Flores will already be on the 40-man roster and in Triple-A. We won't see young guys like LHP Ian Clarkin, RHP Brady Lail, OF Miguel Andujar, and LHP Daniel Camarena next year. It's too early for them. We can talk about them more seriously next offseason and even more seriously the offseason after that.
The Trade Chips
Everyone. Seriously. I don't think the Yankees have any prospects worthy of being deemed untouchable. But, to use an old Brian Cashman phrase, some are more touchable than others. I mean, if the Marlins come calling and say they're willing to deal Giancarlo Stanton as long as the package starts with Judge and Severino, how do the Yankees say no to that? They shouldn't give anyone away but everyone should be available in the right situation. Cashman did a great job getting a lot for a little at the trade deadline this year and I'm sure that's the approach he'll take going forward.
* * *
The Yankees say they plan to incorporate more youth going forward, and for 2015 that means Refsnyder and a bunch of relievers. That's really it. The 2016 season is when others like Judge, Severino, Jagielo, and Bird become realistic big league options. It will probably take them a year or three before they have a real impact, but that's true of every prospect. The process has to start sometime though, and for the Yankees, next season means better late than never.
Here is your nightly open thread. The Royals and Giants are playing Game Two of the World Series a little later tonight (8pm ET on FOX). It'll be Yordano Ventura against Jake Peavy. Both the Knicks and Nets are playing preseason games as well. Talk about any of that stuff and more right here.
The Yankees were saddled with a ton of position player injuries last year, including Mark Teixeira's wrist, Curtis Granderson's forearm (and hand), and Derek Jeter's ankle. The result was far too much playing time for guys like Lyle Overbay, Vernon Wells, and Eduardo Nunez. The offense stunk. It was a lot worst than it was in 2014.
This past season, pitching injuries were the problem. Ivan Nova (Tommy John surgery) and Michael Pineda (shoulder) each made four starts in April before landing on the disabled list for several months. CC Sabathia's knee gave out on him in May. Then, right before the All-Star break, Masahiro Tanaka suffered a partially torn elbow ligament that essentially ended his season. Four-fifths of the team's Opening Day rotation was on the disabled list by early-July.
That should have been the end of the line for the Yankees, but Brian Cashman & Co. did an excellent job cobbling together a pitching staff in the second half, a pitching staff that kept the Yankees close enough to the second wildcard spot to keep everyone interested. Brandon McCarthy and Chris Capuano were brought in on low-cost deals, and another quality rotation piece came from the (gasp!) farm system.
* * *
With Pineda, Tanaka, and the now-healthy Manny Banuelos hogging the pitching spotlight in Spring Training, right-hander Shane Greene was able to fly under the radar despite pitching well in camp. He struck out ten, walked one, and got eleven ground ball outs against just two in the air in 7.2 innings of relief work. Yeah, it was Spring Training, but guys like Greene need to have strong Spring Trainings to open eyes. I remember one outing against the Phillies in particular, in which he was breaking off nasty sinking fastballs like this one:
Greene was one of the very last roster cuts in Spring Training, which meant he wasn't able to get properly stretched out before joining the Triple-A Scranton rotation. He opened the regular season in Extended Spring Training just to get some more tune-up innings under his belt before joining the RailRiders in mid-April. Greene made two relief appearances in Triple-A before being called up to the big league team on April 24th to help their overworked bullpen.
That night, Greene made his MLB debut against the Red Sox in Fenway Park. It was a disaster. He came out of the bullpen with the Yankees up 12-2 in the seventh, faced five batters, walked three of them, and allowed three runs while getting only one out (a strikeout of Shane Victorino). All three runs were unearned because Jeter made an error behind him, but still. Only eight of Greene's 22 pitches were strikes and he looked very much like the marginal pitching prospect who walked 11.7% of batters faced in the minors from 2011-12 before breaking out in 2013.
The performance earned Greene a trip back to Triple-A, where he (finally) joined the rotation and was able to start every fifth day. His first eight starts with the RailRiders were pretty terrible: 6.56 ERA (3.72 FIP) with a 1.91 WHIP (!) in 35.2 innings. That's a ton of base-runners. Greene's strikeout (17.2%) and walk (8.9%) rates weren't anything special either. It was hard not to think he was coming back down to Earth after such a strong breakout season last year.
Greene's next five starts were much better (1.93 ERA and 3.25 FIP) — he threw seven scoreless innings on June 27th then another six scoreless innings on July 2nd — and, given the injury riddled state of the MLB rotation, that was enough to earn him a call-up. It was supposed to be just a one-start cameo, but Greene pitched well (two runs in six innings) in his first career start and the team kept him around for one more start to give the rest of the rotation an extra day of rest. Five days later, he did this:
Tanaka suffered his injury between Greene's first and second starts, so even if he hadn't dominated the Orioles the weekend before the All-Star break, Greene would have stayed in the rotation anyway. That was a good thing because his next three starts weren't particularly good (ten runs in 15.2 innings), which probably would have earned him a trip back to Triple-A had the Yankees not already tapped out their pitching depth. (He made three errors in one of those games, as I'm sure you remember.)
Greene shook off those three lousy starts and fired eight shutout innings against the Tigers on August 7th. Only twice in his next eight starts did he allow more than two runs — he did have a disaster start against the Red Sox on September 2nd, allowing six runs in 2.2 innings — before the Orioles hit him around in his final start of the season on September 24th (six runs in 3.2 innings). Here is Greene's game log after being called up to join the rotation:
| Rk | Date | Tm | | Opp | Rslt | IP | H | R | ER | BB | SO | HR | HBP | ERA | BF | Pit | Str | StS |
| --- | --- | --- | --- | --- | --- | --- | --- | --- | --- | --- | --- | --- | --- | --- | --- | --- | --- | --- |
| 2 | Jul 7 | NYY | @ | CLE | W,5-3 | 6.0 | 4 | 2 | 2 | 0 | 2 | 1 | 1 | 2.84 | 22 | 88 | 56 | 3 |
| 3 | Jul 12 | NYY | @ | BAL | W,3-0 | 7.1 | 4 | 0 | 0 | 2 | 9 | 0 | 0 | 1.32 | 27 | 106 | 65 | 15 |
| 4 | Jul 21 | NYY | | TEX | L,2-4 | 5.2 | 5 | 4 | 4 | 1 | 5 | 0 | 1 | 2.79 | 26 | 113 | 73 | 13 |
| 5 | Jul 27 | NYY | | TOR | L,4-5 | 5.1 | 8 | 3 | 3 | 2 | 2 | 1 | 0 | 3.28 | 24 | 86 | 56 | 7 |
| 6 | Aug 2 | NYY | @ | BOS | W,6-4 | 4.2 | 6 | 3 | 3 | 2 | 5 | 1 | 0 | 3.68 | 22 | 96 | 52 | 3 |
| 7 | Aug 7 | NYY | | DET | W,1-0 | 8.0 | 5 | 0 | 0 | 3 | 5 | 0 | 0 | 2.89 | 30 | 99 | 64 | 9 |
| 8 | Aug 16 | NYY | @ | TBR | W,3-2 | 6.0 | 7 | 2 | 2 | 1 | 10 | 0 | 1 | 2.91 | 27 | 102 | 68 | 17 |
| 9 | Aug 22 | NYY | | CHW | W,4-3 | 5.0 | 9 | 3 | 3 | 2 | 7 | 1 | 1 | 3.17 | 25 | 92 | 61 | 11 |
| 10 | Aug 27 | NYY | @ | DET | W,8-4 | 7.0 | 5 | 2 | 2 | 1 | 8 | 1 | 1 | 3.09 | 29 | 101 | 69 | 12 |
| 11 | Sep 2 | NYY | | BOS | L,4-9 | 2.2 | 6 | 6 | 6 | 3 | 3 | 2 | 1 | 3.88 | 18 | 67 | 38 | 4 |
| 12 | Sep 7 | NYY | | KCR | L,0-2 | 5.0 | 5 | 2 | 0 | 3 | 4 | 0 | 0 | 3.57 | 22 | 90 | 54 | 10 |
| 13 | Sep 13 | NYY | @ | BAL | W,3-2 | 5.1 | 7 | 2 | 2 | 1 | 9 | 1 | 0 | 3.56 | 23 | 112 | 71 | 13 |
| 14 | Sep 18 | NYY | | TOR | W,3-2 | 6.2 | 3 | 0 | 0 | 2 | 6 | 0 | 0 | 3.24 | 24 | 105 | 73 | 10 |
| 15 | Sep 24 | NYY | | BAL | L,5-9 | 3.2 | 7 | 6 | 6 | 3 | 5 | 0 | 0 | 3.78 | 21 | 73 | 49 | 8 |
That four-start stretch from August 7th through August 27th is when Greene really made his mark and solidified his standing as a member of the rotation. He had a 2.96 ERA (3.59 FIP) during his eight-start stretch from August 7th through September 18th, which is cherry-picking at its finest, but I don't care. Greene was tremendous during that stretch and it looked like the Yankees had themselves a real live homegrown rotation stalwart.
Greene finished the season with a 3.78 ERA and 3.73 FIP in 78.2 innings, which includes the ugly MLB debut out of the bullpen. He posted excellent strikeout (9.27 K/9 and 23.5 K%) and ground ball (50.2%) rates, and his walk rate (3.32 BB/9 and 8.4 BB%) was fine. Lefties did hit him a bit harder than righties — .281/.365/.400 (.345 wOBA) with a 30/18 K/BB against lefties and .240/.305/.356 (.297 wOBA) with a 51/11 K/BB against righties — which isn't surprising since he's basically a two-pitch pitcher, relying on that sinker and slider.
Those two pitches are very, very good though. Greene's sinker averaged 93.9 mph this season, making it the third fastest sinker in baseball among pitchers who threw at least 70 innings this season. Only two relievers (Jeurys Familia and Tony Watson) had harder sinkers. Furthermore, the sinker had a 13.2% swing-and-miss rate and a 56.5% ground ball rate, both better than the league average for the pitch (5.4% and 49.5%, respectively).
Greene's slider would sometimes come in at 87-88 mph, so PitchFX often classified it as a cutter. The slider had a 40.2% (!) swing-and-miss rate and a 45.4% ground ball rate, and again both were better than the MLB slider average (15.2% and 43.9%). Greene threw very few straight four-seamers and changeups in 2014 (~18% combined). He's a sinker/slider pitcher and both the sinker and slider were above-average at getting whiffs and ground balls. That's huge. Greene legitimately has two above-average pitches in his arsenal.
* * *
If not for Greene and the team's other midseason rotation additions, the Yankees would have been knocked into irrelevancy in late-July. They kept them in the race longer than they should have been. McCarthy and Capuano were rentals who will become free agents in about a week. Their time in pinstripes may be short-lived.
Greene, on the other hand, will turn 26 next month. He emerged as a potential rotation building block going forward, even if he's nothing more than a mid-rotation guy with a big platoon split. That has a lot of value. I won't do it, but if you're an optimist and you squint your eyes, maybe you can see the next Doug Fister (another former Yankees draft pick). That would be awesome.
Either way, Greene is a major player development success story for the Yankees. They drafted him in the 15th round of the 2009 draft and gave him a $100k signing bonus after only seeing him throw a handful of bullpens as he rehabbed from Tommy John surgery. The Yankees did a helluva job developing him over the years and getting him over his control issues. Now he's a bonafide big league starter.
(Title comes from @JakeMHS, who has terrible opinions.)
Even though the Yankees haven't played a game in nearly a month now, there are still some injuries that need updating. Here's the latest on the walking wounded, courtesy of Pete Caldera, Dan Martin, George King, and Josh Norris.
CC Sabathia (knee) is still throwing twice a week and he feels "pretty much back to 100%." He has decided against throwing a bullpen session sometime before Thanksgiving, however. "I thought about that, but what's the point of throwing a bullpen at Thanksgiving? That was more me not knowing if I was gonna feel good. Now that I know I feel pretty good, I don't think there's any reason for me to crank it up at that time. I'll wait and probably go down to Spring Training a little early in January," he said.
Preston Claiborne missed six weeks with an unknown arm injury while with Triple-A Scranton this past season, and it has now been reported that he had a separated shoulder and an inflamed AC joint. He returned in August and was called up in September. "I was pretty scared. I didn't know what was going on," said Claiborne. "Going into the offseason I am healthy and strong. I am in much better shape already."
And finally, retiring VP of Baseball Ops Mark Newman confirmed John Ryan Murphy suffered a concussion late in the season. This is the injury that sidelined him for two weeks in August while he was with Triple-A Scranton. Murphy was healthy in September and he started behind the plate in two of the final three games of the regular season, including Game 162.
At this time last season, the Yankees were still talking about getting under the $189M luxury tax threshold for the 2014 season. It was definitely doable, but it would have been very difficult, especially since the team wanted to contend at the same time. Eventually the Yankees abandoned their luxury tax plan and they didn't even get back to the postseason anyway, so double yikes.
Because Alex Rodriguez's salary is coming back on the books and the team handed out four free agent contracts worth $15M+ last offseason, the Yankees won't be able to get under the luxury tax in 2015 and probably not in 2016 either. It might be possible in 2017, after the current Collective Bargaining Agreement expires and the luxury tax threshold is presumably raised.
Anyway, that's a really long way of saying salaries for New York's arbitration-eligible players are less important this offseason then they were at this time last year. When I looked at the club's 2015 payroll situation three weeks ago, I guesstimated a $12M figure for their arbitration-eligible players. Turns out I was pretty close. Matt Swartz posted arbitration salary projections using his insanely accurate model — he's been within 5% the last few years — earlier this week, and he has the Yankees' players at $12.9M total. Not a bad job by me. Here are the projections:
Arbitration Eligible Players (service time in parentheses; projections via Matt Swartz)
Pineda (~$1.5M raise), Huff (~$200K raise), and Phelps (~$800k raise) are all arbitration-eligible for the first time. Pineda is getting a nice bump in salary despite missing all that time to injury because a) he was pretty awesome when healthy this past year, and b) he was an All-Star back in 2011, and that pays. Phelps qualified as a Super Two by about a month's worth of service time, so he'll be arbitration-eligible four times instead of the usual three. He and Pineda aren't going anywhere. Same goes for Nova (no raise after lost season). They'll be tendered contracts for next year.
Rogers, on the other hand, is an oh so obvious non-tender candidate at that salary. He earned $1.85M this past season, which is why his projected 2015 salary is so high. His raise isn't expected to be that significant. Rogers had his moments in pinstripes (like this one) and his fastball/slider combination is just good enough to keep you interested, but not at $1.9M. The Yankees could always non-tender him and re-sign him at a lower salary, maybe even a minor league contract.
I don't have any problem with Kelley at $2.5M next season — these days you basically have to throw 30 innings and not run over the closer with a bullpen cart to be worth $2.5M — even though he can be annoyingly inconsistent. At his best, he's a true eighth inning guy who misses an awful lot of bats. At his worst, Kelley allows like four runs and gets one out. Which makes him no worse than most other relievers, really. His projected salary isn't nearly high enough to scare me away.
The same goes for Cervelli even though I have no reason to believe he can stay healthy over the course of a full season. Quality catching is hard to find and the Yankees shouldn't give it away for nothing just because they have John Ryan Murphy and Austin Romine (and soon Gary Sanchez) sitting in Triple-A. Even if they don't want to keep Cervelli at that price, I think another team would give them an interesting enough low-level lottery ticket prospect in a trade. Then again, what do I know.
As for Huff, he actually pitched pretty well this past season by long man standards, posting a 1.85 ERA (4.00 FIP) in 39 innings. That's usable. Huff's projected salary is barely above the league minimum, so the decision whether to tender him a contract will come down to other factors like project performance and roster concerns. If the Yankees need a 40-man roster spot this winter — they'll need one as soon as the World Series is over because A-Rod's suspension ends — Huff could be the odd man out.
It's worth mentioning these contracts are not guaranteed. Teams can release arbitration-eligible players who sign one-year deals before mid-March and only owe then 30 days termination pay. If they release them after mid-March but before Opening Day, it's 45 days termination pay. The Yankees dumped Chad Gaudin this way a few years ago. They could keep Huff, see how the offseason plays out, then cut bait if a need for a roster spot arises. I'd put my money on Huff being non-tendered.
The Yankees have an uninteresting crop of arbitration-eligible players this winter. There are no real tough decisions here. It's an easy call to non-tender Rogers and an easy enough call to keep everyone other than Huff. Huff is the only borderline guy and there's almost no wrong decision there. If they non-tender him, fine. If they keep him, whatever. The arbitration-eligible players won't make or break anything this offseason. The Yankees have an easy arbitration class this winter, which is good because they need to focus on lots of other stuff.
Here is your open thread for the evening. The World Series finally (finally!) gets underway tonight (8pm ET on FOX). It'll be James Shields against Big Game Madison Bumgarner. All three local hockey teams are playing as well. Talk about those games or whatever else is on your mind right here.
Not gonna lie: The original title of this season review was "Nothing from the keystone." It sure seemed that way, given that Stephen Drew and Brian Roberts combined for 458 of 631 total PA from the position. Add in Brendan Ryan for another 42 and it looks like a downright disaster.
Then I saw this, and I had to change my title.
The chart does not lie: Yankees second basemen ranked seventh in the AL for OPS. All I could think was:
To reiterate, Stephen Drew and Brian Roberts combined for 73 percent of the overall plate appearances at second base, and together produced a .603 OPS. That actually raises another decent question.
How the hell did the Yankees second basemen produce a .693 OPS if the guys taking 73 percent of the PA produced a .603 OPS? That 90 points has to come from somewhere.
1) Martin Prado is awesome. In his 63 PA as a 2B he had a 1.074 OPS. That moved the needle quite a bit.
2) Yangervis Solarte got 49 PA as a 2B and had a .777 OPS, which helped.
3) Jose Pirela had three hits, including a double and a triple, in 13 PA, so he and Dean Anna, who hit a home run as a 2B, topped off the tank.
Here's where the effect on the field doesn't quite line up with the aggregate stats. Prado excelled while playing 2B, but no matter his overall numbers (7 2B, 3 HR, both more than Drew in a little more than half the PA) he affected only 17 games. Drew and Roberts infected affected a combined 121 games with their .603 OPS.
So I suppose the title could be, "Nothing from the keystone most of the time." That's a little clunky. The question mark will suffice.
No matter what, the Yankees were going to be disappointed at second base this season. In 2013 they had the highest OPS in the AL at second base — by 119 points. Once Robinson Cano signed with the Mariners, what options did the Yankees have?
Mark Ellis? Plenty advocated for that, but go look at his B-R page. I'm not even going to link it here. It's too offensive.
Omar Infante? Sure, he's ready for a World Series appearance, his second in three years, but his OPS was 37 points lower than Roberts's during the regular season. And Kansas City is paying him through 2017.
Trade? Since zero second basemen were traded from the time Cano signed through Opening Day, it's tough to say that the Yankees missed any opportunities. Once Cano left, they had essentially no chance to field a decent second baseman.
Mike wrote glowingly of Prado in his season review, and for good reason. He not only provided offense in the second half, but will be around for the next two seasons. That's the big 2014 story for the Yankees at second base: how it will affect 2015 and beyond.
I could spend a few paragraphs ripping Roberts and Drew, but what's the point? We saw some brilliant moments out of Roberts, but we mostly saw an aging, oft-injured player on his last legs. (Roberts confirmed that by announcing his retirement last Friday.) We saw — well, we really saw nothing from Drew save for a few line drives towards the very end of the season.
What we saw from Prado, though, was a glimpse of what he might provide in 2015. It's almost certain he'll start the season at second base, with Alex Rodriguez, Chase Headley, or a combination thereof manning third base. He might move at some point, perhaps to the outfield, perhaps to third base, making room for Rob Refsnyder or Jose Pirela. However the situation shakes out, Prado gives them a level of versatility they've lacked in recent years.
There you have it: a positively spun review on what seemed like one of the worst positions for the 2014 Yankees. Next up on my plate: What the hell happened at first base. And yes, the first basemen produced a lower OPS than the second basemen.
The World Series finally starts tonight after four baseball-less days. That felt like an eternity. My official prediction is Royals in six for no apparent reason. It's a total guess. More than anything, I want a long and exciting series that goes the full seven games. Both the LDS and LCS rounds were a blast. Hopefully the World Series is just as fun. Here are some miscellaneous thoughts.
1. I think this is the first time since 2005 that I don't really care who wins the World Series. Last year I wanted the Red Sox to lose because duh. The year before that I wanted the Tigers to lose because they swept the Yankees in the ALCS. I wanted the Rangers to lose in both 2010 and 2011 because they beat the Yankees in the 2010 ALCS. I rooted against the division rival Red Sox and Rays in 2007 and 2008, and in 2006 I wanted the Tigers to lose because they beat the Yankees in the ALDS. Common theme here? I wanted teams to lose. I didn't necessarily want the other team to win, I just wanted the team I didn't like to lose. How messed up is that? Almost all neutral fans I come across these days are rooting against a team — Dodgers fans rooting against the Giants, etc. — more than anything, myself included. That's so screwed up. Everyone is rooting for someone else to not be happy.
2. Every postseason for the last I dunno, 15-20 years or so we've seen how important it is to have a deep and excellent bullpen. It's not a luxury, it's a necessity. Bullpens seem to be getting more attention this postseason because of that three-headed Kelvin Herrera-Wade Davis-Greg Holland monster in the Royals bullpen, but they've always been important. That's why I think the Yankees absolutely have to re-sign David Robertson. Re-sign him and add more quality relievers as well, with Andrew Miller being the most obvious candidate. I like Adam Warren as much as the next guy and Shawn Kelley has his moments, but those two are best used as sixth and seventh inning types. Not eighth inning relievers. I have no concerns about Dellin Betances closing if that's what it comes to, but how could you watch this past season and not see how valuable he was in a multi-inning setup role? With so many close games being played these days, stack that bullpen with as many power arms as possible. There will still be plenty of opportunities for guys like Jacob Lindgren and Nick Rumbelow next year.
3. I'm a power guy and chances are you knew that already. Homers are the single best outcome for any at-bat and doubles aren't far behind. Pile up a bunch of extra-base hits and you'll to score a ton of runs. Here, look: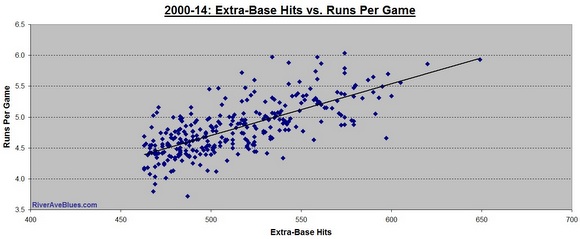 Score more runs and you're more likely to win. That's the kind of hard-hitting analysis you've come to expect from RAB. Now, that said, man are the Royals fun to watch. Their brand of "put the ball in play and run like hell" controlled chaos is exciting and it has me on the edge of my seat with every pitch because you never know when they might take off. It really is fun and I'm sure it drives the other team nuts. I don't buy it as a model for perennial contention — in case you haven't noticed, the Royals have benefited from some enormously clutch homers this postseason, it hasn't been all speed — but it's worked for Kansas City these last eight games. It's refreshing to see such a different style of play.
4. If the Giants win the World Series again, don't we have to consider them a dynasty? Three titles in five years is pretty damn impressive. I'm pretty sure we'd all consider it a dynasty if the Yankees did it, wouldn't we? I think the coolest thing about San Francisco's recent success is all the roster turnover, specifically their regulars. Their 2010 and 2014 World Series rosters only have three position players (Buster Posey, Pablo Sandoval, former Yankee Travis Ishikawa (!)) and one starter (Madison Bumgarner) in common. In fact, if they win another championship this year, they'll have had a different ace/closer combination in all three title years: Tim Lincecum/Brian Wilson in 2010, Matt Cain/Sergio Romo in 2012, and Bumgarner/Santiago Casilla in 2014. (Bumgarner is their Andy Pettitte, if you haven't noticed.) Anyway, I don't really know where I'm going with this. I just find the Giants recent success impressive. They've managed to win a bunch of championships without having people try to discredit them because of their massive payroll (sixth in MLB at $155M!).
5. With Athletics hitting coach Chili Davis heading to the Red Sox and Rangers hitting coach Dave Magadan out of the running, it sounds like the Yankees next hitting coach is going to be an off-the-radar hire. That doesn't mean it will be an outside the box hiring — Jason Giambi, anyone? — just someone we haven't heard connected to the team at all. That happened four years ago when the Yankees named Larry Rothschild pitching coach. They were no reports he was in the running or had even been interviewed, then bam, he was hired. Either way, I hope the Yankees go with the two hitting coach system because it just seems like something that could be very beneficial. Another set of eyes and another person to help communicate stuff can only help. (I don't think two hitting coaches falls into "too many cooks in the kitchen" territory, but what do I know.) Nearly two-thirds of the league has a hitting coach and an assistant hitting coach these days. This is the perfect time to implement that system and I really hope the Yankees decide to do it. They're always a year or two behind the rest of the league with this stuff. It's time to catch up. (Example: The Rays and Blue Jays were using infield shifts all the time years ago, but the Yankees just got around to it in 2014.)