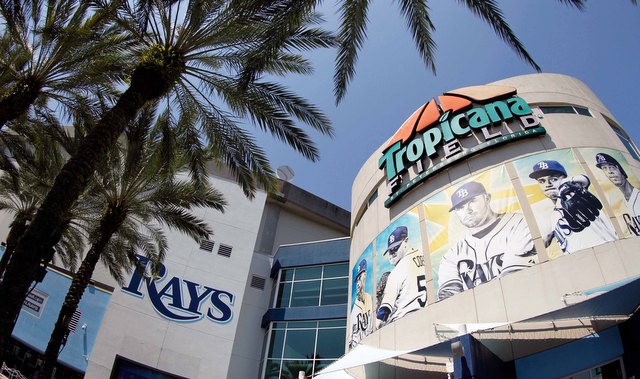 That quick little three-game homestand is over and the Yankees are back out on the road for a ten-game, four-city road trip. The trip starts with three in Tampa, the Yankees' home away from home. They took two of three from the Rays at Yankee Stadium last month.
What Have They Done Lately?
The Rays are slumpin'. They just lost two straight at home to the Marlins and they've lost five of their last six games overall. Tampa is 21-24 with a +4 run differential on the season. The Yankees are playing the last place team in the AL East for the second straight series. Hopefully they don't let the Rays climb out of the cellar like they did the Blue Jays.
Offense & Defense
Here's a fun fact: the Rays lead baseball with 67 home runs as a team. How about that? We're not used to seeing them hit the ball out of the park like that. They're averaging 4.18 runs per game with a team 106 wRC+ overall. Tampa is without two of their best players in OF Kevin Kiermaier (109 wRC+) and 2B Logan Forsythe (160 wRC+). Kiermaier broke some bones in his hand making a sliding catch and Forsythe has a small fracture in his shoulder thanks to a Felix Hernandez pitch. Neither is coming back this series.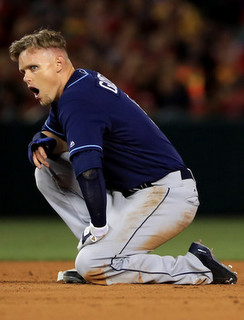 These days manager Kevin Cash bats OF Brandon Guyer (172 wRC+) leadoff and SS Brad Miller (105 wRC+) second against righties. Miller has hit much better the last few weeks. 3B Evan Longoria (109 wRC+) bats third, IF Steven Pearce (155 wRC+) cleans up, and OF Steven Souza Jr. (125 wRC+) hits fifth. That's the regular lineup. Pearce plays whatever position needs to be played that day. OF Desmond Jennings (53 wRC+) has taken over in center with Kiermaier out and 1B Logan Morrison (84 wRC+) is the regular first baseman.
Behind the plate C Curt Casali (59 wRC+) and C Hank Conger (0 wRC+) split time. OF Mikie Mahtook (-50 wRC+) and UTIL Tayler Motter (106 wRC+) are right-handed hitters who will see platoon duty. Mahtook is the kid the Rays took with the Yankees' first round pick after they signed Rafael Soriano. Good times. DH Corey Dickerson (87 wRC+) is the DH and the 12th position player on the roster. The Rays are carrying eight relievers.
The Rays willingly downgraded their defense in an effort to improve their offense. Jennings is very good in center but he's no Kiermaier. Longoria is still solid at third, and Souza and Guyer are fine in the outfield corners. Aside from them, Tampa has shaky gloves at first (LoMo), second (Pearce lately), short (Miller), and behind the plate. Conger has actually thrown three runners out trying to steal this season. Runners are only 16-for-19 (84%) against him this year after going 42-for-43 (98%) last year.
Pitching Matchups
Friday (7:10pm ET): RHP Masahiro Tanaka (vs. TB) vs. RHP Chris Archer (vs. NYY)
Woof. Rough season for Archer. The 27-year-old has a 5.16 ERA (4.58 FIP) in ten starts and 52.1 innings, and both his walk (10.9%) and homer (1.72 HR/9) rates have shot up big time. He's still getting a ton of strikeouts (27.3%) and a healthy amount of grounders (45.9%). Archer's struggles really started last season. He had a 4.87 ERA (3.80 FIP) in his final ten starts of 2015. Thanks to his very improved upper-80s changeup — it's a real weapon now — Archer has closed up his platoon split. Archer still sits in the mid-90s with his heater and his upper-80s slider is vicious. It might be the best slider in baseball, at least among right-handers. The Yankees did not see Archer when these two teams met last month.
Saturday (4:10pm ET): RHP Michael Pineda (vs. TB) vs. LHP Matt Moore (vs. NYY)
I fell for it. Moore was awful last year after coming back from Tommy John surgery, but he was throwing darts in Spring Training and looked really good for his first few starts of the regular season, so I bought in. He was ready to dominate. The result: a 5.47 ERA (4.52 FIP) in nine starts and 51 innings. He had a 5.43 ERA (4.83 FIP) in 63 innings last year. D'oh. Moore still has good strikeout (21.9%) and walk (7.1%) rates, but he's not getting grounders (43.3%) and he's not keeping the ball in the park (1.59 HR/9). Moore, who has historically been better against lefties than righties, works with a four-seam fastball that averages 93 mph and tops out around 97 mph. A hard low-80s curve and a power mid-80s changeup are his two secondary pitches. The Yankees scored four runs in 6.2 innings against Moore when these clubs met in New York a month ago.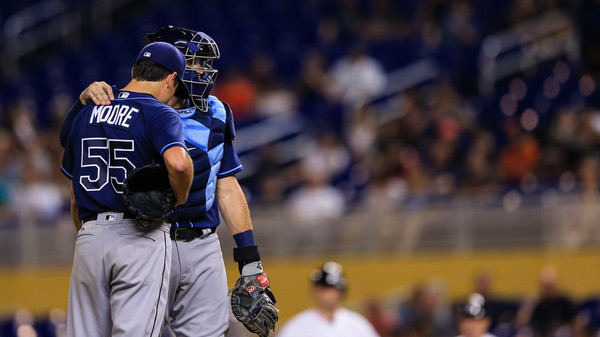 Sunday (1:10pm ET): RHP Nathan Eovaldi (vs. TB) vs. RHP Jake Odorizzi (vs. NYY)
The Rays got Odorizzi in the James Shields/Wil Myers trade a few years back, and he's turned into a rock solid starter for them. The 26-year-old has a 3.46 ERA (4.22 FIP) with good strikeout (20.1%) and walk (7.1%) rates in ten starts and 54.2 innings so far this season. He has been both fly ball (38.3% grounders) and homer (1.32 HR/9) prone, and righties have hit him much harder than lefties, which is normal. Odorizzi's had a reverse split throughout his career because his best pitch is a nasty mid-80s splitter. He sets it up with low-90s four-seamers. A low-80s cutter/slider is his third pitch, and he'll also flip a few low-70s curves per start to mess with hitters. The Yankees did not see Odorizzi in April. I would be remiss if I didn't point out Brian McCann is 12-for-20 (.600) with three doubles and three homers against him. McCann crushes Odorizzi.
Bullpen Status
The Rays have been without closer RHP Brad Boxberger all season because of core muscle surgery, but they could get him back this series. He's been on a rehab assignment and he recently pitched back-to-back days, which is usually the last step before being activated. We'll see. Here is Cash's bullpen:
Closer: RHP Alex Colome (1.29 ERA/1.61 FIP)
Setup: LHP Xavier Cedeno (3.65/1.95) and RHP Erasmo Ramirez (2.43/3.90)
Middle: LHP Dana Eveland (7.43/5.49), LHP Enny Romero (3.71/4.44), RHP Ryan Webb (3.31/4.01)
Long: RHP Ryan Garton and RHP Tyler Sturdevant
There are a few names in there you might not recognize. Sturdevant and Garton were both called up recently, and they made their MLB debuts earlier this week. Garton (46 pitches), Webb (26), and Eveland (5) all pitched yesterday. Eveland pitched Wednesday too, otherwise the bullpen is in good shape. It's not the most intimidating bullpen out there, but for the most part they're rested.
As for the Yankees, head on over to our Bullpen Workload page for the status of Joe Girardi's relievers. The starters have gone at least six innings in each of the last eight games, so the bullpen has not been worked too hard of late. That's good.