Now that's more like it. The Yankees snapped their six-game losing streak Wednesday night with what was maybe their most complete win of the season. They had some extended rallies, they played solid defense, and the pitching was on point. The final score was 7-0 Yankees.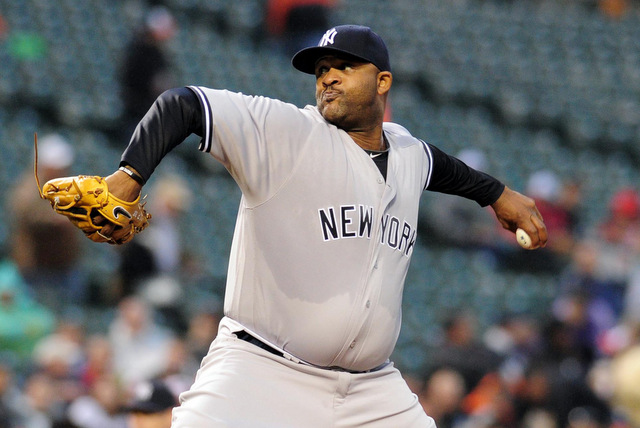 The Stopper
It has been a long time since CC Sabathia last pitched like a true ace. For at least one night, the ace version of Sabathia returned, and he showed up at exactly the right time for the Yankees. Sabathia played the role of stopper Wednesday night and put an end to the losing streak with seven scoreless innings against the Orioles. He allowed six hits and two walks while fanning six.
Was it easy? Of course not. Sabathia's only 1-2-3 inning was his final inning. He held the O's to 1-for-8 with three strikeouts and one double play with runners in scoring position, and, obviously, the one hit did not even score a run. Sabathia can thank Aaron Hicks for that. Jonathan Schoop didn't even try to score from second on Ryan Flaherty's fifth inning single to right because Hicks has a rocket arm. Sabathia got two other double plays as well.
The changeup was Sabathia's best pitch by far Wednesday night. He was consistently burying the change down and away to righties — he threw 28 changeups, they swung 14 times, and missed eight times — and it allowed all those fastballs he threw in on the hands to play up. Sabathia also threw some nice backdoor sliders too. This was a vintage performance from the big man. CC is still a boss.
The Offense Breaks Out
Jacoby Ellsbury started the game with a double to right field. As per 2016 Yankees tradition, he was stranded. (Actually, he got thrown out at home on the contact play.) Fifteen of the next 17 Yankees made outs against righty Tyler Wilson, and the two base-runners were walks that were quickly erased. The Yanks did not record their second hit until Ellsbury singled with one out in the sixth. For the first five innings and change, it was more of the same from the Yankees. The offense was lifeless.
Things changed in the sixth. Ellsbury pulled the single to right, stole second, moved to third on Brett Gardner's single to center, then scored on Carlos Beltran's sacrifice fly. The fly ball wasn't terribly deep and it looked like Adam Jones had a chance for a play at the plate, but he fumbled the transfer a bit and Ellsbury scored without a throw. The Yankees took a 1-0 lead and it was like pulling teeth, I swear.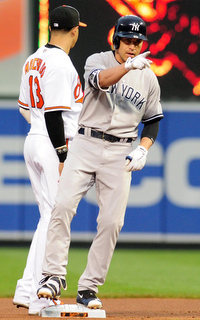 The floodgates opened after that. Mark Teixeira walked and Brian McCann drove in Gardner with a single to right. Starlin Castro hit a tapper back to the mound that looked like it would end the inning, but Wilson spiked the throw to first and it scooted on by Chris Davis for a run-scoring error. The Yankees needed something like that. They haven't been playing well, and when you don't play well, it seems like your opponent makes every play in the field. It was nice to see the Yankees get a break for once.
The three runs felt like 300 runs given how the Yankees have been struggling to score this season. They didn't stop there though. Two innings later, they put up a four spot thanks mostly to McCann's two-run double to right. Didi Gregorius also drove in a run with a single, and Gardner got an RBI the hard way: he took a pitch to the right elbow with the bases loaded. Brett took one for the team and added a (sixth) insurance run.
In the first five innings the Yankees went 1-for-15 (.067) with two walks. In the sixth, seventh, and eighth innings they went a combined 8-for-17 (.471) with six singles, two doubles, three walks, a hit-by-pitch, and a sacrifice fly. They batted around for the first time in about a month in that eighth inning. In fact, it was the first time they batted around since scoring six runs in the first inning against Collin McHugh and the Astros in the second game of the season. Crazy, right? Crazy.
Never Easy
The Yankees never do things easily these days, so of course Kirby Yates walked the bases loaded in the bottom of the eighth and forced Dellin Betances into action. I don't have a problem with using Dellin there at all. He hadn't pitched since Sunday and the team is struggling like hell to win. Davis was at the plate and he is very capable of turning a 7-0 game into a 7-4 game with one swing.
Anyway, Betances came in, struck out Davis with three straight curveballs — he definitely got a favorable call for strike three, but that's cool with me — and got Mark Trumbo to pop up weakly in foul territory to end the threat. I officially declare What's Wrong With Dellin Week™ over. Yates has actually been pretty good as a low-leverage middle innings guy so far, but he needed a hand Wednesday, and Betances came through.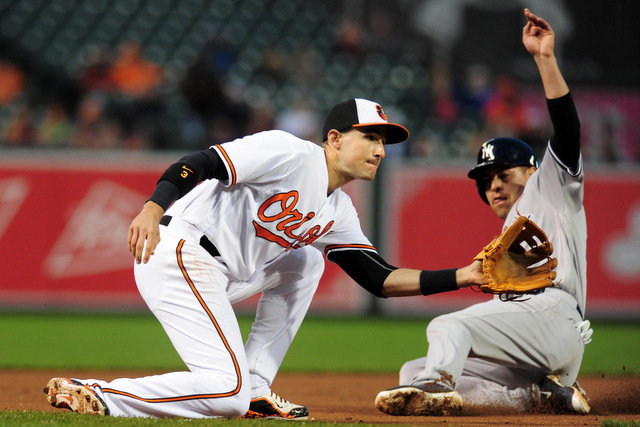 Leftovers
The top five hitters in the lineup went a combined 8-for-18 (.444) with three doubles, five walks, a hit-by-pitch, and two strikeouts. Teixeira had three of those walks and is now hitting .224/.365/.341 (109 wRC+) on the season. Feel free to mix in an extra base hit, Mark. Ellsbury went 3-for-3 with two walks to raise his season batting line from .247/.293/.366 (83 wRC+) to .271/.327/.396 (104 wRC+).
Castro took an 0-for-5 and Hicks, who is in the lineup due to Alex Rodriguez's injury, went 0-for-4. It sure sounds like he's going to play a lot while A-Rod is on the shelf, so hopefully getting to relax and play every day gets his bat going. His defense is an asset either way. Hicks stopped a runner from scoring from second without even making a throw.
Gardner was lifted in the ninth and x-rays on his elbow were negative. Dustin Ackley took over in right and Hicks slid over to left, which is completely backwards based on their arms. That said, I think Joe Girardi put Hicks in left because the O's were sending up a bunch of right-handed hitters. Didn't matter either way. Whatevs.
And finally, Chasen Shreve came out of the bullpen to record the final three outs without incident. A nice and easy 1-2-3 inning with two strikeouts. Feels good. Love this team, you guys.
Box Score, WPA Graph & Standings
Go to ESPN for the box score, MLB.com for the video highlights, and ESPN again for the updated standings. Here are our Bullpen Workload and Announcer Standings pages. Now here's the win probability graph:

Source: FanGraphs
Up Next
This three-game series comes to end with the rubber game Thursday night. It'll be right-handers Masahiro Tanaka and Kevin Gausman on the mound. After that, the Yankees will head home for a ten-game homestand. RAB Tickets can get you in the door if you want to boo the team in person instead of from your couch.