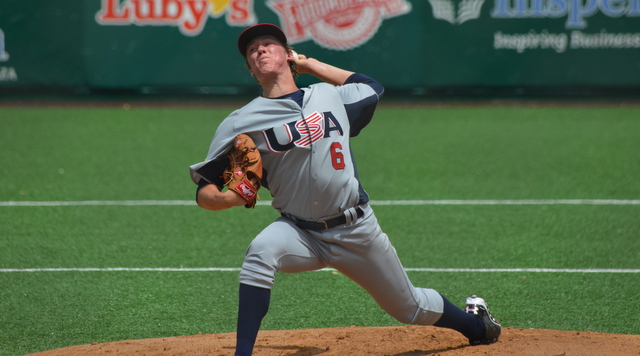 Earlier today Keith Law posted his second mock draft of the season (subs. req'd), and this time he has the Diamondbacks taking Vanderbilt SS Dansby Swanson with the first overall pick. We've seen Swanson connected to Arizona in other mock drafts too. I've lost track of how many players have been considered for that spot though. There's no consensus No. 1 pick this year.
Law has the Yankees selecting California HS LHP Kolby Allard with their top pick, the 16th overall selection. He had them taking Pennsylvania HS RHP Mike Nikorak in his first mock draft. Allard came into the spring as arguably the best left-handed pitcher in the draft before missing two months with a stress reaction in his back. He was unable to return before the end of his team's season, though there was talk Allard would schedule some showcase events for scouts this month to show he's healthy.
Here's a snippet of Allard's free MLB.com scouting report:
A UCLA recruit, he has two plus pitches in his 92-94 mph fastball that tops out at 96 and a tight curveball. Allard's third pitch is a changeup that needs more work. He has an easy delivery that enhances his ability to command his pitches and his chances to remain a starter despite his smaller build.
Allard's listed at 6-foot-0 and 170 lbs., so he's not a big kid, but he has stuff and command. Law (subs. req'd) called him the best left-handed pitcher in the draft "in terms of ceiling and floor," for what it's worth. Obviously the back injury is a concern. Those tend to never go away. At least it's not his arm though. If he's healthy, Allard would be as close to the best case scenario as it gets for that 16th pick.
Also in the mock draft, Law says he hears the Yankees are in California HS C Chris Betts, New York HS OF Garrett Whitley, and Tennessee HS RHP Donny Everett as well. Nothing new, we've heard that before. Here are my profiles on Betts, Whitley, and Everett. The Yankees could conceivably end up with two of those guys because they have the 30th pick as well (compensation for David Robertson), plus a ton of draft pool space ($7.885M).