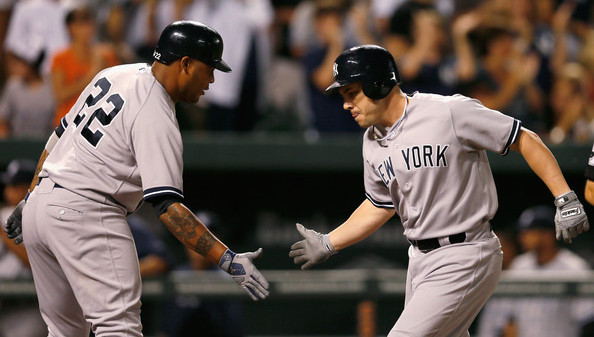 We're a few weeks into August now, but better late than never, right? It's time for another edition of our MLBTR Archives series, in which we look back at all the Yankees-related rumors and transactions from five years ago. On the morning of August 1st, 2012, the Yankees were 60-43 and 5.5 games up in the AL East. They had, however, lost nine of their previous 12 games.
The Yankees made two trades at the 2012 trade deadline, adding Ichiro Suzuki and Casey McGehee. They didn't address their rotation even though CC Sabathia and Andy Pettitte had spent time on the disabled list, and others like Ivan Nova and Freddy Garcia earned demotions. August transactions are typically small and August rumors are usually retrospective. We usually hear a lot about what could have happened at the deadline rather than what might happen now. Anyway, time to jump back in time to August 2012.
August 1st, 2012: Minor Moves: Jack Cust, Dewayne Wise
The Yankees have also released outfielders Colin Curtis and Ray Kruml according to Collins. The 27-year-old Curtis hit .186/.250/.288 in 64 plate appearances with New York in 2010.
At one point the Yankees had Ray Kruml and Austin Krum in the farm system. Don't ask me why I remember that. Both have been out of baseball for a while.
Curtis, meanwhile, is best remembered for his mid-at-bat pinch-hit home run a few years back. Brett Gardner was tossed for arguing balls and strikes, Curtis replaced him and inherited an 0-2 count, and socked his only career MLB home run off Scot Shields (!).
The Yankees released Curtis in 2012, he spent the rest of that season in an independent league, and that was that. Out of baseball since. I could have sworn I remember seeing something saying he's started coaching at the college level, but I can't seem to find anything now. I could be completely wrong.
August 2nd, 2012: Yankees Designate Ramiro Pena For Assignment
The Yankees have designated Ramiro Pena for assignment according to the transactions page at MLB.com. The move cleared room on the roster for the recently-acquired Casey McGehee.
Rakin' Ramiro was always a personal fave because he could play the hell out of shortstop, though he couldn't hit at all. Before getting called up for the first time, his best minor league season was a .266/.330/.357 line with Double-A Trenton in 2008. Pena cleared waivers and went to Triple-A, and has been bouncing around the minors ever since. He actually returned to the big leagues with the Giants last year, hitting .299/.330/.425 in 30 games as bench bat. Who knew? Ramiro is currently hitting .216/.256/.243 in limited time for the Hiroshima Carp in Japan.
August 4th, 2012: West Notes: Giants, Chavez, Dodgers, A's
Before the trade deadline, the Giants offered Nate Schierholtz to the Yankees in an effort to land veteran Eric Chavez, according to Buster Olney of ESPN.com (via Twitter).  The Giants presumably pursued Chavez prior to acquiring Marco Scutaro, who has been plugged in at third base.  Chavez, 34, is hitting .269/.332/.486 with ten homers on the year.
Interesting! I do not remember this. Chavez was in the middle of a ridiculous season — he hit .281/.348/.496 with 16 home runs in 2012 — and the Yankees couldn't really afford to trade him because Alex Rodriguez was banged up and they needed the help at third base. The Yankees were a first place team in 2012, remember.
Schierholtz was a personal favorite, so much so that I once wrote a post saying the Yankees should trade for him so he could take over right field once Nick Swisher left as a free agent. Schierholtz hit .257/.321/.407 with 21 home runs for San Francisco in 2012, including .287/.360/.466 against righties. Seemed like a potentially dangerous lefty platoon bat.
The Yankees never did acquire Schierholtz, obviously. The Giants traded him to the Phillies in the Hunter Pence deal at the 2012 trade deadline, then Philadelphia non-tendered him after the season. He bounced from the Cubs to Nationals to the Rangers to the Tigers after that. Detroit released Schierholtz from their Triple-A roster last year and he's been out of baseball since.
August 13th, 2012: Yankees Sign Derek Lowe
MONDAY: The Yankees have officially announced the signing in a press release and say they will use Lowe out of the bullpen. Their 40-man roster is now full.
Few signings have felt more inevitable over the years. Lowe was terrible for the Indians in 2012, throwing 119 innings with a 5.52 ERA (4.49 FIP), so they released him at midseason. The Yankees needed a long reliever and they're a sucker for ex-Red Sox players, so they picked him up as soon as Cleveland cut him loose. In his first game as a Yankee, Lowe recorded a four-inning save. You can watch it here. (For whatever reason YouTube embedding is disabled.)
Lowe wound up throwing 23.2 innings with a 3.04 ERA (3.77 FIP) for the Yankees that year. He was on the postseason roster too, though that didn't go very well (three runs in two innings). Lowe signed with the Rangers after the season, allowed 13 runs in 13 innings in 2013, then got released. He announced his retirement a few weeks later.
August 13th, 2012: Yankees Sign Two Nicaraguan Lefties
The Yankees have signed Nicaraguan left-handers Corby McCoy and Luis Garcia, writes Ben Badler of Baseball America.
Neither McCoy nor Garcia ever made it out of the Dominican Summer League. McCoy threw 91.1 innings with a 4.43 ERA from 2013-16 while Garcia had a 6.27 ERA in 51.2 innings from 2013-14. Nicaragua is not exactly a baseball hotbed — Dennis Martinez is far and away the best of the 14 big leaguers to come from Nicaragua — but teams continue to try to make inroads in the country. It's a long process. For every Dennis Martinez there are hundreds of Corby McCoys and Luis Garcias.
August 19th, 2012: AL East Notes: Yankees, Red Sox, Hughes
Yankees GM Brian Cashman will soon have to decide where they stand on Phil Hughes and Joba Chamberlain, who are both set to hit free agency after next season, writes Joel Sherman of the New York Post.  When asked about how he views the two long-term, Cashman responded, "That is stuff I can't answer at this stage. It is a two-way street. It is a negotiation for two sides. So it is all for another day."
We're all guilty of this, myself included. We look ahead and try to figure out where a guy fits long-term far earlier than necessary. In 2012, Hughes had a 4.19 ERA (4.56 FIP) in 191.1 innings and looked like a potential keeper. Then he threw 145.2 innings with a 5.19 ERA (4.50 FIP) in 2013 and that was that. There was talk about re-signing Mark Teixeira last year, and look how that turned out. General rule of thumb: unless you're talking about an elite performer in his prime, don't worry about re-signing someone until the decision has to be made.
August 21st, 2012: AL East Notes: Pettitte, Torrealba, McClure
Yankees left-hander Andy Pettitte hasn't ruled out the possibility of pitching again in 2013, writes Chad Jennings of the Journal News. "I definitely can't tell you right now that I would say there's no way I'm going to play," Pettitte said. The 40-year-old left-hander, who signed a one-year, $2.5MM minor league contract in March, is currently rehabbing a broken ankle he suffered in late June and hopes to return before the season's over.
Pettitte did indeed return late in 2012 and he did indeed pitch in 2013. That ankle injury, which was suffered when he was hit by a comebacker, was one of the reasons Pettitte decided to return in 2013. He felt he hadn't gotten it all out of his system. Pettitte threw 185.1 innings with a 3.74 ERA (107 ERA+) in 2013. Here's the full list of 35-and-older pitchers who threw 185+ innings with a 107 ERA+ or better in their final seasons within the last half-century:
Andy Pettitte: 107 ERA + in 185.1 innings in 2013
Mike Mussina: 131 ERA+ in 200.1 innings in 2008
That's all. The Yankees have had some really impressive farewell seasons recently, huh?
August 27th, 2012: Yankees Acquire Steve Pearce
The Yankees have acquired Steve Pearce from the Astros for cash considerations, the teams announced. Pearce, who played for the Yankees' Triple-A team earlier this year, will provide New York with a right-handed bat for the final month of the season.
Good ol' Steve Pearce. I know I've written about his 2012 travels several times in previous MLBTR Archives posts, but it's worth dropping it in here again:
March 27th: Released by the Twins.
March 29th: Signed minor league deal with the Yankees.
June 2nd: Traded to the Orioles for cash.
July 28: Claimed off waivers by the Astros.
August 27: Traded to the Yankees for cash.
September 29: Claimed off waivers by the Orioles.
Pearce played 12 games with the Yankees that season, went 4-for-25 (.160) with a homer, then went to the Orioles. Did he really play 12 games with the Yankees? Seems like ten too many. Pearce has managed to carve out a nice little career for himself since that wild 2012 season. He's hitting .271/.345/.470 with 12 homers in 77 games for the Blue Jays this year. I was hoping the Yankees would sign him for the Chris Carter role, but alas.
August 27th, 2012: Yankees Designate Brandon Laird For Assignment
The Yankees have designated corner infielder Brandon Laird for assignment, Ken Rosenthal of FOX Sports reports (on Twitter). The move creates roster space for Steve Pearce, who was acquired from the Astros today.
Back when the Yankees didn't have much of a farm system, Laird was one of their better prospects even though he had questionable plate discipline and wasn't much of a third base defender. His big year was 2010, when he hit .281/.336/.482 with 25 home runs in 138 games for Double-A Trenton and Triple-A Scranton. Laird played eleven games for the Yankees in 2011 and went 4-for-21 (.190) with four singles.
The Yankees dropped Laird from the 40-man roster in 2012, the Astros grabbed him on waivers, and he hit .198/.248/.406 with six homers in 46 games for Houston during their 2012-13 tank seasons. Laird is still active, you know. He's in his third year as Shohei Otani's teammate with the Nippon Ham Fighters. He's hitting .234/.316/.495 with 29 homers this season, and has 102 home runs in three years with the (Ham) Fighters. Hit 39 last year. Huh.
August 28th, 2012: Dodgers Inquired On Sabathia, Teixeira
The Dodgers called the Yankees to inquire about the possibility of trading for CC Sabathia and Mark Teixeira, Joel Sherman of the New York Post reports. The Yankees told the Dodgers they had no interest in moving either player despite their substantial contracts (four years and $99MM remain on Sabathia's deal; four years and $90MM remain on Teixeira's deal).
Now this I remember. This came out three days after the big Dodgers-Red Sox blockbuster that sent Adrian Gonzalez, Carl Crawford, and Josh Beckett (and Nick Punto!) to Los Angeles for salary relief and two pitching prospects that didn't amount to much (Allen Webster and Rubby De La Rosa). Apparently the Dodgers asked about Sabathia and Teixeira first, and were told no.
The Yankees and Red Sox were in very different places at the time. The Red Sox were in the middle of a disastrous last place season and looking to unload Gonzalez and Crawford, both of whom had worn out there welcome. The Yankees, meanwhile, were a first place team and both Teixeira (.251/.332/.475 with 24 homers) and especially Sabathia (3.38 ERA and 3.34 FIP) were key contributors.
The Yankees could have freed up a lot of payroll with that trade, assuming Teixeira and Sabathia would've agreed to waive their no-trade clauses, which was far from a given. What would they have done with that free cash? I'm not sure. The notable free agents during the 2012-13 offseason: Michael Bourn, Zack Greinke, Josh Hamilton, Edwin Jackson, Anibal Sanchez, Nick Swisher, and B.J. Upton. Only Greinke's deal worked out.
Given what we know now, yeah, the Yankees should've unloaded Teixeira and Sabathia. It was not nearly as clear cut back then. Sabathia was still an ace, Teixeira was still productive, and the Yankees were a bonafide contender. And even if they had unloaded them, I'm not sure 2013-16 would've been much better anyway. They could have turned around and spent the money on Hamilton and Jackson, and no thanks.