Because they dealt with so many rotation injuries, the Yankees had to rely on their bullpen a ton this past season. Joe Girardi asked his bullpen to throw 501.1 innings this summer, the sixth most in the league. Dellin Betances soaked up a ton of innings, especially early in the year, but it wasn't until late into the season that he settled into a traditional setup role. For most of the year, that responsibility belonged to Adam Warren and Shawn Kelley.
Adam Warren, Workhorse
Last season the Yankees used Warren as a true swingman and he was pretty damn good at it, especially by swingman standards. Getting 77 innings of 3.39 ERA (4.32 FIP) ball out of the last guy in the bullpen is really good. The Yankees moved Warren into a more traditional short relief role this season and he excelled. First and foremost, his fastball velocity ticked up noticeably: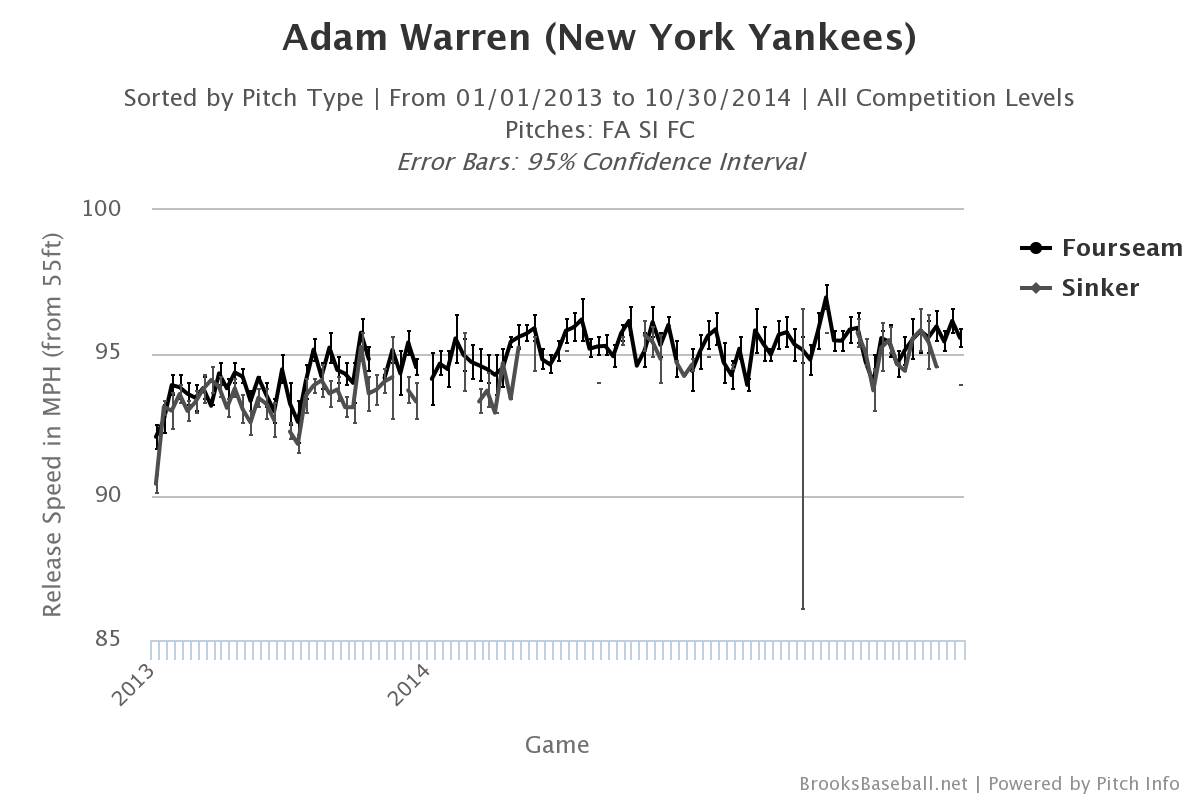 Warren was Girardi's regular seventh and eighth inning guy in the first half while Kelley and David Robertson missed time with injuries. The second half was a bit rough — nine runs in his first 14 innings after the All-Star break, perhaps due to fatigue — but Warren settled down and finished very strong thanks to some mechanical tweaks suggested by pitching coach Larry Rothschild.
"Larry pointed out one day, maybe move your hands a little this way and and all of a sudden it's like, oh that feels a little bit better and you roll with it from there and you just kind of tinker with things until it feels right," said Warren to Brendan Kuty in September. "Once things started to click it was like, oh, why didn't I think of that two weeks earlier? It's a process."
Warren allowed just two runs (both in one outing) on six hits and three walks in his final 15 appearances and 20 innings of the season. He struck out 21, including ten of the final 18 batters he faced on the year. Warren closed out 2014 with a 2.97 ERA (2.89 FIP) in 78.2 innings with a very good strikeout rate (8.69 K/9 and 23.5 K%) and solid walk (2.75 BB/9 and 7.4 BB%) and ground ball (45.4%) numbers.
Last season, Warren's main problems were the long ball and left-handed hitters. He allowed ten homers in those 77 innings (1.17 HR/9 and 13.2 HR/FB%) and lefty batters hit .301/.370/.526 (.387 wOBA) against him. This year it was only four homers in 78.2 innings (0.46 HR/9 and 6.0 HR/FB%) with a .170/.253/.271 (.239 wOBA) line by opposite hand hitters. That's quite the improvement. Probably too much of an improvement. Not sure if he can sustain that going forward, but it happened in 2014 and that's all that counts.
Anyway, given the team's rotation issues — there was plenty of talk of moving him back into the rotation after the injuries struck in the first half —  Warren was especially valuable because of his durability. He recorded at least four outs in 29 of his 69 appearances, the second most in baseball behind Betances (35!). Sure, Warren has been a starter his entire life, but throwing multiple innings two or three times a week is no easy task. Outside of that little hiccup after the All-Star break, Warren was very good and very valuable to the 2014 Yankees. He soaked up a ton of important innings.
Shawn Kelley, Intermittently Awesome
When the season started, Kelley was Robertson's primary setup man. That was plan coming into the season after Mariano Rivera retired and the Yankees opted not to bring in some kind of veteran replacement. For a while, Kelley was excellent, pitching to a 1.88 ERA with 15 strikeouts and three walks in his first 14 appearances and 14.1 innings. He even went 4-for-4 in save chances while filling in for the briefly injured Robertson in April.
Then it all fell apart on May 5th in Anaheim. Kelley walked four of the six batters he faced and allowed three runs to blow a game. He landed on the disabled list with a back issue two days later and missed six weeks. Kelley looked shaky — his slider lacked its usual bite, specifically — but was generally effective in his first few outings back before settling down. He struggled in mid-July (seven runs in the span of three appearances at one point) and again in late-September (four runs in his last four outings) to close out the year.
Kelley finished the season with a 4.53 ERA (3.02 FIP) in 51.2 innings. He struck out a ton of batters (11.67 K/9 and 30.5 K%) but also walked a few too many (3.48 BB/9 and 9.1 BB%) and didn't get any ground balls (33.6%). Kelley actually kept the ball in the park (0.87 HR/9 and 8.9 HR/FB%) and handled left-handed batters (.221/.311/.301, .269 wOBA) better than I remember. Like most middle relievers, there were times he was really great and times he made you pull your hair out.
After starting the season as the first option behind Robertson, Kelley closed the year behind Betances and Warren on the setup man totem pole. The injury really seemed to knock him off track in May, but, as we've seen these last two years, Kelley is prone to spectacular meltdowns. That's baseball. The good generally outweighs the bad — few guys can miss bats like this, that's a valuable skill — and at times Kelley was a very important member of the bullpen in 2014.
By

Via George King: The Yankees may have been waiting until the end of the World Series to contact Raul Ibanez and "gauge his interest in becoming their hitting coach." Ibanez was not on the Royals' World Series roster but he was still traveling with the team and stuff. They kept him around for his leadership.

Ibanez, 42, is more or less done as a player (61 wRC+ in 2014) and he's long been considered a future coaching candidate because he's very well-liked and a great communicator. He has zero coaching experience though — Ibanez has said he'd be open to coaching down the road — so who knows what kind of hitting coach he would be. The Yankees reportedly contacted Eric Hinske about the job as well, which shows they aren't necessarily prioritizing experience at the position. · (91) ·
The Giants won their third World Series title in the last half-decade last night. If that's not a dynasty in this parity filled age of baseball, I don't know what is. They rode Madison Bumgarner's left arm to the championship just like they rode Tim Lincecum in 2010 and Matt Cain in 2012. As good as those two were, Bumgarner was better this year. He was unreal. Historically great. Anyway, here are some scattered thoughts now that the offseason is set to begin.
1. I enjoyed watching the Giants win again because they go against so many baseball axioms. Need youth to win in today's MLB? The Giants had literally the oldest roster in MLB. Need a strong rotation? The Giants had one good great starter in Bumgarner. Their non-Bumgarner starters had a 4.23 ERA during the regular season (in that ballpark!) and a 5.59 ERA in the postseason. Need your highest paid players to be your best players? Cain and Lincecum were non-factors at best and detriments at worst in 2012. How many people said it wouldn't be worth it if the Yankees only made the postseason as a wildcard team? There were countless comments like that here. Well, the Giants were the second wildcard team. Not even the first. And they won the whole damn thing. Just get in and you can win. I can't say that enough. The Giants have won three titles in five years with three very different rosters and philosophies. There's no magic formula, no right way to build a winning team. Just be good at as many things as possible, hope everyone performs at the right time, and roll with it. Baseball in a nutshell.
2. The Yankees still have not yet hired a new hitting coach or first base coach, though I suppose that could happen as soon as today now that the World Series is over. MLB doesn't like clubs making any announcements that could draw attention away from the Fall Classic. (Unless you're Joe Maddon, I guess.) I do wonder if the Yankees have been waiting so long to name new coaches because they plan to interview someone on the Giants and/or Royals staff. There are a ton of Yankees connections on the San Francisco coaching staff, including hitting coach Hensley Meulens, assistant hitting coach Joe Lefebvre, and first base coach Roberto Kelly. Those three played all played for the Yankees once upon a time, as did Royals hitting coach Dale Sveum. So maybe they're on the radar and the club just hasn't been able to interview them these last few weeks. Either way, I'm sure this is a loose end that will be tied up fairly quickly.
3. Speaking of Maddon, isn't it amazing how he managed to steal headlines from not one, but two World Series games with zero backlash? He did it last week when he opted out and again yesterday when Jon Heyman reported he was joining the Cubs. And he got Rick Renteria fired. Think about all of that. Maddon said he intended to manage in 2015 when he opted out, but only the Twins had a managerial opening at the time. So either he already had something lined up (tampering!), or he opted out thinking "some team will just fire their manager and hire me." What a dick move. So small time. Can't wait for Maddon to be hailed a tremendous leader and a great guy at his press conference in a few days. At least Alex Rodriguez only interrupted one World Series game and didn't get anyone fired when he opted out in 2007. (Aside: Renteria was the Padres hitting coach from 2008-10. Maybe the Yankees will interview him now.)
4. Since the end of the 2012 season, the Yankees have acquired five veteran outfielders either through trade or free agency: Ichiro Suzuki (re-signed), Vernon Wells (trade), Alfonso Soriano (trade), Jacoby Ellsbury (signed), and Carlos Beltran (signed). I'm talking about guys who were not picked up off the scrap heap, just to be clear. Not Chris Young or Thomas Neal, for example. Those guys cost nothing but the pro-rated portion of the league minimum. Here is what the Yankees gave up to acquire those five outfielders:
A good but not great pitching prospect (RHP Corey Black for Soriano).
Two super fringy prospects (LHP Kramer Sneed and OF Exicardo Cayones for Vern).
Two supplemental first round picks (the compensation picks for Robinson Cano and Curtis Granderson were surrendered for Ellsbury and Beltran).
Committed to $231.7M in total salary spread across 15.5 contract seasons (Soriano was a midseason pickup). Approximately $161.9M and eight contract years of that is still pending.
So, in return for all of that, those five outfielders combined to hit .254/.301/.382 (~88 wRC+) in 2,963 plate appearances from 2013-14, totaling 4.5 fWAR. You don't want to know what those numbers are without Ellsbury. Okay, yes you do: ~83 wRC+ and 0.9 fWAR in 2,328 plate appearances. That's really bad! I mean, really really bad. Like, what the hell happened here bad. How many of those acquisitions were the result of pure desperation? At least four, right? Ellsbury and Beltran after Cano left, Soriano because no one was hitting, and Wells because of all the injuries in Spring Training last year. Maybe you can argue one of Ellsbury or Beltran wasn't out of desperation, but three out of five still isn't good. The Yankees collectively invested an awful lot in these five players the last two years and didn't get much return at all. Yeesh.
5. As I was scrolling through the FanGraphs' contract crowdsourcing results yesterday, none of them stood out to me as a real bargain. Granted, these are just FanGraphs readers voting in a poll, but I figured there would be one or two players (out of 55) who struck me as undervalued by the masses. I guess not. Sergio Romo at $12M across two years is a nice short-term deal for a late-inning reliever who misses a ton of bats and never walks anyone, and Mike Morse at one year and $7M is pretty good considering he can rake, but that's about it. I think the problem is me, not everyone else. I need to recalibrate what I consider market value, because right now free agent prices are insane. Teams have a ton of money to spend and there are so few quality free agents to spend it on. That's why Brandon McCarthy got two years and $18M two offseasons ago and will end up with three years at like $12M annually this winter despite being two years older and not pitching all that well for the Diamondbacks the last year and a half. Man, the Yankees have to get away from building through free agency. It ain't happening anymore.
By

For the third time in the last five years, the Giants are the World Series champions. They beat the Royals by the score of 3-2 in Game Seven tonight. Madison Bumgarner allowed two hits in five scoreless innings of relief to nail down the win. He was named series MVP after allowing one run in 23 innings across two starts and the one relief appearance. Ridiculous. Bumgarner has a 0.25 ERA in 36.2 career World Series innings. He's 25.

The Giants have plenty of ties to the Yankees. Pitching coach Dave Righetti, hitting coach Hensley Meulens, assistant hitting coach Joe Lefebvre, and first base coach Roberto Kelly all played for the Yankees back in the day. Left fielder Travis Ishikawa wore pinstripes for five minutes last season and utility infielder Joaquin Arias was the player to be named later the Yankees sent to the Rangers in the Alex Rodriguez trade a baseball lifetime ago. Also, GM Brian Sabean was in the Yankees front office from 1986-92. He was the team's vice president of scouting when they drafted Derek Jeter, Andy Pettitte, and Jorge Posada.

Congrats to the Giants for the World Series win and congrats to the Royals for a really awesome season as well. And now, the cold of the offseason. · (167) ·
Five years ago tonight, the Yankees rallied to beat Pedro Martinez and even the 2009 World Series at one win apiece. Mark Teixeira hit a game-tying solo homer in the fourth and Hideki Matsui hit a go-ahead solo homer in the sixth. Jorge Posada singled in an insurance run in the seventh and Mariano Rivera threw two scoreless innings for the save. Here's the box score. I'll always remember Game Two as A.J. Burnett's finest moment in pinstripes — he struck out nine in seven innings of one-run ball with the Yankees facing an 0-2 series hole heading back to Philadelphia. Here's video of his outing.
Here is your open thread for the night. The Giants and Royals are playing Game Seven of the World Series (Hudson vs. Guthrie, 8pm ET on FOX) and I really hope it will be more entertaining than the rest of the series. Five of the six games have been decided by 5+ runs. ZZzzzz. Anyway, the Knicks and Nets both begin their seasons tonight, so talk about any of these games or anything else right here.
From 2009 through 2012, CC Sabathia and Andy Pettitte were the only lefties to start games for the Yankees. That's a little odd, considering the huge number of random lefties that got spot starts from 2004 through 2008. So odd, in fact, that I made a Sporcle quiz that no one has even the slightest chance of completing.
The Yankees broke that four-year drought in 2013, when David Huff and Vidal Nuno combined for five starts. Heading into 2014, Nuno was in the running for a rotation spot. He understandably lost out to Michael Pineda. But when Ivan Nova went down with an elbow injury, Nuno lined up for the next start. It was his.
And it was a disaster.
You could be charitable and say sure, Nuno had some not terrible starts here and there. For instance, he lasted 6.1 innings in a 1-0 win against the best-record-in-baseball Angels. There were five shutout innings against the Rays in April.
The Yankees did have something of a reason to believe Nuno could help. He pitched well during his brief MLB stint in 2013, which followed a lights-out performance in AAA. In 2012 he cruised through A+ and AA with a 2.54 combined ERA and a 3.82 K/BB ratio. He didn't have the stuff of an ace, but as a #5 starter it seemed he might cut it.
Cut it he might. Just not in New York. What stood out in his 14 starts was an alarming home run rate. In four of those 14 starts he gave up multiple homers, including three twice. In other words, when he's off even a bit hitters can take advantage. Out in Arizona, another hitters' park, he allowed a homer in nine of his 14 starts.
In other words, the Yankees might have given up a useful starter who, at the time of the trade, had five and a half years of team control. Yet they got back Brandon McCarthy, who seemed to find himself while wearing pinstripes. For a team with perpetual sights on contention, the trade was a coup for the Yankees. If they can re-sign McCarthy there will be no reason to ever look back on this one.
For a while it seemed as though the Yankees would forge ahead with a five-righty rotation. But in late July, three weeks after trading Nuno, they acquired Chris Capuano from the Rockies. And so the Yankees traded away a mediocre lefty and picked one up for cash considerations. Given the acquisition of McCarthy, that sounds like a great trade-off.
Yet Capuano did play a valuable role down the stretch. Rarely did he dazzle, but he also rarely had a breakdown. (The exception being his 0.1 inning, four-run start against Tampa, which he redeemed in his very next start by pitching six shutout innings against them.) Never did he allow more than four runs in a start, and three times he allowed none. It's more than anyone expected from a guy who couldn't hack it on the last-place Red Sox.
Were it not for the huge number of starting pitcher injuries, the Yankees might not have even needed Capuano. They wouldn't have run Nuno out there for so many starts. But when three fifths of your Opening Day rotation is on the DL by May 15, with two of them done for the year, you have to reach deeply into the pitching well. With a healthy Sabathia (potentially a problem of his own) and a healthy Pineda, chances are David Phelps takes over for Nuno. If Phelps still gets hurt in that scenario, there's Shane Greene.
All told, the lefty fodder combination of Nuno and Capuano didn't perform too too badly. They combined to pitch 143.2 innings to a 4.89 ERA, which is essentially what Mike Minor did. Given the unreasonable number of injuries to the staff, they could have done a lot worse.
By

On the eve of the offseason, FanGraphs' released their contract crowdsourcing results for the top 55 free agents this coming offseason. Here's the link. The crowd generally underestimated contract values for the top free agents last year, as the intro notes. Still, it's a nice look at how a large group of people think these free agents will be valued, which is something no one can ever seem to agree on.

The FanGraphs' crowd projects four years and $56M for Chase Headley, three years and $36M for Brandon McCarthy, three years and $30M for David Robertson, and one year and $7M for Stephen Drew. Sounds reasonable enough to me. I wonder if a team will step forward and offer a fourth guaranteed year to McCarthy or Robertson. That would probably put them over the top. I think the crowd's six-year, $132M projection for Jon Lester is way light, especially compared to Max Scherzer's seven-year, $168M projection. Anyway, check out the numbers. They're a good starting point for conversation. · (196) ·
One way or the other, the World Series and the 2014 baseball season will end tonight. The Royals blew the Giants out of the water in Game Six last night, a game that had a very Game Six of the 2001 World Series vibe. Hopefully Game Seven tonight is as exciting as Game Seven in 2001 was for everyone but Yankees fans.
Anyway, with the World Series set to end in 15 hours or so, the offseason will officially begin tomorrow. There are a ton of dates and deadlines throughout the winter and some are more important to the Yankees than others. So, with four baseball-less months upon us, here is the annual RAB rundown of the important offseason dates.
Tomorrow, October 30th: At 9am ET, eligible players become free agents and players on the 60-day DL and restricted list are activated. The Yankees have ten players hitting free agency: David Robertson, Hiroki Kuroda, Ichiro Suzuki, Brandon McCarthy, Chase Headley, Stephen Drew, Chris Capuano, Chris Young, Rich Hill, and the retired Derek Jeter. Ivan Nova, CC Sabathia, Martin Prado, and Slade Heathcott will all be activated off the 60-day DL and Alex Rodriguez will be activated off the restricted list. The Yankees will have 35 players on the 40-man.
This Saturday, November 1st: Option decisions due. Most of them, anyway. Some contracts specify a different date. The Yankees' only option decision is for Andrew Bailey, who has a club option for 2015 believed to be worth $2M or so. He didn't pitch at all this year following shoulder capsule surgery and had numerous setbacks. I wouldn't be surprised if the team walked away.
Next Monday, November 3rd: Deadline to make eligible free agents the one-year, $15.3M qualifying offer. Robertson will definitely get one, Kuroda might. RAB readers would make him one. McCarthy, Headley, and Drew are not eligible for the qualifying offer because they were traded at midseason.
Next Tuesday, November 4th: End of the five-day exclusive negotiating period. As of 12:01am ET next Tuesday, free agents can negotiate and sign with any team. Also, the 2014 Gold Gloves will be announced at 7pm ET. The Yankees don't have any finalists.
November 10th: Last day for free agents to accept or reject the qualifying offer. If the player rejects and signs with a new team, his new team will forfeit their first round pick and his former team will receive a supplemental first round pick.
November 10th to 12th: GM Meetings in Phoenix. These used to be boring from a hot stove point of view — they're for business matters — but there have been more deals struck at the GM Meetings in recent years. The wheels for the Curtis Granderson trade were put into motion at the 2010 GM Meetings, for example.
November 10th to 13th: Major awards announced. Rookies of the Year will be announced on the 10th, then Managers of the Year, Cy Youngs, and MVPs in the following days. Dellin Betances and Masahiro Tanaka are candidates to finish second to Jose Abreu for the AL Rookie of the Year. The Yankees don't have any other serious awards candidates.
November 10th to 18th: The "All-Star Series 2014″ in Japan. A team of MLB players will play three exhibition games and a five-game series against the Japanese National Team. Capuano is the only Yankee currently on the roster despite not really being a Yankee anymore. Jeter declined to participate.
November 20th: Deadline for teams to finalize their 40-man roster for the Rule 5 Draft. The Yankees will add 1B/OF Tyler Austin to the 40-man roster to protect him. Other Rule 5 Draft eligible players include RHP Danny Burawa, RHP Zach Nuding, 1B Kyle Roller, RHP Branden Pinder, and OF Mason Williams, among others. I'd bet on one or two of those bullpen arms being protected.
December 2nd: Deadline for teams to make contract offers to their pre-arbitration and arbitration-eligible players, otherwise known as the non-tender deadline. A whole new and less interesting batch of free agents will hit the market on this date. Esmil Rogers and David Huff are the Yankees' two obvious non-tender candidates.
December 8th to 11th: Winter Meetings in San Diego. This is usually when all hell breaks loose and there are tons of rumors and signings and trades each day, though last year most of the action — Robinson Cano, Brian McCann, and Jacoby Ellsbury signings, Prince Fielder-for-Ian Kinsler trade, etc. — happened before the Winter Meetings. Was that just a blip or the start of a trend?
December 11th: Rule 5 Draft, which is the unofficial end of the Winter Meetings. Teams that do not have an open 40-man spot as of November 20th can not make a pick. As a reminder, players selected in the Rule 5 Draft have to stay on their new team's 25-man active roster all year, or be put on waivers and offered back to their old team before they can be sent to the minors.
January 13th: Deadline for eligible players to file for arbitration. Just a formality. Nothing exciting. Michael Pineda, Shawn Kelley, Frankie Cervelli, David Phelps, Nova, Huff, and Rogers are the team's arbitration-eligible players this winter. Here are their projected 2015 salaries.
January 16th: Deadline for eligible players and teams to file salary figures for arbitration. Both sides usually try to avoid letting things get this far, but they can still negotiate a contract of any size after this date.
February 1st to 21st: Arbitration hearings. The two sides can still negotiate a contract at any point up until literally walking in the room for the hearing. The three-person panel will choose either the salary filed by the player or team after hearing each side's argument. The Yankees haven't gone to an arbitration hearing since beating Chien-Ming Wang back in 2008.
February 20th: Pitchers and catchers report to Tampa. Yay Spring Training.
The Yankees already took care their most important piece of offseason business by re-signing Brian Cashman. Nothing could have happened without having him or a new GM in place. So now, in the most basic terms, the Yankees need to find half an infield and a bunch of pitchers this offseason. Re-signing Robertson will be among their top priorities, as will re-signing or replacing McCarthy, Headley, and Drew. At some point they have to finalize their coaching staff and hire both a first base coach and a hitting coach. I'm sure that'll happen sooner rather than later. The Yankees have a busy offseason ahead of them, but that's nothing new.
Five years ago today, the Yankees and Phillies played Game One of the 2009 World Series. The Yankees got absolutely manhandled by Cliff Lee that night, as I'm sure you remember. Chase Utley hit two solo homeruns off CC Sabathia — Sabathia allowed just three homers to left-handed hitters during the regular season — and the Phillies won the game 6-1. There was panic in the streets of RAB. Here's the box score. The 2009 Yankees are the only team in the last ten years to win the World Series after dropping Game One.
Here is your open thread for the evening. The Giants and Royals are playing Game Six of the World Series tonight (Peavy vs. Ventura, 8pm ET), and San Francisco can clinch their third championship in the last five years. Kansas City is trying to force a Game Seven. The NBA season starts tonight, though neither the Knicks nor Nets are playing. Both the Devils and Islanders are in action though. Discuss any of those games or anything else right here.
Yesterday afternoon, we looked at the mess that was the Yankees' infield defense this past season. It wasn't a mess all year, just most of the year. Things got substantially better once Chase Headley, Stephen Drew, and Martin Prado were acquired at the trade deadline. By then it was too late though. The damage had already been done the first four months of the season.
The outfield defense is another matter. The Yankees built a strong defensive outfield by pairing Jacoby Ellsbury with Brett Gardner, two of the best outfield glovemen in baseball. The generally immobile Carlos Beltran was slated for right field but the plan was to replace him with the still solid Ichiro Suzuki in the late innings, so the damage would be minimized. Ellsbury and Gardner were going to be the stars of the outfield show.
Because of injuries and ineffectiveness and all that, the Yankees had three players (Beltran, Ichiro, Alfonso Soriano) start at least 20 games in right field in 2014. Gardner was the only player to start 20+ games in left field (Chris Young started 16) and Gardner and Ellsbury were the only players to start 20+ games in center — Gardner started exactly 20 and Ellsbury started 138. Gardner and Ellsbury started in the outfield together in 120 of the team's 162 games.
Overall, the Yankees' outfield ranked 20th in baseball at -11 DRS and 18th with -7.1 UZR, which doesn't pass the sniff test. Ellsbury was hit with -5 DRS and +0.5 UZR this year — one-year sample, yadda yadda yadda — continuing a recent trend of Yankees' center fielders grading out poorly while playing alongside Gardner. It happened with Curtis Granderson a few years ago as well. I don't buy Ellsbury being an average defender (per UZR) and certainly not a below-average one (per DRS). He was excellent. Right? I'm not the crazy one. DRS and UZR are.
For the hell of it, here are Gardner's (left field only) and Ellsbury's defensive spray charts from this past season:
One of these days commoners like me will be able to put together defensive heat maps that compare players — or entire outfield units — to the league average defensively. Something like this. Alas.
Anyway, those big blobs of green and spots of red doesn't really tell us much. They look kinda cool if you know what you're looking at, but that's about it. Here are some more straight forward numbers on balls hit to the outfield. This table includes routine pop-ups, scalded line drive, and regular ol' fly balls. If it made it to the outfield in the air, it's included here.
| | Total Plays | NYY BABIP | MLB BABIP | MLB Rank |
| --- | --- | --- | --- | --- |
| Left Field | 566 | .4629 | .4528 | 16th |
| Center Field | 656 | .3247 | .3671 | 2nd |
| Right Field | 536 | .4683 | .4284 | 28th |
| All Fields | 1,758 | .4310 | .4315 | 16th |
More balls fall in for hits in right and left field than center because those are the pull fields — hitters tend to hit for the most authority when they pull the ball, not when they go back up the middle. More batters are right-handed — there were 1.27 plate appearances by a righty for every one plate appearance by a lefty in 2014, including switch hitters — and that's why hitters around the league had a higher BABIP to left field than right. Make sense? Good.
Ellsbury ran down almost everything so it makes sense the Yankees had the second lowest BABIP on balls hit to center in baseball this year. Only the Desmond Jennings-led Rays were better (.3159). Beltran and Soriano and almost everyone else they ran out there in right field stunk defensively this summer, so it's no surprise the team had the third highest BABIP on balls hit to right. Left field is where it gets a little weird, because the Yankees are only middle of the pack there in terms of BABIP even though Gardner manned the position.
We're used to Gardner being a top notch defender. One of the best in baseball. The numbers have said so for years and our eyes agreed. That wasn't so much the case this year though. Gardner was good, don't get me wrong, but he wasn't as good as he has been the last few years. There were a few more balls hit over his head in particular, and the spray chart above reflects that. Maybe it was just an adjustment period as Gardner moved back to left field after playing center last year. Maybe he's just slipping in the field. Maybe he's mad at the team for signing Ellsbury and displacing him. Who knows? Whatever it was, Gardner's glove wasn't as good as we're used to seeing.
There's more to being an outfielder than simply catching fly balls, of course. Not every ball will be caught, and that's when the throwing arm comes into play. This postseason has exposed all baseball fans to Alex Gordon, who shuts the running game down even when he doesn't make a throw. Opponents know his arm is strong and accurate, so they don't even bother testing him. Throwing runners out is both sexy and just one piece of the outfielder arm puzzle. Here's how the team's outfielders did at holding and throwing out runners:
| | Opp. | Hold Rate | Throw-Out Rate | MLB Hold Rate | MLB Throw-Out Rate |
| --- | --- | --- | --- | --- | --- |
| Gardner | 160 | 64.4% | 1.9% | | |
| All NYY LF | 204 | 64.7% | 1.5% | 63.5% | 2.2% |
| Ellsbury | 165 | 44.8% | 0.6% | | |
| All NYY CF | 203 | 45.8% | 0.5% | 43.5% | 1.9% |
| Ichiro | 98 | 45.9% | 2.0% | | |
| All NYY RF | 176 | 42.0% | 2.3% | 46.0% | 2.4% |
Gardner was more or less league average at holding and throwing out runners this year. Left field isn't a big throwing position anyway. The only real throws are to home plate, not the other bases. Ichiro has a strong arm in right but he takes for-frickin-ever to get rid of the ball, limiting its effectiveness. He was still roughly a league average-ish thrower while the team's other right fielders were below-average. Blame Beltran and Soriano, mostly.
Ellsbury, on the other hand, was actually a bit above-average at preventing runners from taking the extra base but he rarely threw anyone out. In fact, he threw out exactly one runner trying to advance on a base hit this season. Just one. Here's the play, which happened in early-September:
Ellsbury threw out two other runners on bases this year — he doubled Nelson Cruz off first when Cruz forgot how many outs there were, and he threw Dustin Pedroia out trying to stretch a single into a double. Saying Ellsbury's arm is not strong would be an understatement. It's one of the weakest outfield arms in baseball. He compensates for it by getting to the ball quickly and with a quick release, sorta like Hideki Matsui back in the day. Throwing is clearly Ellsbury's biggest weakness as a player. That's life.
The Yankees received three different levels of defense in the three outfield spots this year. They got good defense in left field, the bigger of the two corners in Yankee Stadium. They received excellent defense in center, and right field was pretty terrible despite the cozy dimensions in the Bronx. Throwing was an issue in all three spots though it was hardly a disaster. The outfield was clearly the strength of the team's defense this year, and fly ball pitchers like Michael Pineda, David Phelps, Chris Capuano, and Vidal Nuno benefited the most.