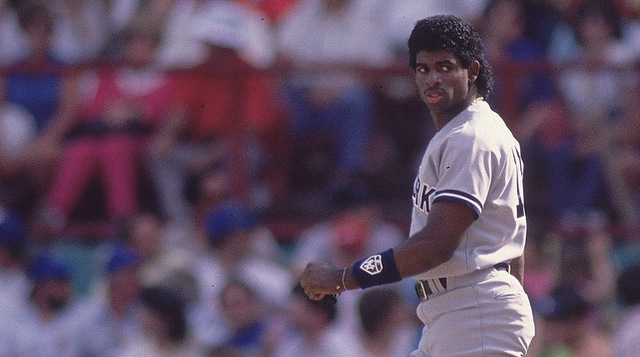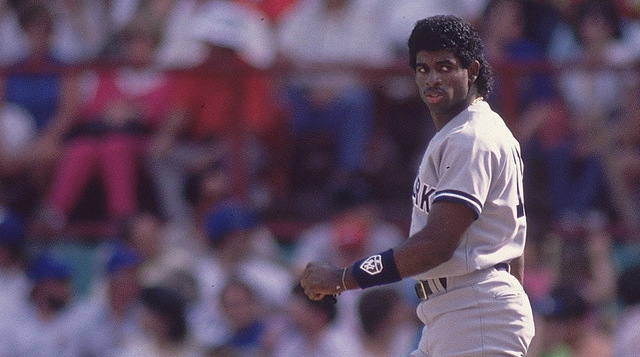 Few athletes in recent history were as physically gifted as Deion Sanders. He was an All-State performer in baseball, football, and basketball in high school, and a two-time All-American football player at Florida State while also running track and playing baseball. Playing one sport at the collegiate level is hard. Sanders played three and was excellent at all of them.
Sanders hit .281 with 38 stolen bases in 76 games for the Seminoles from 1986-87 before the Yankees selected him in the 30th round of the 1988 MLB draft. His football potential was no secret, the Yankees knew keeping him away from the gridiron would be tough, but Sanders agreed to play baseball and the team agreed to let him continue playing football. His first pro contract paid him upwards of $10,000 per week in the minors and included an insurance policy in case he suffered an injury that ruined his football career.
"He's a good major league prospect, and by that I mean automatically that he could be a starter," said team executive Syd Thrift to the New York Times that summer. "His greatest asset is his speed, and his fielding is above average. He will learn to be a good hitter; he's already improved so much in a short period of time. His weakness is only a lack of playing time. I'd hate to see anyone with that talent walk away from the game."
After signing, Sanders played 28 minor league games in 1988, most in rookie ball but he did climb as high as Triple-A. At age 20, he hit .284/.323/.379 with 14 steals. Sanders returned to Florida State in the fall to play football before reporting to Spring Training with the Yankees. The team assigned him No. 71 in camp — minor leaguers always get high numbers — but Deion's agent made a big stink, and eventually the team issued Sanders No. 44. "You don't have to tell me that," he said to reporters when asked if he knew who had previously worn No. 44. "He was the man around here for a long time."
The Yankees sent Sanders to Double-A Albany out of Spring Training in 1989 and, in late-April, the Atlanta Falcons selected him fifth overall in the NFL draft. Sanders hit .286/.380/.361 with 17 steals in 33 games with Albany — his manager: Buck Showalter — and leveraged his NFL career into a big league promotion. "Football is number one with me," he said to the Albany Times Union just before the draft. "This would be a different conversation if we were sitting in Yankee Stadium right now. But to miss half the NFL season for this, that's crazy."
So the Yankees called Sanders up at the end of May. He went 7-for-33 (.212) in nine games with the team before being sent down to Triple-A Columbus, where he played 70 games before being called back in September. Sanders was stuck in a contract dispute with the Falcons — he was using the Yankees as leverage in contract talks — and continued to play baseball rather than report to training camp with Atlanta. "Some interesting things have been going on," said attorney Eugene Parker to reporters. "I think it's fair to say the Yankees have made a serious move on Deion and Deion is listening."
Sanders played five games in September, including going 3-for-5 with a homer in a game against the Mariners, before reaching a contract agreement with the Falcons and reporting to training camp. The Yankees finished the year 74-87, well out of the postseason race, so it's not like he abandoned the team in a pennant race. The Yankees outrighted Sanders off the 40-man roster in December just so he could continue playing in Triple-A during the 1990 season should their be a work stoppage. (There was, but it ended in early-April.)
The Yankees and Sanders had a bit of a contract dispute that offseason — once again, he was using his NFL as leverage — but he eventually signed and made the 1990 Opening Day roster as the fourth outfielder. He played very sparingly in April, getting seven plate appearances in eight games before being sent to Triple-A. The Yankees called Sanders back up in late-May, and, on May 22nd, he had a run-in with Carlton Fisk during a game against the White Sox because he didn't run out an infield pop-up. Fisk cursed at him and told him to run the ball out and Sanders responded by saying "the days of slavery are over."
Sanders remained with the Yankees through the end of July and was just awful — he hit .158/.236/.271 (42 OPS+) with eight steals in 57 games, mostly as a pinch-runner and defensive replacement. He did, however, manage to hit an inside the park home run against the Royals when Bo Jackson, the other two-sport star, missed a diving catch in center field. That was pretty awesome:
Questions about whether Sanders would report to training camp with the Falcons in July persisted all summer. "I can't see myself swinging a bat here on Friday night, jumping on Delta, suiting up on Sunday, jumping back on Delta and getting here on Monday," said Sanders to
Michael Martinez
in July when asked about playing both sports at the same time. "I haven't ruled that out. It would probably be if worse comes to worse."
Sanders, once again, was using his NFL career as leverage against the Yankees, this time to get a contract extension. The Falcons threatened to reduce his pay and take back part of his signing bonus if he continued his baseball career, but that never happened. In late-July, the Yankees officially cut off contract talks with Sanders, partly because the Falcons were in position to take legal action against them. Sanders the baseball player simply wasn't worth it, especially since he made it clear football was his top priority.
"Under no circumstances could we offer Deion that kind of salary for the 1991 season. Even so, we still would like Deion to continue with the Yankees and wish him well in whatever he chooses to do," said George Steinbrenner to Malcolm Moran. Sanders reported to the Falcons and resumed his football career, and, in September, New York placed him on release waivers. The Yankees no longer wanted the distraction. "It's just better we part because of the atmosphere here," said GM Gene Michael to Jack Curry.
All told, Sanders hit a weak .178/.247/.306 (55 OPS+) with five homers and nine stolen bases in 71 games with the Yankees from 1989-90. He was a major distraction off the field in addition to being unproductive on it. Sanders was arrested for assault while in Triple-A in 1989 because he got into a fight with two fans who heckled him, he had the incident with Fisk, he literally drew dollar signs in the dirt in the batter's box before at-bats, and he was constantly using the Yankees as leverage against the Falcons and vice versa. Deion was so not worth the trouble.
Sanders continued the two-sport thing for a few years, suiting up with the Braves, Reds, and Giants after leaving the Yankees. His baseball career was more or less over by 1997 — he attempted a comeback in 2001 but that wasn't happening — and to date he is still the only person in history to play in both a Super Bowl (1994 49ers and 1995 Cowboys) and a World Series (1992 Braves). Sanders was an incredible and unforgettable athlete, but he was an awful Yankee.