The 2018-19 international signing period opened on July 2nd this year and, as always, the Yankees aggressively added talent.
The team started with a $4,983,500 bonus pool for the 2018-19 signing period
but they have since added more through a
minor trade with the Brewers
. How much did they get? I'm not sure, exactly. I suspect it will not be the last time the Yankees trade to add bonus pool space this year.
Aside from stud Cuban outfielder Victor Victor Mesa, who has not yet been cleared to sign, most of the top international prospects have already agreed to deals. These contracts are agreed to well in advance — that's technically against the rules, but everyone does it and MLB looks the other way — so there's a big rush of signings on July 2nd. Here are Baseball America's (no subs. req'd) and MLB.com's top international prospects and here are the Yankees' signings via Ben Badler and Jesse Sanchez.
The Top Prospect: RHP Osiel Rodriguez
As expected, the Yankees have signed 16-year-old Cuban RHP Osiel Rodriguez. They were first connected to him a few weeks ago. There's no word on Rodriguez's bonus, though it was previously reported he was in line for seven figures. Here is a snippet of MLB.com's scouting report:
The right-hander's fastball has been clocked at 97 mph and the pitch usually hovers in the low to mid-90s … Evaluators love his "big arm," but the club that signs him might ask the teenager to refine his approach and focus on only three pitches. He has an unorthodox — sometimes described as a 'violent" — delivery, but it has not impacted his pitchability.
Baseball America and MLB.com rank Rodriguez as the fifth and ninth best prospect in the international class, respectively. Last summer the Yankees went pretty heavy on position player prospects, though that had more to do with the strength of the international class than a team philosophy. Rodriguez is the best international pitcher the Yankees have signed since Luis Medina in 2015.
The Second Best Prospect: C Antonio Gomez
The Yankees were connected to 16-year-old Venezuelan C Antonio Gomez for weeks and weeks leading up to the 2018-19 signing period, so it was no surprise then that they signed him on July 2nd. Gomez received a $600,000 bonus. Here is part of MLB.com's scouting report:
Gomez has built a reputation for being durable and strong. He has a strong arm now and projects to have well-above-average arm strength. He has shown sound receiving skills and is expected to improve on other parts of his defensive game — framing and blocking — once he signs with a team and enters its academy … On offense, Gomez has a displayed a good approach with an easy swing and easy power to the gaps.
Badler adds Gomez "has the tools to be a top-tier defensive catcher." MLB.com and Baseball America ranked Gomez as the 11th and 15th best prospect in the international class, respectively, and as one of the two or three best catchers available this signing period. The Yankees scout and develop catchers as well as any team in baseball. I'm looking forward to seeing how Gomez progresses.
The Still Not Signed Prospect: OF Kevin Alcantara
Later this week the Yankees are expected to add Dominican OF Kevin Alcantara to their 2018-19 signing period haul. Why don't they sign him now? Because they can't. The kid is 15. The Yankees have to wait until his 16th birthday tomorrow to sign him. Here is a piece of MLB.com's scouting report:
Scouts like the way the sleek teenager glides across the outfield and his closing speed. He has also been praised for his good routes, easy glove work and instincts … Alcantara is also a gamer. He performs well at the plate in a live setting and projects to hit for more power in the future. Scouts also rave about his good bat speed and high contact ratio. He hits the ball hard and often tops the 100-mph mark in exit velocity.
MLB.com and Baseball America rank Alcantara as the tenth and 15th best prospect in the international class, respectively. So, between Rodriguez and Alcantara and Gomez, the Yankees signed three of MLB.com's top eleven prospects. Pretty cool. Badler says Alcantara is expected to receive a bonus around $1M.
The Name Prospect: RHP Rafael Severino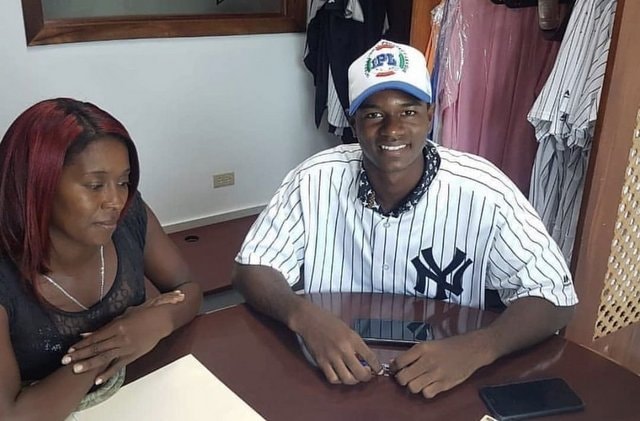 There's now another Severino in the organization, and yes, the two are related. The Yankees signed Luis Severino's younger brother Rafael a few weeks ago. Rafael is 19 (Luis signed at 17) and of course his brother talked him up. "He knows how to pitch. He doesn't throw that hard, but he's real skinny. When he gets stronger, he's going to throw hard … Fastball, 88-89, great slider, changeup. I think he throws a sinker too. He's a great pitcher," said Luis to Bryan Hoch and Erik Boland.
Rafael was not on any top international prospects lists and that's not surprising. Anyone worthwhile tends to get scooped up long before their 19th birthday. It is possible this was only a nepotism signing. That sorta thing happens a lot. And if it was, cool, who cares? Make the Severinos happy. That said, Luis was a bit of a late bloomer himself. Rafael has good bloodlines and the Yankees are pretty darn good at the whole player development thing these days, so he has that going for him.
The 2017 Prospect: OF Mauro Bonifacio
Last summer Baseball America (no subs. req'd) ranked 16-year-old Dominican OF Mauro Bonifacio as the 34th best prospect in the 2017-18 international signing period. For whatever reason, he did not sign. He was the only player on Baseball America's top 50 international prospects list not to sign, in fact. This year, the Yankees signed Bonifacio to an unknown bonus. Here's a piece of Baseball America's scouting report (subs. req'd) from last summer:
Bonifacio's blend of size and athleticism are intriguing, though he doesn't quite have the monster raw power to match his size (6-foot-5 and 205 lbs.) … Scouts highest on Bonifacio thought he had a relatively short swing for someone his size with explosion at contact, though the most frequent risk factor scouts pointed to was his ability to hit against live pitching … Bonifacio shows sound defensive actions for his age with an average arm that would fit in either left or right field.
Had Bonifacio been born literally one day later, he would not have been eligible for the 2017-18 signing period at all. I wonder if the Yankees and Bonifacio had an agreement last year, and they asked him to wait until this signing period for bonus pool reasons. The Yankees reportedly did something similar with OF Antonio Cabello and OF Raimfer Salinas last year, but, once they lost out on Shohei Ohtani, they were able to sign them last year under their 2017-18 bonus pool. Maybe Bonifacio agreed to wait until this signing period for a little extra cash?
The Other Six-Figure Signings
The Yankees have handed out at least three more six-figure bonuses this signing period: Cuban RHP Denny Larrondo ($550,000), Dominican RHP Juan Carela ($350,000), and Dominican SS Maikel Escotto ($350,000). Larrondo is the most notable prospect of the bunch and the Yankees had been connected to him for a while now. Here's a snippet of MLB.com's scouting report:
Overall, Larrondo is an elite athlete with a projectable body and a quick arm. He has tight spin on his emerging curveball, his second-best pitch. The teenager is an aggressive strike-thrower with a working changeup that is expected to improve once he signs with a team and receives daily instruction in a club's academy. The right-hander has touched 94 mph with his fastball and usually sits in the 91-to-92 mph range.
MLB.com ranked the 16-year-old Larrondo as the 29th best prospect in the international class while Baseball America had him 43rd. Neither Carela nor Escotto appeared on any top international prospects lists for the 2018-19 signing period.
Miscellaneous Signings
Among the various other low level international signings, the Yankees added 16-year-old Dominican C Agustin Ramirez, who Baseball America ranked as the 48th best prospect in the international class. "He's a strong-bodied hitter who packs a punch into a compact swing," says their scouting report. The two sides had been connected for a while. The Yankees have also signed Dominican SS Marcos Cabrera, Venezuelan C Kevin Camacho, Dominican SS Dayro Perez, Venezuelan C Jesus Rodriguez, and Venezuelan LHP Miguel Vargas. None of them were among the most notable international prospects available this year.
* * *
I should note that a recent report claiming 18 top international prospects had failed performance-enhancing drug tests has been shot down by MLB, reports Maury Brown. "While we cannot provide any information regarding prospect test results, this report has no truth to it whatsoever," said an MLB executive. Performance-enhancing drug use is a concern in Latin America, for sure, but this report is bogus. Maybe a jilted trainer or coach was trying to get back at some players or something. Whatever. Anyway, the report is false.