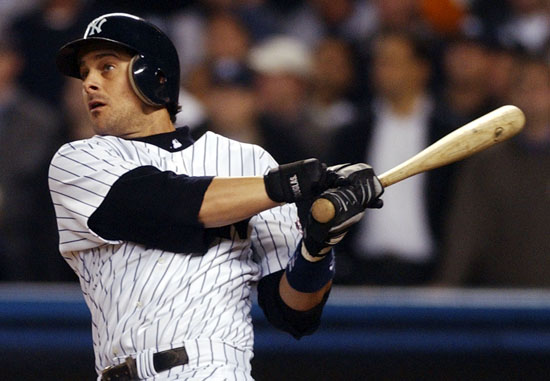 It can only take one game – one play, even – to make a career. With a single pitch, throw, hit or game, a player can lock in their legacy forever. The funny thing is, the play that makes the player can be absolutely nothing like the rest of his career.  I don't think this is Yankees or even baseball specific. Olli Jokinen, once a New York Ranger, will always be remembered by Rangers fans for the shot he missed in the shootout in the last game of the regular season last year, knocking the Rangers out of the playoffs and allowing the Philadelphia Flyers to go on their Stanley Cup run, even though they were bested by the Chicago Blackhawks in the finals. Jokinen had been, by most hockey measures, at least a half-decent player all his career. The one-play legacy is the ultimate example of small sample size, the very thing that we basement-blogging nerds rage against. Small sample size is the worst enemy of most statistics. Alex Rodriguez batting .156 looks pretty terrible before you find out that's only in eight games. Francisco Cervelli batted .360 with a .848 OPS….in April 2010.
Think about it. As Yankee fans, we'll always remember Aaron Boone's game 7 home run off Tim Wakefield.  Boone played major league baseball for thirteen years, and out of all those years (4329 career plate appearances), he showed up in a hundred games or more for only half of them. He was traded for in the middle of 2003 and appeared in only 54 regular season games with the Yankees. He never hit over 30 home runs. He never batted over .300. His career batting numbers are .263/.326/.425 with a 94 OPS+. There is absolutely nothing notable here.  He was a Randy Winn or a Josh Towers. But then, of course, he came up in the eleventh inning of the ALCS Game 7 after pinch running in the eighth, and now no one will ever forget him. The ad on his baseball reference page even features the play.  My favorite part about the Aaron Boone home run is that we lost that World Series against Josh Beckett's Marlins, and this never, ever comes up in the Aaron Boone discussion. That memorable home run, viewed through the lens of contemporary Yankees success mentality (World Series or bust!) was ultimately futile. It did nothing aside from give Yankees fans one more year to rub "the Curse of the Bambino" in Boston's face. Little did we know what awaited us next year….
Just like Boone's single plate appearance lifted him from forgettable bench player to historical Yankee figure, one play can make fans think a good ballplayer is worth absolutely nothing. I'm pretty sure I don't need to go into detail about Luis Castillo given my audience, but he dropped a routine pop-up in an effectively meaningless summer game, allowing the Yankees to score two runs, win the game, and eventually win the World Series. Okay, maybe the two things weren't connected, but Castillo's error lead to an exaggeration in his vilification (which was already prevalent) by Mets fans and a massive increase of ribbing by everyone else in baseball. When Castillo was released not too long ago, even Sandy Alderson was quoted over at ESPN saying, "I don't think there's any question that there's some linkage between his situation and a perception of the Mets that has existed to this point. That's something that was taken into account. At some point, you have to make an organizational decision that goes beyond just an ability to play or not play." As Mets blog Amazin Avenue, pointed out, Castillo was certainly good enough to be on the Mets: his career .290/.368/.351 is solid, and the 2009 where he hit .301 is closer to his norm than the .234 he hit in 2010. It's worth noting that he also only played in 84 games last year due to a lingering foot injury caused by a nasty bone bruise.  Castillo's not a bad baseball player, but the fact that everyone knows him for one error makes him seem far, far worse than he actually is.
Bill Buckner. Bucky Dent. Armando Galarraga. Dallas Braden. These names have plays – or in the case of the two pitchers, games – that stand out in their careers. Despite throwing an almost-perfect game (for our purposes, it was perfect on Galarraga's end), the Tigers wouldn't even carry him on their roster in 2011, and he's now pitching for Arizona. Braden's 4.00 FIP and 4.20 ERA are not as remotely impressive as the perfect game he threw on Mother's Day. It's these kind of events that highlight the unpredictability of baseball and, even more so, remind both us as fans that anyone can do anything – but when you're trying to build the best baseball team you can or blame a losing streak on someone, it's probably worth looking at the long-term numbers and not just remembering the best or worst play you can think of.