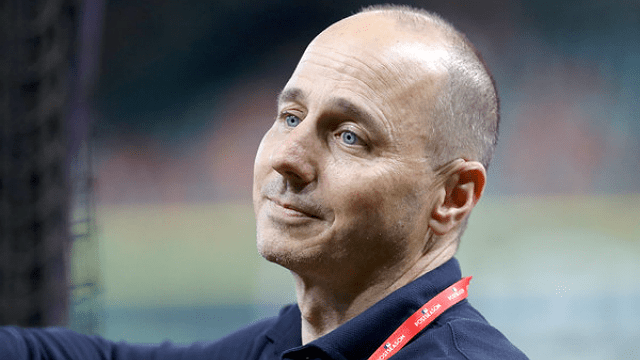 While little has happened in terms of hot stove action, the Yankees are still poised for a seminal offseason. If they sign Manny Machado and Bryce Harper and Patrick Corbin and…there will be ripple effects on the franchise for years, even a decade to come. The same will be true if the Yankees don't go big and opt not to sign all or any of those players. I've been clear that I want the team to flex its financial muscles and go, in Brian Cashman's words, 'big game hunting,' but I have my doubts that it will happen. Let's say my doubts aren't unfounded and my Plan A of "sign the hell out of everyone" doesn't come true. What's my Plan B look like?
I suppose I should acknowledge that my Plan B would probably be the Plan A for most organizations, but given the financial resources of the Yankees, their Plan B could be more expensive.
If Machado and Harper are the main parts of Plan A, their Plan be coutnerparts should both be from the infield and the outfield respectively. How about Marwin Gonzalez and Michael Brantley? Gonzalez features a league average bat and he can play all over the place, both infield and outfield. This sort of versatility will be good for the Yankees once Didi Gregorius returns from injury. I considered Jed Lowrie for this spot, but he will likely get a chance to start at second all year instead of having to settle for being a backup or supersub when Didi gets back. Gonzalez is a bit more suited for that role.
Even though the Yankees brought back Brett Gardner and he could start, they're not paying him starter money and he's probably not of that caliber anymore. Enter Michael Brantley. He reestablished himself last year, playing in 143 games, hitting to the tune of a 124 wRC+. He may not bring a ton of power–career .135 ISO–but he has an acceptable career walk rate (7.8%) and a low strikeout rate (10.7%) and would give the Yankees stability at the bottom of the lineup. Gardner could still be a suitable defensive caddie for Brantley in the later innings, too.
This next move should be part of Plan A, but I'll include it here as it might be superfluous if the Yankees do get Harper and Machado: swing a trade for Carlos Santana of the Phillies. Greg Bird can't be trusted at first and without the presence of Harper and/or Machado, the Yankees can't afford to gamble on Luke Voit repeating–or approximating–his late 2018 run. Santana is a steady offensive presence who offers patience, power, and a relatively low strikeout rate for a guy with a .195 career ISO. While he's older and more expensive than the incumbent(s), he's a safer bet to produce at a high level. Add in some DH days for health and you'll have an even more productive player (who already plays 155+ games a year).
On the pitching side, Corbin is definitely Plan A, as would be swinging a trade for Cory Kluber or Carlos Carrasco. The only thing left to do, really, would be re-sign JA Happ. I don't really love any of the other options, unless you could entice Charlie Morton to come on over. For a moment, I thought about keeping Sonny Gray, but I don't see any way that happens, even if he is a great bounceback candidate.
If the Yankees have to go with a Plan B, it probably makes the most sense to go with the pitching side of things. That needs more improvement than the lineup. However, again, there's no reason the Yankees can't go with a Plan A approach. They have the money. They have the space. Get it done.