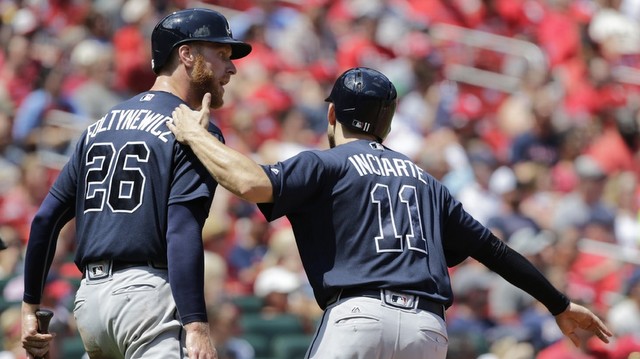 4:28pm ET: Heyman's post has been changed and now says the last known request was simply "two young players." Foltynewicz and Inciarte are no longer mentioned by name. Developing!
3:30pm ET: According to Jon Heyman, the Yankees' "last known request" during Brian McCann trade talks with the Braves was hard-throwing righty Mike Foltynewicz and outfielder Ender Inciarte. Atlanta was apparently willing to eat half of McCann's $17M annual salary, but they also wanted to give up lesser prospects.
McCann has already cleared trade waivers, and while Heyman says no deal is close, the Yankees are expected to continue listening to offers for their starting catcher. The Braves make sense as a trade partner. McCann played all those years with the Braves, he's from the Atlanta area, and he'd give them a veteran catcher to lead their young pitchers as they make the transition from rebuilder to contender.
Foltynewicz, 24, was drafted by the Astros and included in the Evan Gattis trade. He has a 4.37 ERA (4.67 FIP) in 78.1 innings this year, and a 5.10 ERA (4.87 FIP) in 183.2 career big league innings. Foltynewicz throws extremely hard — PitchFX says he's topped out at 99.8 mph this season — and he fits into the Nathan Eovaldi/Michael Pineda class of "hard-throwing but hittable" pitchers. Here's video:
The 25-year-old Inciarte was part of the Shelby Miller trade and is a WAR All-Star who posts insane defensive numbers. He's a very good outfielder, don't get me wrong, but the numbers are a bit skewed because he bounces between the three outfield spots. That messes with the positional adjustments. Inciarte hit .303/.338/.408 (100 wRC+) last year but has zero track record of being a threat at the plate. His numbers dropped back down to .267/.325/.340 (81 wRC+) this year.
I don't know about you, but Foltynewicz and Inciarte seems light to me. Unless you're expecting Foltynewicz to take a huge jump forward soon and/or believe 2015 Inciarte is the real Inciarte, you're talking a project pitcher and a role player for an above-average everyday catcher. The Yankees shouldn't dump McCann for the sake of dumping him. He's not blocking Gary Sanchez. The two can co-exist. They are right now!
The Yankees love their big stuff project pitchers — they haven't had much success turning them into productive big leaguers, but I digress — so it's not really a surprise they wanted Foltynewicz. I have no idea what they'd do with Inciarte. Flip him elsewhere? How many low-power lefty hitting outfielders can one team carry? The Yankees have Brett Gardner and Jacoby Ellsbury in MLB, plus Mason Williams, Ben Gamel, and Jake Cave in Triple-A.
I don't think Foltynewicz and Inciarte was an unreasonable request by the Yankees. If anything, it was probably a little light, especially if the Braves were only willing to pay half McCann's salary. It sounds like the Yankees will continue to listen to offers for McCann and I'm sure they'll circle back around with the Braves at some point. This won't be the last time we hear about a potential McCann deal.