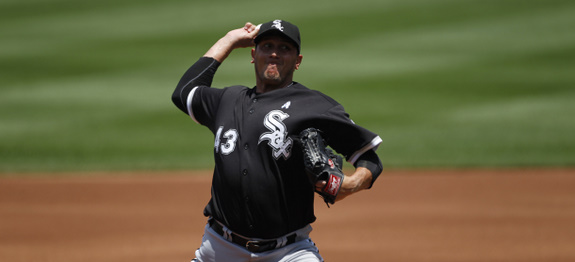 Aside from making Rafael Soriano the highest paid middle reliever in baseball history, it's been a pretty uneventful offseason for the Yankees on the pitching front. That's bad news, because they really needed to add at least one quality starter this offseason, and so far they've added zero. Jon Heyman says the Yankees are still considering Freddy Garcia, who is unlikely to solve many problems, if any. This comes after we heard the Yanks reviewed the righty's medicals last month.
Garcia, now 34, managed to throw 157 innings for the White Sox last year. His ERA (4.64), FIP (4.77), and xFIP (4.59) were all close enough to each other that we can assume he didn't benefit or suffer from any luck, and it was the first time he managed to eclipse even 60 innings pitched since 2006. His strikeout (5.10 K/9), walk (2.29 uIBB/9), and homerun (1.32 HR/9) rates in 2010 weren't much better than Sergio Mitre's (4.83, 2.67, 1.17 respectively) at all. It's just hard to find this even remotely appetizing after watching Jeff Francis sign for half the guaranteed money the Yanks will pay Pedro Feliciano this year.
Freddy Garcia? Really? There's no harm in reviewing medicals, but it's been a month and they're still considering the guy. Do the Yankees really think they'd be better off with this guy starting every five days than Joba Chamberlain? I usually expect common sense to win out in the end, but the decision-makers seem hellbent on minimizing Joba's value as much as possible. Pffft, Freddy Garcia. If you're going to stoop that low, just throw Hector Noesi or David Phelps out there and hope for the best.