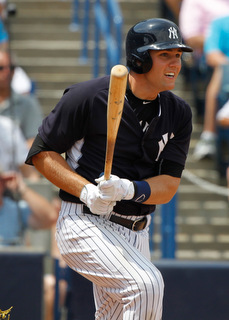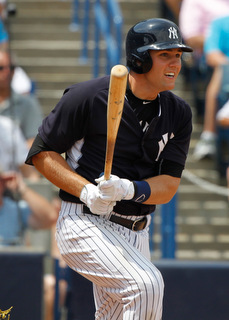 According to Chad Jennings, the Yankees have decided to not send third base prospect Eric Jagielo to the Arizona Fall League this year. Jagielo was one of six players the team originally planned to sent to the desert this year, along with Gary Sanchez, Tyler Wade, Dustin Fowler, Chaz Hebert, and Tyler Webb. Ian Clarkin was added to the roster yesterday.
"Everything we're doing right now is more with an eye toward 2016 and making sure he's ready for Spring Training," said assistant GM Billy Eppler to Jennings. Jagielo suffered a knee injury sliding into home plate in late-June this year and later had the knee scoped. The injury ended his season. A recent check-up showed everything is healing well, but apparently the Yankees decided not to push it.
Jagielo, 23, will miss the Arizona Fall League for the second straight year. He was scheduled to play the AzFL last season before being hit in the face by a pitch during Instructional League. Jagielo suffered a facial fracture and had to have surgery, so he was unable to play. This year it's the knee injury keeping him from playing the AzFL. Two dumb, fluky injuries. So it goes.
In 58 games with Double-A Trenton this year, Jagielo hit .284/.347/.495 (141 wRC+) with nine home runs. He's a career .266/.356/.469 (140 wRC+) hitter with 33 homers in 205 pro games since being the first of New York's three first round picks in the 2013 draft. (Aaron Judge and Ian Clarkin were the other two.) Jagielo missed time with an oblique injury last year as well.
Outfielder Tyler Austin will replace Jagielo on the Surprise Saguaros roster. Technically it's an infielder-for-infielder replacement, so Austin will end up playing a whole bunch of first base (and maybe third base? he has experience there) in the AzFL. The Yankees outrighted Austin off the 40-man roster a week ago but apparently still think enough of him to send him to the Fall League.
"He's still young. (There is) a chance for him to continue to bridge the gap," said Eppler. Austin, 24, hit .240/.315/.343 (92 wRC+) with six homers in 94 games split between Triple-A Scranton and Double-A Trenton this year. He started the season with the RailRiders, but played so poorly he had to be demoted at midseason. Maybe he can get himself back on track in the AzFL.
The 32-game AzFL season begins October 13th and runs through November 19th. The Championship Game is scheduled for November 21st. Yankees prospects will play on a team with Royals, Brewers, Cardinals, and Rangers prospects.