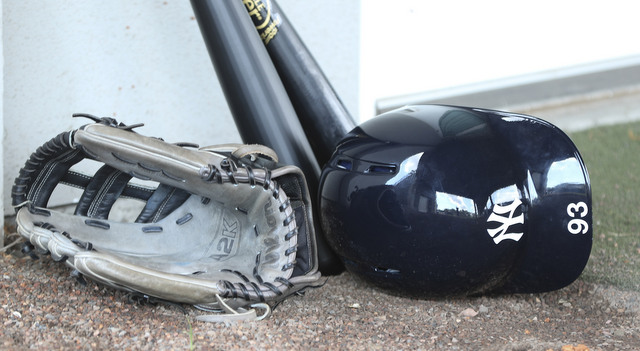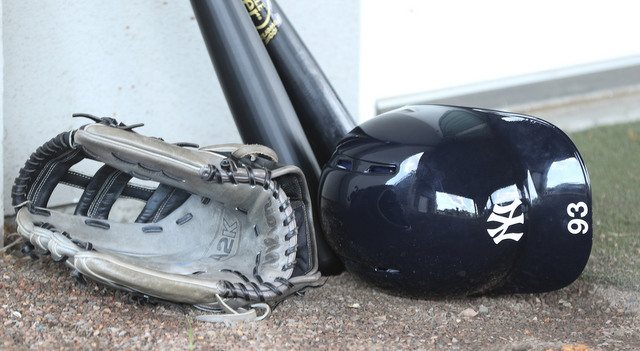 We are now a day and a half away from pitchers and catchers reporting to Tampa for the start of Spring Training. Of course, a bunch of players are already working out at the minor league complex, so a bunch of spring notes have been trickling in the last few days. Here's a quick roundup, via Bryan Hoch, Anthony McCarron, and Erik Boland.
2016 Captain's Camp underway
The second annual Captain's Camp is underway and the Yankees have been shuttling in former players, executives, and media folks to talk to their top young prospects. CC Sabathia, Andy Pettitte, Jorge Posada, Alfonso Soriano, and Darryl Strawberry have all stopped by the Tampa complex to spend time with the kids. Derek Jeter took them all out to dinner last night.
"What's encouraging to me is that we don't pay anybody to come. We have a lot of really good people that are coming in to talk to our guys, just to voluntarily share what they've learned over the years," said farm system head Gary Denbo, who came up with the idea for Captain's Camp last year. Denbo confirmed more prospects were invited this year as the Yankees look to groom their next young core.
Interestingly, the Yankees selected two Captain's Camp "leaders" this year: outfielder Aaron Judge and right-hander Brady Lail. "We picked a pitcher and we picked a position player that we thought could lead by example and through their actions. They've done a tremendous job," said Denbo. I think the whole Captain's Camp idea is pretty cool. Being a big leaguer is hard and it's great the Yankees are doing whatever they can to help their prospects get to the next level.
All goes well as Tanaka throws off a mound
Over the weekend Masahiro Tanaka threw off a mound for the first time in Tampa — he threw off a mound at Yankee Stadium last week — and everything is going well with his surgically repaired elbow so far. "(Tanaka) didn't try to push it too much, but it was good. He wasn't midseason form, but he was where he should be," said pitching coach Larry Rothschild of the 20-pitch throwing session. Tanaka played long toss yesterday as well.
Tanaka had surgery to remove a bone spur from his elbow in October and depending who you ask, he is either right on schedule or the Yankees are handling him carefully. I suppose both can be true. Tanaka says he's unsure if he'll ready for Opening Day, Rothschild says he's right on schedule, and Brian Cashman says they'll take it easy with him in camp. Either way, so far, so good. "We'll keep throwing. We'll probably do a mound (session) within the next couple days, and then just keep progressing from there," said Rothschild.
Pineda wants to throw 200 innings in 2016
Standard Spring Training story alert: [Pitcher] who has never thrown 200 innings in a season wants to throw 200 innings this year. In this case [Pitcher] is Michael Pineda. "I want to throw 200 innings this year. That's my goal," he said. "You always want to do better. Sometimes we have good games, sometimes we have bad games … Now it's a new year and a new season is coming and I want to be ready and prepared to have a great year."
Pineda built a gym in his home this offseason and he is "looking slimmed down," according to Boland. Of course, the biggest issue with Big Mike is health. He was on track to throw roughly 200 innings last season before missing most of August with a forearm issue. Pineda seems like the biggest wildcard on the staff. His upside is so obvious and yet, as we saw last year, the results don't always match the stuff. He's frustrating and also way too talented to give up on.
Pettitte throws batting practice, may be back later in spring
While in town for Captain's Camp, Pettitte threw batting practice to several of the team's top prospects for about 30 minutes yesterday. "If I'm going to be here, y'all ought to use me. The wind was blowing out. Judge, I think, hit a couple on Dale Mabry (Boulevard)," he joked.
Pettitte may return to Spring Training in a few weeks — he was asked about coming back as a player and answered with a straight "No," in case you're wondering — depending on his schedule. "I'm going to try to, but I have to see the kids' games, the way it works out" he said. "I love being down here, love being around these young guys. It's extremely important to me, also, because of what the Yankees have been to me."