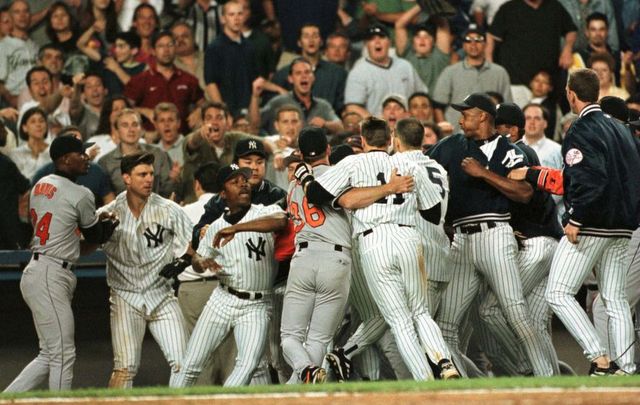 In 1998, the Yankees and Orioles were heading in opposite directions. The Yankees were emerging as baseball's dominant team and were about to win the first of three straight World Series titles and four straight AL pennants. The Orioles, after winning 98 games in 1997, were in the first year of what would be 14 straight losing seasons.
Long story short, age was beginning to catch up to the Orioles in 1998. Cal Ripken Jr. was done as an impact everyday player, Roberto Alomar had one of the worst seasons of his career, and other 30-somethings like B.J. Surhoff and Brady Anderson had slipped. The rotation behind Mike Mussina and Scott Erickson was a mess too.
On the morning of May 19th, the Orioles were 20-23 and five games into what would eventually be a nine-game losing streak, their longest since starting the 1988 season 0-21. They'd lost 18 of their previous 28 games overall. There was already talk the O's could be ripped apart at the trade deadline given all their impending free agents.
The Yankees, meanwhile, were 28-9 on the morning of May 19th and had the league's best record. David Wells had thrown a perfect game two days earlier. The Yankees were great and everyone knew it. The Orioles were mediocre, descending to bad, and everyone knew it too. When their paths crossed on May 19th, it got ugly.
* * *
For the first seven and a half innings on May 19th, the Yankees and Orioles played a fairly nondescript game. David Cone wasn't sharp, allowing five runs in six innings as the O's nursed a 5-1 lead going into the bottom of the seventh. Harold Baines had driven in three of his team's five runs with a pair of singles.
The Yankees started their comeback in the seventh inning against rookie reliever Sidney Ponson, who was pitching in his eighth big league game. Doubles by Chuck Knoblauch and Paul O'Neill, and a single by Tim Raines cut the O's lead to 5-3. Ponson went back out for the eighth and created a mess with back-to-back one-out walks to Jorge Posada and Knoblauch.
Considering the O's still fancied themselves a contender that early in the season and desperately wanted to right the ship, manager Ray Miller went with his top relievers in the eighth inning. Alan Mills came in to get Derek Jeter to fly out to right field for the second out. Norm Charlton came in for the left-on-left matchup against O'Neill, but O'Neill singled to score Posada to get the Yankees to within a run.
One year earlier, the Orioles had one of the best closer-setup man combinations in baseball with Randy Myers and Armando Benitez. Myers saved 45 games with a 1.54 ERA while Benitez, then 24, struck out 106 batters in 73.1 innings with a 2.45 ERA. That was back when striking out 100 batters out of the bullpen really meant something. Nowadays it seems like every team has a guy like that.
Anyway, the O's allowed Myers to leave as a free agent during the 1997-98 offseason, and inserted Benitez as their closer. Going into that game on May 19th, he had a 3.57 ERA with 31 strikeouts in 17.2 innings, but also 17 walks. The transition to closer was not going smoothly for Benitez and he's one of the reasons the Orioles struggled that season.
Miller brought in Benitez for the four-out save after O'Neill's single. The Yankees were down a run, but had runners on first and second with two outs, and Bernie Williams at the plate. Bernie hit Benitez's fourth pitch into the right field seats for a go-ahead three-run home run. Benitez's fifth pitch hit Tino Martinez square in the back, right betwen the 2 and 4 in 24, and chaos ensued.
As intentional as it gets. After the game home plate umpire Drew Coble said he ejected Benitez "almost before the pitch got there … I felt he would throw at him. I didn't feel he would throw up at his head like he did." Benitez of course denied throwing at Tino. He said he was only trying to pitch inside. The way he instigated the brawl by throwing down his glove and pointing at the Yankees dugout said otherwise.
To make matters worse, Benitez and Tino had a history. Three years earlier, when Martinez was still with the Mariners, Benitez hit him with a pitch immediately after giving up a grand slam to Edgar Martinez. I can't find video of that beaning, but it did happen. Here's the box score of the game. Edgar grand slam, Tino first pitch hit-by-pitch by Benitez. Bernie three-run homer, Tino first pitch hit-by-pitch by Benitez.
The brawl itself lasted nearly ten minutes and spilled into the visitor's dugout. Mills, Benitez, Darryl Strawberry, and Graeme Lloyd threw the most vicious haymakers. To wit: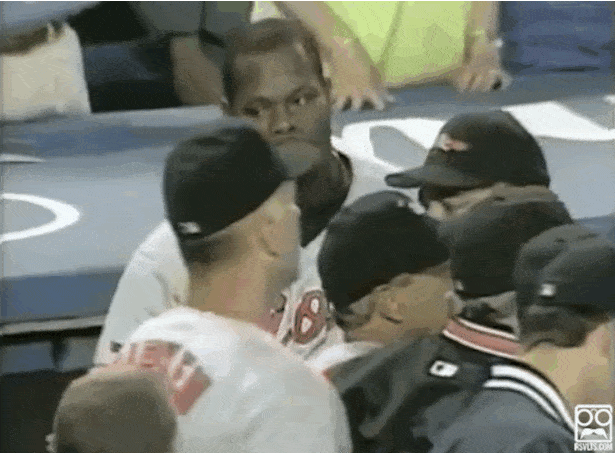 Goodness. Once order was restored on the field, Raines took Bobby Munoz deep to drive in Tino for one last little bit of poetic justice. The Yankees went on to win the game 9-5 thanks to their six-run eighth inning. The Orioles had lost again, and after the game, no teammates defended Benitez. One unnamed Orioles player called him "25 going on 15," according to Tom Verducci.
"Sometimes you've got a young, immature guy who loses control," said Miller to Buster Olney after the game. "It's certainly not what the rest of the guys stand for."
"I've never seen anything like that in 25 years. That guy that pitcher should be suspended for the rest of the year. That was a classless act. He's got no class," George Steinbrenner said to Joe Strauss. Peter Angelos, Orioles owner and longtime Steinbrenner foe, even called George to apologize.
Suspensions were handed down quickly. Benitez received an eight-game suspension, Strawberry and Lloyd each received three games, and Jeff Nelson and Mills each received two games. There were a bunch of fines as well.
"The severity of the discipline reflects the gravity of the offenses," said AL president Gene Budig in a statement. "Mr. Benitez not only intentionally threw at Martinez, but the location of the pitch was extremely dangerous and could have seriously injured the player … This was a highly unfortunate and highly dangerous on-field situation. The events demand swift and stern action. A player's safety is of utmost importance."
Everyone remembers the brawl. No one remembers it spilled over into the next game. The next day, Jimmy Key's first pitch was up and in, forcing Knoblauch to duck out of the way. Later in the first inning, after Raines singled home a run, Key drilled Chad Curtis. Hideki Irabu responded by hitting Mike Bordick in the second and Brady Anderson in the fifth. Benches never did clear though.
Because the suspensions were allowed to be served sequentially — they were served one after the other, not at the same time to avoid leaving each team shorthanded — Lloyd was eligible pitch in that game. He received a big ovation when he was brought in to pitch, something that had never happened before given his somewhat rocky tenure with the Yankees. "I looked up to make sure I brought in the right pitcher," said Joe Torre to Jack Curry after the game.
"It's great to be appreciated for things you do," Lloyd said to Curry. "I want to be appreciated for my pitching. Sometimes I have to stand up for myself and my teammates."
After the brawl the O's continued to collapse and the Yankees continued to win. It made for a fun "the brawl brought the Yankees together" narrative, but the fact of the matter is the Yankees were very good, and they kept winning because they were very good. If the brawl brought them closer together, neat. They didn't need the help though.
"Let's get it behind us," said Steinbrenner to Curry. "The way to get these guys is by winning the pennant and winning the American League East."