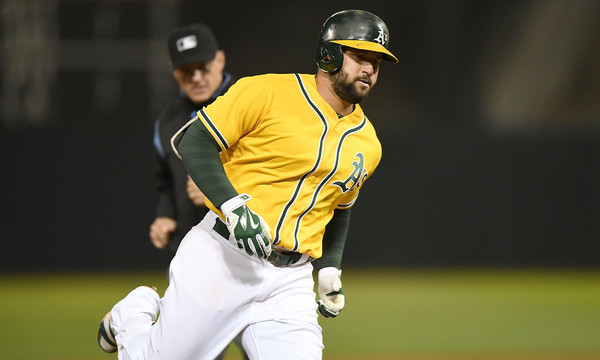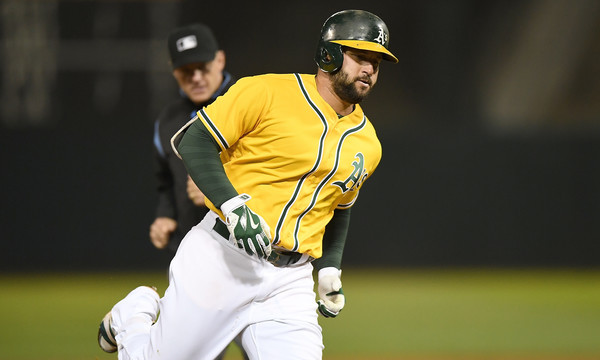 Remember the offseason, when Greg Bird and various supporting cast members couldn't possibly provide less production at first base than Mark Teixeira last year? Good times. We were so naive. So far this season Yankees first basemen are hitting .192/.291/.355 (54 OPS+) overall, easily the worst production in the league. This is the position with the highest offensive bar. It has been capital-B Bad.
Bird has been on the disabled list since early May with an ankle issue, and last week he suffered a setback that will sideline him for an unknown length of time. He saw a specialist yesterday and we've yet to get an update. Given the setback and Chris Carter's inability to find sustained success, it's time for the Yankees to begin looking outside the organization for first base help. Carter isn't cutting it and the Yankees have to give Bird all the time he needs to get healthy.
One first baseman who is very likely to be available at the trade deadline is Athletics masher Yonder Alonso, an impending free agent having a career year offensively. The 30-year-old is hitting .299/.392/.619 (168 wRC+) with a career high 17 home runs already. His previous career high was nine homers back in 2012. The Athletics have the worst record in the American League and it stands to reason they'll, at the very least, listen to offers for Alonso.
Does Alonso make sense for the Yankees? Well, yes. That's easy. A left-handed hitter with those numbers and solid defense is pretty much exactly what the Yankees need. That's what they hoped to get from Bird! There are two questions here. One, why should we expect Alonso to keep up this level of production? He's never done it before. And two, what's it going to cost? Let's try to answer those.
The Fly Ball Revolution
Thanks largely to Statcast, there's a lot of talk these days about launch angle and a renewed emphasis on getting the ball airborne. I refuse to believe Major Leaguers are just now figuring out that hitting home runs and getting the ball in the air are good things, though now we can better quantify that, and perhaps that helps in some way. I'm certain teams use this data to educate their players and make mechanical tweaks.
Alonso, maybe moreso than any player in the league, has not only bought into the fly ball revolution, he's also excelled at putting it into practice. It's one thing to say or know you need to do something. It's another to actually do it. Baseball is hard! Becoming an extreme fly ball hitter is not like flipping a light switch. Here are Alonso's batted ball rates over the years: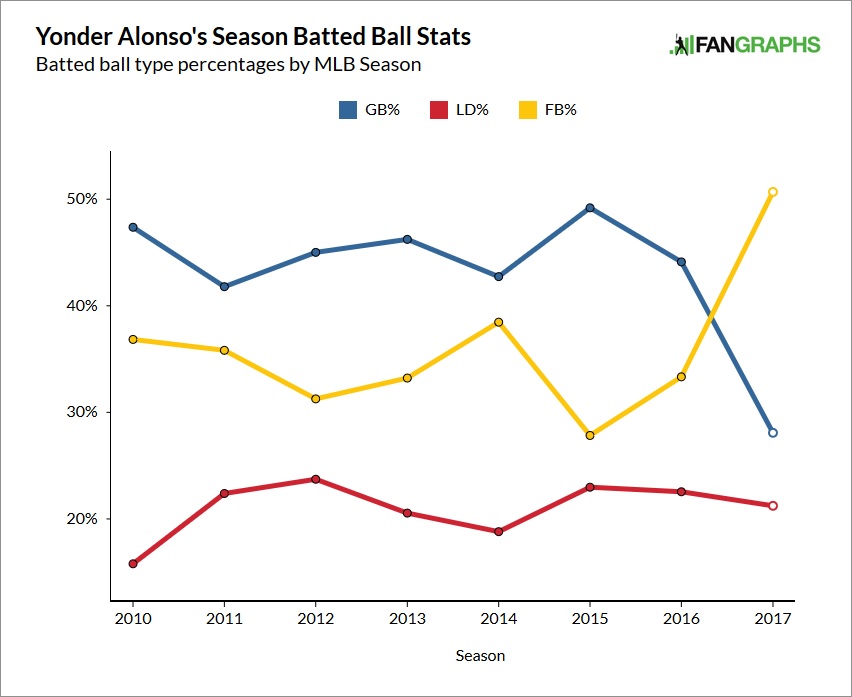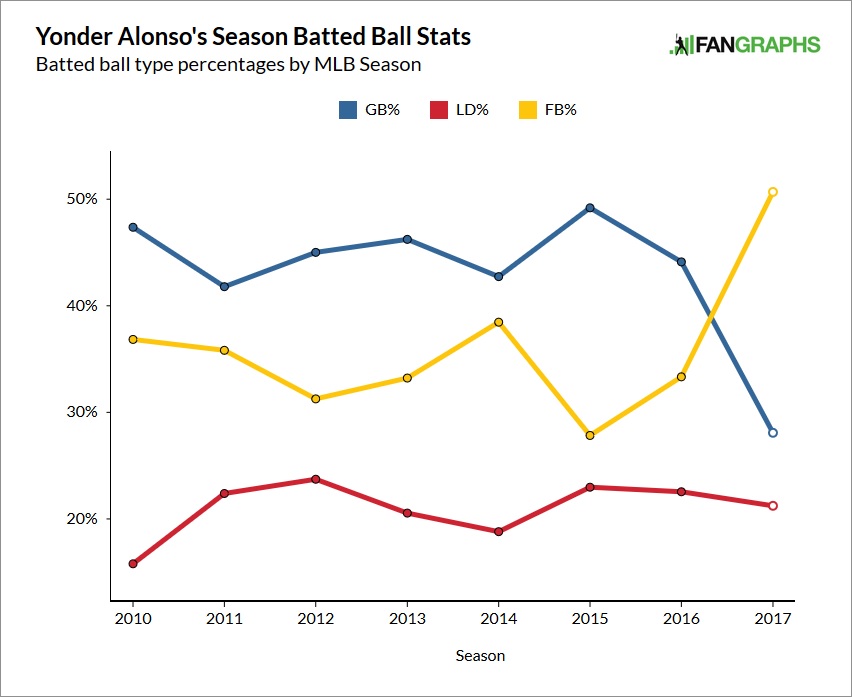 Yup. Before this season, Alonso's career low ground ball rate was 41.8% in 2011. His career high fly ball rate was 38.5% in 2014. So far this season he's at 28.1% ground balls and 50.7% fly balls. Statcast data goes back to 2015, so here are Alonso's 2015-16 launch angles and his 2017 launch angles: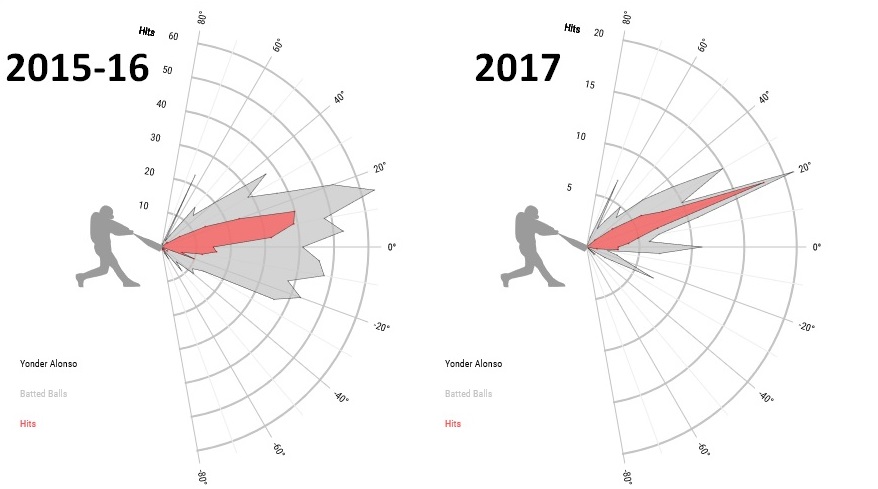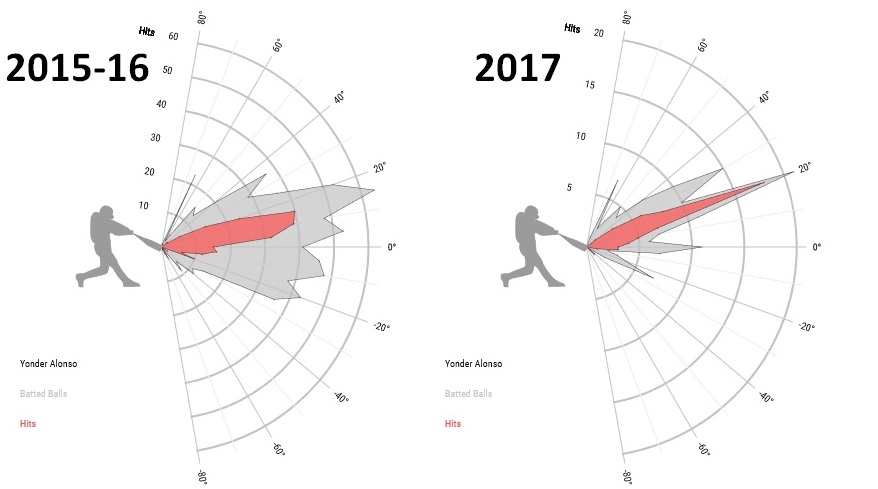 The ideal launch angle is 10-30 degrees. Below that and you hit a grounder. Above that and you hit a pop-up. Anything from 10-25 degrees is likely a line drive (depending on how hard the ball is struck, i.e. exit velocity). Most home runs fall in the 25-30 degree range. From 2015-16, Alonso's average launch angle was 9.1 degrees. 9.1! This year it's 21.8 degrees.
It's also worth noting Alonso's hard contact rate (36.3%) and strikeout rate (22.5%) are career highs for a full season as well, which perhaps indicate he's selling out for power a bit. (Like Matt Holliday?) In an effort to get the ball in the air, he's swinging harder than ever, which inevitably leads to more whiffs.
Here's a look at 2016 Alonso vs. 2017 Alonso. If a guy is hitting way more fly balls and way fewer ground balls, in addition to more hard contact and strikeouts, surely his swing is going to look a little different, right? I'd assume so. 2016 Alonso is on the left. 2017 Alonso is on the right.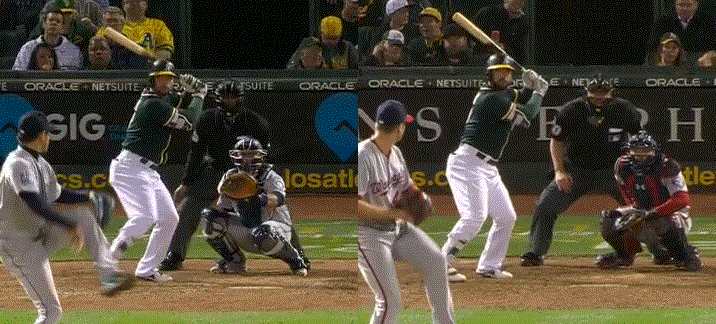 Looks … pretty much exactly the same? Dammit. I hate when that happens. Yonder has always had a pretty swing. That's one of the main reasons he was the seventh overall pick in the 2008 draft. He just never developed the power many expected. At least not until this season. Before this year, he was basically James Loney 2.0.
Anyway, as for the GIFs, Alonso still uses both one-handed and two-handed follow-throughs regularly, so that's not it. The GIFs are synced up at the moment his front foot touches down, and it does seem his leg lift is a little shorter this year. His leg hangs in the air a little longer in the GIF on the left, from 2016. Also, Alonso's head is much more still in the 2017 GIF. Last year there was some herky-jerkiness in there. Keeping your head still is kinda important.
Ken Rosenthal recently profiled Alonso, who did some soul-searching this past offseason and was not happy with the way his career was playing out. From Rosenthal:
"It's pretty simple," Alonso says. "I was heading in a direction where I saw my career on the downfall. I think in August and September of last year I realized that if I don't make some adjustments, I will be heading into a backup role, not get the at-bats that I want.

"I'm 30 years old. I'm in my prime. I pretty much was very truthful honest with myself. I realized that if you're going to play first base, you've got to make sure you're doing everything to make yourself valuable. I needed to work on my hitting."
Alonso told Rosenthal he consulted with many former teammates and players around the league in the offseason. Everyone from Joey Votto to Rougned Odor to Danny Valencia to Carlos Beltran. Rosenthal and Susan Slusser say Alonso even sent video of his at-bats to Votto and Beltran for advice. This is a player who was not happy with his career, sought help, made changes, and is now reaping the rewards. Hooray hard work!
The Yonder Alonso we're seeing this year is not the same Yonder Alonso as the past five years. He has made a drastic change to his batted ball profile and is now hitting the ball harder and in the air far more often than ever before. The difference is enormous. The power spike is not necessarily a fluke. It would be if Alonso were the same hitter with the same batted ball profile as in the past. That's not the case though. He's a different hitter. Because of that, there is reason to believe this version of Alonso is here to stay.
What's it going to cost?
Alonso is a rental, not a long-term buy, which takes a bite out of his trade value. The A's can still market him as an impact hitter, however. Here's a list of rental bats traded at the deadline the last two years:
Jay Bruce: Traded for an up-and-down depth infielder (Dilson Herrera) and one organizational top 20 prospect (Max Wotell). (Bruce's contract did in include a club option for another year.)
Carlos Beltran: Traded for a preseason top 50-75 global prospect (Dillon Tate) and two non-top 30 organizational prospects (Erik Swanson, Nick Green).
Yoenis Cespedes: Traded for a preseason top 50-75 global prospect (Michael Fulmer) and a top 20 organizational prospect (Luis Cessa).
Gerardo Parra: Traded for an organizational top ten prospect (Zach Davies).
Ben Zobrist: Traded for a preseason top 50-75 global prospect (Sean Manaea) and an up-and-down depth arm (Aaron Brooks).
Decent sample! The best comparable to Alonso is probably Parra, right? Beltran, Cespedes, and Zobrist were all high-end producers with long track records at the time of the trade. Bruce had some pretty great years earlier in career before slipping a bit, partly due to injuries.
Parra, meanwhile, was a solid player from 2009-14 who was an average-ish hitter and an above-average defender. He then had a huge first half with the Brewers in 2015, hitting .328/.369/.517 (137 wRC+) in 100 games, which is when they flipped him to the Orioles. Parra then hit .237/.268/.357 (66 wRC+) with the O's. Heh.
There was no real reason to believe Parra was a changed hitter, however. That 2015 first half was a .372 BABIP fueled hot streak. Baltimore then dealt with the correction. With Alonso, there are tangible reasons to believe he is a different hitter now, specifically the sudden surge in fly balls. Parra had a hot streak. Alonso is a new player.
Davies actually represented the Orioles in the 2015 Futures Game, though he was by no means a top prospect. He was a good prospect in a bad farm system. Davies was a top ten prospect in that system. Bring a top ten prospect in the Yankees' system means being in the conversation for top 100 lists. Davies is not comparable to, say, Chance Adams. Not close.
The current Yankees equivalent of Davies is probably Domingo German, though they are very different pitchers. (Davies is finesse, German is power.) German for Alonso? I'd do it, which probably means the A's would not. Then again, the Athletics have made some terrible trades of late, so who knows. Maybe they'd go nuts for Tyler Austin or Rob Refsnyder. They seem like "random players the A's build a trade around" players, no?
Keep in mind Matt Adams, a pretty similar player to Alonso, was traded straight up for a non-top 30 lower level prospect a few weeks ago (Juan Yepez). How many of these first base masher types were unsigned in February? The market for them is not robust. Alonso is better than Adams — he's performing better at the time of the trade, plus he can play defense — but not so much better that it'll take a top prospect to get him.
There aren't many teams in need of first base or DH help at the moment. That could always change with an injury, but looking around the league, the only contenders with a need at either position right now are … the Yankees? That's about it. Maybe the Cardinals if they're willing to put Matt Carpenter at third and Jedd Gyorko at second. I suppose the Mariners could be in the mix too. That's pretty much it.
So, given the overall lack of suitors and the fact Alonso's track record is not long at all, it should not take a top prospect to get him. It might take two okay prospects, but not a great prospect. Not a top seven or eight prospect in the system. The Yankees have a ton of minor league depth and using some of it to improve the big league team through trades only makes sense.
Okay, so does Alonso still make sense?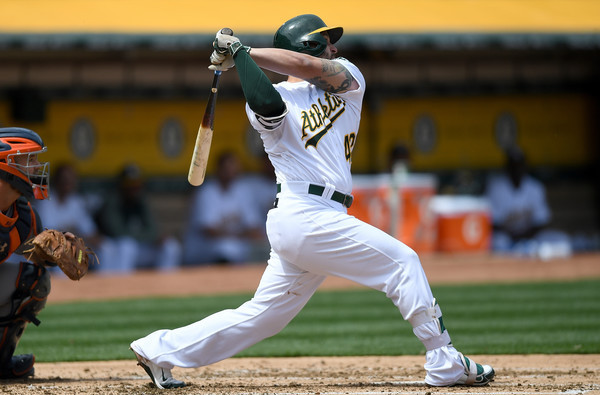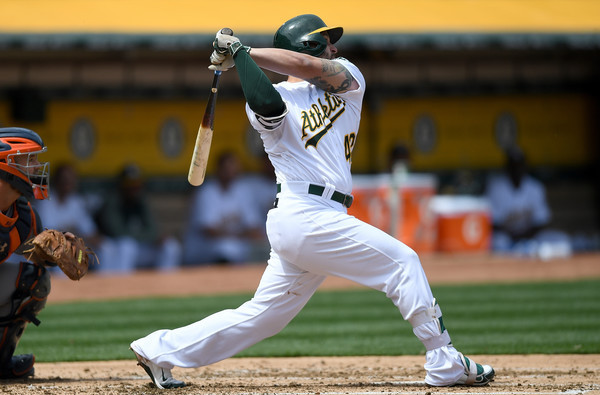 I'm a big believer in not paying for outlier performance at the trade deadline. Example: Parra! Also: Xavier Nady. He had a huge first half with the Pirates in 2008, then went back to being regular ol' Xavier Nady after getting traded to the Yankees. You remember that, don't you?
Look at his career numbers, and this season is a clear outlier for Alonso. He's never come close to doing anything like this in the past. Unlike Parra and Nady, however, there are some indicators Alonso has changed his hitting approach in a way that allows him to hit for more power. There are reasons to believe this is all very real.
If you buy into the new Alonso — I do, the Yankees may not — then yeah, he'd be a wonderful fit for the 2017 Yankees, especially since it probably won't cost an arm and a leg to acquire him. Carter has been mostly terrible and who knows when Bird will be healthy. Given everything Bird has been through the last 18 months or so, it would behoove the team to be cautious and patient with him.
One thing I should note is that Alonso wants to remain with the Athletics long-term, so much so that he is open to foregoing free agency to sign an extension midseason. "I think that there is a great chance that I stay here. I really do mean that," he said to Rosenthal. That gives the A's some leverage in trade talks. They don't have to trade him. They could keep him and try to re-sign now, before he hits free agency.
That all said, given their shoestring budget and the fact they have other first base options in house (Ryon Healy, Matt Olson), it would make sense for the A's to at least listen to offers for Alonso. Billy Beane has a history of making trades early in the season too. This one might not have to wait until the July 31st deadline. The Yankees or any other team could probably get Alonso before the end of the month and squeeze that many more at-bats out of him.
Trading for a rental like Yonder is a win now move, and it'll be up to the Yankees to decide whether they want to do something like that. They may decide to stay the course and go with the kids, and hope Bird gets healthy soon. Or they could decide that yes, they're in the race, and yes, they have some excess prospects to trade. If they decide to make the win now move, Alonso would be pretty much the ideal first base target in my idiot blogger opinion.