Remember when I said I would like to do a rapid fire mailbag featuring a lot of questions and short answers? I'm doing that now. Remember to use the Submit A Tip box in the sidebar to send us anything, mailbag questions or otherwise.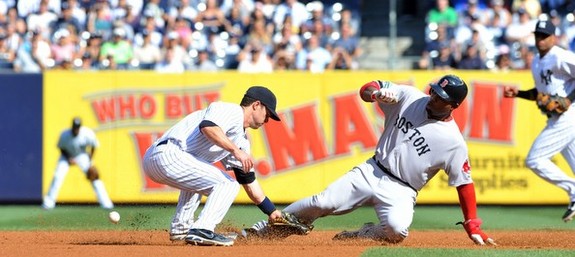 Joe asks: Do you think it's a possibility the Yankees and Dodgers swap A-Rod for Carl Crawford?
The Red Sox put a ridiculous clause in Crawford's contract prohibiting teams from trading him to the Yankees after they acquired him from Boston, so a trade isn't possible. Even if it was, I don't think the Dodgers would go for it. They'd probably rather add Alex Rodriguez to Crawford and go all-in than sell-off an undervalued asset. I think Crawford can come back and be a very good outfielder again, but it just won't be with the Yankees.
John asks: Do you think this postseason has changed the mindset of ownership on Robinson Cano? There is no question he is a great hitter but this was an opportunity to make this his team and he has totally failed. Also with history of second basemen, do you think they will not sign a new deal?
I don't expect the Yankees to change their long-term opinion of Cano based on one postseason, and frankly they shouldn't. It's not like Robbie has never hit in the playoffs (he mashed in October from 2010-2011), it's just an ill-timed (and really ugly) slump. Barring a catastrophic injury or a total collapse in performance, I fully expect the Yankees to sign Cano to a massive extension at some point in the next 12-14 months.
Mat asks: Is Lance Berkman a viable one-year stop gap? Granted he's coming off an injury but a one-year deal could make sense. With Michael Pineda needing time to heal and question marks about rotation, is Edwin Jackson another possibility? Finally with his versatility would Marco Scutaro make sense? He can back up 2B, 3B and SS and he's still showing he can hit for average.
No on Berkman, his knees are so bad that he's considering retirement because he can't run anymore. That would be too much of a risk for the Yankees to take. I do consider Jackson an option regardless of Pineda's status, but I think the team would look to re-sign Hiroki Kuroda and/or Andy Pettitte to one-year deals first. That's what I would prefer. I'm a Scutaro fan but he'll sign somewhere that guarantees him a spot in the everyday lineup, likely back with the Giants. Maybe he becomes more of an option if A-Rod is actually traded somewhere. He'd be a great fit though.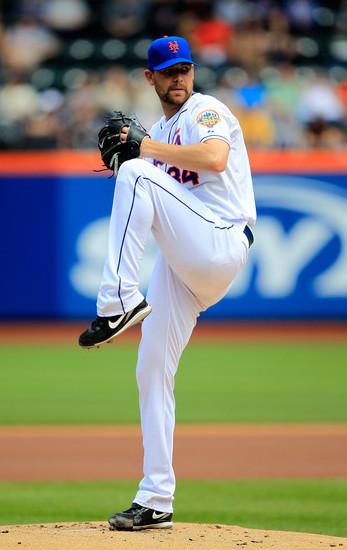 Travis asks: Would the Yankees be interested in Scott Baker, Blake Hawksworth, or Mike Pelfrey (if he is non-tendered) this coming offseason?
I'll say yes on Baker and Hawksworth but not on Pelfrey. Baker would have to be a minor league contract only since he missed all of this season and wasn't exactly Mr. Durable prior to having elbow surgery. Hawksworth has a nice arm but is just a reliever (he missed 2012 with a shoulder injury), so adding him on a minor league deal and stashing him in Triple-A for depth is fine with me. Pelfrey just flat-out isn't that good and I don't expect the light bulb to turn on after Tommy John surgery. He could be a bargain for an NL team in a big park, but not the Yankees.
Kyle asks: Hey Mike, I saw Ryan Ludwick declined his half of the mutual option and (barring a new deal) will be a free agent. Any interest as a stopgap right fielder?
I'm skeptical of Ludwick because he's never strung two really good years together back-to-back. He's struggled for a few years, had one great year, struggled again, so on and so forth. That said, the crop of reasonably-price free agent outfielders is weak and Ludwick does have the kind of big right-handed power that would play in Yankee Stadium. He wouldn't be Plan A or even Plan B, but he is a viable option.
Joe asks: What do you think about the Yanks bringing in Delmon Young to play right field? He's had his character issues in the past, however he's young and a playoff producer.
Not a fan at all. Don't care that he's young (27), don't care about his playoff performance. We've got over 3,500 plate appearances telling us he's a below average big league hitter (96 wRC+), and the last 1,100 plate appearances have been even worse (89 wRC+). Young also isn't any kind of outfielder, he's a DH. Unusable in the field. The character issues are pretty severe considering that he has a criminal record now, so add that all up and you get a big "no" here.
Travis asks:If the Rockies wanted to trade Carlos Gonzalez to the Yankees, but wanted Phil Hughes, Ivan Nova, David Phelps, David Robertson and Brett Marshall, would you do it?
That's basically every young pitcher in the organization who is a) healthy, and b) worth a damn. At the same time, Hughes will be a free agent in a year and Robertson in two years. Marshall is unproven above Double-A and we have no idea if Phelps can cut it as a starter in the big leagues. That deal would cripple the team's pitching depth, but I also don't think it's an insane asking price for someone of CarGo's caliber. I'd say no, too much pitching to sacrifice in one trade.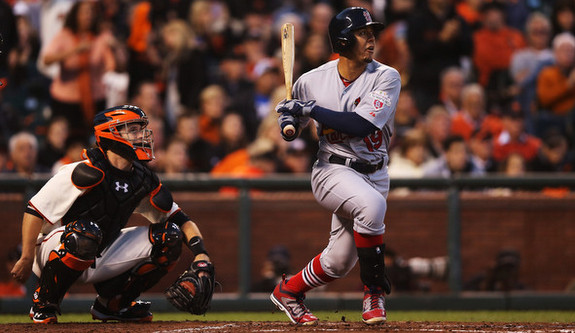 Will asks: As I'm watching the NLCS, I've had an opportunity to watch Jon Jay. His style of play really reminds me of the core guys during the late-90's. What kind of package would the Yankees have to offer for him?
It's funny, I actually liked Jay quite a bit in his draft year (2006), but he's turned into the exact opposite of what I thought he would. I thought he would develop into a .260/.370/.440 type who drew a ton of walks and hit 20+ homers while playing a decent right or left field, so basically a number six hitter. Instead, he's a .300/.380/.400 leadoff guy who plays a legitimate center field and steals bases with little power. Funny how that works. Anyway, it would take a lot to acquire him since he's still under team control for another four years, so something along the lines of the three players the Yankees gave up to acquire Curtis Granderson. I don't think the Cardinals are looking to move him anyway, but he would be a great fit for New York.
Patrick asks: How serious is Thoracic Outlet Syndrome? Have there been enough cases to know what to expect how someone's going to bounce back? How much would that procedure deter you from signing someone like Mike Adams?
Long story short, TOS occurs when a pectoral muscle (using on the pitching arm side) displaces an artery and it can lead to numbness, an aneurysm, all sorts of nasty stuff. I remember early last season, when the Yankees were still trying to figure out what was wrong with Hughes, there was some concern that he had TOS. That turned out to not be the case, however. Chris Carpenter had surgery for TOS in mid-June and didn't return to the team until mid-September, and he's the most notable recent example of the problem aside from Adams. Adams has a history of arm problems but TOS wouldn't stop me from at least kicking the tires on the right-hander, who is one of the very best relievers in the game. You'd just have to go through the medicals very thoroughly and understand that he carries more risk (and reward) and your typical free agent reliever.
Ethan asks: Would you do Hughes and Nova for Tim Lincecum? I have no idea how much this makes sense (and yes, it probably totally sucks), but with Madison Bumgarner getting tired down the stretch and maybe affecting next season, Barry Zito being Barry Zito, and Ryan Vogelsong maybe going up in smoke, I think they could use some back-enders that can at least give innings. Plus the whole AL-to-NL thing.
I would hold off on that deal for a few reasons, most notably that Lincecum has seen his performance decline steadily in recent years. He was basically league average this year in a big ballpark in the NL, so sticking him in Yankee Stadium could be quite ugly even if he doesn't decline any further and remains the same guy. You dream of him turning back into the Cy Young caliber pitcher who could dominate anywhere, but it's not a safe assumption. Lincecum will be a free agent after next season, so you're getting one year of him, plus the Yankees would be creating a rotation opening with the deal. I don't think it's an unfair asking price, if anything it's probably a steal considering what the Giants could fetch for him in a bidding war, but I don't believe it makes sense for the Yankees at the moment.