The first Spring Training cuts of the season have come out, but it's also good to see that no one has been cut off the roster, just sent off to their respective minor league camps. Today, we bring you some expert analysis (heh, heh) over who will be next to go. Keep in mind that I am not a member of the Yankees organization, and some other excellent predictions from this blog include Yankees will be unable to draft Andrew Brackman (from Mike) and, more recently, they won't sign Eric Chavez (from yours truly). Five guys were cut this time, I'll round down and make it an even four: two hitters and two pitchers.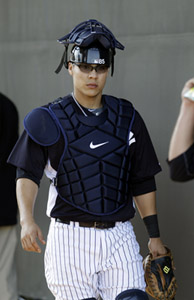 Jose Gil
The 24-year-old Venezuelan has seven at-bats in seven games and has nothing to show for it besides a walk. To his credit, though, he doesn't have any strikeouts, either. The other thing working against him is that he's a catcher, and the Yankees are absolutely set there. They've got an everyday catcher in Russell Martin and ambitious super-prospect Jesus Montero waiting in the wings. If that's not enough, there's also Francisco Cervelli, who's most likely itching to get out of the boot cast and back into the catcher's gear. Even if none of these work out (which seems unlikely), I'm willing to say Austin Romine is higher up in the depth chart than Gil. If Montero makes the bigs and Romine is in AAA, we might see him in Trenton. He played a lot of first base in Spring Training this year, though there's a lot blocking him from that angle too.
Doug Bernier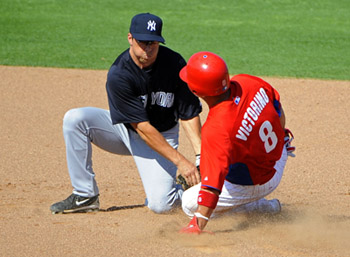 Doug Bernier signed first with the Rockies as an amateur free agent in 2002 and has showed up in two big league games since then. He's spent the past four seasons in AAA for three ballclubs: Colorado, Pittsburgh, and the Yankees twice. He shown up in twelve Spring Training ballgames this year. He's scored a run and gotten two walks, but he's also struck out in nearly half his plate appearances (6Ks in 13 ABs) for an unimpressive batting average of .154. To make his Bronx chances worse, he plays shortstop, and is blocked by Derek Jeter, Ramiro Pena, and Eduardo Nunez. He'll likely head to AAA again if he's in the system.
Daniel Turpen
(Originally this paragraph was about Robert Fish, but at the time of writing this article, he was picked up off waivers by the Royals.)
Daniel Turpen is quickly proving why Boston left him unprotected for the Yankees to pick up as a Rule 5 pick. His numbers are unimpressive – to say the least – in the 3.2 IP he's pitched this spring. He's given up three hits and three earned runs along with four walks  and four strikeouts. Although it doesn't mean much, he's blown both save opportunities that have been given to him. I wonder if the Red Sox will want him back? If so, he'll most likely start in AA, where he was last year. Also, I couldn't find a decent picture of him in Yankees attire with proper attribution, so that might say something – I just don't know what it is yet.
(Edited to add: Turpen is going back to Boston, from the Star Ledger.)
Steve Garrison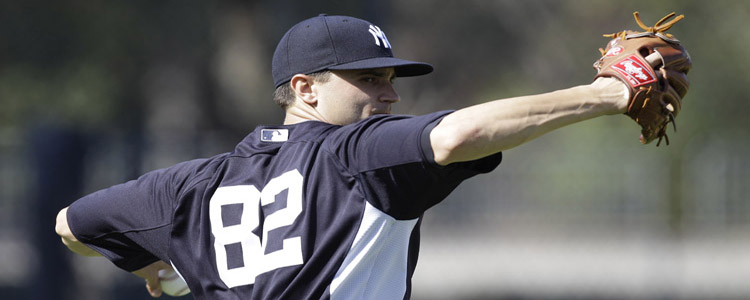 Garrison hasn't necessarily been the worst this Spring Training, but he certainly hasn't impressed anyone, giving up ten hits and 5 ER in six IP. On the bright side, he's only walked one, but he's also only struck out one. He'll only be 24 this year, so he's got some time to work on his stuff before clubs begin to see him as 'too old.' Garrison has pitched up and down the ranks in the Padres' minor league system, and it's difficult to say where he'll get planted in the Yankees system if they decide to keep him. He'll most likely be headed to A ball if he stays, simply because the Yankees have so much good pitching floating around already.