Seven questions and six answers this week, the final mailbag of the 2014 regular season. Don't worry, the mailbag continues in the offseason. This is a year 'round feature. Use the Submit A Tip box in the sidebar to send us anything throughout the week.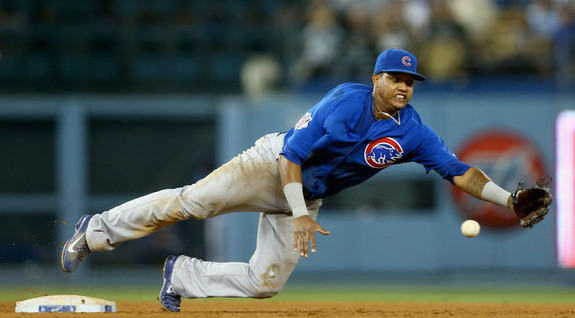 Dustin asks: If the Yankees prefer a long-term solution at shortstop to a free agent, what would it take to pry either Starlin Castro or Addison Russell from the Cubs?
Even though there are a ton of quality shortstops set to hit free agency this winter, I think trading for a younger, more long-term solution at the position is something the Yankees should pursue. The Diamondbacks and Cubs have a stockpile of young shortstops but Chicago's group is better, mostly because they're more high-ceiling players. I like Chris Owings a lot, but he's no Castro or Russell. Or even Javier Baez, who's been awful so far in his MLB career (51 wRC+ and 41.9 K%) and has always had very high bust potential because of his plate indiscipline.
Castro, who is still only 24, rebounded nicely from his down 2013 season to hit .292/.339/.438 (115 wRC+) with 14 homers this year. He's played in 740 of 778 possible games since making his debut — most of his missed games have come this month due to an ankle sprain — and while he's not a great defender, he isn't as bad as his reputation either. Plus he's under contract through 2019 for a total of $44M. Castro is young, he's productive, he's durable, and he's signed cheaply for another half-decade. He's someone the Yankees should be very interested in if he's made available.
Russell is just the prospect, on the other hand. A great prospect, but a prospect nonetheless. He is a riskier of the two shortstops. The price for Russell has already been established, right? Basically a Jeff Samardzija caliber pitcher. It's worth noting the Cubs balked when the Phillies asked for Russell in Cole Hamels trade talks last month, according to Gordon Wittenmyer. (Hamels' salary came into play there.) Castro should be similarly expensive. The Yankees aren't getting these guys with David Phelps and a prospect. Michael Pineda would have to be on the table and you know what? I'm not against that given his shoulder history. I'd prefer Castro to Russell ever so slightly but would be thrilled with either.
nycsportzfan asks: I was wondering if you thought we should trade Shane Greene while his value could be at his greatest this offseason? He could be almost a centerpiece for a mid-rotation guy (Matt Latos, Mike Leake, Tyson Ross, etc.), really.
Mark asks: Would you rather see the Yankees sign a big free agent starter this offseason or acquire a starter in a trade. Some of the Reds' starters could be interesting targets.
Gonna lump these two together. Greene was very good this season up until his disaster final starter earlier this week. I wouldn't be opposed to trading him at all but the Yankees can't afford to give him away either. Their 2015 rotation options are risky and they'll need the depth. I also don't think his trade value is high enough to be the centerpiece of a package for a guy like Latos or Ross either. Greene is only one year younger than Latos and two years younger than Ross, remember. We're not talking about a 22 or 23-year-old here. I'm not sure his trade value is all that high on his own. Definitely not high enough to land a real difference maker.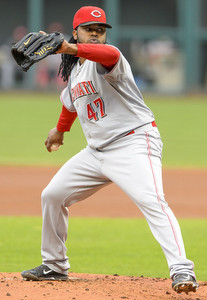 Four of the Reds' five starting pitchers are due to be free agents after next season — Latos, Leake, Johnny Cueto, and Alfredo Simon. They do have Homer Bailey signed long-term and Tony Cingrani under team control, but still, losing four starters is tough. Cincinnati is a medium payroll team ($114M in 2014) that already has $70M on the books for just four players in 2016 (Bailey, Joey Votto, Jay Bruce, Brandon Phillips), so re-signing all four of those starters will be impossible. Heck, re-signing just one of Latos or Cueto will be tough. Speculation is they will trade at least one of those two to clear payroll and fill other roster holes this winter and obviously either would make sense for the Yankees. Expect a lot of trade chatter about the Reds' starters this winter and expect the Bombers to be involved.
Paul asks: Say the Yankees made the playoffs, how scary would be a rotation of Masahiro Tanaka, Pineda, Brandon McCarthy and Hiroki Kuroda/Green be?
Yeah, that rotation would be pretty dynamite in a short series, at least on paper. Who knows what would happen in the actual games. I'd use Kuroda as the fourth starter and put Greene in the bullpen as a multi-inning guy. Joe Girardi would be able to lean heavily on David Robertson, Dellin Betances, and Adam Warren in a short postseason series with built in off-days, so the pitching staff could have been excellent. Too bad the Yankees couldn't hit at all this year. Thinking about what could have been with this pitching staff is a bummer.
Kevin asks: I have forever been against the idea of a 6-man rotation, however going to next year I don't think it could make much more sense. CC Sabathia, Pineda, Tanaka and Kuroda (aqssuming return) would all benefit greatly from the extra day for one reason or another. What are your thoughts and do you see the Yankees pursuing this?
There have already been reports indicating the Yankees are considering a six-man rotation for next season as way to give their starters extra rest. Tanaka (elbow), Pineda (shoulder), Phelps (elbow), Sabathia (knee), and Ivan Nova (elbow) all have injury concerns and could benefit from working in a six-man rotation. How much would the extra day of rest help keep them healthy? Who knows. It's worth noting pitchers across the league this year have actually performed slightly worst with an extra day of rest than on normal rest.
The Yankees would have to use a three-man bench to make a six-man rotation happen — nothing they've done in recent years makes me think they would go with a four-man bench and a six-man bullpen — and that's doable because players like Martin Prado provide some versatility. They'd have to come up with a similarly versatile backup infielder and have a backup catcher who could maybe play a little first base and left field. I don't love the idea of taking starts away from Tanaka and Pineda — the difference between a five-man rotation and a six-man rotation is about five starts across the 162-game season — but if it helps keep them healthy, it might be the best course of action. I don't think there's a clear right answer here. This is a very debatable topic.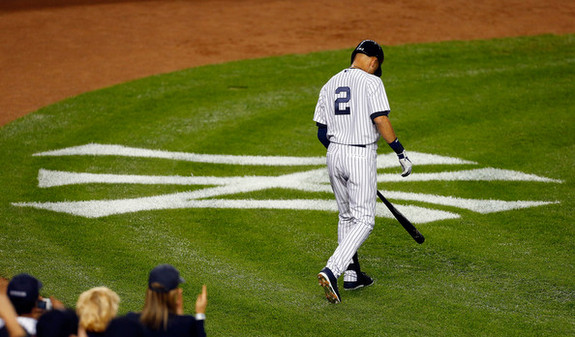 Stephen asks: Now that we know how many we'll have this season, I'm curious what the percentage is for how many of Jeter's games played were "meaningless games" — those in which the Yankees were already eliminated from postseason contention. I'd bet it's probably close to 1%, right?
The Yankees were eliminated from postseason contention in Game 157 back in 2008 and in Game 158 this year, so that's nine meaningless games between those two seasons. Jeter was injured last year when the Yankees were eliminated and didn't play in any of those meaningless games. He's played 2,745 total regular season games in his career, so less than 1% have been meaningless — 0.0033% of his games have come with the Yankees mathematically eliminated from postseason contention. That is: crazy.
Update: Reader @Fgerlando points out Jorge Posada played zero meaningless games in his career. He was hurt at the end of the 2008 season and did not play.
Randy asks: Do you think Jeter will get a monument? Do you think he deserves one?
I was thinking about this yesterday and decided against including it in the thoughts post. Right now there are monuments for Babe Ruth, Lou Gehrig, Mickey Mantle, Joe DiMaggio, Miller Huggins, and George Steinbrenner in Monument Park. All of them were dedicated posthumously. If the Yankees decide to add a monument for Jeter after he retires, he'll be the first person to have one dedicated in his honor while still alive. So, really, this question is asking whether he will be worthy of a monument in 40, 50, 60 something years. My answer is yes. Jeter is the greatest Yankee since Mantle and he was at the core of their most recent dynasty. If he isn't worthy of a monument, I'm not sure how anyone else would be.