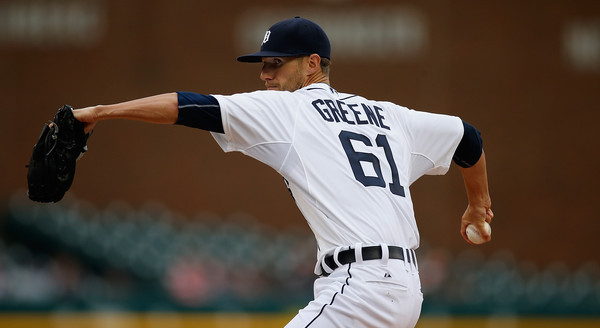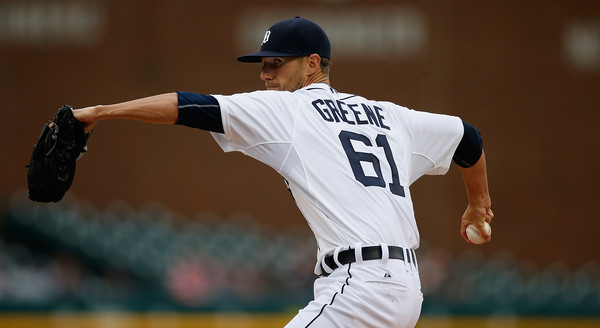 The Tigers are going down in flames. Okay, that may be an exaggeration, but things are not going well in Detroit right night. Last night's win was their season in a nutshell: they jumped out to an 8-0 lead, then the disappointing starting pitcher and hilaribad bullpen let the other team make it interesting. Before you knew it, the tying run was on deck. The win improved Detroit's postseason odds to a mere 25.4%, so says FanGraphs.
Depending on who you ask, the Tigers are either going to sell at the deadline or hold off a little longer before making a decision. They are still in the wildcard race, after all. Both Bob Nightengale and Jon Heyman say the Tigers are preparing to sell and put some big names on the trade market, though Jayson Stark hears they won't commit to anything until after Sunday, when they'll re-evaluate their situation. So basically no one knows anything, pretty much.
The Tigers are like the Yankees: they've never truly going to sell, only retool so they can try to win again next year. They're the ultimate win-now team, with a window based on Miguel Cabrera's peak and whatever Justin Verlander, Anibal Sanchez, and Victor Martinez have left in the tank. Detroit is not going to tear the whole thing down and rebuild. Expect them to seek players who can help them win in 2016 in any trade. Let's run down the players who could possibly help the Yankees.
RHP Shane Greene
The players are listed alphabetically, I swear I'm not trolling. The 26-year-old Greene has been atrocious this season, pitching to a 6.52 ERA (5.03 FIP) in 77.1 innings. That's after allowing just one earned run in his first three starts and 23 innings. His strikeout (23.5% vs. 14.0%) and ground ball (50.2% vs. 42.7%) rates are way down compared to last season. Greene's been really bad this year. Shockingly bad. I feel bad for the poor kid bad.
At this point Greene is a reclamation project, and the idea would be getting him back into a familiar environment with the coaches who helped develop him into what he was last year after being drafted as a hard-thrower and not much else. Greene credited minor league pitching coordinator Gil Patterson for helping him more get on line with the plate and improving his walk rate two years ago, which raised his prospect stock and got him to MLB.
Now for some #RealTalk: If Greene was not an ex-Yankee, there would be zero interest in acquiring him. He'd be just another 26-year-old second year guy with a good but not great minor league track record and fairly limited big league success. He'd be Barry Enright circa 2010. But Shane is an ex-Yankee, so we dream. Dream of getting Greene back, waving the organizational magic wand, and watching him go right back to where he was last year. If only it was that easy. Greene has negative 2015 value. That's the reality of the situation.
What Would It Take?: Trading Didi Gregorius for Greene seems insane now, doesn't it? I can't find another instance of a similar young-ish reclamation project guy being traded in recent years, so we're out of luck there. Maybe a change of scenery deal? My busted Greene for your busted young player? I'm not sure who that would be on the Yankees. Mason Williams? Either way, I find a Greene trade unlikely. I expect the Tigers to try to fix him rather than sell super low.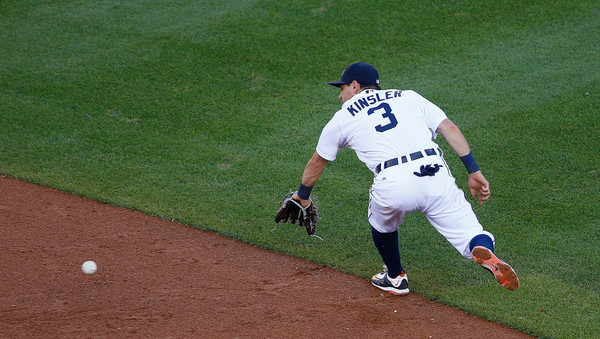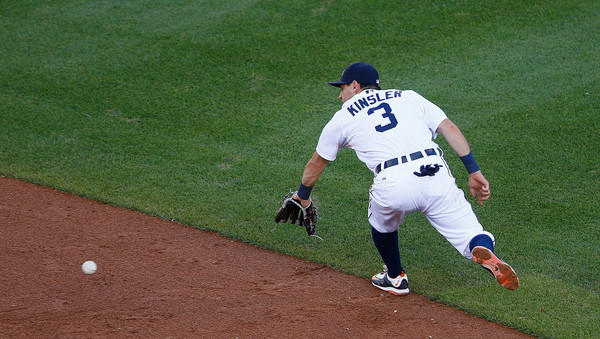 2B Ian Kinsler
The Yankees desperately need a second baseman, preferably a right-handed hitting one to balance out the bottom of the lineup, so Kinsler is a natural fit. He's having a fairly typical Ian Kinsler year at .284/.346/.403 (109 wRC+), with a decent amount of walks (8.3%) and few strikeouts (13.5%), two traits that are fairly common up and down the New York lineup. Kinsler has also consistently rated as a strong second base defender and base-runner, so hooray for well-roundedness.
Kinsler does come with some red flags, of course. For starters, he turned 33 last month, so he's not young. He's right at the age where a lot of second baseman seem to fall off the cliff. That's part of the reason the Yankees shied away from re-signing Robinson Cano, the dreaded second base aging curve. Also, Kinsler is owed approximately $38M through 2017, assuming his $12M option for 2018 is bought out for $5M. He's no rental. He's quite expensive, actually.
Age and salary are out of Kinsler's control. The third red flag is something he can control, at least in theory. His power is way down this year — he's on pace for only nine home runs after hitting 17 last year and averaging 19 per year from 2006-14, and his .119 ISO is a career-low. As Nolan Meister noted last month, Kinsler came into the season with the intention of hitting the ball the other way more often, but he has gradually started to pull the ball more the last few weeks.
Kinsler has hit four homers with a .230 ISO in his last 22 games after hitting one homer with a .079 ISO in his first 71 games. The loss of power could have to do with a simple change in approach, something Kinsler may have already corrected based on the last few weeks. Pulling the ball has gotten such a negative connotation the last few years because of the shift, but it's a good thing. That's how most hitters hit for power. Kinsler is at his best when he isn't focusing on the opposite field all the time.
The Yankees are looking for rental players, which is their standard trade deadline strategy, and Kinsler doesn't fit the profile. That's not a strict policy — they did acquire Martin Prado with two and a half years left on his contract last year, for example — and who knows if they would be willing to be flexible for Kinsler. He fits the team's playing style and fills a position of obvious need, but he's not young, he's not cheap, and he also has a bit of a mouth on him. The Yankees tend to steer clear of players who could become distractions.
What Would It Take?: Is last year's Prado trade comparable? Prado and Kinsler both had two and half years left on their contracts, they've both been 105-ish wRC+ hitters the last few years, and they play solid defense. Prado is two years younger and more versatile, and he is cheaper, but Kinsler had a much greater peak as a former 30/30 guy. One year of Howie Kendrick was traded for a consensus top 50 prospect (Andrew Heaney) this offseason, so I'm sure the Tigers have their eyes set on something better than Peter O'Brien. I know I would.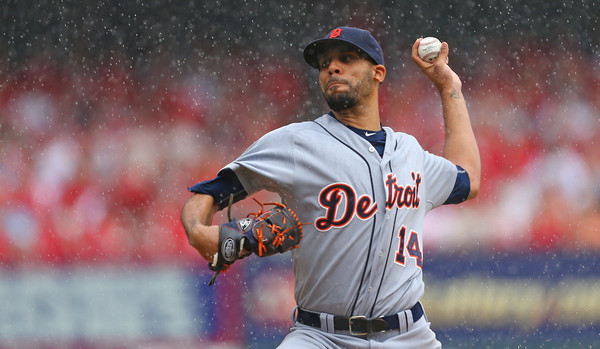 LHP David Price
I'm not even sure I need to go into much detail here. Price is inarguably one of the best pitchers in the world — he's been one of the best for a half-decade now — and is the game's third best left-hander behind Clayton Kershaw and Chris Sale. This season the 29-year-old has a 2.32 ERA (2.78 FIP) in 132 innings with great strikeout (23.7%), walk (4.8%), and home run (0.68 HR/9) rates. He hasn't gotten a ton of grounders (39.2%) but that's never really been his thing.
Price is excellent. He's been excellent this year, he was excellent last year, and he's been excellent pretty much since the day he broke into the big leagues. There are zero arguments to be made he is anything short of an ace, a perennial 200+ high-quality innings machine. He makes every rotation better. Should the Tigers decide to put Price on the market, he immediately becomes the best available starter, ahead of Johnny Cueto and Cole Hamels and whoever else.
As for the Yankees, Price is embodiment of everything they look for in a starter. He throws hard (averages 93.9 mph), he misses bats (11.5% whiff rate), he doesn't walk anyone (again, 4.8%), and he's tall (6-foot-6). As an added bonus, Price is left-handed, which fits well in Yankee Stadium, and he's been through the AL East gauntlet with the Rays. He knows the division, knows the ballparks, knows the hitters. It's a perfect fit. Perrrfect.
Price will be a free agent after the season and he's going to end up with Max Scherzer money (seven years, $210M), and the Yankees shied away from Scherzer last offseason because they didn't want to pay big bucks for his decline. That can't be the focus with Price though. He's a rental ace. Look at him as that and nothing more. Price is a someone who can actually complete seven innings on occasion (novel idea, I know) and change the balance of power within a division. If the Tigers make him available, the Yankees should be knocking down Detroit's door.
What Will It Take?: So here's where it gets interesting. The Yankees say they have "sworn off" trading top prospects for rental players, though I'm guessing Price would make them reconsider that stance. How could he not? I'd be pretty annoyed if the Tigers put Price on the market and Yankees didn't make a serious push to get him because they don't want to give up prospects.
Anyway, the Yankees were involved in best comparable rental ace trade: Cliff Lee! They were willing to give up their best prospect (Jesus Montero) and two others (reportedly David Adams and Zach McAllister) for two months of Lee back in 2010. The Rangers beat them out by offering their No. 1 prospect (Justin Smoak, who wasn't too far behind Montero on Baseball America's top 100 list), No. 17 prospect (Blake Beavan), and two non-top 30 prospects (Matt Lawson, Josh Lueke). So yeah, you want David Price on the Yankees? It's gonna hurt.
Update: The key difference between Lee and Price is draft pick compensation. Back in the day the Yankees would have been able to get two draft picks had Lee left as a free agent after the season. They wouldn't be able to get a pick for Price because of the current system. That matters.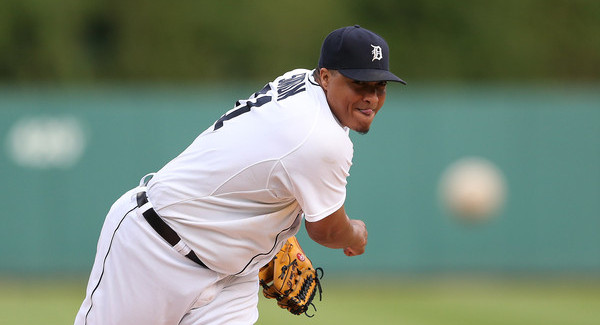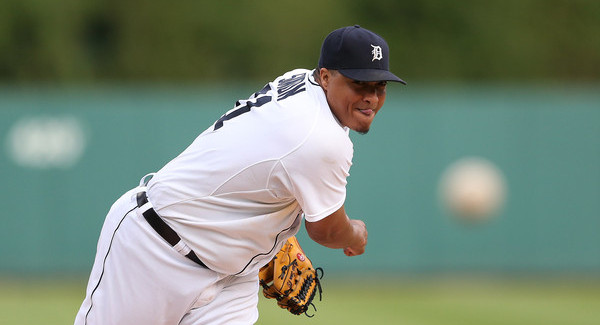 RHP Alfredo Simon
After a fine start to the season, the 34-year-old Simon now owns a 4.63 ERA (4.02 FIP) in 105 innings this year. He's never been a big strikeout pitcher (16.9% in 2015), but he has been a ground ball pitcher (career 46.1%), just not this year (41.3%). The walk (8.0%) and homer (0.94 HR/9) numbers are average-ish. Simon is the quintessential back-end guy. He chews up innings with his sinker/splitter combination, but they aren't great innings.
Simon is a depth arm. Nothing more, nothing less. He has a ton of experience in the bullpen — he worked mostly in relief from 2010-13 before the Reds moved him into the rotation out of necessity last year — and would effectively replace Branden Pinder in the bullpen. Is that a good thing? I dunno. But Simon is someone who could start or relieve, and the Yankees wouldn't have to worry too much about his workload. They could run his pitch counts up without concern for his long-term future. Harsh? Yeah. But that's baseball.
(It's worth noting Simon has had some trouble with the law the last few years, specifically this and this. The Yankees value makeup and good character way too highly for me to think they'll overlook that.)
What Would It Take?: I'm going to refer back to what I wrote yesterday about Wandy Rodriguez:
Roberto Hernandez, the pitcher formerly known as Fausto Carmona, was traded for two players to be named later last summer. The two players were ranked by Baseball America as the No. 22 (2B Jesmuel Valentin) and No. 29 (RHP Victor Arano) prospects in the Dodgers' system before the trade, and both were down in rookie ball at the time of the deal. Wandy Simon shouldn't cost more.
There you go. The Tigers surprisingly gave up a useful young infielder (Eugenio Suarez) and a hard-throwing pitching prospect (Jonathan Crawford) to get Simon in the offseason, but I can't imagine anyone will give up a comparable package at the trade deadline.
RHP Joakim Soria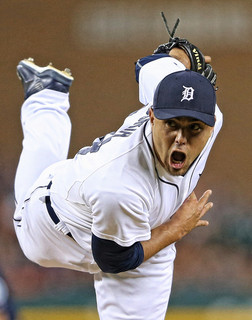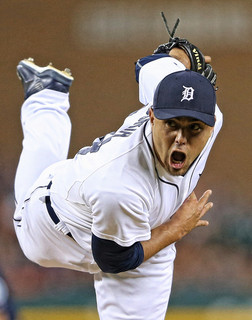 Detroit's bullpen has been atrocious this season, even worse than usual, and Soria is the team's best reliever almost by default. He has a 3.08 ERA (4.93 FIP) in 38 innings but has been extraordinarily homer prone (1.89 HR/9). His ground ball rate (44.3%) is okay, it's just that his stuff isn't as crisp as it once was, so when he makes a mistake, it gets hammered.
Soria's strikeout (21.6%) and walk (6.5%) rates aren't nearly as good as they were during his prime, which was now almost five years ago. Lefties have smacked him around a bit as well (.317 wOBA). Tommy John surgery is rough. Especially when you have two of 'em. Soria is more name value than actual production right now, following the two elbow reconstructions. He'd be an upgrade over the Branden Pinders and Chris Capuanos of the world, but at this point Soria would be the sixth best reliever in New York's bullpen at best.
What Would It Take?: Rental relievers get traded at the deadline every year. Soria's not going to command a top prospect like Andrew Miller last year, but he's probably not going to come for almost free in a salary dump like Jonathan Broxton either. (Soria is owed roughly $3M the rest of the season.) Maybe an organizational top ten prospect (Nick Delmonico) like the Orioles gave up for Francisco Rodriguez two years ago? Maybe. Should the Yankees do that? Nah.
* * *
Like I said before, the Tigers are likely to look for MLB ready players able to help in 2016 in any trade. I doubt they want prospects. I don't even know if they're going to sell, but I can't get my mind off a possible Price plus Kinsler package. The Tigers love hard-throwing pitchers, absolutely love 'em, which makes me wonder if they'd be interested in Nathan Eovaldi. Eovaldi plus Rob Refsnyder (to replace Kinsler) plus, say, Chasen Shreve (to help with their bullpen woes) plus a prospect like Jorge Mateo?
Actually, I'm going to stop right there and your trade proposal sucks myself. I'd do that trade in a heartbeat, which means Tigers GM Dave Dombrowski would say no. That's a package of "good," not "great." Mateo is the potential "great" in that package and he's three years away from MLB. The Yankees would be getting the two best players in that deal. That's a package of junk drawer stuff for a rental ace and an above-average second baseman. Not happening. That doesn't make Price or (to a lesser extent) Kinsler any less of a fit for the Yankees though. Now they just need to the Tigers to sell.